Fr. Franklin D'Souza is appointed as Parish Priest of Shrine Our Lady of Health Church, Hariha
By Ancy DSouza Paladka

Bellevision Media Network


Mangaluru, 02 May 2016: Most Rev. Francis Serrao Sj, Bishop of Shimoga has appointed Fr. Franklin D'Souza as the Parish Priest of Shrine of Our Lady of Health Church, Harihar also as the Rector of the Shrine. He will take Charge on May 21st 2016 from the outgoing Parish Priest Rev. Fr. Stany D'Souza who completed his term.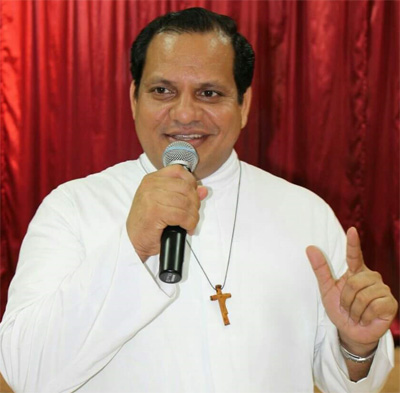 Fr. Franklin D'Souza was ordained for the Diocese of Shimoga on 10th May 1999. He served as assistant pastor from 1999 to 2001 at Infant Jesus Church Challakere which was substation of Holy Family Church, Chitradurga. From 2001 to 2003 He was the Parish Priest of Our Lady of Victory's Church, Bidanur, Nagar, near Hosanagar. During this tenure he served as the Diocesan Youth Director of Shimoga (ICYM, YCS / YSM ). From 2003 to 2005 he was sent to St. Peter's Pontifical Seminary, Bengaluru as staff where he did his M.Th in Biblical Theology. From 2005 to 2008 he served as the Diocesan Youth Director of Shimoga as well as Director of Catholic Charismatic Renewal of Shimoga Diocese. From 2008 to 2011 he was appointed as Regional Youth Director for Karnataka Region (ICYM, YCS / YSM). From 2011 to 2015 He was appointed as Secretary for Council for Youth by the CBCI, as well as National Youth Director of ICYM. From August 15th to April 30th, his Bishop granted him sabbatical leave.
Fr. Franklin D'Souza hails from a small village called Murkothpalke near Moodbidri. He is the fourth son of late Ligoury D'Souza and Mrs. Lilly D'Souza. At present he belongs to St. Francis Xavier's Church, Saverapura, Murkothpalke. This was the part of St. Ignatius Loyola Church, Paladka until June 7th 2015.
He is a well known Catholic Charismatic Preacher. Preaches in Konkani, Tulu, Kannada, English and Hindi. He has preached more than 2000 retreats. He has motivated thousands of youth and helped them find meaning for their lives. From last 17 years their team Yesu Sparsha brought healing and reconciliation to a vast majority of people in India as well as out side India. Together with Bro. T. K. George they have brought out many hymns based on Bible. If you visit www.frfranklin.org speaks of their team effort as well as selfless contributions in spreading the good news to the nation's.
Harihar Parish History
Harihar, situated on the banks of the river Tungabhadra is a pilgrimage centre. Legend has it that ever since a Brahmin was saved by clutching a wooden statue of Our Lady in the swollen river of Tungabhadra, thousands of pilgrims come to this shrine during the festivities in August – September. A spacious new shrine was built and blessed on August 31,1992.