Pejwar seer ascends 'Paryaya Peetha' for record 5th time
Udupi, Jan 18, 2016, (PTI): Making history in the eight centuries old Krishna Mutt here, senior pontiff Vishwesha Teertha Swamiji of Pejawar Mutt today ascended the 'Paryaya Peetha" for a record fifth time with grandeur and religious fervour.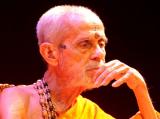 The 'Paryaya' system denotes transfer of power of exclusive rights of worshipping the presiding deity at the famous Lord Krishna temple here and management of Sri Krishna Mutt from one seer to another of the Astha (eight) Mutts, established by Dvaita philosopher Sri Madhwacharya 800 years ago, once in two years by turns.
The 85-year old Vishwesha Teertha Swamiji, a prominent face of the Ramjanmabhoomi movement, occupied the 'Paryaya Peetha,' also known as 'Sarvajna Peetha', in the biennial event, witnessed by tens of thousands of devotees from across the state and several political and other leaders.
Veteran BJP leader L K Advani, Andhra Pradesh Chief Minister Chandrababu Naidu, Union ministers Uma Bharti, Venkaiah Naidu, Anant Kumar and Sadananda Gowda, Tamil Nadu Finance Minister O Panneerselvam, Karnataka ministers R V Deshpande, A Manju, H K Patil and Vinay Kumar Sorake, former union minister Veerappa Moily, former chief minister B S Yeddyurappa and Oscar Fernandes, MP, were among those present.
The 'Paryaya' system was introduced in 1522 by Sri Vadirajateertha, who is considered among the highest saints in the Madhva hierarchy after Srimad Ananda Tîrtha and Sri Jayateertha.
Vishwesha Teertha, who is known for breaking some traditional social moulds like visiting Dalit colonies and for being pro-active in social sphere, had ascended the peetha in 1952, 1968, 1984 and 2000.
The Pejawar Swamiji took over his new charge at designated time, after having the Darshan of Lord Sri Krishna.
He also took the blessings of deities Sri Chandramouleshwara and Sri Anantheshwar. He then ascended the Sarvajnya Peetha, which was earlier occupied by Madhwacharya.
A grand Paryaya Darbar was later held at Shree Krishna Math, where the new Paryaya Swamiji was welcomed by Sri Kaniyoor Math Swamiji, as the town in the coastal Udupi district teemed with people.
Addressing the devotees, Advani said a new era of Paryaya had started among the eight Mutts of Udupi.
"I am happy that Pejawar Sri, for the fifth time, has become the Payarya Swamiji," he said. "It is a unique experience to participate in such a blessed event in the presence of Lord Krishna, and I am here only to express my joy for I have always got love and blessings abundantly ever since I paid my first visit here," he said. Pejawar Swamiji, in his address, stressed on doing everything for the Lord, of the Lord, and by the Lord, so that all confusions would vanish and everything would be done right.