Kuwait Malayalee Catholic Association (KMCA) conducting Charity Sale 2014
Media Release


Kuwait, 26 Nov 2014: Kuwait Malayalee Catholic Association (KMCA), under the patronage of H.L. Bishop Camillo Ballin, MCCJ, Apostolic Vicar of Northern Arabia, is celebrating its 42th year of activities in Kuwait.
As part of its charitable services, KMCA conducts "Karunya Harvest Festival- 2014' to extend our helping hands to the needy ones of the society in Kuwait as well as in our Home Country.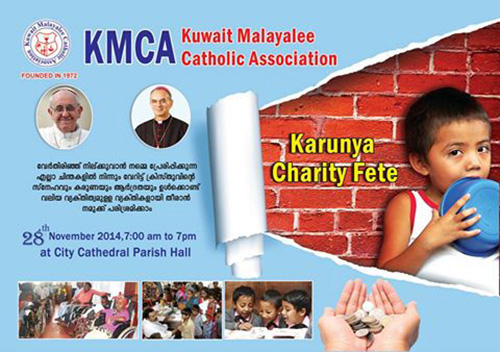 KMCA is striving for a better outcome by involving all who come forward to join hands to support the poorest of poor.
You are kindly invited to join us with your family and friends on Friday, 28 November 2014 at the Parish Compound of City Cathedral from 7.00 am still 7.00 pm.
We are requesting everyone's cooperation for the success of our Charity Sale.