Udupi: Upadhyaya Moodubelle - An accomplished Artist and Winner of Best Teacher National Award
By Dr. Eugene DSouza, Moodubelle

Bellevision Media Network


Udupi, 28 Nov 2013: In the year that the Church Aided Higher Primary School, Moodubelle celebrates its centenary, one of its alumni, Radhakrishna Upadhyaya Moodubelle, the renowned Drawing Teacher of Government Composite High School Volakadu, Udupi was conferred with the "Best Teacher National Award-2012" by the President of India on the occasion of the Teachers Day on 5 September 2013'. This award has come as the gift to the school which had its humble beginning in 1913 and had been the alma mater to thousands of students throughout the century who have had excelled in various fields. With art as his hobby and painting as his passion, Radhakrishna Upadhyaya has been not only an ideal teacher and exponent of art but also a fine human being and family man who has been honoured by many organizations and has been conferred with numerous awards before he won the coveted Rashtraprashasti as the Best Teacher this year.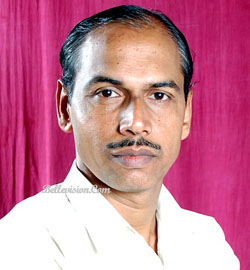 Upadhyaya Moodubelle
It is quite interesting to trace the journey of Radhakrishna Upadhyaya Moodubelle from a humble beginning to that of a much sought after drawing teacher and rangavalli artist. He was born on 10 May 1964 as the seventh child among four sons and three daughters of late Ramakrishna Upadhyaya and late Lakshmiamma at Kongibailu in Moodubelle. Right from his childhood Radhakrishna had to face a lot of deprivation and sufferings. While he was barely one year old, his father, Ramakrishna passed away and the responsibility of bringing up seven children including infant Radhakrishna fell on the shoulders of his mother Lakshmiamma. Due to financial hardships, the entire family had to work hard usually in farm to make a living.
Radhakrishna manifested his talents for art and painting right from his childhood. Using his tiny hands, Radhakrishna would prepare clay models and also use the house walls to draw pictures of birds, animals and trees. In order to acquire formal education Radhakrishna was admitted to the Church Aided Higher Primary School, Moodubelle and later he studied in St. Lawrence High School passing the SSLC examination in 1982. Radhakrishna not only excelled in his drawings and paintings but also scored over other students in other subjects and maintained his position a topper in every class.
Realizing that he had an aptitude for art and drawing, Radhakrishna made up his mind to make art his future and joined Chitrakalamandir School of Art, Katapady where he studied for seven years securing A.M. and G.D. Arts Diplomas.
Having completed the art course, Radhakrishna decided to take up the profession of drawing teacher and joined Government PU College, Car Street Mangalore in 1988 where he served for three years before being transferred to Government High School, Volakad, Udupi where he has been working in that capacity for the last 22 years. Collectively, Radhakrishna has been serving as the drawing teacher for over 25 years.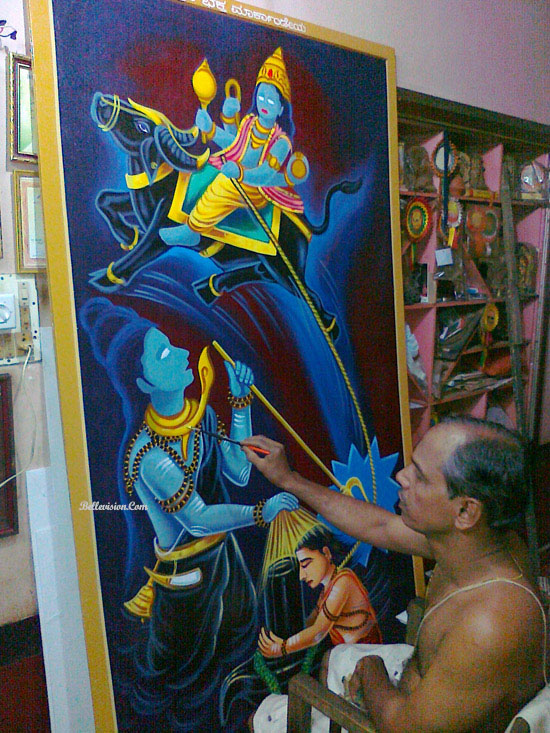 Upadhyaya Moodubelle at Work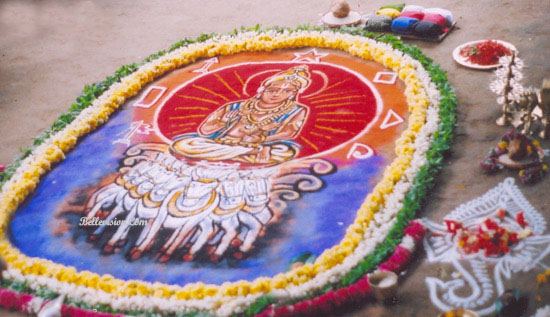 Aditya Mandala (Rangoli)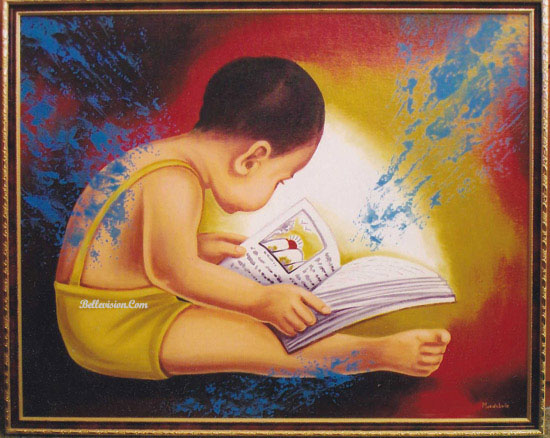 Baby's Curiosity-Painting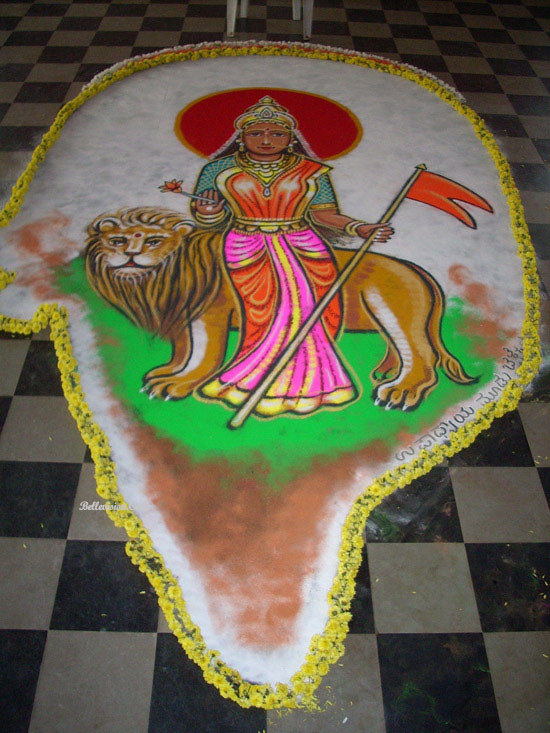 Bharat Mata (Rangoli)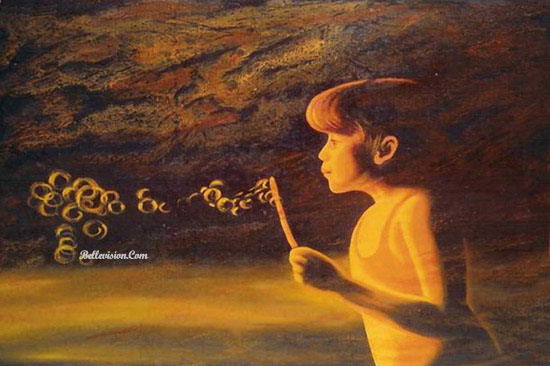 Bubble Blower-Painting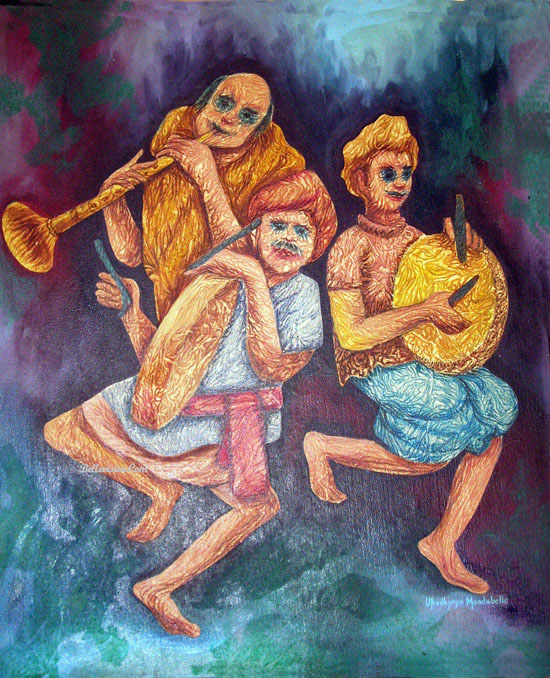 Drummers-Painting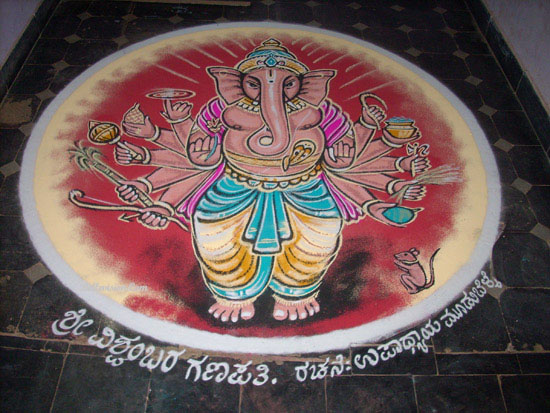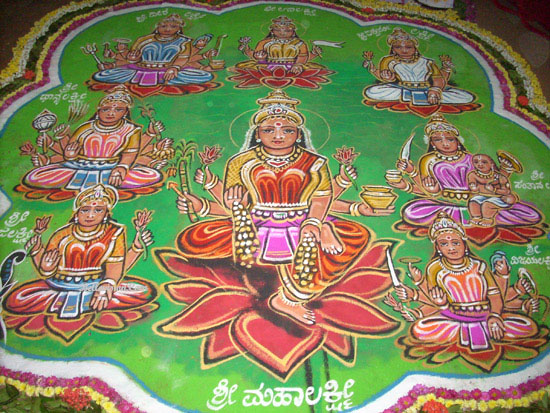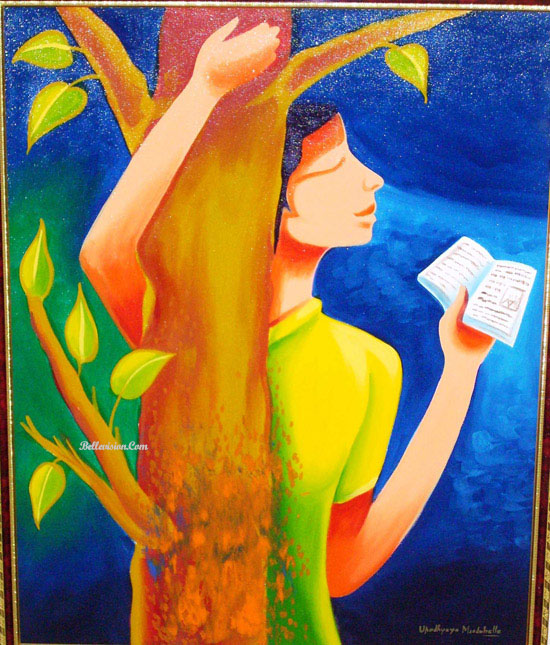 Promotion of Female Education-Painting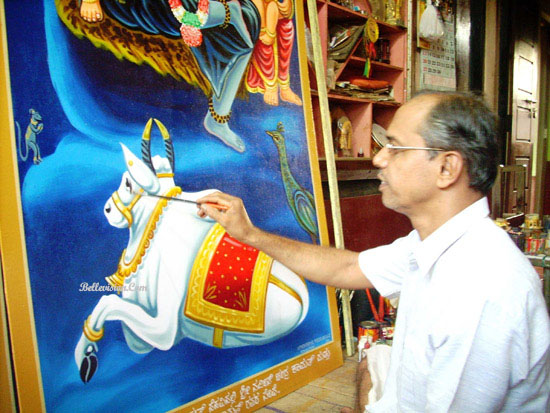 Upadhyaya Moodubelle at Work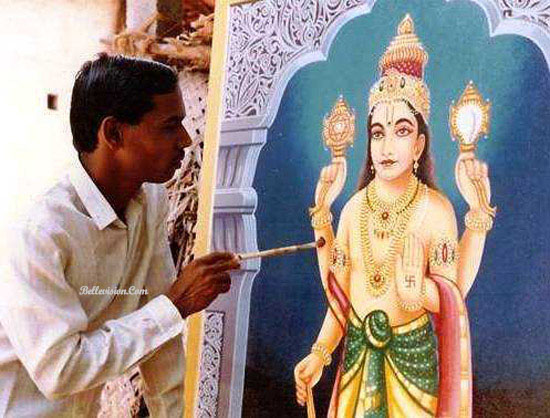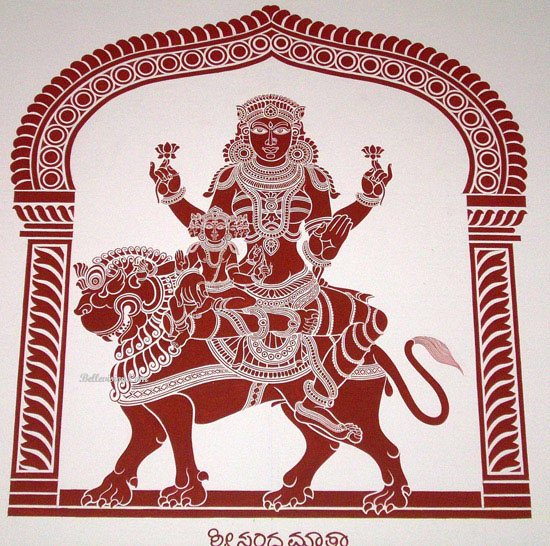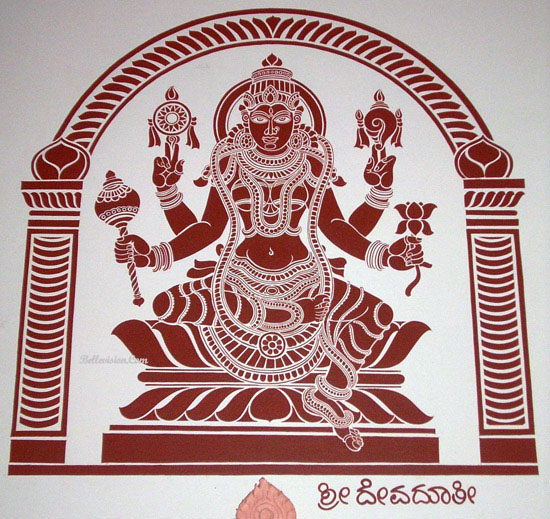 Kavi Paintings
It may be said that Radhakrishna is a multi-talented personality. He did not confine himself to drawing but manifested his talents in other forms of art such as rangavalli, one-line and kavi art. Having a flair for writing, Radhakrishna has been contributing regular articles on various topics, especially on art to various news papers and magazines. More than 3,000 articles of his have been published in various dailies, weeklies, magazines and commemoration souvenirs on the subject of arts. He has also penned few books on art such as "Nagaaraadhane Matthu Chitrakale", "Yakshagaana Matthu Chitrakale" and "Kale Endarenu…?"
Along with teaching profession, Radhakrishna has been encouraging his students to appear for Drawing Higher grade examinations and trained them in such a way that his drawing students would score hundred percent results. During school days he encouraged the students to put up their arts and crafts for exhibition and so far managed to organize 25 such exhibitions.
Radhakrishna has been contributing in various ways in promoting arts and crafts among the students. He has been in charge School Drawing Boards and class wise art presentation. He has been training many students of the school to get coveted prizes including at the state level in many drawing and craft competitions. As the teacher in charge of School Sanchaayika Savings Bank, he was responsible for mobilizing over seven lakhs of rupees a year from the students. He has been responsible for running School Arts Club and Nehru Philatelic Club and Akshara Dasoha Mid Day Meal Programme.
Besides the activities associated with the school, Radhakrishna has been a resource person in Education and Art field. He is the ex-member of Karnataka Lalithakala Academy, member of Artist's Forum of Udupi, Drushyakala Sahithya Parishat, Bangalore and Udupi District Drawing Teachers' Association. In order to promote the arts, Radhakrishna founded Upadhyaya Moodubelle Art Foundation (1999) and honoured more than 300 persons of eminence and performers with 'Upadhyaya Samman 'State Level Awards.
Being a renowned Rangavalli artist, Radhakrishna has been in great demand among the Rangavalli Mandals and religious functions throughout India. Besides, every year, he has been participating in various art exhibitions organized by Artists' Forum of Udupi and other organizations in various cities. He won the Karnataka State Award in 2006 for teaching projects-'Masks' submitted to DSERT, Bangalore.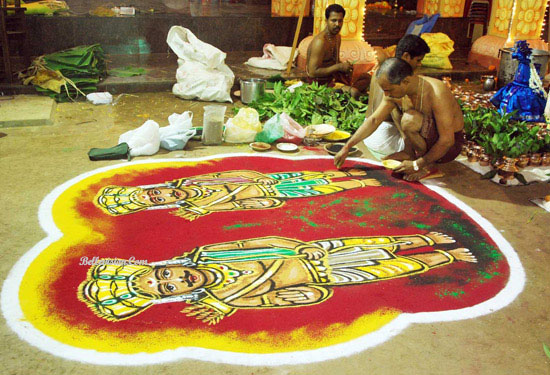 Koti-Chennayya Rangoli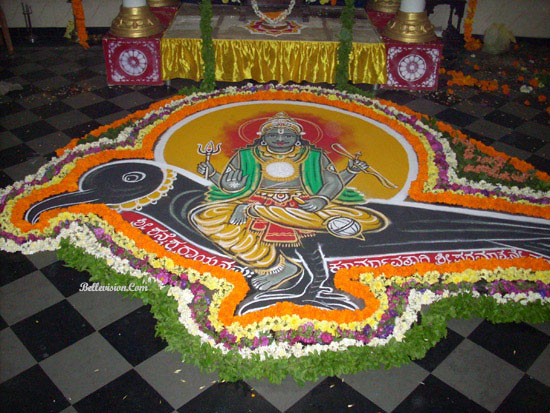 Kurma Rupi Shani Mandala (Rangoli)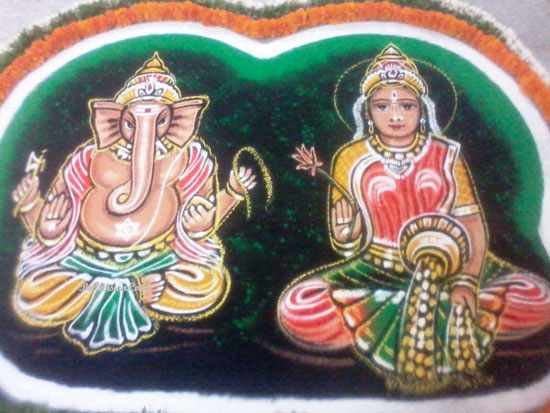 Ganapati-Lakshmi (Rangoli)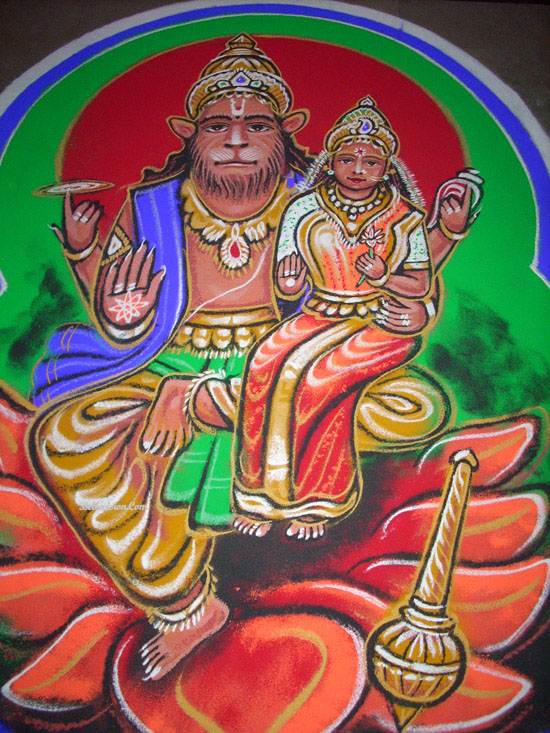 Lakshmi-Narasimha (Rangoli)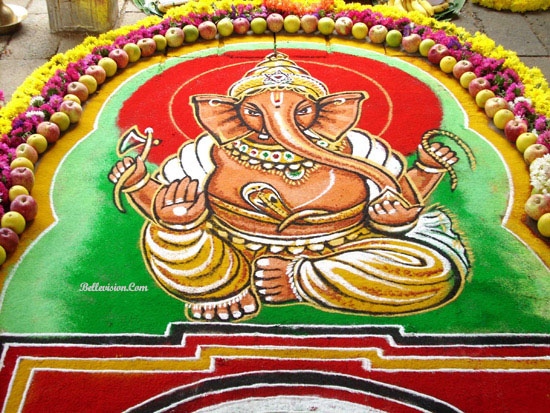 Mahaganapati (Rangoli)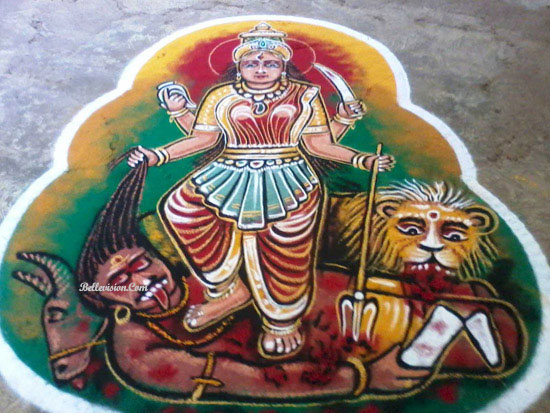 Mahishasuramardhini (Rangoli)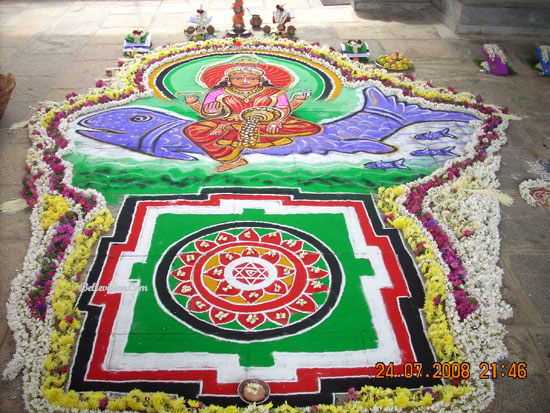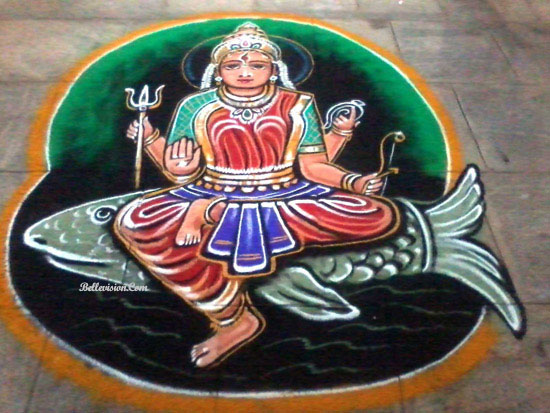 Matasylakshmi (Rangoli)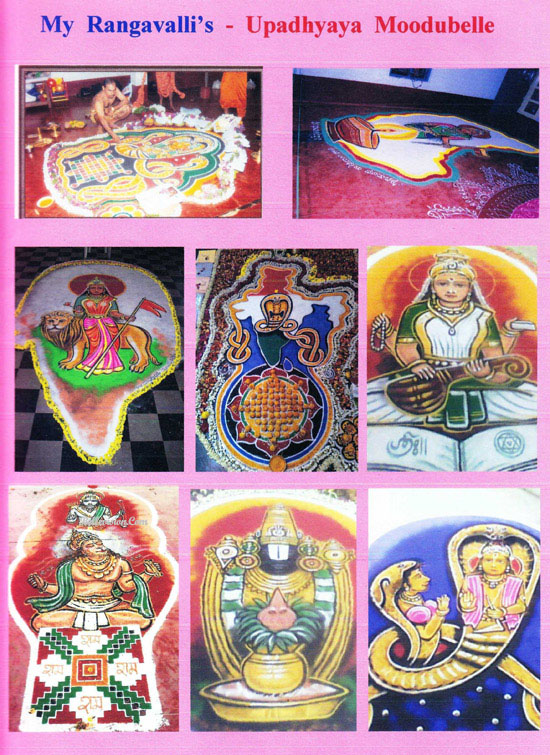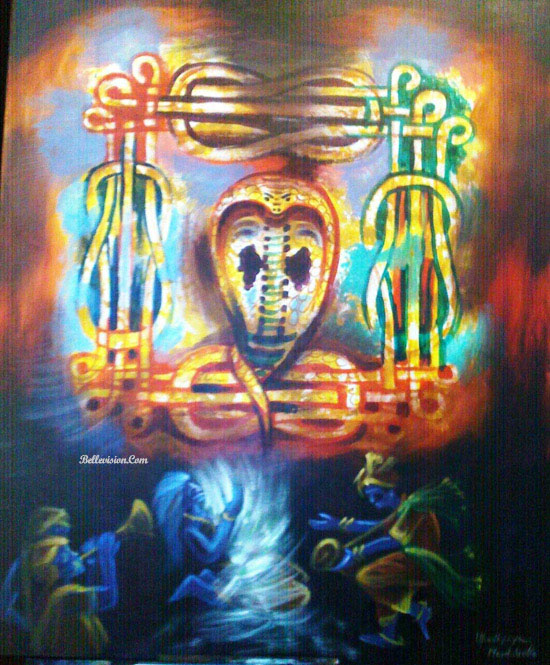 Nagamandala (Painting)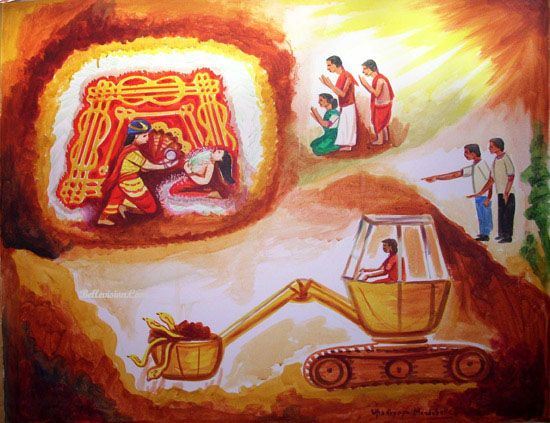 Naga Rakshaka-Bhakshaka (Award Winning Painting)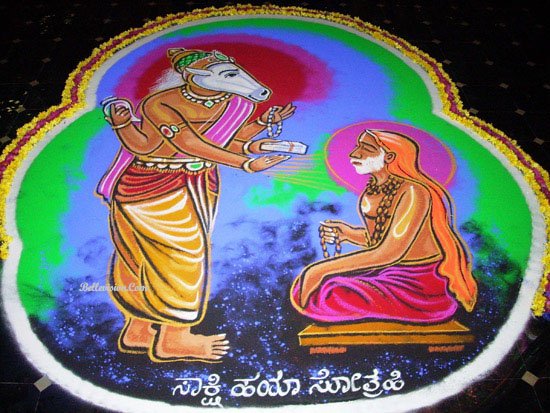 Raghavendra-Hayavadana (Rangoli)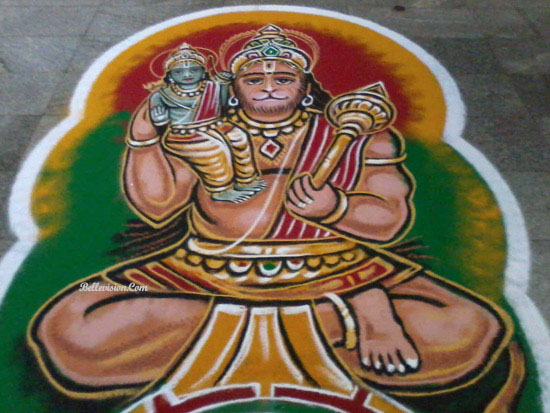 Ramanjaneya (Rangoli)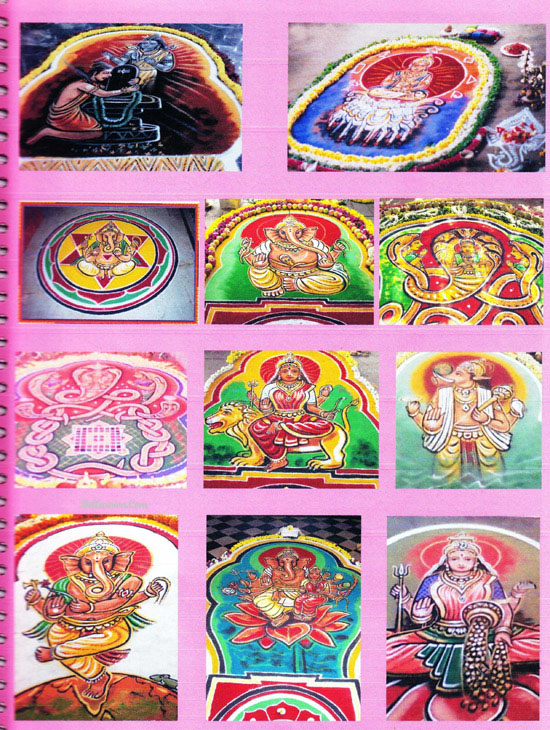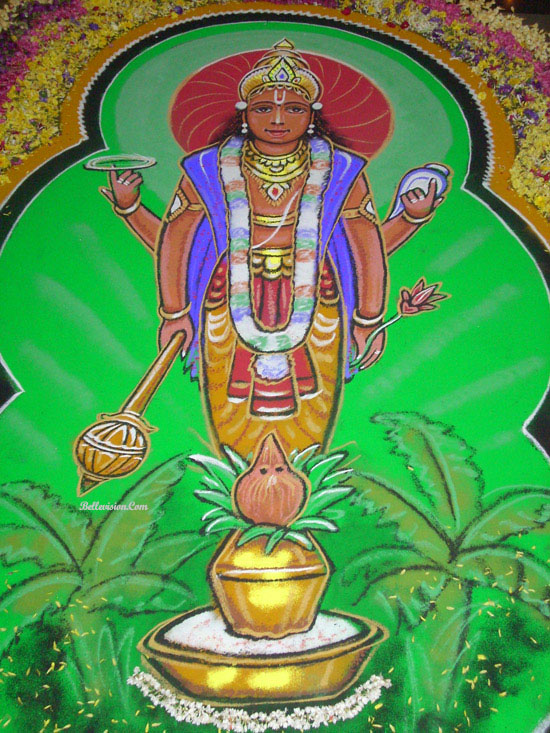 Satyanarayana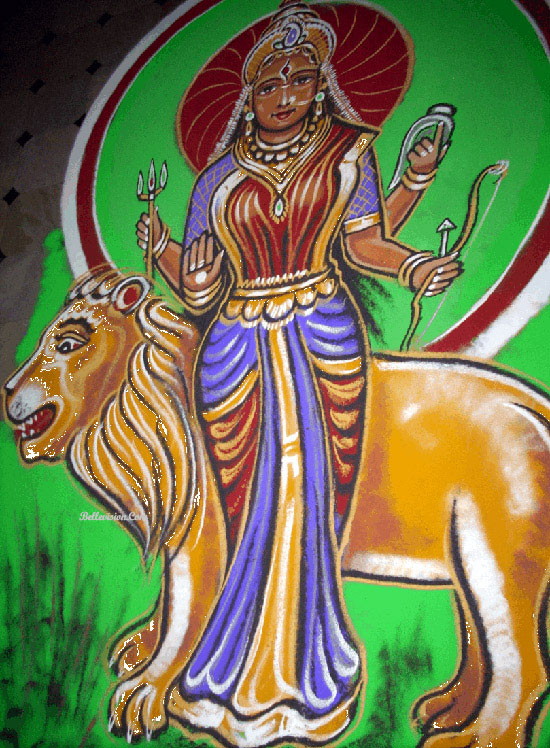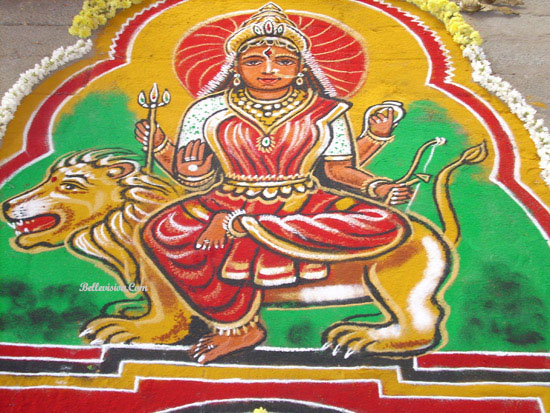 Simhavaahini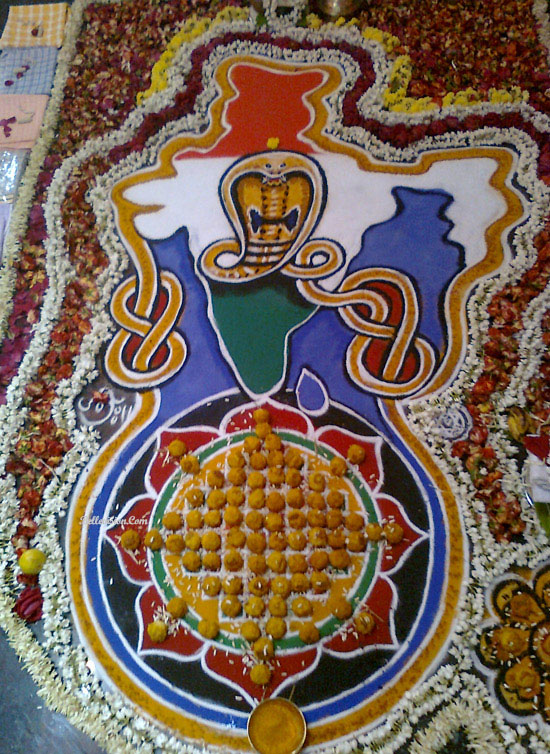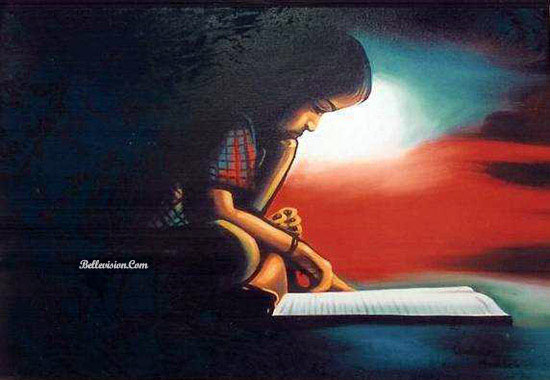 Girl Engrossed in Study (Painting)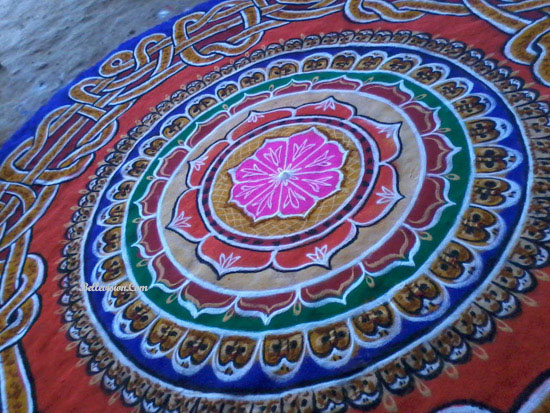 Tanaumandala (Rangoli)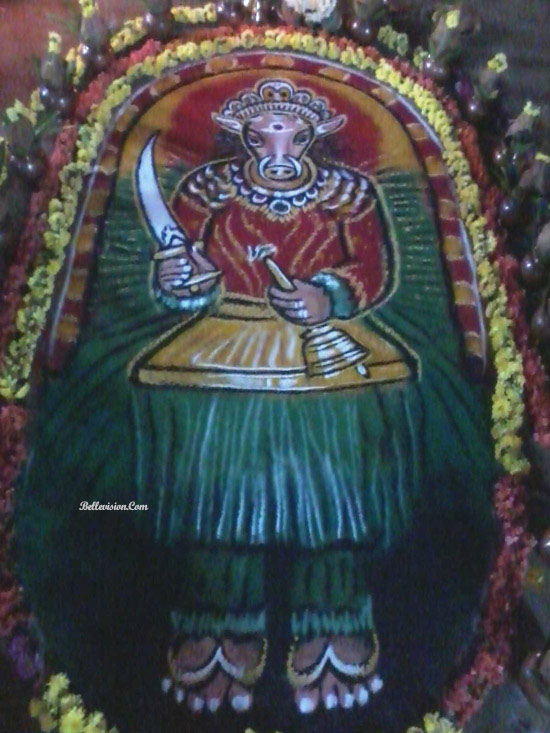 Vaarahi Bhoota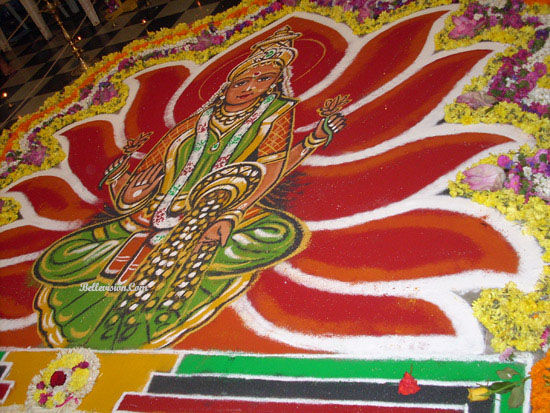 Varamahalakshmi (Rangoli)
When asked about various awards and honours that he has been receiving or his contribution to arts and crafts, Radhakrishna said that it is difficult to keep a count of these awards. He has won over 50 awards at the national level as well as Karnataka and Kerala State Awards, Kalaanidhi, Chithrakalaa Rathna, Rangoli Rathna, Chithrakalaa Nidhi, Priyadarshini Indira Gandhi Award, Sapthothsava, Rajyothsava, Sourabha, Republic Day, Krishnaanugraha, Saahithya Sammelana, National Integrity Award, etc. He has been honoured more than 45 times and has received more than 20 Certificates of Appreciation from renowned organizations and eminent personalities such as Presidents of India, Prime Ministers, Dr. Nelson Mandela and King Birendra of Nepal.
Radhakrishna has been a much sought after person to air his experiences and views on art and craft. His talks have been broadcasted in All India Radio and telecasted in TV channels. Radhakrishna himself became a subject of research when the art students of the Art College, Udupi conducted research project on his work and submitted their findings in the form of a book to the Hampi University in 2009 under the title "Chitrakalavida Upadhyaya Moodubelleravara Kalajeevana" . For his stupendous achievements in various fields, especially in the sphere of art, Radhakrishna's name was recommended for National 'Padmashri' Award in 2008 by the District Commissioner of Udupi.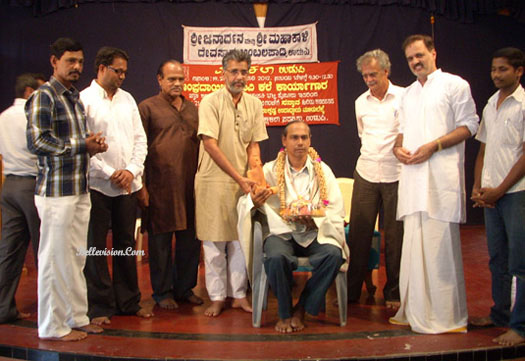 Ambalpady Vrakshakala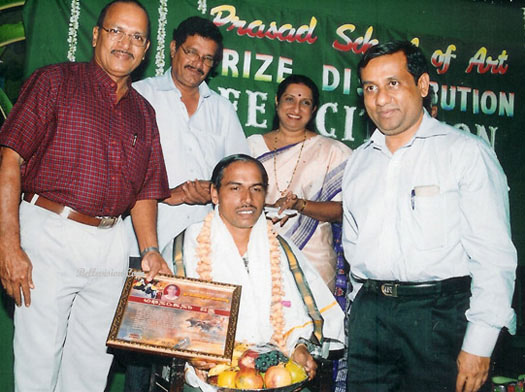 Artists Combine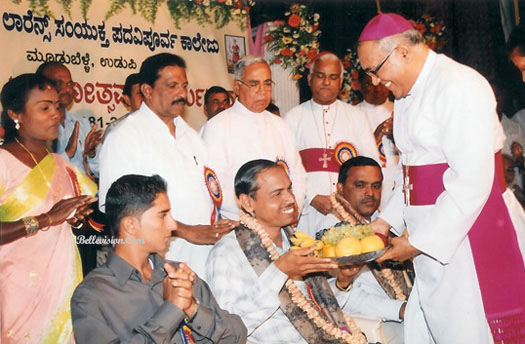 Honoured by the Bishop of Mangalore at the Silver Jubilee of St. Lawrence PU College, Moodubelle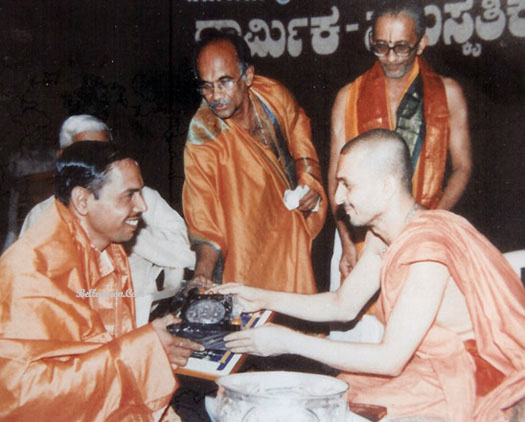 Chitrakalanidhi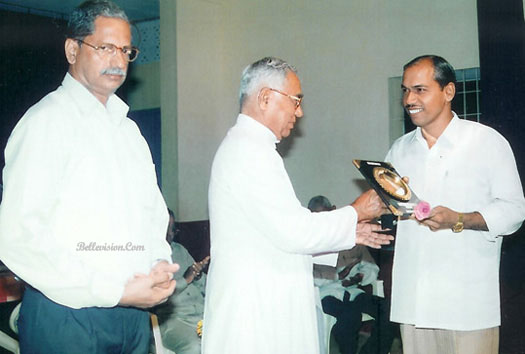 Honoured by Fr. Valerian D'Souza at Church Aided Higher Primary Scholl, Belle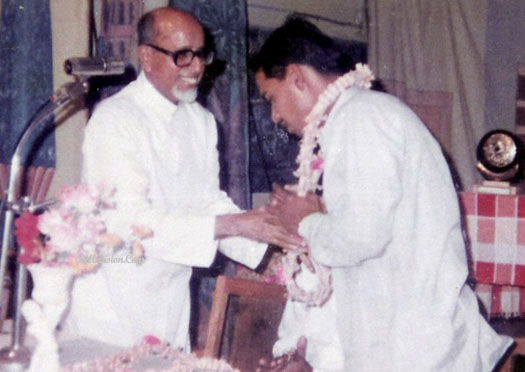 Honoured by Fr. J.J. Saaldanha at Church School, Belle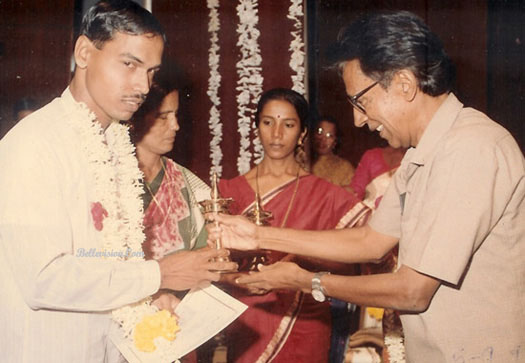 Receiving District Award in 1993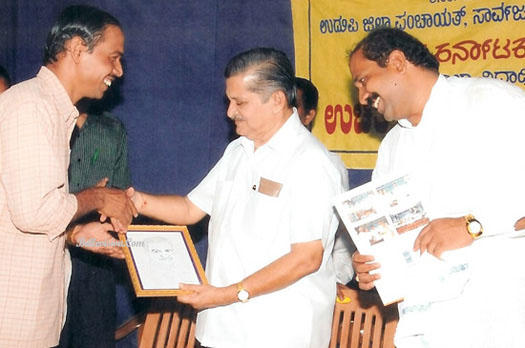 Honoured by Late Dr. V.S. Acharya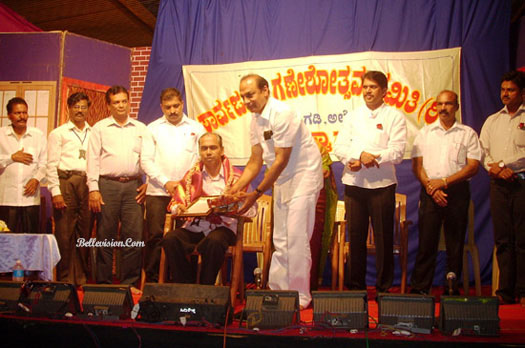 Honoured by Vinay Kumar Sorake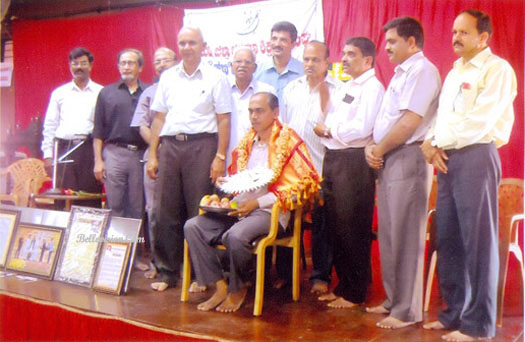 DTA Sanmana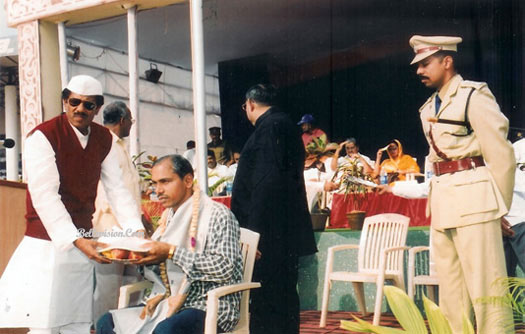 Ganarajya Sanmana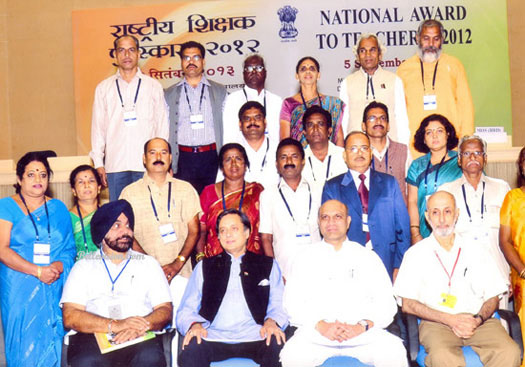 Best Teacher National Awardees 2012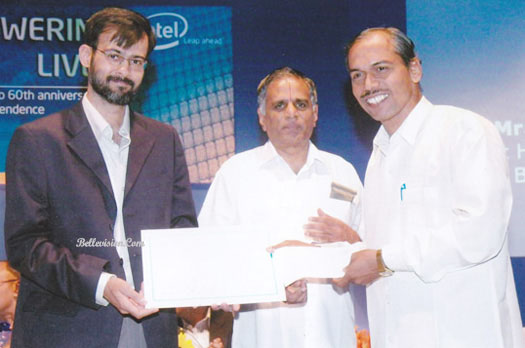 Intel Award 2006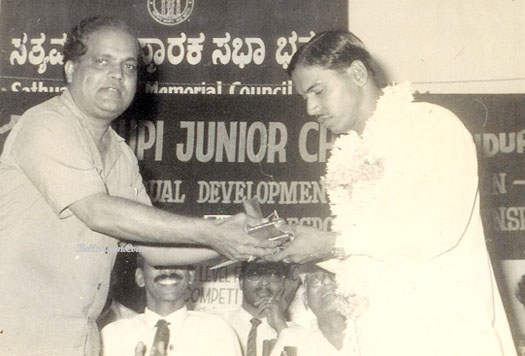 Jaycee's-Udupi Award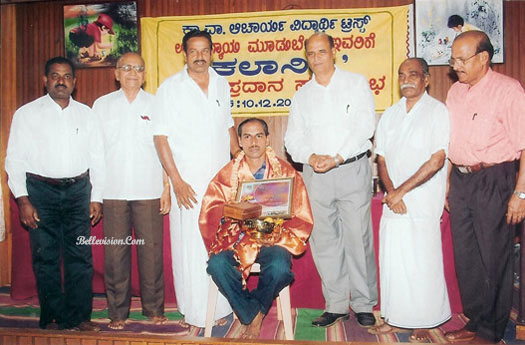 Kalanidhi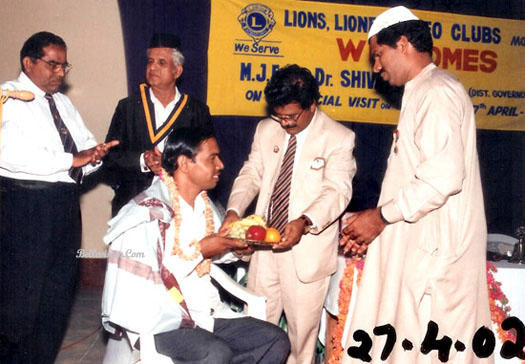 Honour at Lions Club, Moodubelle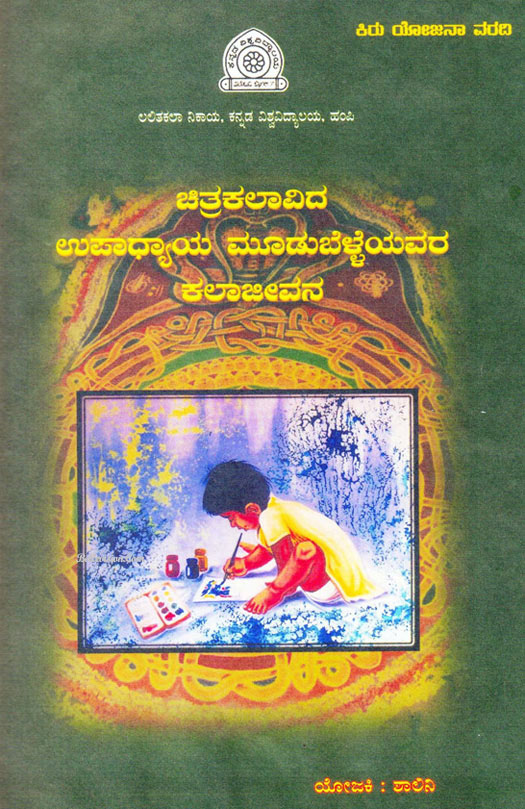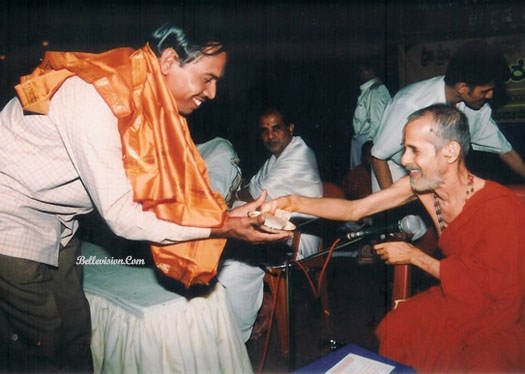 Honoured by Sri Pejavara Swamiji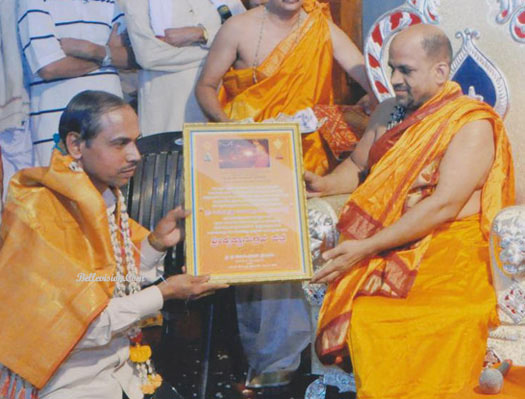 Honoured by Sri Sugunendra Teertha Swamiji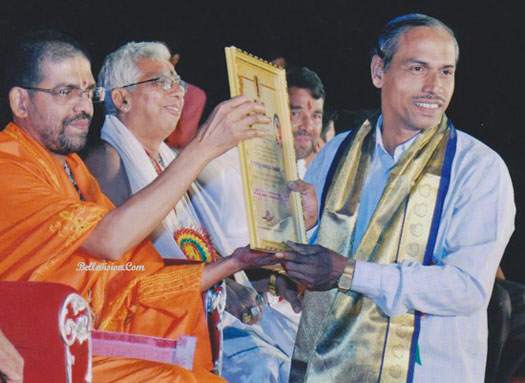 Honoured by Sri Shiroor Swamiji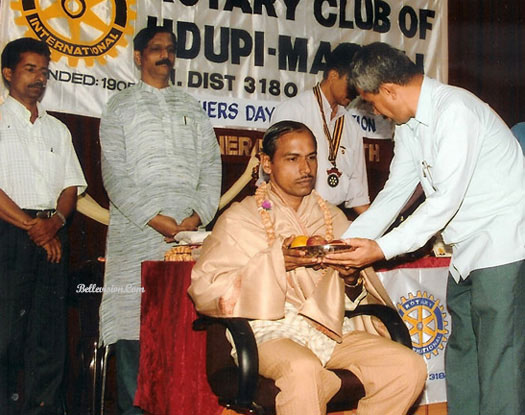 Honoured by Rotary Club, Udupi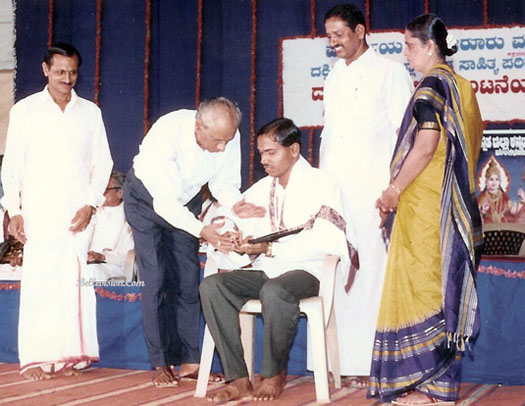 Sahitya Sammelana 1995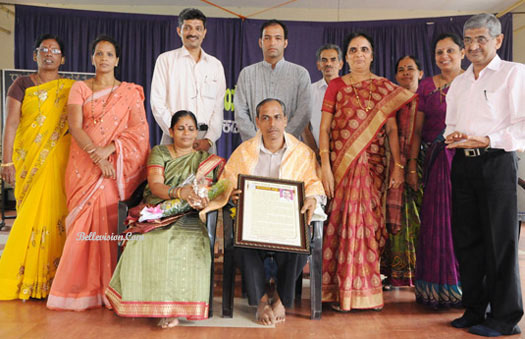 School Sanmana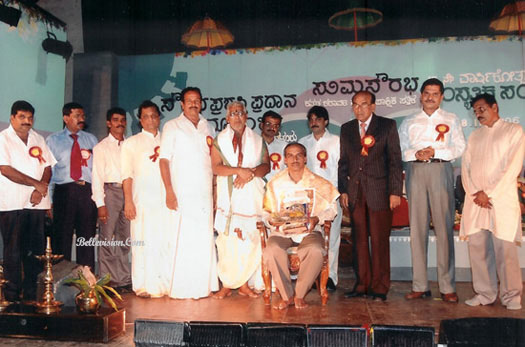 Honoured by Suma Sourabha

Karnataka State Award 2005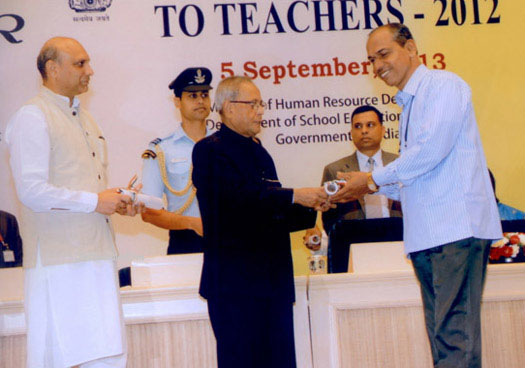 Receiving National Best Teacher Award 2012 from the Presdient of India on 5 Sept. 2013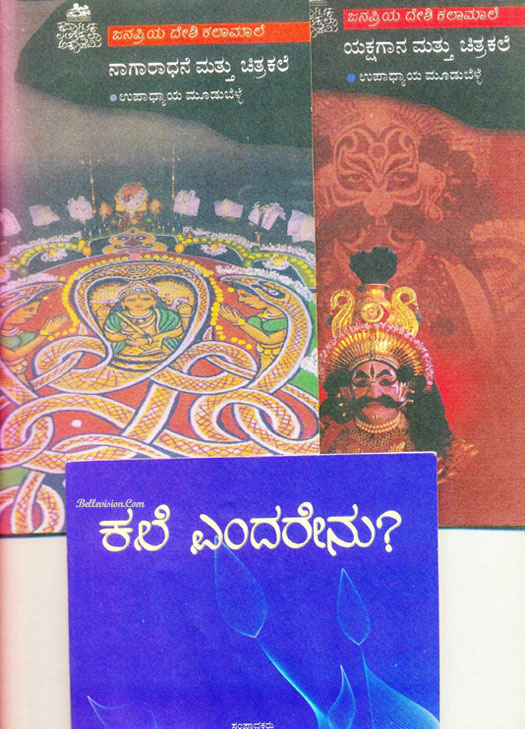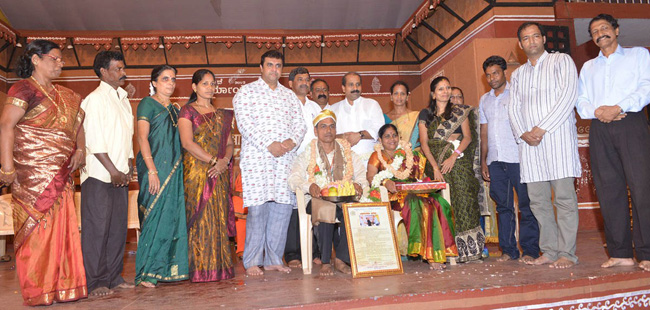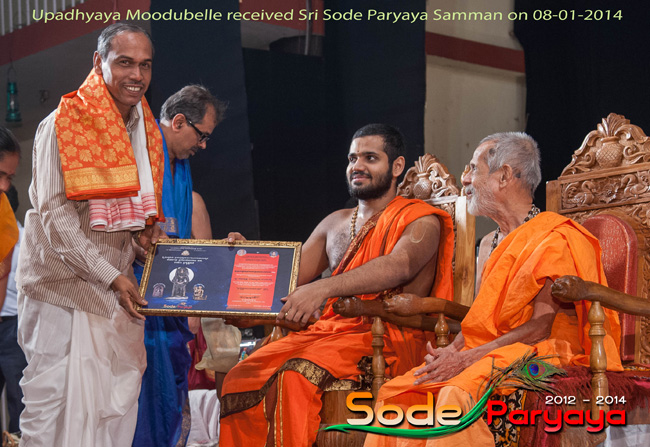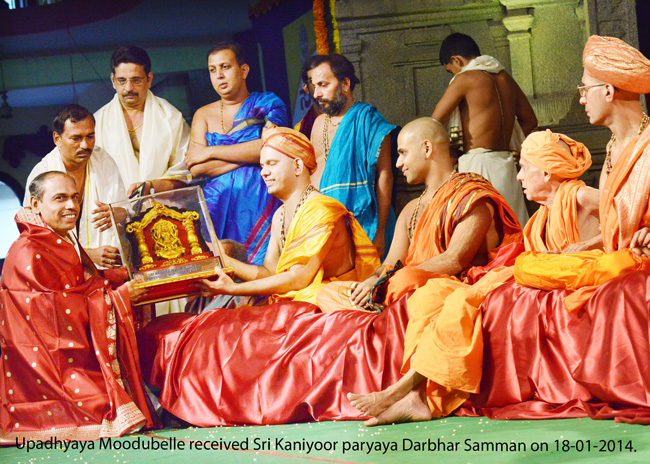 Having seen hardships in life, Radhakrishna had developed a strong family bond. He had been grateful to his mother for not only bring up his brothers and sisters. He looked after her with care and affection till she passed away in 2008. After his mother's death, Radhakrishna Upadhyaya left Moodubelle and settled at Nadu Alevoor.
Being magnanimous and sensitive, Radhakrishna made it his mission to encourage poor students to study and has been helping financially a number of students to pursue their education. He said that whatever amount that he had received in the Rashtraprashasti as the Best Teacher, he has distributed it to various organizations including the Church Aided Higher Primary School, Moodubelle of which he was a student and feels proud that this institution is completing 100 years this year.
Radhakrishna married Prasannalakshmi in 1991 and they have been blessed with two sons. The elder son-Pradyumna is presently working as an Animation Lecturer in SDM College, Vamanjoor, Mangalore and second son-Pramodana studies art (BVA) at CKM School of Art, Udupi.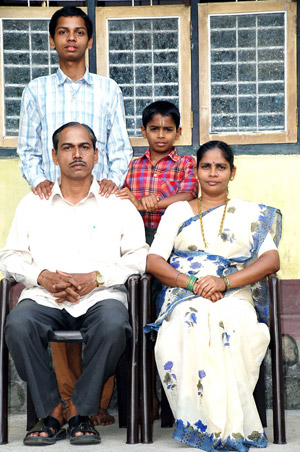 Upadhya Moodubelle with wife Prasannalakshmi & Sons Pradyumna and Pramodana
The art work of Radhakrishna Upadhyaya is unique and full of life and colours. He uses him imagination to create fine expressions of art with full of meaning and sensitivity. His painting and Rangavalli designs with various themes from Epics, Puranas and mythologies speak volumes about the talents, caliber and mastery of Radhakrishna Upadhyaya over the art form which he has been teaching and practicing over the years.
Being conferred with the national award as the Best Teacher is the greatest honour that a teacher could aspire and Radhakrishna Upadhyaya Moodubelle richly deserves this great honour, that too in the year when the school in which he had studied till seventh standard-Church Aided Higher Primary School, Moodubelle celebrates its centenary.