Udupi: Mrs. Eliza Fernandes of Shankerpura honoured as Best Teacher in Udupi Zone
By Eugene DSouza, Moodubelle

Bellevision Media Network


Udupi, 06 Sep 2013: On the occasion of the Teachers Day Celebration, Mrs. Eliza Fernandes of Shankerpura teaching at the Government Higher Primary School, Kalatthuru, along with 5 other s were honoured as Best Teachers of the Udupi Zone for the year 2013-14. The other 5 teachers are: Satish Salian of Manipura Government Primary School, Subraya Hebbar of Alevooru Subhodhini Higher Primary School, Gopala Krishna of Kalatthuru P.K.S. High School, Synthia Shalini of Shirva Don Bosco English Medium Primary School and Sashi Kumar of Malpe Shri Narayanaguru English Medium High School.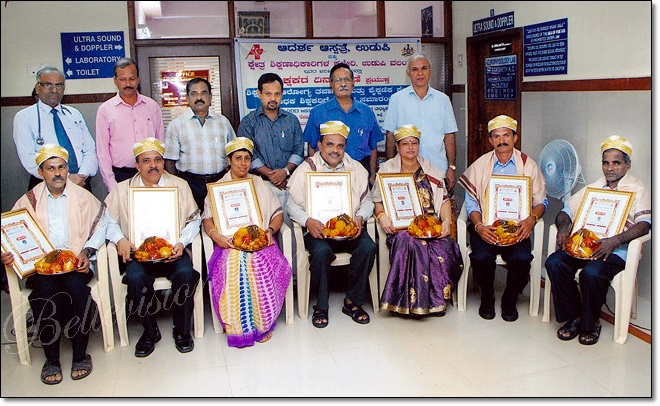 These award winning six teachers along with the winner of last year's Best Teacher National Award-Kudhi Vasant Shetty of Kudhi Shri Vishnumoorthy High School were honoured by Udupi District Officer Dr. M.T. Reju at the Adarsh Hospital, Udupi on September 1, 2013 as part of the Teachers' Day Celebration and free medical check up for the teachers. Medical Director of the hospital, Dr. G.S. Chandrashekhar speaking at this occasion said that it is the responsibility of the doctors to take care of the health of the teachers who shape the future of the nation through educating the children and youngsters.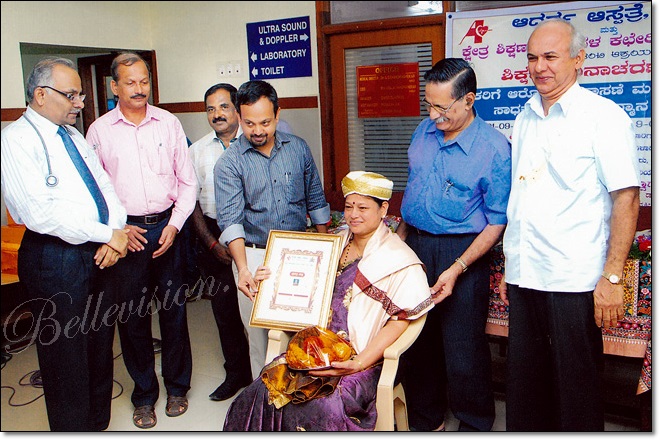 Mrs. Eliza Fernandes comes from a family of teachers. She was born on 1 August 1959, as the 11th child among 5 sons and 9 daughters of late Julian Fernandes (Jillu Master) and late Pauline Fernandes of Halehalve, Kundapur. Out of five brothers and eight sisters, one brother (Fr. Valerian Fernandes of Aurangabad Diocese) and eight sisters along with her took up teaching profession. Fr. Valerian Fernandes founded St. Paul's High School at Paithan in Aurangabad District of Maharashtra which has completed 27 years providing quality education to the students of that region. Among her elder sisters late Mrs. Alice D'Souza had been a teacher in Mangalore, Sr. Millicent (AC) had been a Music Teacher at different places, Sr. Noreen (AC) then serving as the Principal of Junior College at Kanpur (UP) received Best Teacher National Award some years back another sister Mrs. Rosy Aranha has been a teacehr in Daksina Kannada District. Sr. Caroline is the present Provincial of the Holy Cross Province of Pune. Among her younger sisters, Mrs. Matilda Fernandes hass been a successful teacehr in Bangalore and Mrs. Gladys Noronha is presently serving as the Music Teacher in one of the reputed schools in Kuwait.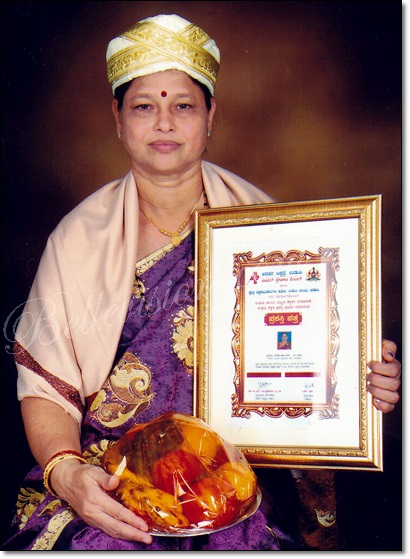 Eliza had been good both in studies and sports and other co-curricular activities. She had primary education in Government Higher Primary School, Badakere Kundapura and High School education in St. Joseph's Girls High School, Kundapura. While in school, Eliza had been Girls Champion in Sports successively for five years and at that time held record in high jump. She had been district level player in throw ball game.
Having a strong desire to be a teacher, Eliza underwent Teachers Training Course at St. Anne's Teachers Training Institute at Mangalore. After completing her teachers' training course, Eliza joined St. John'sHigher Primary School, Shankerpura in 1988 and continued to serve the institution for ten years till 1998 and since then she has been serving as a teacher in the Government Higher Primary School at Kalatthuru for the past 15 years.
With considerable amount of experience as an innovative teacher, Mrs. Eliza Fernandes was taken up as Cluster recourse Person for two years at Kalatthuru and as a Resource Person for British Council Teachers' Development Programme in English. She was also resource person to train teachers from other clusters in preparing teaching aids.
Mrs. Eliza Fernandes has been a dedicated and popular teacher in her school. She has been in the forefront in training her students in various school activities including drawing, singing, acting, debating, gardening, sports, etc. Students trained by her have been participating in various competitions at different levels and have been winning prizes for their school.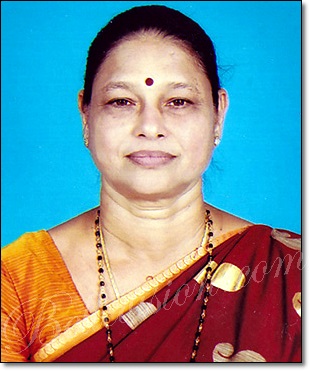 Mrs. Eliza Fernandes is married to Vincent Martis of Shankerpura who manages the Jasmine Cultivation. They have two children-Vidya and Vinay. Daughter Vidya is married to Anil D'Sa (Anil Sounds). Vidya conducts Melody Music School and Kushi Play School. They have two children-Varun and Varsha. Son Vinay has been working in Kuwait and he is married to Glanet Castelino.