Haridas Bhat: A Rebel with a cause who made agriculture his profession
By Dr. Eugene DSouza, Moodubelle

Bellevision Media Network


Udupi, 22 Aug 2013: There have been persons in different countries and societies who either defied the existing cultural stereotypes or social taboos to chart their own course of action which they found to be right in their own perspective and have had achieved success. In many cases, it was not easy to defy the entrenched social system and many had to pay with their lives or just give up the cause for which they had been fighting. Those who have had the determination and grit to carry on with their chosen path could achieve success. Haridas Bhat, famous as 'Hari Bhat', a resident of Poydapadi in Moodubelle has been one such rebel with a cause who though belonged to higher caste among whom self-cultivation of the land was a taboo, defied the age old tradition and made agriculture his profession.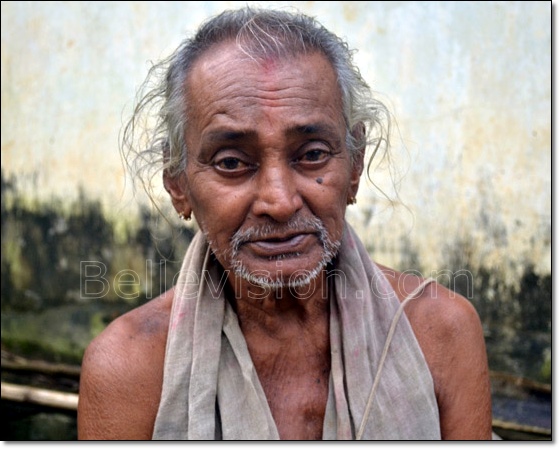 Since long I had a desire to compile the profile of Haridas Bhat for Bellevision. However, for some reason or the other I was unable to approach Haridas Bhat and his family. The opportunity to meet Haridas Bhat came in the form of a suggestion by Ivan Menezes which I grabbed and asked him to fix a meeting with him and his family so that both of us could meet them and collect necessary information to compile the profile of the person whose family is still active in the agricultural profession.
As per Ivan's arrangements with Haridas Bhat and his family, both of us went to the latter's house on Monday, August 19, at 5 pm, and waited in the courtyard behind the house for Haridas Bhat whom I had not seen for many years. Haridas Bhat, looking lean and weak due to the advancing age and years of hard work emerged from his house with an old dhoti around his waist and another strip around his neck. After preliminary greetings we settled down for interaction.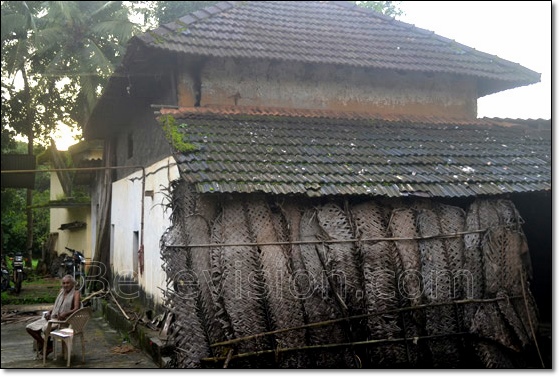 95 years old House of Haridas Bhat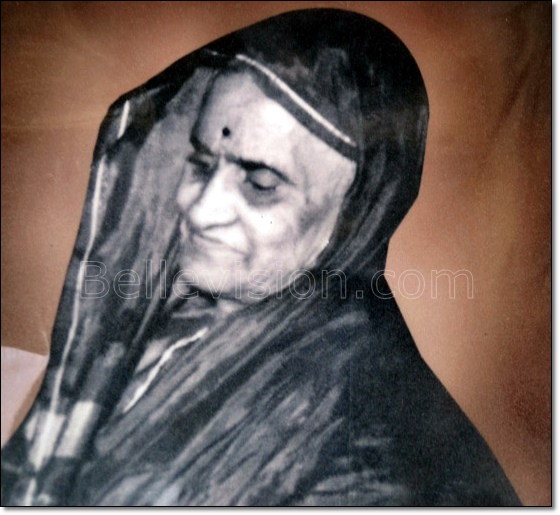 Lakshmiamma-Mother of Haridas Bhat
Haridas Bhat, presently 84 years old, recalling his family background said that it was his grandfather Govinda Bhat who first settled down at Poydapadi-Tabail after acquiring considerable amount of land from the Kaniyoor Mutt. It was his grandfather who rented some part of the agricultural land and remaining land he got cultivated with the help of labour.
Born in 1929, Haridas Bhat was the second among three children of Narayan Bhat and Lakshmiamma, the eldest and youngest being daughters. Haridas went to the Government Higher Primary School at Padubelle and studied up to third standard. Being the only son in the family, it was suggested that Haridas should be trained in the 'Purohita' tradition and was sent to Attur, Karkala to study the Vedas and Shastras under the guidance of his uncle, Narasimha Bhat, where he spent around six years.
Returning to his home in Moodubelle, Haridas used to participate in various poojas and other socio-religious functions as 'Brahmachari' where he would get not only free food but also gifts (dakshina).
During the time of Haridas' father, there were three pairs of buffaloes in the stable which were used for cultivation. One Christian, named Gabriel who stayed nearby would take care of these buffaloes and also do other work related to agriculture along with other labourers.
At the young age of 18 years, Haridas Bhat had to shoulder the responsibility of managing the household and agriculture as his father Narayan Bhat passed away. Two years later, at the age of 20, Haridas Bhat married Sharadamma of Ambalpadi.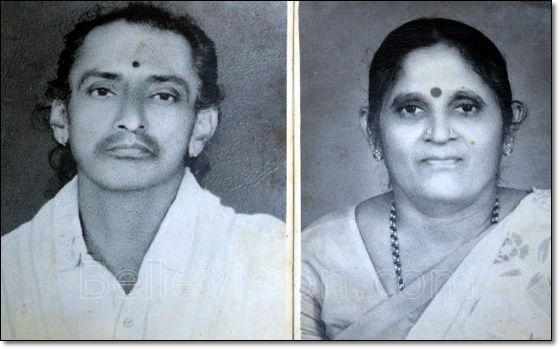 Haridas Bhat and Shanta Bhat in younger days
While supervising and managing the cultivation, Haridas Bhat, even at that time had to face labour problems. His young mind began to ponder as to why he could not himself enter the field and do all those activities associated with cultivation such as ploughing, cutting the side of the field with spade, carrying saplings or manure or even planting and harvesting. Being young and energetic, Haridas Bhat had great interest in such activities. However, he was little hesitant as his caste rules prohibited members of the caste being involved in such activities.
Haridas Bhat became a rebel with a cause when he eventually decided to plunge himself in full agricultural activities in early 1960s though he knew that he would have to face the consequences of his actions from the custodians of the caste rules. A number of prominent persons belonging to his caste warned him that his agricultural activities might result in serious consequences. Being informed about the activities of Haridas Bhat, the Kaniyoor Mutt officials summoned him and rebuked him for the breaking of the caste rules. However, Haridas Bhat who had by that time understood the importance of his personal involvement in agricultural activities continued with his work.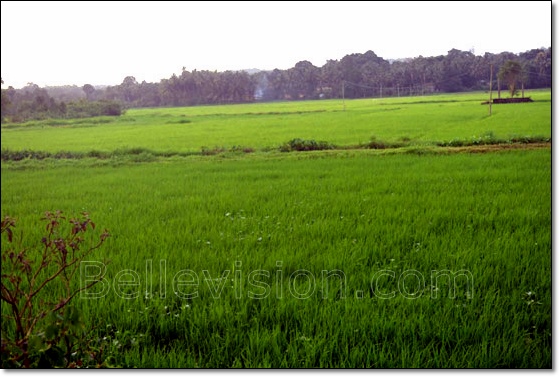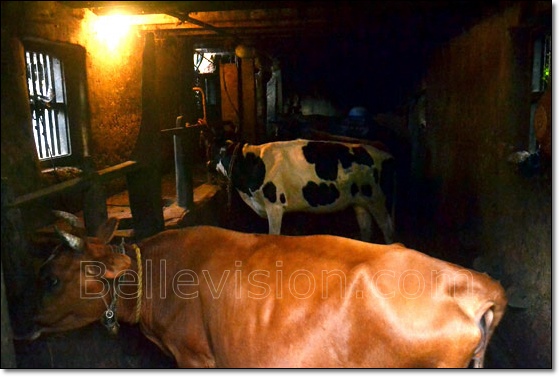 According to Muralidhara Bhat, one of the sons of Haridas Bhat, who stays with him with his family, his father was a visionary and would always experiment with new innovations. As he produced quite an amount of paddy, he would take it to the rice mill in Padubelle run by Ramakrishna Bhat as the rice making process was faster and cheaper. Haridas Bhat had the largest wooden plough in the village and when the metal plough was introduced, he was the first agriculturist to use it in his field.
Whenever new verities of hybrid seeds arrived in the market, Haridas Bhat would be the first one to experiment with them. Muralidhara Bhat said that once his father even cultivated Basmati rice for two seasons. With a view to cultivate three crops, Haridas Bhat got four wells dug in his land so that the paddy fields could be irrigated continuously.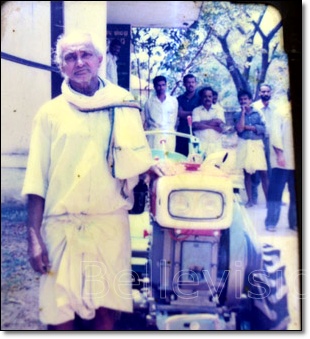 Haridas Bhat with the newly acquired tiller
When mechanical tiller was introduced for ploughing the fields, Haridas Bhat got one for himself and sold off the buffaloes except one pair for flattening the soil after being tilled by the mechanical tiller. Once he mastered the art of flattening the soil through tiller, he even sold off that last remaining pair of buffaloes who had served him well in his agricultural activities. Presently, five Jersey cows occupy the space in the stable that was filled by the buffaloes for many years. This shows the forward looking nature of Haridas Bhat who rather than sticking to tradition just adapted and adopted new techniques that would increase the productivity of the land.
Though Haridas Bhat brought about a kind of agricultural revolution in Belle and increased the productivity by using mechanized farming, hybrid seeds and fertilizers, he never sought recognition for his work in the form of awards or prashasthis. He felt that it would be better to concentrate on his work rather than waste time in running after these recognitions.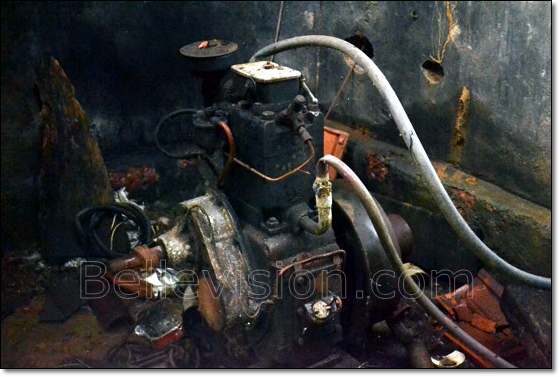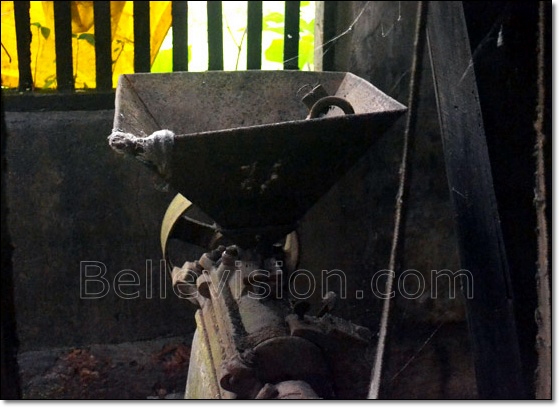 With an innovative mind, Haridas Bhat installed his own rice mill and ran it for many years before it fell idle. The dilapidated shed housing the old rice mill with the diesel machine belonging to the British period and 'huller' can be seen even today. Muralidhara said that Haridas Bhat was the first person in the village to produce gobar gas nearly forty five years ago and the huge fiberglass gas drum, broken in parts due to the impact of the falling coconuts from the trees could be seen even today as a reminder of the entrepreneurial capabilities of Haridas Bhat.
The buffaloes of Haridas Bhat used to be the star attraction during the buffalo race (Kamballa) in Moodubelle. For many years, the pair of buffaloes of Haridas Bhat won either first or second position in the Kambala.
As the Shri Mahalingeshwara Temple at Devaragudde, Moodubelle was in a dilapidated condition and required renovation, it was Haridas Bhat along with Vasudeva Upadhyaya abd Shankarnarayana Hebbar who took initiative and collected funds by visiting many places in India including Mumbai and Bangalore and got the temple renovated. He along with others was also responsible for the organization of the annual temple festival, a tradition which still continues.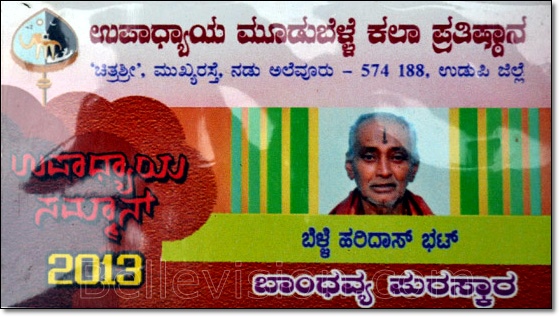 Haridas Bhat had three sons with Sharadamma. Soon after the birth of his third son, Mukunda, Sharadamma passed away and sometime later he married for a second time with Shantamma. They have two sons and two daughters. One of the sons, Muralidahara, who is a mechanic of tillers and two wheeler diesel and petrol engines stays with Haridas Bhat along with his family. Mukunda Bhat, the last son by his first wife Sharadamma stays nearby with his family and carries on the tradition set forth by his father as a hardworking agriculturist and also does catering business.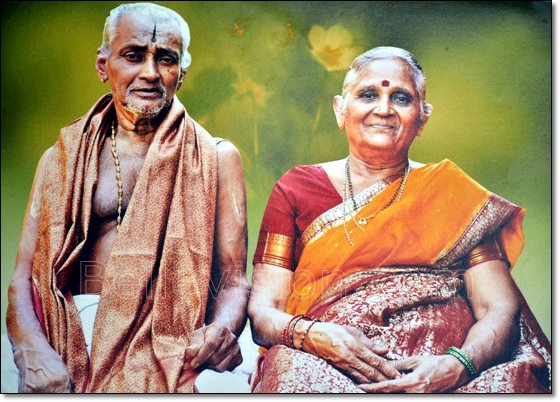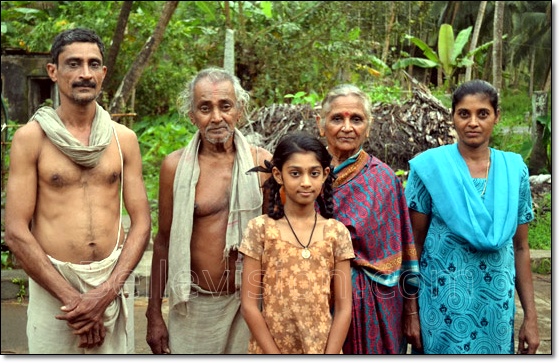 Haridas Bhat with his wife-Shantamma, son-Muralidhara Bhat, daughter-Sitalakshmi and granddaughter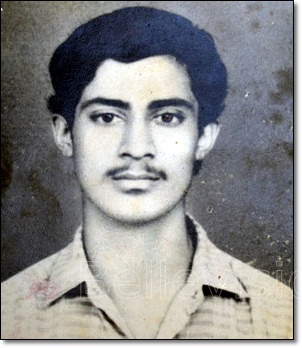 Muralidahara Bhat in younger days
Being old and frail, presently, Haridas Bhat spends much of the time at home, but during cultivation, he makes it a point to visit the fields and guides his sons and grandsons in agricultural activities. He has seen to it that none of his paddy fields have remained fallow whereas a large number of traditional agriculturist families have given up agriculture due to the enormous problem of finding labour and the increasing cost of cultivation.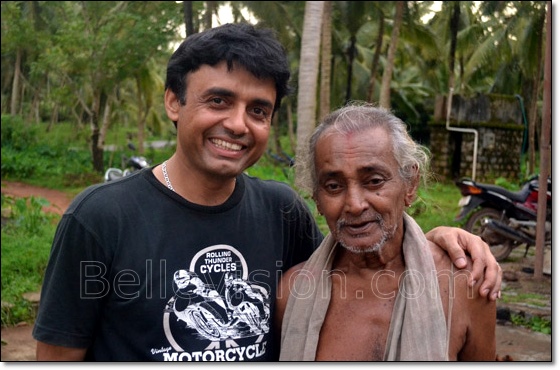 Haridas Bhat with Ivan Menezes
Having completed the interaction with Haridas Bhat and his son Muralidahara Bhat, Ivan and myself thanked both of them for spending some time with us and giving us an opportunity to know something about the person who was a rebel with a cause who made agriculture his profession which is still continuing in his family.