Mrs Theresa DAlmeida: Amazing journey from clinical and administrative nursing to an accomplished
By Dr. Eugene DSouza, Moodubelle

Bellevision Media Network


Moodubelle, 08 March 2013: After successful career as Head Nurse in the Hamad Medical Corporation's Rumailah Hospital in Doha-Qatar and settling two of her daughters, Mrs. Theresa D'Almeida along with her husband, Lawrence, a successful business administrator returned to her native village-Belle a year ago even before attaining the age of retirement. Though had an opportunity to migrate either to the United States or Canada where her services were very much sought after and even after signing the documents for immigration to Canada, Theresa on the advice of her husband gave up the dream of serving in Canada and eventually came back to India to have a peaceful life and to be helpful to the society in any manner possible especially in the field of counseling, the skill which she had acquired while serving in Doha-Qatar.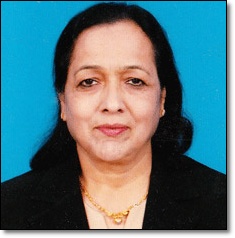 On this International Women's Day on March 8, by presenting the profile of Mrs. Theresa D'Almeida, Bellevision.com carries forward the tradition of highlighting the achievements of some of the prominent women personalities of Belle who have made a mark in their profession and life. There is no doubt that the amazing journey of Theresa D'Almeida from clinical nursing to an accomplished counselor would inspire many more young women to walk in her steps.
The journey of Mrs. Theresa D'Almeida, originally Alva has been a challenging one. Born on 14 April 1953 as the eldest among six children, five daughters and a son of late Jerome and late Alice Alva of Attinja, Theresa had her education up to second standard at Attinja. As circumstances forced them to leave their ancestral home, the family shifted to Devaragudde where they were given a piece of land to build a house by late Raymond Castelino, father of Fr. Denis Castelino. Having shifted to Moodubelle, Theresa continued her primary and higher primary education in the Church Aided Higher Primary School.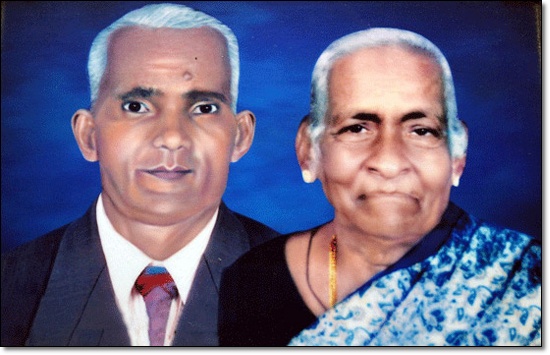 Parents of Theresa: Late Jerome and late Alice Alva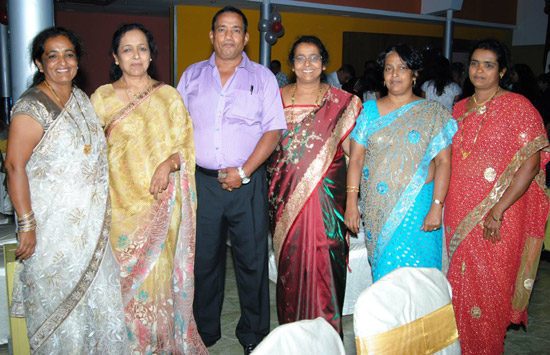 Sisters and brother of Theresa: Ida, Theresa, Norbert, Juliana, Jessy and Clara
After completing SSLC in 1970, Theresa was keen to join the nursing profession and applied for training in the King Edward Memorial Hospital (KEM Hospital) in Mumbai where late Joseph Castelino was working. It was Joseph who informed Theresa that she was selected to undergo training in that hospital. Having got this golden opportunity to be trained as a nurse, Theresa proceeded to Mumbai in September 1970 and enrolled for General Nursing and Midwifery Training.
In the course of the interview, Theresa gratefully remembered about the help rendered to her while in Mumbai by late Joseph Castelino and his wife late Koses. She was emotional when she said that they were her guardians in Mumbai so much so that her engagement to Lawrence and marriage arrangements were done at their residence at Dadar. Theresa also remembers with gratitude the support given by the family of her mother, especially Mrs. Christine Castelino in Mumbai.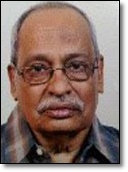 Late Joseph Castelino
Having completed three and a half years of training, Theresa joined as the staff nurse in the same hospital and after one and a half years of service joined the Bina Nursing Bureau, an association of private nurses. Through this bureau, Theresa served in various reputed hospitals in Mumbai such as the Breach Candy, Jaslok and Tata Memorial and different nursing homes. While serving in these hospitals and nursing homes, Theresa had an opportunity to look after some prominent personalities including former finance minister of India C. Subramanyam who had given her a letter of appreciation and film star Sanjiv Kumar.
Speaking about her experience during the stint of nursing in Mumbai, Theresa narrated an incident which manifests her human touch to the profession. There was a poor young patient with liver ailment who was in need of blood. As the father of the patient could not find anyone to donate blood and was worried, Theresa came forward and donated her own blood which brought tears in the eyes of the patient's father. Theresa says that the goodwill and prayers of the families whom she had served as a nurse gave her strength to carry on in her profession and in life.
It was in 1978 that Theresa got engaged to Lawrence D'Almeida of Kemmannu who was working as accounts assistant in the Gulf Hotel in Bahrain and both of them were married in Mumbai in May 1979. Having married to Lawrence who was working in Bahrain, Theresa went along with him and tried to get a job as a nurse in military or in government hospital in Bahrain. Meanwhile, Theresa got her first child-Loreta in August 1980. Soon after they returned to Mumbai and were waiting for better prospects.
Back in Mumbai, Theresa once again started working as private nurse in Bachas Nursing Home. Meanwhile, both Lawrence and Theresa were trying their luck for better jobs in any one of the Gulf nations. Eventually in 1983, Theresa got a job offer in the Ministry of Interior Medical Division in Doha-Qatar.
Grabbing the opportunity, Theresa went to Doha and initially served as In-charge Nurse in the Female Outpatient Unit. Having proved her ability as a diligent and effective nurse, Theresa was shifted to the Department of Psychiatry where she had to assist in assessing mental fitness of police applicants and also the staff besides attending the duty for female prisoners. Thus began the journey of Theresa in the path of becoming a counselor.
Theresa fondly remembers her mother, late Alice Alva who passed away in July 2006. Theresa said that after the demise of her father in September 1971, her mother had to work hard as a daily wage earner to look after her children. Later, when Theresa began earning and took responsibility of supporting her family, her mother would say to Theresa that being the eldest, she took the responsibility of the family as a son and lived the life of a daughter about which she was very proud. Theresa says that her husband Lawrence fully cooperated with her endeavour to support her siblings in whatever way she could.
Having worked as Staff Nurse in the Police Medical Division from 1983 to 1990 and having proved her ability as a sincere and dedicated professional, in September 1990 Theresa found it easy to join the Hamad Medical Corporation where she alternately worked as Staff Nurse in Female and Male Psychiatry Unit from 1990 to 1997. Thereafter she was on transfer assignment to Children's Rehabilitation Unit at Rumailah Hospital for a year and was promoted to Charge Nurse. From 1998 to 2001, Theresa was reassigned to Female Rehabilitation Unit. Later, she was transferred back to the Female Psychiatry Unit as Unit In charge. Theresa's ability, sincerity and commitment to her work eventually brought her reward in the form of promotion as Head Nurse in the Hamad Medical Corporation in 2002, the post which she held till her voluntary retirement on March 30, 2012.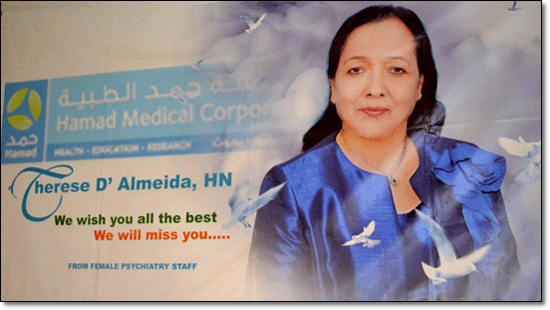 Theresa was not just satisfied with routine nursing profession. Besides applying human touch to the service and empathy with the patients, she believed in furthering her knowledge about different aspects of nursing and availed all possible avenues and opportunities to increase and update the new knowledge in the medical and psychiatric fields by undergoing certificate courses and attending various seminars and workshops. The certificate courses done by Theresa include Computer and Medicom, Leadership, Preceptor/Mentor Course, Patient/Family Complaint Management, Mobilization Technique for Disabled Patients, Performance Improvement, Infection Control, Gastro-Intestinal Intubation, Essential Disaster Administration Management, Immediate and Advanced Life Support, Prevention and Management of Challenging Behaviours, etc.
Having been introduced to psychiatric treatment of the patients, Theresa decided to further her qualification by undergoing Psychiatry Nursing Education in various aspects of the psychiatry which included Therapeutic Nurse-Patients Relationship, Mental Status Examination, Psychiatry Nursing Assessment and Care, Nursing Intervention in Aggression and Violence, Nursing Assessment and Care of Suicide Patients, Counseling, Electro-Convulsive Therapy, Symptom Management and Prevention of Relapse, Crisis Intervention, Behaviour Modification and Limit Setting, De-escalation and Personality Disorders, etc.
Theresa also had an opportunity to conduct nursing courses in Fundamentals as well as Psychiatry and Mental Health to nursing students of the University of Qatar for four years from 2000 to 2004.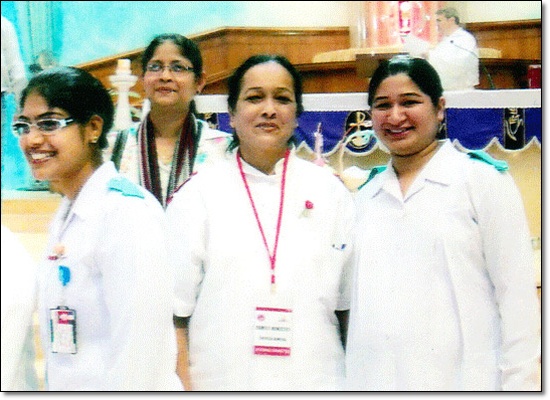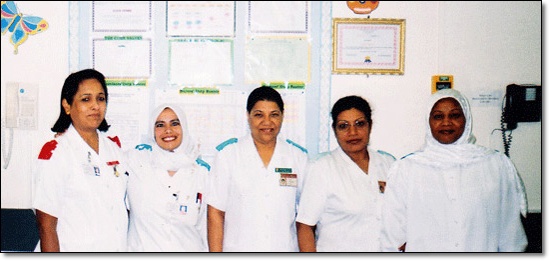 During my interaction with Theresa and her husband Lawrence and going through the various certificates and letters of appreciation from the hospital authorities, I found that she had been fully dedicated to her profession not taking it just as an employment but as a mission and vocation. Some of the commendation letters manifest the humane and professional approach of Theresa to the service of nursing that she rendered in various capacities in different departments.
In a testimonial, Dr. Suhaila Ghuloum, Chairperson of the Psychiatry Department, Rumailah Hospital writes"…she has been exemplary with her commitment, compassion, knowledge as well as her clinical and administrative skills…Theresa looked at her nursing profession as a humanitarian vocation and not merely a job. Her concern for the fellow human being shines through in her care of patients and activities within her social circle. It was always a pleasure listening to her, guide her staff on the true meaning of caring and professionalism, providing support, guidance and aspirations to improve…"
Dr. Mohd A. Ibrahim, Senior Consultant Psychiatrist from the same hospital highlights the fine qualities of Theresa in a well-written certificate of appreciation. "…It is suffice to say you can hardly get the four pillars of professionalism, i.e., outstanding attitude, high level of discipline, unlimited knowledge and skills accumulating in one person. I can say proudly and confidently Ms. Theresa has been that person. Her kind and responsible approach towards her staff, patients and their families has been always exemplary and an example for others to emulate. Her competence, leadership, clinical nursing abilities and qualities are unquestionable…"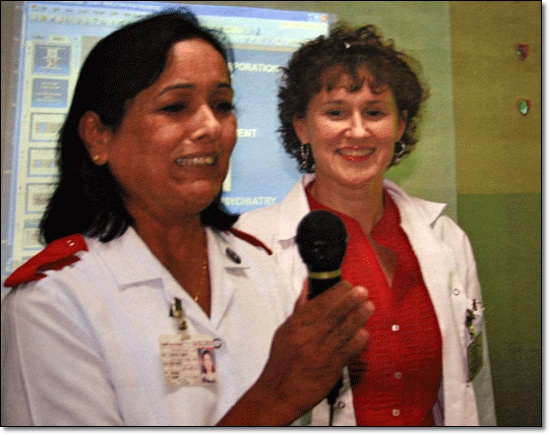 Theresa had an opportunity to migrate either to the United States or Canada where she had offers to serve in reputed hospitals. She had even cleared International English Language Testing System conducted by the British Council. Moreover, Theresa had also signed the documents for immigration to Canada. However, the wise counsel of her husband Lawrence prevented Theresa from immigrating to Canada. Theresa says that she had applied for the job in Canada just to find her ability to fulfill the tough selection process and she was happy that she had proved her competence in a highly professional field.
While dedicating herself to professional career, Theresa neither neglected her family responsibilities nor shirked church or social obligations. She has been a loving mother to her daughters and caring wife to Lawrence. Besides, while in Doha Theresa had been an active member in Family Ministry in the parish as the Counseling Coordinator.
Theresa had been an active member of Bellevision Doha-Qatar since its inception. She was the president of Bellevision Doha-Qatar from 2009 till her voluntary retirement from service in March 2012. During this period, Theresa organized celebration of various feasts such as Christmas, parish feast and Easter as well as picnics and get-togethers.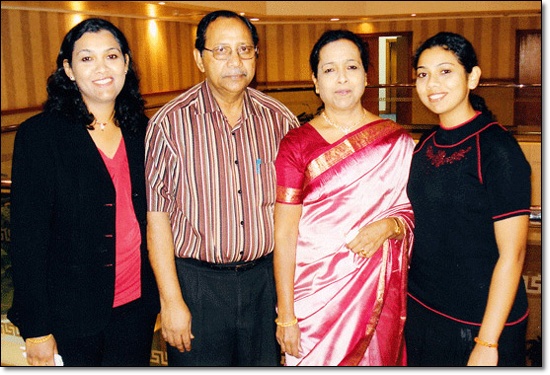 Theresa's family: Loreta, Lawrence, Theresa and Linda
Among the two daughters of Theresa and Lawrence, Loreta is married to Sunil Serrao. They have been blessed with two sons-Lionel and Sheldon. Younger daughter Linda is married to Kenet Coelho. Both these daughters and their families are presently in Doha-Qatar.
After a long period of service in Doha-Qatar, even before completing the age of superannuation, both Theresa and Lawrence decided to come back to their native village-Belle where they have a beautiful house.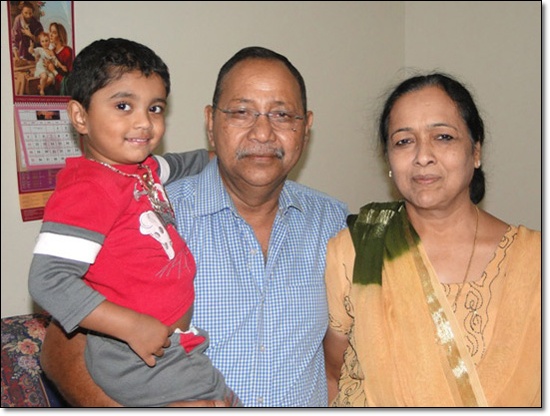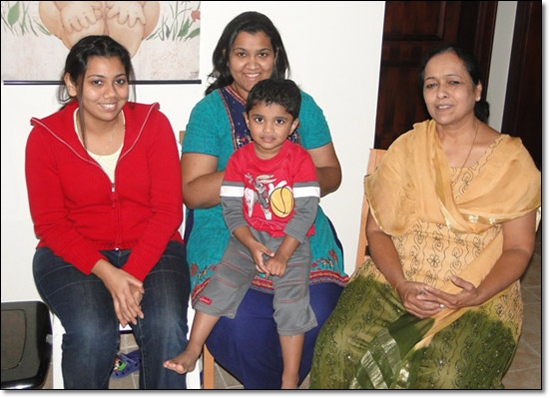 Having come back to Belle, Theresa felt that she can be of some service to the community, given a vast knowledge and experience in nursing, psychiatry and counseling that she had gained while serving in Doha-Qatar. On the recommendation of Rev. Fr. Joswey Fernandes, Correspondent of St. Lawrence Educational Institutions of Moodubelle, the Catholic Board of Education(CBE) has appointed Theresa D'Almeida as one of the members of the Managing Committee of St. Lawrence College, Moodubelle. Besides, she has also been appointed as the official Counselor to the students of the college. So far she has given three motivational lectures to the college students in order to instill in them confidence and motivate them to study and achieve success in the forthcoming examinations. She had also addressed the second year PUC students of St. Lawrence Composite PU College on the occasion of their send off and gave them tips as to how to prepare for the examination and face it.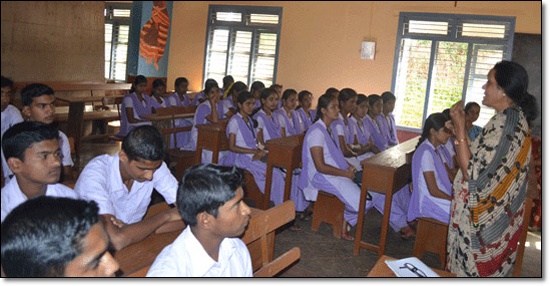 Theresa addressing St. Lawrence Degree College students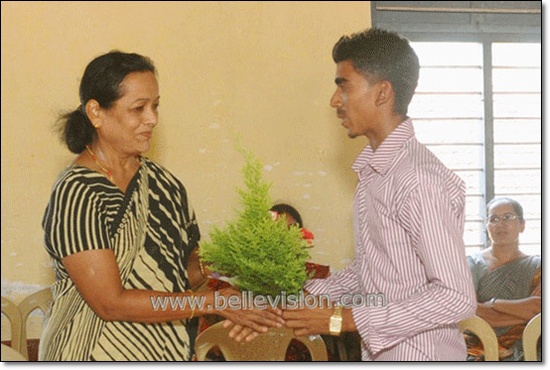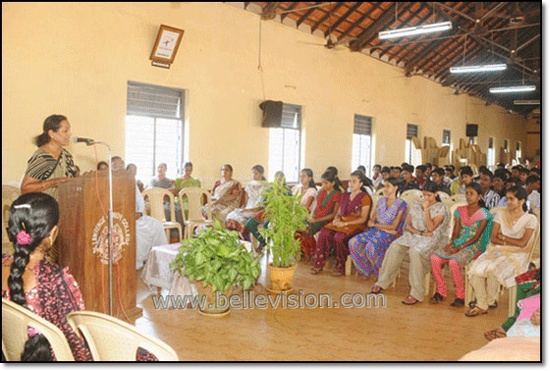 Theresa addressing St. Lawrence PU College students
Theresa D'Almeida is a soft-spoken person, down to earth and of helping nature. Having worked in psychiatry department in the Hamad Medical Corporation and having served as a counselor she is well equipped to help persons who require counseling.
The long journey of Theresa D'Almeida from being a nurse to a psychiatrist and counselor has been quite amazing and inspiring. The hallmarks of her success can be attributed to her professional approach, serving the patients with a human touch, empathy, dedication and sincerity towards her work and a quest for additional knowledge in the field.