Rev. Dr. Gerald Isaac Lobo: First Bishop of newly created Udupi Diocese
By Dr. Eugene DSouza, Moodubelle

By Bellevision Media Network


Udupi, 14 Oct 2012: The date October 15, 2012 will be etched in the history of Udupi Diocese in particular and that of coastal region of India in general as the date on which the Catholics spread over the administrative district of Udupi got their own diocese and the person of the caliber of Rev. Dr. Gerald Isaac Lobo became their first Bishop. This had been the dream of thousands of Catholics since long and time has come to redeem this dream by officially erecting the Diocese of Udupi and formally installing Rev. Dr. Gerald Isaac Lobo as its first Bishop.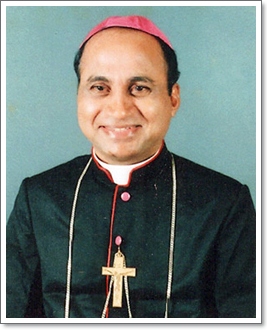 As we look forward tomorrow, October 15, 2012, the historic day as the preparations for the grand ceremony are getting final touches and Catholics spread across the Udupi district are eagerly waiting to pour into the huge ground of the Milagres Cathedral of Kallianpur either through their own vehicles or hired ones by their respective parishes, the thoughts uppermost in everyone's mind is about the new Bishop Rev. Dr. Gerald Isaac Lobo who bears a great responsibility to build and nurture the new diocese.
People have great expectations from the new Bishop and it can be safely said that with his down to earth approach, vast experience of administering relatively less developed diocese of Shivmoga and setting the right goals such as emphasis on "Faith and Development", Rev. Dr. Gerald Isaac Lobo is on firm ground and there is no doubt that with determination and personal example, with the cooperation of the priests, religious and laity he will lay a strong foundation of the new Diocese of Udupi and put it on the right path of progress and development spiritually and materially.
Rev. Dr. Gerald Isaac Lobo who will cross the threshold of 63 year was born on November 12, 1949 to Aloysius and Mary Lobo residing in the parish of Agrar near Bantwal. After studying in the local higher primary school, Dr. Gerald continued his high school education in SVS High School, Bantwal and proceeded to St. Aloysius College, Mangalore for collegiate studies.
Having experienced the call of God to serve Him in a better way, Dr. Gerald joined St. Joseph's Seminary, Jeppu, Mangalore and ordained a priest on May 5, 1977. Thereafter, he served as Assistant Parish Priest in Urwa from 1977 to 1978 and Shirva from 1978 to 1982. Having secured sufficient experience in running the parish administration, Dr. Gerald was given the responsibility as the Parish priest of Badhyar from 1982 to 1990.
The administrative ability of Dr. Gerald attracted t he attention of the Diocesan authorities which led to his appointment as the Director of Canara Organisation for Development and Peace (CODP), a Social Service Organization of Mangalore Diocese for 8 years from 1990 to 1998, Episcopal Vicar of Kasargod from 1998 to 2000.
Meanwhile, Dr. Gerald Isaac Lobo completed PG Diploma in Coady International Institute, St. Francis Xavier University, Canada in Planning in Social Development and Institute of India and Friedrich-Naumann Stiftung, Germany in 'Entrepreneurship Development'.
A greater responsibility awaited Dr. Greald Isaac Lobo as he was appointed as the Bishop of Shimoga on December 3, 1999 when he had just completed 50 years of age and was ordained as the Bishop on March 20, 2000. During the past 12 years, Rev. Dr. Gerlad Isaac Lobo had served the Diocese of Shimoga with great ability. With the carving out of the new Diocese of Udupi from the larger Mangalore Diocese with the proclamation of Pope Benedict XVI on July 16, 2012, Rev. Dr. Gerald Isaac Lobo was designated as the first Bishop of the newly erected Diocese of Udupi and will be installed tomorrow, October 15, 2012.
As the Bishop of Shimoga, Rev. Dr. Gerald Isaac Lobo had the responsibility of looking after the spiritual and material wellbeing of around 20,000 Catholics. Though the number seemed comparatively low, these faithful have been spread over three districts – Shimoga, Chitradurga and Davangere covering an area of over 21,000 sq. kms. The Shimoga Diocese comprises of 22 parishes, 17 mission stations and 9 sub-stations with 52 diocesan priests, 23 religious priests and 225 sisters distributed in 35 convents and 9 religious houses.
With the appointment as the first Bishop of the newly created Udupi Diocese, Rev. Dr. Gerald Isaac Lobo is better place as the diocese is restricted to one district covering an area of 3,880 sq. kms. The new Diocese of Udupi comprise of 1.25 lakh of Catholics distributed in 48 parishes spread over five Deaneries (Varados)-Udupi, Shirva, Karkala, Kallianpur and Kundapur. There are 58 diocesan priests, 28 religious priests and 225 sisters. The new diocese also has four degree and five Pre University colleges, 23 high schools, 48 primary schools, 14 nursery schools, a technical institute and nursery training school. There are also educational institutions run by religious Congregations of priests and nuns.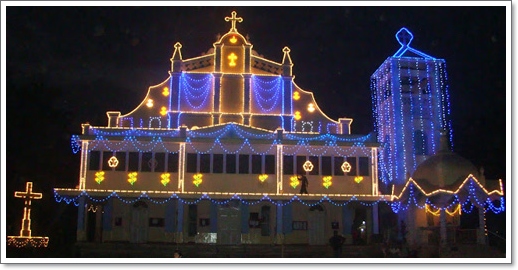 Incidentally, the new Diocese of Udupi is 166th diocese in India and 14th in Karnataka, the others being Bangalore Archdiocese, Belgaum, Bellary, Belthangady (Syro-Malabar), Bhadravati (Syro-Malabar), Chikmagalur, Gulbarga, Karwar, Mangalore, Mysore, Shimoga, Mandya and Puttur (Syro-Malankara).
The inauguration of the new Diocese of Udupi and installation of Rev. Dr. Gerald Isaac Lobo as the first Bishop is expected to be a grand function attended by nearly 15,000 people including high profile dignitaries from the coastal region and also from other parts of the country and abroad.