Advocate Clement Lobo: Amazing journey from simple beginning to a successful legal profession
By Dr Eugene DSouza, Moodubelle

Bellevision Media Network


Mumbai, 25 April 2012: Since my association with Bellevision few years back, it has been my endeavour to find out those persons who have made a mark in their chosen career or profession in spite of all odds and could be considered as role models for the young generation. I was fortunate that I could interact and write profiles in Bellevision of a number of persons who have excelled in different fields including education, religious vocations, business and entrepreneurship, legal profession and social service.
It was sometimes back that I wanted to write profile of a very successful and upright advocate in Mumbai High Court, Clement Lobo from Kattingeri, Moodubelle who incidentally was my classmate while in Church Aided Higher Primary School. However, I had no means of approaching him as I did not have contact with him. However, my task was made easier when I met Peter Paul Martis, a close friend of Clement Lobo during one of his recent visits to Moodubelle. When I expressed my desire to meet Clement Lobo for an interview, Peter Paul readily agreed to fix an appointment with Clement Lobo and even came along with me when I next visited Mumbai.

Clement Lobo
When I had gone to Mumbai on a short visit recently, I contacted Peter Paul who sought an appointment with Advocate Clement Lobo and both of us landed at his office near the Sacred Heart Church, Santacruz, Mumbai in the evening at about 4.30 pm. As we entered his office, I was stunned to see the heaps of legal books all around and high profile clients with files in their hands patiently waiting to Clement who was in his cabin. Rather than sending a word to him that we have arrived, we preferred to sit outside for sometime till he could deal with his clients.
Clement, who had come out of his cabin happened to see Peter Paul and myself seated and called us inside his cabin. After exchanging few pleasantries, Clement called his clients singularly as well as in groups. Though it was not new for Peter Paul as he used to visit Clement's office now and then, the one and a half hour that I spent observing the way Clement dealt with his clients was like a classroom, where I learnt so many things not only about the legal issues that he was dealing in but the personality of Clement and his handling of complicated cases, especially dealing with property issues.
Even at the age of 66, I found Clement to be agile and enthusiastic in his profession. He listens to his clients patiently and gives them appropriate advice. He thoroughly explains the law and legal niceties pertaining the cases put forward him by the clients. While speaking with authority on the cases of his clients based on his legal knowledge and experience, Clement has a sense of humour that lightens the tense atmosphere within the cabin and brings a sense of hope and smile on the faces of his clients.
Sipping the hot cup of tea that Clement's staff had offered, I glanced around the cabin which had files and books in all available space. Clement has four junior lawyers to assist him, two secretaries and a court clerk who handle the office work.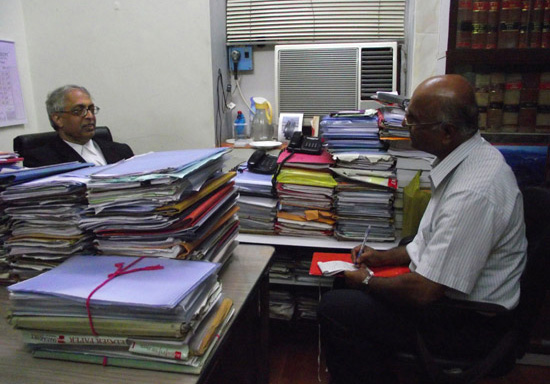 After the last of the clients left the cabin, Clement heaved a sigh of relief and turned towards Peter Paul and myself with a broad smile. Briefly I explained to him the purpose of my visit. For the next one hour or so we had a lively interaction with old memories and anecdotes.
Clement was born on February 8, 1946 as the third among six children, five sons and one daughter of late Angeline and late Ligory Lobo of Kattingeri. He had his primary and high school education in the Church Aided Higher Primary and St. Lawrence High School, Moodubelle completing SSLC in 1965.
Coming from an agricultural family, Clement had to help his parents and elder bothers in various activities associated with cultivation and domestic work before going and after coming back from school.
Having completed SSLC, Clement, like many of the village boys at that time made his way to Mumbai and stayed at St. Lawrence Association at Byculla where his elder brother was a member.
Before entering the challenging legal profession, Clement worked in different offices such as Qwality Ice-cream and Burma Shell less than one year each, Mumbai Municipal Corporation for two and a half years and Franco-Indian Pharmaceuticals for the longest period of thirteen years.
Realizing the importance of further education and training to improve his career prospects, Clement completed the Diploma in Personal Management and acquired BA degree from Pune University as an external student. Clement's quest for knowledge and education did not stop with being a graduate. Being attracted to legal profession, Clement got admission in Jeetendra Chauhan Law College (Mithibai College) at Vile Parle and successfully completed the legal studies and acquired the LL. B. degree.
Armed with the legal degree, Clement began practicing law in different courts in and around Mumbai. Clement said that in the initial years of his practice he associated himself with some of the leading senior lawyers of Mumbai including some retired judges practicing as lawyers after their retirement. The aim of assisting these senior lawyers was not for money but to gain experience , knowledge and to learn what he termed as the 'tricks of the trade'.
Clement said that he practiced law in various courts depending on the nature of litigation that he had to handle. Thus, he had to represent his clients in Labour Courts, Cooperative Courts, City Civil Court, Small Causes Court, Charity Commissioner, Customs and Gold Control Tribunal and eventually Mumbai High Court. Meanwhile, Clement completed LL.M. Degree from the Mumbai University with specialization in laws related to property.
On probing further, Clement said that the property issues cover a wide range of issues such as succession, inheritance, cooperative law, possession, family disputes, tenancy, etc.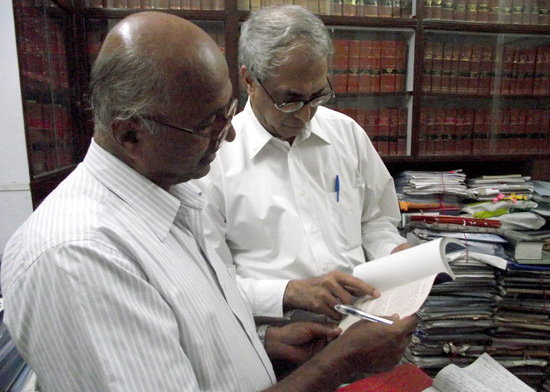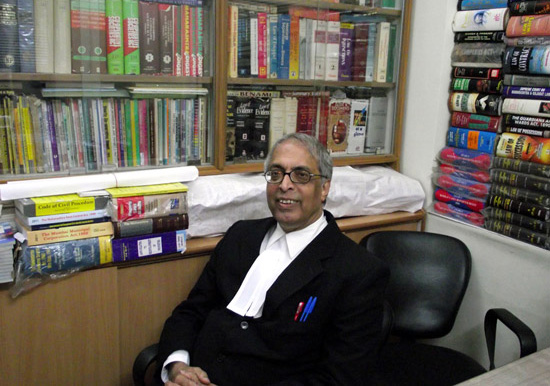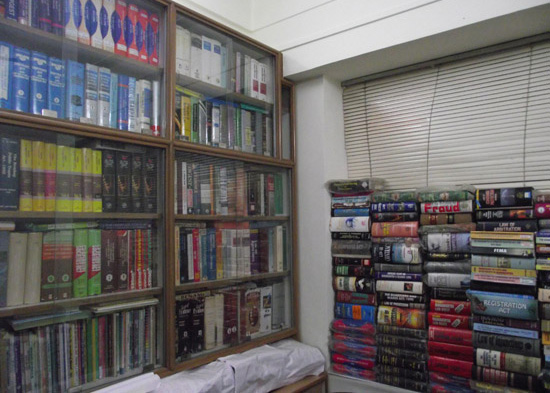 The outer office and inner cabin of Clement is stocked with thick volumes of law books and legal documents. Pointing out towards the racks full of books, Clement said that to be successful in any profession, more so in the legal profession, it is not enough to have knowledge about the law. It is quite important that one has to be abreast with the latest laws and judicial decisions right from the Supreme Court to the High Courts of different states. Updating the legal knowledge on daily basis is quite essential for any successful lawyer.
Further, Clement said that a lawyer is like a swimmer. As a good swimmer can float in any kind of water body so also a lawyer having sound legal knowledge can practice in any court of law. While practicing law in the court, it is very important to remember that one can never underestimate the opponent. Hence, one has to have inside out knowledge of the law and precedents dealing with the case in hand. Each case is a new challenge. As things go on changing, amendments being inserted in the law and government policies being changed now and then, the lawyer has to be in touch with all these developments and as such an advocate is a student throughout his profession as he has to gain additional and new knowledge related to his cases.
While travelling together to Cement's office, Peter Paul Martis narrated to me the type of complicated cases that Clement has been handling. Peter Paul said that once a client visits his office, after patiently hearing his case, Clement frankly and honestly says whether the case can go for litigation or not. If the case has any legal basis, he advices the client to go to the court. His honesty and straightforwardness has earned a good deal of reputation for Clement and he is being greatly respected by his peers in the court as a 'no nonsense' advocate.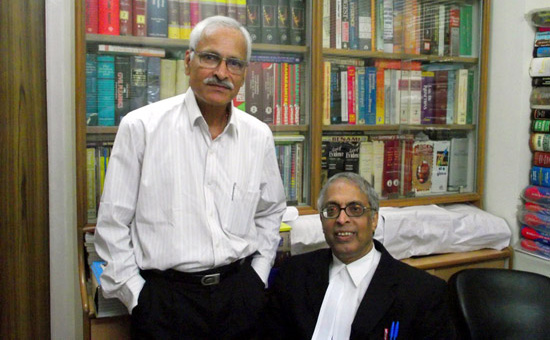 Peter Paul Martis narrated an incident when an old lady, being deserted by her sons approached Clement for drawing up a will. She had brought whatever money she had at home in small changes and coins. Hearing the pathetic story of the old lady, Clement drafted the will for the lady and as a token just took one rupee coin from the money that the old lady had brought. This shows the helpful nature of Clement who is has a soft corner in his heart to the needy and helpless. Peter Paul further said that Clement does a lot of charity work about which he prefers to remain silent. Whenever poor and needy persons approach him with their legal problems, Clement does not charge them his professional fee which manifests his kindness and consideration to those who are in need of legal help.
Clement said that the community has contributed much towards his success as a lawyer and he wanted to give back some kind of service to the community. Hence, he took up the initiative to start free legal aid centers in churches in the Western Suburbs of Mumbai in 1987. Clement has been one of the trustees of the Catholic Bible Institution (CBI) in Mumbai whose chairman is the Archbishop of Mumbai, Rev. Dr. Oswald Cardinal Gracias.
Founded in Mumbai in 1979, CBI now functions as an independent Public Trust in the Archdiocese of Mumbai. Every year it offers in English, one and two month residential courses in teaching the Catholic interpretation of every book of the Old and New Testaments, a ten months non-residential certificate course on biblical theology, and some week-end Bible Seminars and Retreats which are also conducted in Konkani and Hindi. Many students, mostly laity form Bangladesh, Malaysia, Singapore, Mauritius, Holland, Gibraltar, England and the USA, and from every corner of India including Jammu and Kashmir, have benefited from these classes.
Recalling his childhood and school days in Belle, Clement said that like most of his contemporaries he also grew up under difficult conditions. While recalling his childhood days in the village, Clement quoted Nelson Mandela who had stated, "I am the master of my destiny. I am the captain of my soul."
Clement had to participate in agricultural activities along with other family members, walk all the way from home to school and back. He did not have such comforts as later generations would get. However, he said that at that time we had a contented life. He still remembers the teachers in the higher primary and high school who were dedicated and taught him everything, especially, how to pray and behave in the church. These things that he had learnt as a student in Belle has enabled him to maintain his roots and rise in his profession.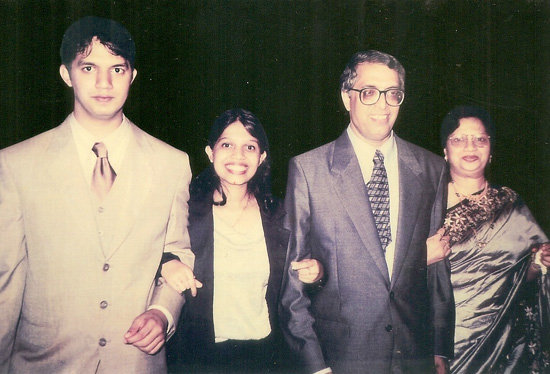 Clement married Rita from Mumbai whose family originally hailed from Kinnigoli. After working for many years in the Accountant General's office, Rita has taken voluntary retirement. Clement and Rita are blessed with two children. Dr. Allan Lobo who did his higher studies in the University of Pennsylvania and is presently working in New York and daughter Audrey who after completing MCom in Mumbai University has done MS from the Cornell University in the United States and presently works for a corporate company.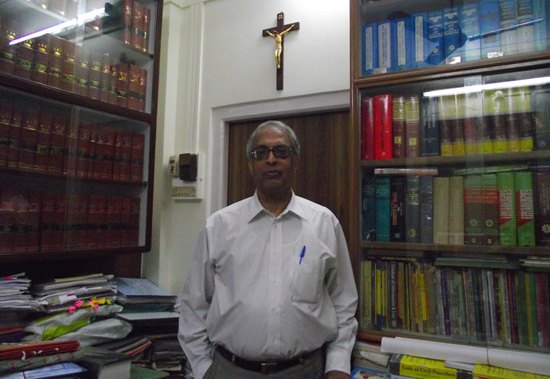 At the end of the interview, as I asked Clement as to what keeps him going with such a heavy load of work, he pointed out to the top of the entrance door where the Crucifix was hanging and told that it is He who gives me guidance, strength and courage to carry on my work. No doubt, with strong roots in community and staunch faith in Jesus Christ that Clement could build his career as a successful advocate with impeccable reputation.