Muddu Moodubelle-The pride of the village with sterling achievements
By Dr. Eugene D'Souza, Belle

Bellevision Media Network


Moodubelle, 18 July 2010: Muddu Moodubelle has earned fame as a poet, story writer, singer, writer of plays, actor, student of folklore, multilingual scholar and Senior Announcer in All India Radio. He has written a number of books on different subjects including fiction, has been active in many associations and organizations and won many awards for his contribution to literature, arts and culture. His pen-names include 'Aradhaka', 'Mumukshu', 'Shrivatsa' and 'Pathika'. Muddu Moodubelle is a multifaceted person who achieved great success in whichever field he laid his hand and became a shining gem of Moodubelle in literature and culture.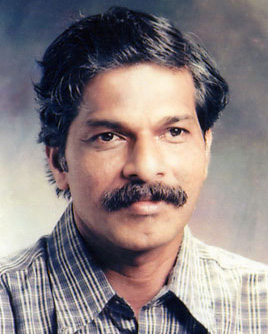 As the name suggests, Muddu Moodubelle born on 7th May 1955 is a native of Mooddubelle's Kappandakarya region which is included in the Kattingeri Village. Muddu's parents were late Kuppu Poojary and late Tumbe Poojarthi. After completing higher primary and high school education in Moodubelle, Muddu continued higher studies in MGM College and Poorna Prajna College, Udupi where he completed PUC and graduation respectively and acquired post graduate degrees (MA) in Kannada and So ciology through correspondence course from the Mysore University.
Besides the academic degrees, Muddu Moodubelle continued his thirst for education and knowledge in various fields and acquired post graduate diplomas in Konkani language and literature, Journalism as well as Accounts and Business Correspondence. He also did certificate courses in Dramatics and Youth Leadership.
In order to earn livelihood, Muddu Moodubelle had to seek employment at an early age of 16 years. While not giving up education, he worked at different places in Karnataka and Mumbai. Between 1976 and 1986 he served in the legal department of the Karnataka State. In 1985, Muddu Moodubelle acquired the post as an announcer in the All India Radio (Akashwani) of Government of India by appearing for the competitive examination in which he stood first. Since then, Muddu Moodubelle has worked in different departments of the All India Radio.
The literary talents of Muddu Moodubelle began to manifest when he was just 12 years old and still studying in school. His first story was published in 1968. He nurtured his talent and went on writing stories and other articles in Kannada, English, Tulu and Konkani languages and came to be renowned as a writer in four languages during 1980s. His writings began to appear in most of the Kannada and Tulu language periodicals. Between 1976 and 1996, Muddu Moodubelle was honoured with 'Masti Katha Puraskara' and nine times won prizes in story writing competition. Twenty-two of his books including stories, poems, folklore and research have been already published.
The first published work of Muddu Moodubelle is a detective novel titled 'Cheran Rahasya' in 1972 followed by collection of poems under the title of 'Namana' in 1978. His first collection of short stories titled 'Oduttira Nanna Kathe?' was published in 1984 followed by three more such books-'Mettalugalu' (1990), 'Gooda Matthu Ithara Kathegalu' (1997) and 'Sukha Dvani' (2007). His Tulu books-'Udhipu' (1987) and 'Osayo' (1984) which won Sahitya Academy Award were prescribed as text books for MA course in Tulu language. The biography of Netaji Subhaschandra Bose written by Muddu was published in 1990.
After making a deep study in Tulu folk culture, Muddu Moodubelle brought out a book on Tulu folklore titled 'Janapada Ineroopakolu'. This book along with the collection of one act plays in Tulu 'Nama Eddena Uryed-dhe' were released in Bangalore by the then Governor of Karnataka-Kurshid Alam Khan in 1991. Muddu Moodubelle's research work 'Mulkiseemeya Avaliveeraru Kantabare Budabare' was published in 1998 and by 2006 this book was in the third edition.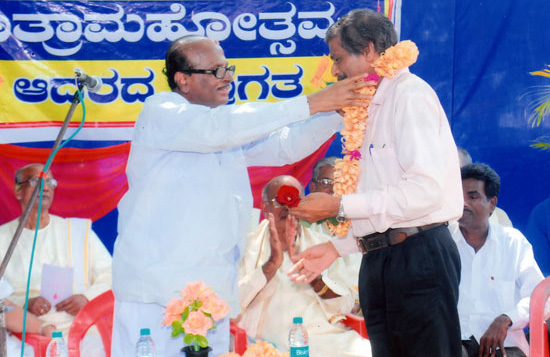 B. Janaradhana Poojary, Ex-MP honouring Muddu Moodubelle for his meritorious Folk Research Book on 'Kanthabare-Boodabare' (17-1-2010)
The other literary work of Muddu Moodubelle include 'Poovari' award winning collection of Tulu articles (1999), 'Naadu Nudiyidondu Bage' (2007) a collection of articles on culture which won award from the Indian Langauages Institution, 'Satyada Suriya Sayada Pagari' (2004)- Paniyadi Prashasthi winning Tulu novel, 'Paddheyee' (2006) Tulu novel serilaised in 'Sanjevaani', 'Tulu Rangabhoomi' (2005), 'Kannega', collection of poems in Tulu, 'Ullala Srinivasa Malyer' translated from the Konkani original by Basti Vamana Shenoy.
The edited works of literature of Muddu Moodubelle include 'Parva Parbada Porlu Kabithelu' (1997)- published by Tulu Sahitya Parishad, 'Appodhadye' (1997)- published by Karnataka Tulu Sahitya Academi and 'Sahitya Siri' (204)- Souvenir of the Decennial celebration of the Tulu Academy. Besides these, Muddu Moodubellewas was also on the Editorial Board of 'Koti-Chennaya Pad-dhana Samputa' (2002), 'Baida Darshana Sachitra Kathakosha (2003)' and the Souvenir of 'Vishwa Tulu Sammelana-2009'.
Muddu Moodubelle has been quite active in many associations and organisations. He has been the President of Sahitya Sanskriti Vedike, Belle, President of the Cooperative Society of the Workers of Akashwani and Doordarshan, Vice President of the All India Radio Announcers' Association- Karnataka State Branch, Life Member of Kannada Sahitya Parishad, Udupi-Mangalore Tulukoota, Former Member of Karnataka Tulu Academy, Former Secretary of Navaranga Yuvaka Mandala- Kattingeri, Shri Narayana Guru Kalavrunda-Karkala, Shri Nityananda Ashrama- Moodubelle, Former Honorary Secretary of Billava Seva Sangha- Moodubelle, former office bearer of Jaycees Karkala, former Joint Secretary of Karnataka Kalakendra-Mumbai, former Joint Secretary of Tulu Nataka Kalavidhara Okkuta (R)- Mangalore, and Member of the Administrative Council of Central School- Mangalore.
The multifarious literary and cultural activities of Muddu Moodubelle naturally earned him recognition, awards and honours. Some of the important 'prashasthis' and awards conferred on Muddu include: Best Journalist Award from Mogaveera (Mumbai) in 1980, Karnataka Tulu Sahitya Academic Awards in 1996 and 2001, Goruru Sahitya Puraskar for 'Kantabare -Budabare-research work in 1998, Karnataka Janapada Aatakoota Prashasthi in 2000, Paniyadi Kadambari Prashasthi in 2004, 'Upadhyaya Sanman' Prashasthi for literature in 2007, First Prize in the production of Akhila Karnataka Banuli Nataka in 2008, 'Tulu Ayano' Prashasthi-Badyadka Rashtriya Tulu Sammelana in 2008.
The interests of Muddu Moodubelle pervade practically every field of literature, art and culture. He has been honorary editor of special quarterly magazines such as 'Aatma Shakthi'. He has written more than 120 articles on folk culture, regional literature and media. He has presented his poems and intellectual discourse in many poets' assemblies and conferences withinand outside Karnataka. He has been also invited as a resource person and as a judge in many programmes. Besides these, Muddu Moodubelle has made a name as an excellent compeer and resourceful speaker.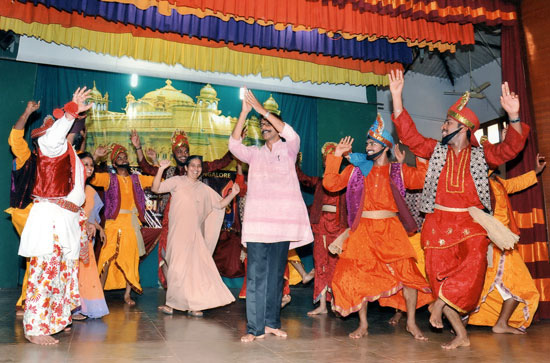 Muddu Moodubelle with the dance troupe as the Chief Guest on Valedictory day Function at the State level workshop on Punjabi Folk Dances (February 2010)
Muddu Moodubelle had developed an interest in plays when he was just ten years old. Up to 1982, Muddu acted, directed and provided music to various Tulu and Kannada plays in South Canara, Bangalore, Mumbai and Delhi. He has also presented more than 100 short plays on Akashwani. His interest in acting earned Muddu a role in the first Tulu picture 'Koti-Chennaya' in 1973.
Presently, besides being a Senior Announcer in All India Radio (Akashwani), Mangalore, Muddu Moodubelle is the Treasurer of AIR Announcers' Association (R) Karnataka Unit. He is also the President of the AIR and DDK Employees Cooperative Society, Mangalore.
Muddu Moodubelle presently works and lives in Mangalore along with his wife Sukanya and two children, Manish and Ashwini Kumar. In spite of being away from Moodubelle, he has retained his close contact with the village of his birth where he has his parental house at Kappandakarya named 'Maatha Kutira'. He is the President of Sathithya Sanskrithi Vedike, Belle.
It is indeed a matter of pride for the people of Moodubelle that one of their own, Muddu Moodubelle has achieved great height in literature, folk art, performing arts and intellectual pursuits. By affixing the name of his native village to his own name, Muddu Moodubelle has enhanced the prestige and honour of Moodubelle.

Muddu Moodubelle - KAVITA FEST 2012
Bellevision while congratulating Muddu Moodubelle for his great achievements in various fields wihses him success in future endeavours.