Udupi: Raju Shetty-Acclaimed as 'Bheema' of Indian Kabaddi
By Ashwin Lawrence Moodubelle

Pics by Shridhar Shettigar, Ideal Studio, Moodubelle

Bellevision Media Network


Udupi, 27 Feb 2014 : "Don't be overconfident of winning, because Raju Shetty is in the rival team…" This warning used to be common in practically all Kabaddi tournaments in Maharashtra from 1966 to 1977. The fans of Raju Shetty used to come in large numbers when the ace Kabaddi player used to play in tournaments. They would cheer when Raju would smash all the six players at one go. They would be spellbound, when Raju who was weighing 105 kilograms like a hungry tiger would jump 5.5 feet high. The daily newspapers used to carry reports along with pictures of Raju of his prowess in Kabaddi. He was the "Bheem" of Kabaddi in India. Although, Raju was a native of Karnataka, he made his debut in Maharashtra Kabaddi. He was commended by the then PM, CM, renowned Bollywood stars and Indian naval officers. Raju Shetty has down to earth living in his retirement home 'Dinesh Nivas' at Kattingeri – Moodubelle with his family.


Background

Raju was born to late Mahabala and Jalaja Shetty couple, residing at Karandady, near Kaup on 5 May 1945. He had studied up to Class VI at Sri Rama Higher Primary School, Karandady. Abandoning his studies, Raju proceeded to Mumbai in search of earning his livelihood, as the family was reeling under acute poverty. Initially, like many other youths from Dakshina Kannada migrating to Mumbai, Raju worked in a hotel for 2 years. During this period he developed an interest in Kabaddi. He managed to continue his studies at Sharada Vijaya Night School, Mumbai and passed SSLC. While studying, Raju continued to play in Kabaddi matches all through. However, his major debut came by partaking in Mumbai District Kabaddi Championship. He was 20-year-old and weighed 105 kilograms. Having decided to give full time in playing Kabaddi, Raju gave up further studies.


Major debut

Raju had all the natural attributes such as strong physique that is essential for Kabaddi and also enthusiasm to excel since his early childhood. He put on hard work to develop great muscles with daily practice. He was trained by Maharashtra Kabaddi champions Rajaram Tukaram Pawar and Madhusudan Patil, and trained in weightlifting by Narayan Apte. He has great regard for his mentors/coaches even now.


Later, his relentless effort to excel in Kabaddi and good nature gave Raju a chance to serve as the Kabaddi coach in Indian Naval Dockyard in Mumbai and he gained popularity even at dockyard coaching budding Kabaddi players.


Employment

The initial days in Mumbai were tough for Raju who had to slog at a hotel and later joined the canteen in Government Press, Mumbai. He became member of the Government Press Kabaddi team and won several championships including Maharashtra State Championship in Aurangabad. He also bagged weightlifting championship in Mumbai District during 1964. He was offered job in the Indian Navy at Dockyard, Mumbai because of his debut in Kabaddi and retired from this service on 31 March 2001.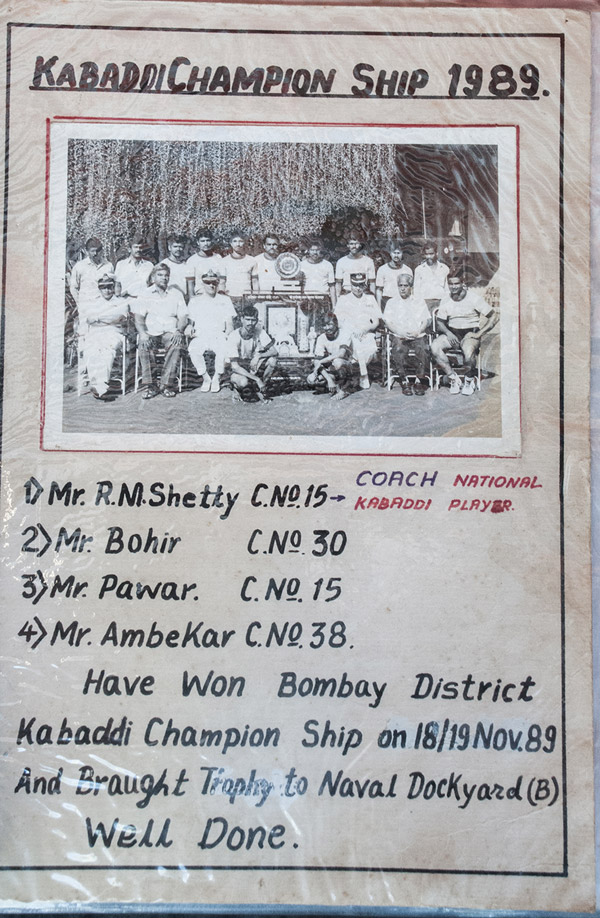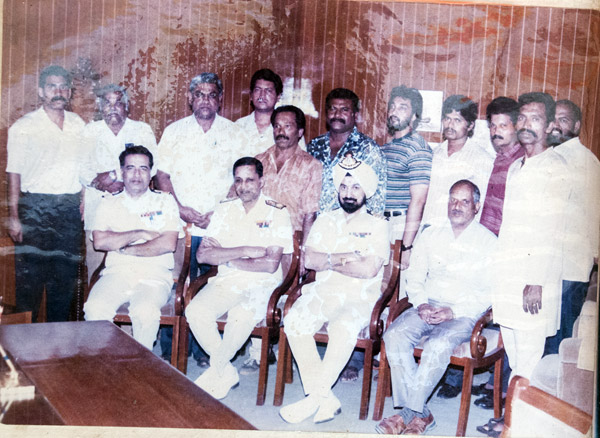 Raju Shetty as coach of the Kabaddi Team of Naval Dockyard along with Admiral Superintendent and Officers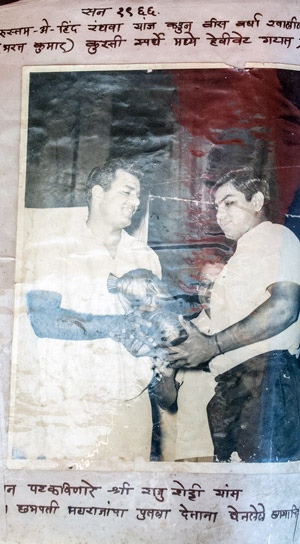 Raju Shetty was honoured as 'Best Rider by Rustum-e-Hind Randhawa on the occasion of the Kabaddi Tournament in memory of Bollywood Comedian Bhagwaan's Father at Sindhewadi, Dadar, Mumbai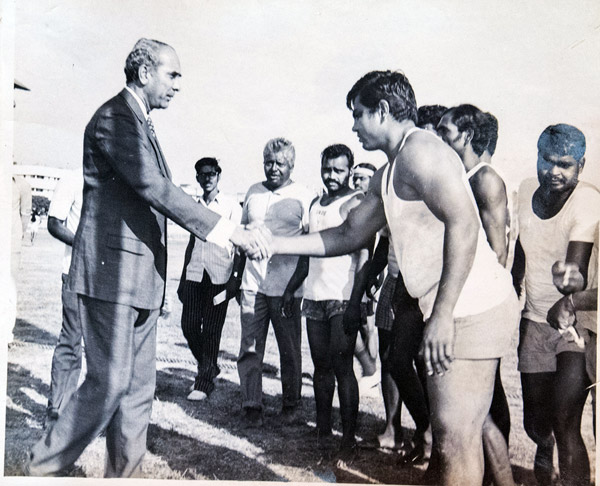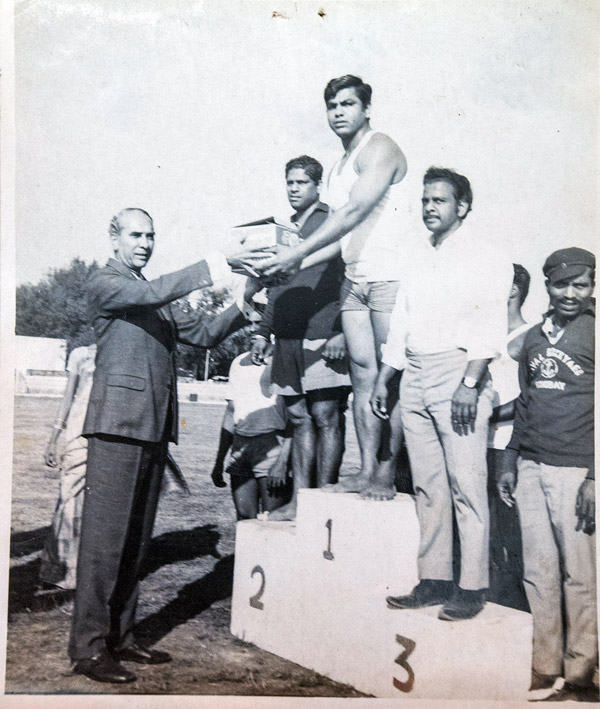 Admiral Pereira felicitating victorious Raju Shetty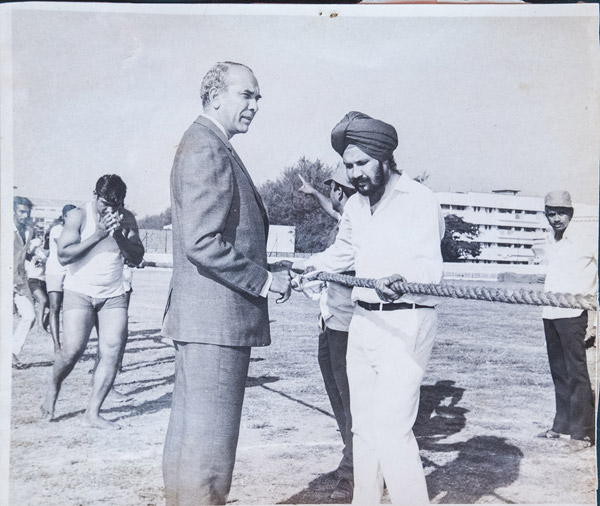 Raju Shetty in the Tug of War Team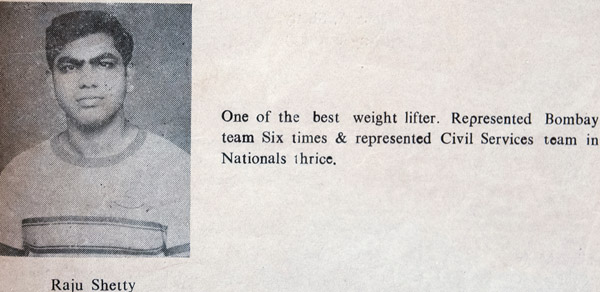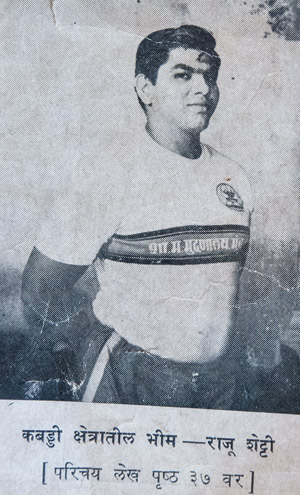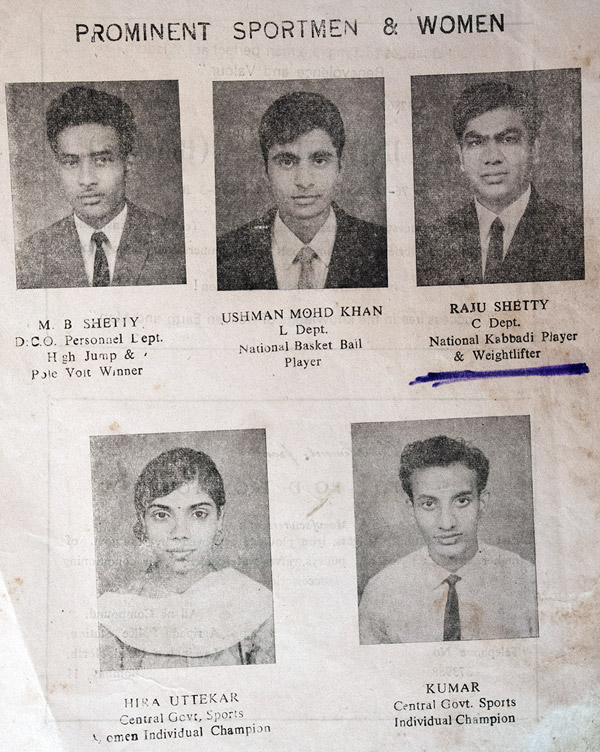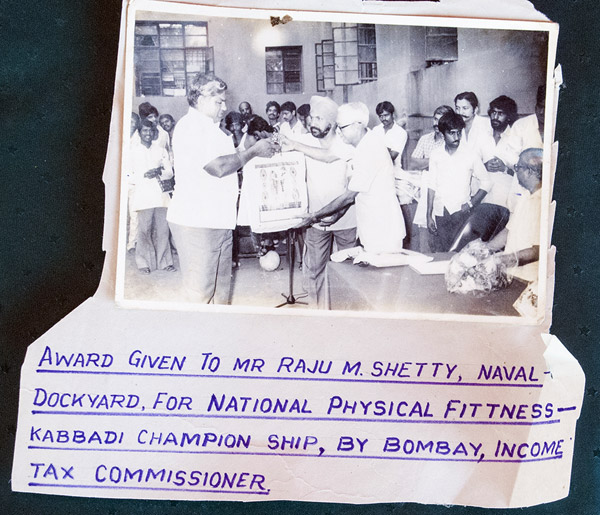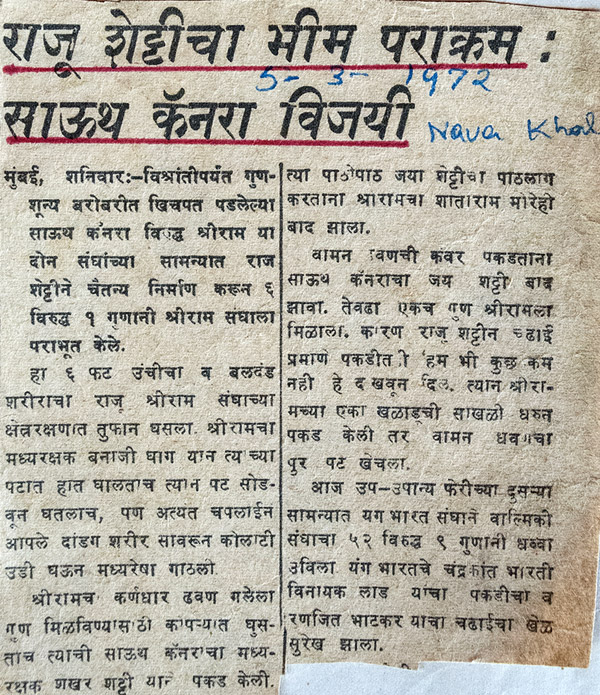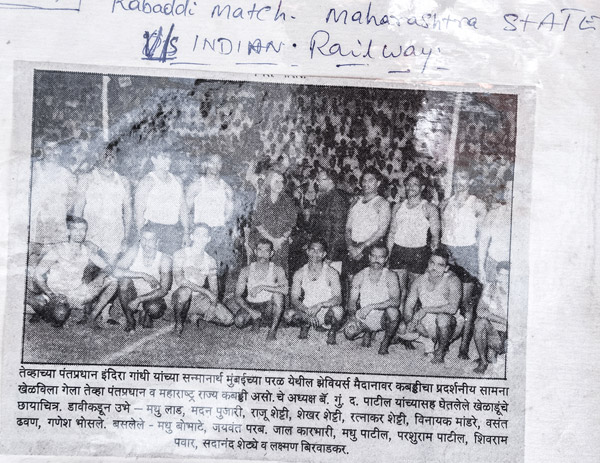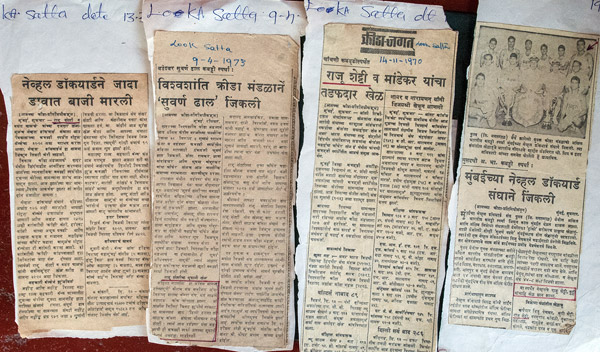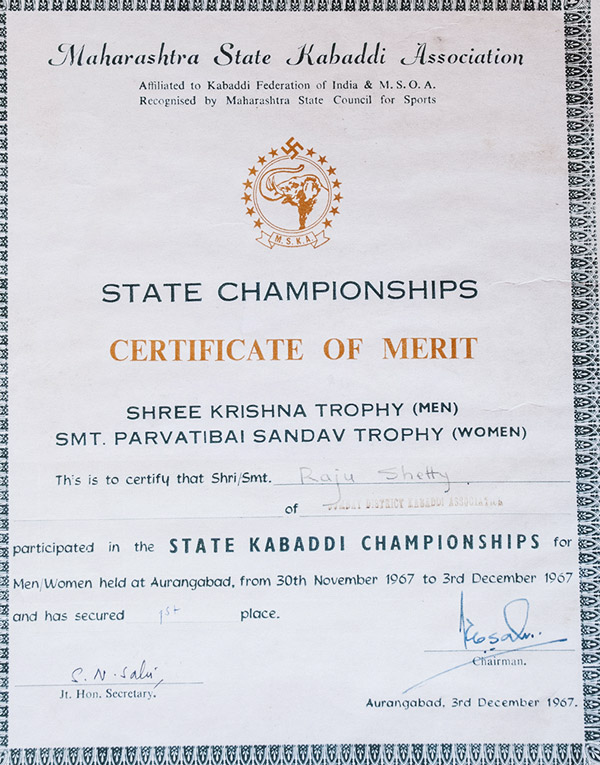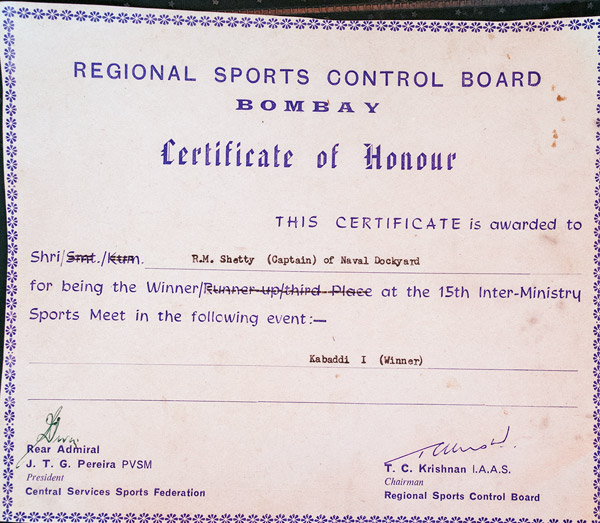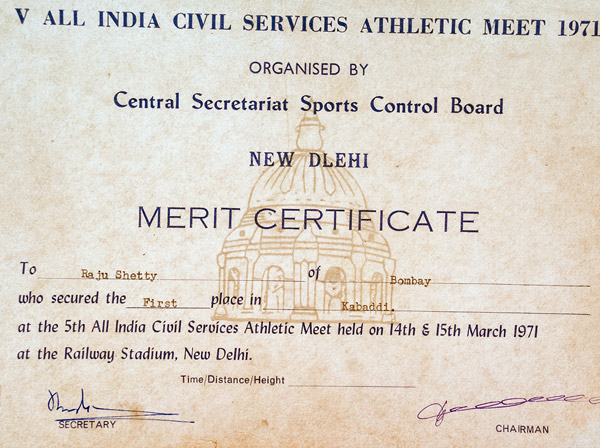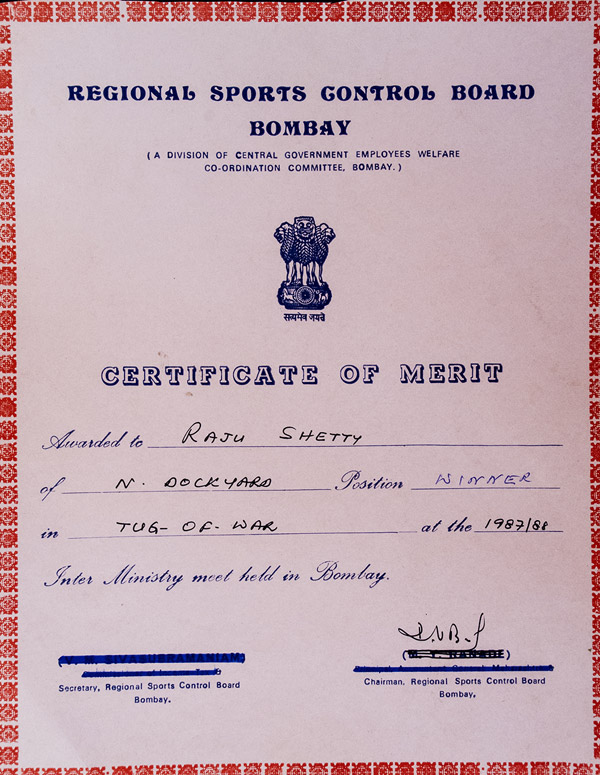 Achievements

The picture of Raju Shetty used to be featured frequently in Maharashtra's popular Marathi dailies such as Lok Satta and Nava Kaal and Maharashtra Times from 1966 to 1977.


Lok Satta's senior sports correspondent, More said that he was proud to publish the achievements of Raju Shetty in Kabaddi in his daily.


All the credentials, newspaper clippings, certificates, trophies of Raju were gutted in the fire during 1968. In spite of this unfortunate incident, Raju has lot many records and certificates in his possession even now.


Despite Raju's great achievement, he leads a simple living. His great achievements include: Victory in the Maharashtra State Kabaddi Championship in Aurangabad, winning of the prestigious Ashwani Kumar Kabaddi Gold Cup in St Xavier's grounds, Mumbai, bagging top place in Navy as an Heavy Weightlifting, winning numerous trophies both in Kabaddi and weightlifting, acquiring service in the Naval Dockyard on the recommendation of Admiral J T G Pereira.


Raju Shetty was adjudged as the best rider for 5 times in 8 Kabaddi matches that were held in memory of Bollywood comedian Bhagawan Palav's father at Sindhewady and Dadar in Mumbai. The award was presented by renowned 'Rustam-e-Hind Randhawa' and Vinod Mehra.


It was during All India Kabaddi Championship that was held in 1973 – 74, Raju was honored by the then Andhra Pradesh CM P V Narasimha Rao, because of his excellence in the game of Kabaddi.


Raju Shetty also bagged top place in Uttar Pradesh Indian Civil Service Kabaddi Championship, and later also won Maharashtra State Kabaddi Championship held in Pussad, Maharashtra in 1978, and was felicitated by the then Chief Minister of Maharashtra V P Nayak.


The greatest moment in the life of Raju Shetty was that he was honored by the then PM Indira Gandhi, when Raju led Maharashtra Kabaddi team representing Indian Railways during 1969, whilst PM Gandhi was taken to view the championship match in Mumbai.


Raju Shetty, by virtue of his excellent exhibition in the Kabaddi Tournaments had the honour of being appointed as the coach for Indian Naval Dockyard Kabaddi team in 1989. "When I recall those memories, I get into ecstasy," said Raju.
Family

Raju got married to Shanta, a native of Kattingeri in Moodubelle on 4 March 1977. When his mother-in-law passed away within a few months of his marriage, Raju had to shoulder the responsibility of the entire family.


Shanta says, "I am proud of my husband's achievement. I was unable to know more because I am not literate and had no knowledge of Marathi. He had fulfilled the entire family responsibility by getting my sisters married. He is a good person."


The couple has 4 sons, Prasanna is an hotelier in Mumbai, Pradeep is self employed in Moodubelle, Prashant and Prasad are hoteliers in Satara.


Interview

When Sylvester Mathias, headmaster of Church Aided Higher Primary School, Moodubelle along with Chandrakala B E and Shridhar Shettigar approached Raju Shetty for an interview, he offered cordial welcome.


Raju Shetty opened his treasure of experiences one after the other and was proud to point out that his picture adorned the daily newspapers besides cricketer Sunil Gavaskar. He was quite frank during the interview.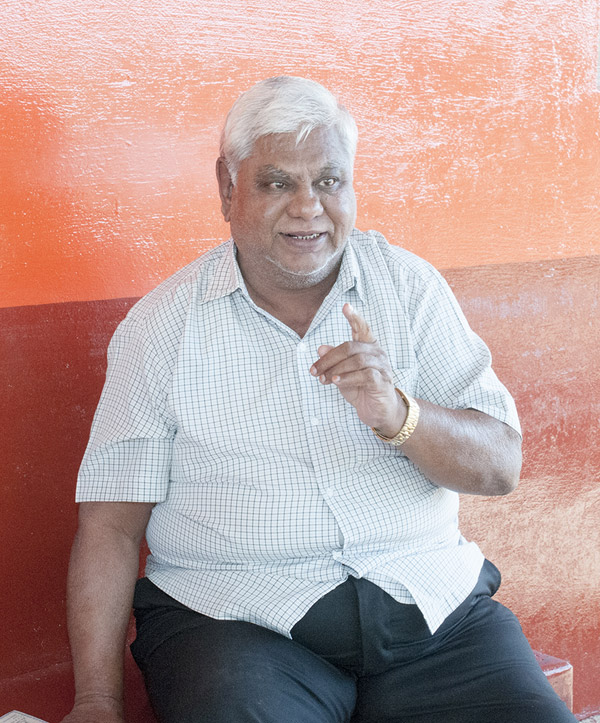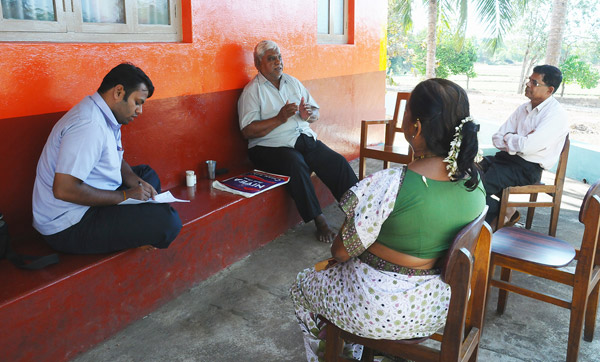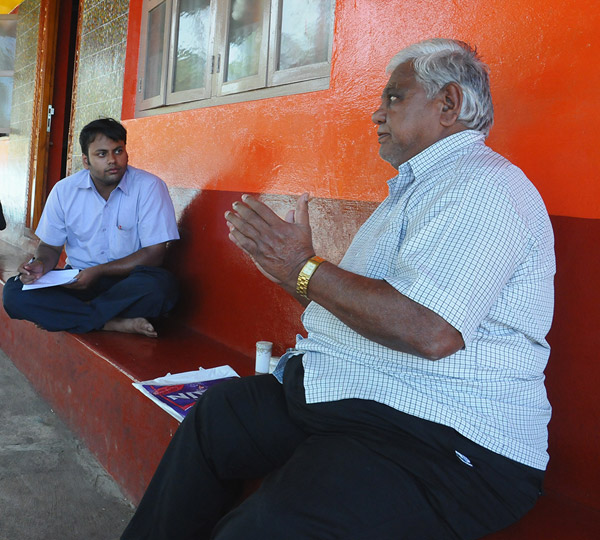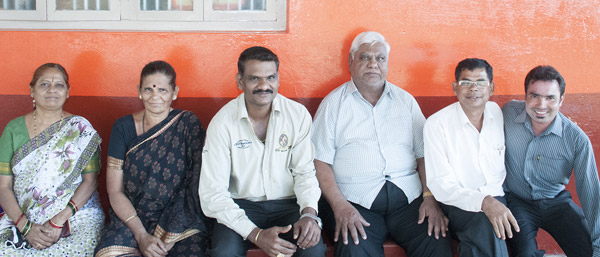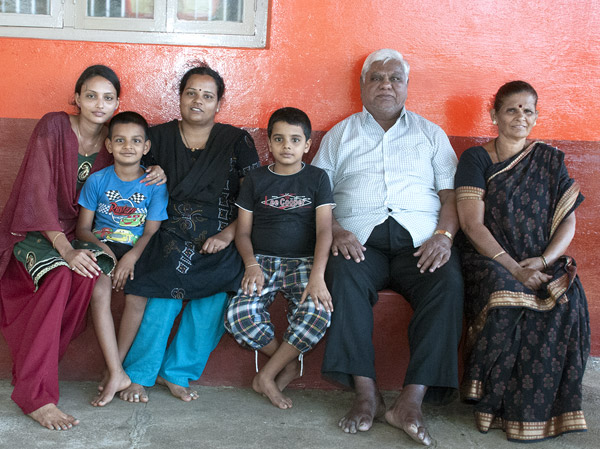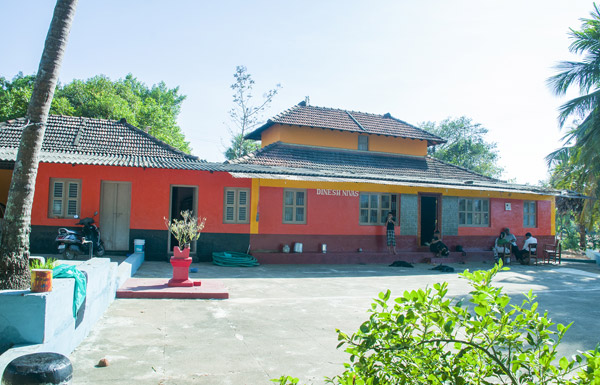 Youth

While respondingto the interview, Raju Shetty said that sportsmanship is lacking in modern youth. In the past, the sportsmen never used to get facilities, but now the times have changed. The top level physical education directors and surgeons are available to render their services. The voluntary and social welfare organizations and government also encourages sports. Despite this, the number of sportsmen are dwindling. The youth are taking interest in other things neglecting sports. It is due to lack of interest in putting in hard work, too much expectation on quick results and lack of patience that many of the Indian youth are not drawn to sports.


Women Kabaddi

The women Kabaddi is getting more significance in the past 3 to 4 decades. In a few championships, the superb performance of women Kabaddi players indeed is a disgrace to men. The women have been making extraordinary achievements of late. The perseverance, self confidence, relentless hard work and yoga are helping them to excel.


Speaking about his adopted village Kattingeri-Moodubelle, Raju Shetty said that it is a beautiful village and the villagers are hard working. There are many educational institutions temples, social welfare and voluntary organizations.


Regarding his health, Raju Shetty said that no one thinks of old age when one is in youthful energy. He said that he used to play with least concern for old age. He was aiming to win and not bothered about health. It was due to this attitude and not bothering about his health that he has been suffering due to joint aches in his old age that has no remedy. When he remembers the applauses of his fans during his Kabaddi matches, he feels happy and his pain disappears for a while.