Health Information Management Day 2023 Celebrated at MCHP MAHE
By Richard D'Souza

Bellevision Media Network


Manipal, 17 Nov 2023: The Department of Health Information Management at Manipal College of Health Professions (MCHP), MAHE, celebrated Health Information Management (HIM) Day 2023, marking the culmination of Health Information Professionals Week (HIP Week). This year's theme, "Health Information Powers' Innovation," resonated through the week-long activities from November 7th to 11th.
The festivities kicked off with various competitions designed to foster awareness and knowledge about the health information profession among students. These events included photography, logo designing, slogan writing, digital poster making, reels, and promotional video making, aligning with the WHO's Sustainable Development Goals 3, 4, and 9.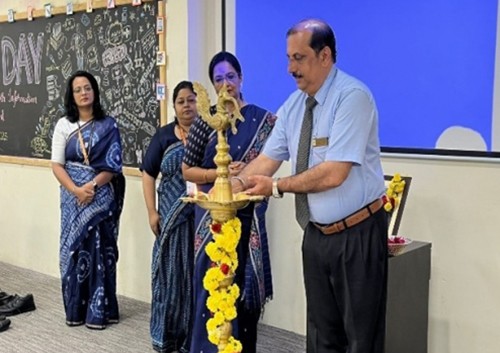 The grand finale, HIM Day 2023, took place at Sharada Hall, MCHP, MAHE, with Dr. G. Arun Maiya, Dean of MCHP, inaugurating the event as the chief guest and keynote speaker. Dr. B. Reshmi, Head of the Department, welcomed the attendees, followed by an overview of the program-by-Program Coordinator Ms. Dola Saha. The ceremony also featured a prize distribution for event winners, conducted by Dr. Maiya and Dr. Venkararaja Aithal U.
In his address, Chief Guest Dr. Maiya emphasized the increasing significance of health information professionals in the digital healthcare environment. The inauguration ceremony concluded with a vote of thanks from Ms. Geena Mary Skaria, the event coordinator.
The academic sessions began with Dr. Maiya discussing "Digital health and diabetes footcare monitoring," highlighting the potential in digital healthcare solutions for managing Non-Communicable Diseases (NCDs). Dr. Suchetha V Kolekar, Associate Professor at MIT, MAHE, followed with her session on "Innovation in Health Informatics," urging young professionals to think creatively. The final session, led by Dr. Dattatreya Sitaram from KMC, MAHE, focused on "Clinical documentation in delivering better patient care," addressing the challenges in health information management.
The event concluded with an array of cultural performances by the students, adding a vibrant touch to the educational and inspiring day.