Foundation day celebration of Udupi District Working Journalists Association on April 12
Bellevision Media Network


Udupi, 10 Apr 2023: Under the auspices of the Udupi District Working Journalists Association Silver Jubilee Committee, on the occasion of the Silver Jubilee, the foundation day of the association to organized at Udupi Press Bhavan on April 12 at 10.30 am in collaboration with Udupi Gandhi Hospital and Udupi Press Bhavan Committee.
Speaking at a press conference held in Udupi, association president Rajesh Shetty Alevoor said that the program will be inaugurated by veteran writer Vaidehi. Arif Padubidre, founder treasurer of the association and Chief Correspondent of Mangalore Vijaya Karnataka newspaper, will speak on the foundation day celebration, he said.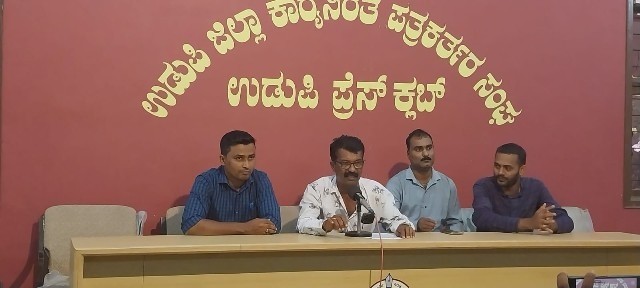 Former presidents of the association like N. Gururaj, Dinesh Kini Alevuru, Kiran Manjanbailu, Gokuldas Pai, Jayakara Suvarna, Ganesh Prasad Pandelu will be felicitated on this occasion. He informed that the facebook page of the association will be unveiled.
Rajesh Shetty, Alevoor, president of the association will preside. Silver Jubilee Committee Convener Muhammad Sharif, Indian Federation of Working Journalists National Committee Member Arun Kumar Shiruru, Karnataka Working Journalists Association State Committee Member Kiran Manjanbailu, Press Bhavan Committee Convener Ajith Aradi will be present in honor.
Udupi District Working Journalists Association General Secretary Nazir Polya, Treasurer Umesh Marpalli, Press Bhavan Committee Convener Ajith Aradi were present in the press conference.