Dedicatiion of Renovated Sanctum Sanctorum of Shri Bhagwan Nithyananda Swami Mandir Mutt, Udupi
Bellevision Media Network


Udupi, 10 Jan 2023: Shri Bhagawan Nithyanand Swami Mandir Mutt will be dedicated to the devotees and general public, Consecraction of Panchaloha Idol of Shri Guruvarya and Religious and cultural programmes on Sunday, January 15 and Monday, January 16.
Addressing a press meet at Udupi Pathrika Bhavan on Monday, Jan 9, Kodavoor Divakar Shetty President said that our country, recognized as the spiritual abode of the world has seen several incarnations of the lord in the form of philosophers, saints and sadhus. They have achieved immense spiritual attainment for the benefit of others and have been leading lights in guiding mankind, bestowing good fortune, auspiciousness and kindness. Amongst such illustrious Avaduthas, Ganeshpuri Shri Nithyanand Swamiji is the most prominent and well known.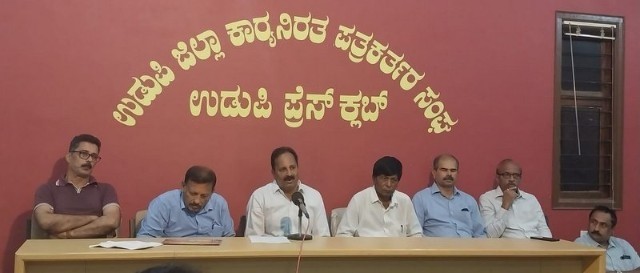 In Tulunadu the holy land of dharma and culture, the centers of religious beliefs have become the seats of devotion and Bhakti. Sich a center of spiritual befliefs and culture is the Shri Bhagavan Nithyanand Swami mandir and mutt in K M Marg, Udupi in Udupi district. The mandir mutt established by Sandhvi Sithamma in 1961, is being renovated and consecrated to the devotees and general public. It has been 62 years since the mandir mutt was established and has contributed in a unique way to the spiritual elements, social fabric and cultural ethos of the religion. Some of the dharmic functions that have been held over the years are Bajana Ekaha, Gurupooja, Balabhojana and annasanatharpane on every Thursday.
In view of the expectations of the devotees, the mandir mutt which was in a dilapidated condition, is now being renovated with the efforts of the devotees of Bhagwan Shri Nithyanand Swami. The renovation is done under the leadership of devotees of Bhagawan Shri Nithyanand Swami. Shri K K Avarsekar and family from Mumbai, Mr Purushotham P Shetty, K Divakar Shetty Thotadamane and a committee of the mandir mutt. The foundation for renovation was laid on Sunday 20.02.2022 under the guidance of saints and sadhus and the above dignitaries. Modelled on the architecture of the Ganeshpuri mandir, the mandir mutt in Udupi will be dedicated to the devotees and general public on Sunday and Monday, 15th and 16th January 2023. In view of the expectations of the devotees, saints and sadhus, a panchaaloha idol of Shri Bhagwan Nithyanand Swami will be consecrated to fulfill their aspirations.
On 15th January under the leadership of Udupi Puttur Vedamurthy Shri Hayavardana Tabti evening pooja will be held at 5pm. Prior to this, the statue procession from Shirdi Saibaba Mandir, Kodavoor will be inaugurated by Dr. Ranjan R Pai, Chairman, MEMG by lighting the lamp. Religious state programme will be held on January 15 from 6.30pm.