The State government works like ATM to get the votes, alleges former minister Sorake
Bellevision Media Network


Udupi, 05 Jan 2023: The state government trying to get votes when the election is around the corner works like an ATM, said former Minister Vinay Kumar Sorake.
Addressing a press meet at Udupi District Pathrika Bhavan here on Tuesday, January 3, Vinay Kumar Sorake said that earlier the state government under BJP rule had completely neglected the Billava community. Now only 2-3months are pending for the state election when the government is talking about the empowerment of the Billava community. This is only the tactic of the BJP government to secure the votes, but nothing else.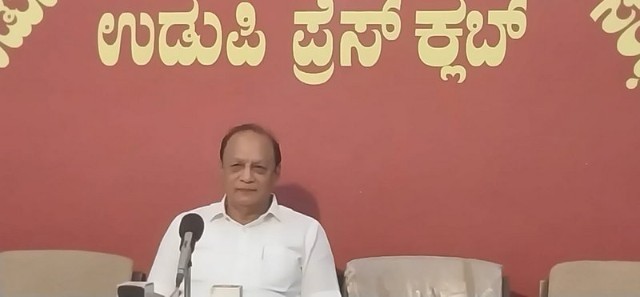 The state government has announced various projects prior to the election just around the corner. However, I believe the state government is under insolvency. We can see only project announcements, nothing developmental works done. In order to get the votes, BJP is trying to announce various projects for the various communities like Billavas. Its intention is only to secure votes, but nothing else, he said.
Earlier, the state government completely neglected Narayana Guru Swami. Billava community Swamiji is planning to feet-walk on 6th January to pressurize the government to establish Billava Community Development Authority. I expect any benefit to the community if the Development Authority is established, otherwise there is no benefit for the community.
Vinay Kumar Sorake said that we have support of every community including minorities and majority communities during the election. We have nothing to do with SDPI contesting from the Kaup constituency. Even though BJP played a lot of tricks to get the vote, Congress workers in Kaup constituency very positively indulged to get the votes of every community, he said.
Sorake said that the announcement of election contenders from the Congress party will be announced before 15th of this month. If we get a majority in the legislative assembly election, we are going to investigate all scams of the present government. There are some suicide cases reported in the state due to 40% commission and other scams of the government. The Congress party will go to the people and inform the public about the government's failure in all ways, said Sorake.