Inter Parish Football Tournament for parishes of Mangaluru, Udupi dioceses on Dec 4
- Media Release


Mangaluru, 12 Nov 2022: The Christian Sports Association, a voluntary organization built by like minded sports enthusiasts of the city with a goal to develop sports activities among the Christian community and also encourage youth in sports and games, have decided to host an Inter Parish Football Tournament for the parishes of Mangaluru and Udupi dioceses on December 4 at St Aloysius College Ground.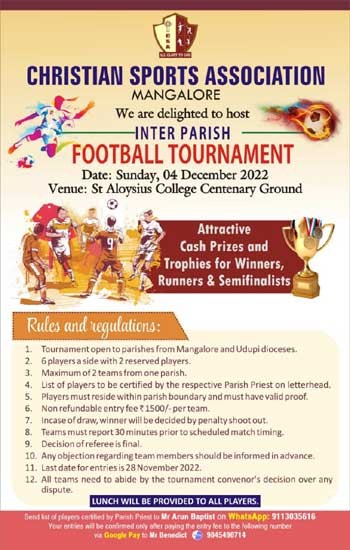 Established in the year 2019, they have successfully convened two Shuttle Badminton tournaments in doubles format for men and women in 2020 and another one in August 2022 for all Christian players of different age groups. Both these tournaments were very successful and there was immense response as the players from the age of eight years to 65 years with more than 130 teams had participated with great interest.
Now the Football tournament is organized at the right time during the Football World Cup which is being held at Qatar and the youth from all the parishes of Mangaluru and Udupi dioceses have a chance to exhibit their talent in football and pursue their interest in the game further.