Mangaluru: Abatara, much-awaited Tulu movie premiered in 15 theaters of DK & Udupi
Bellevision Media Network


Mangaluru, 19 Aug 2022: Abatara, the much-awaited Tulu movie produced under the banner Bolli Movies and Avika Production and directed by Arjun Kapikad was premiered at Big Cinemas, here on Thursday August 18.
In his inaugural address, the former MLC Ivan D'Souza said, 'The coastalwood has grown over the years; while the theater artistes who act in these movies have become box office hits one after the other. It's the golden era for coastalwood,' said D'Souza. He hoped Abatara, Tulu movie also becomes successful both in India and overseas.
The movie actor Devdas Kapikad said, 'We were keen on producing the movie, Abatara out of passion and screened the first show to the children who were overjoyed to view. The movie has a social message that is depicted in the movie,' said Devdas.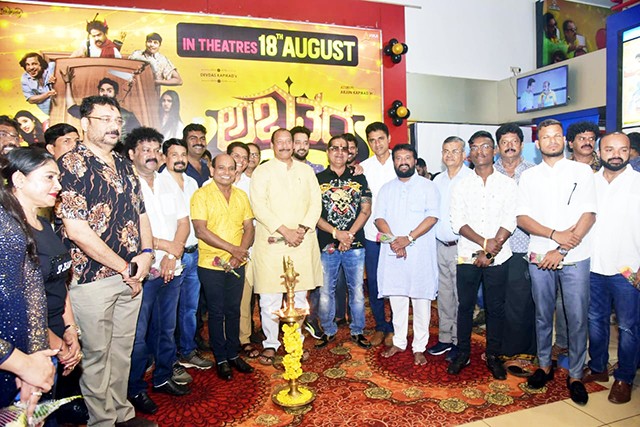 Vijay Kumar Kodialbail, Arjun Kapikad, Devdas Kapikad, Prakash Pandeshwar, Arvind Bolar and Bhojaraj Vamanjoor also spoke on the occasion.
Laxmisha Bhandary, corportor Kiran Kodikal, Kishore Kottary, Rakesh Sai Krishna, R Dhanaraj, Pramod Ballalbagh, Sureschandra Shetty, Shekar Shetty, Anil Salian, Nikhil Salian, Viraj Attavar, Anand Bangera, Dinesh Shetty, Rajesh Shetty, Surendra Bangera, Rakshit Kottary, Girish M Shetty Kateel, Prakash Shety Dharmanagar, Mohan Koppala, Jagannat Shetty Bala, Arjun Kapikad, Sharmila D Kapikad, Ghana Bhat, Anuf Sagar, Sandeep Shetty were present.
Laxmisha Mangaluru compered the programme.
The movie has been premiered in 15 theaters simultaneously at Roopavani, Bharat Mall, Cinepolis, PVR in Mangaluru; Amarashree in Moodbidri; Bharat in Beltangady; Nataraj and Cinigalaxy at Suratkal – Mangaluru; Kalpana in Udupi; Bharat Cinemas and Inox in Manipal; Radhika and Planet at Karkala; Aruna at Puttur and Santosh at Sullia.
Devdas Kapikad contributed the script and dialogues also cast in the movie along with action king Arjun Kapikad who also directed the movie.
Naveen D Padil, Arvind Bolar, Bhojaraj Vamanjoor, Sai Krishna, Shanil Guru, Chetan Rai Mani, Laxmisha, Sunil Chitrapura are cast in the movie with heroines Ghana Bhat and Christina.
The movie has been shot by cameramen Vishnu Prasad and Jacob. Sandeep Shetty is the co-director of the movie produced by Nikhil Salian and Viraj Attavar.