Mangaluru: Chase, Kannada thriller movie premiered at Big Cinemas
Bellevision Media Network


Mangaluru, 15 Jul 2022: Chase, Kannada movie produced under the banner Simply Fun Media Network Private Limited and directed by Vilok Shetty premiered at Big Cinemas, Bharat Mall, here on Wednesday July 13.
Sharada Vidyalaya correspondent M B Puranik inaugurated the programme.
In his message, Puranik urged the cinema lovers to view the movie, Chase, which is a suspense thriller and has a social message for the wider viewers. He also conveyed success for the movie crew in their quest to give something special to the movie-goers.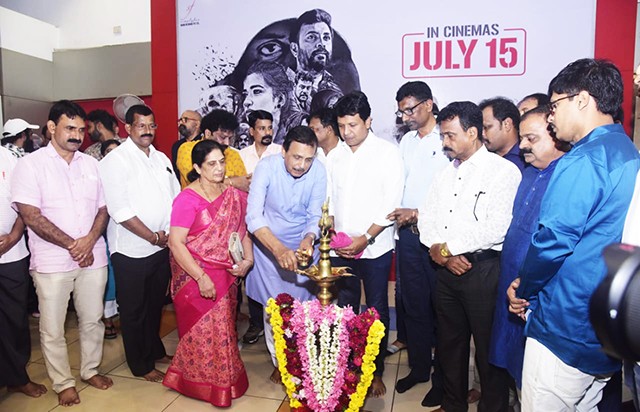 MLA Vedavyas Kamat, former Karnataka minister Pramod Madwaraj, P L Dharma form Mangalore University, Sharan Pumpwell, Jagdish Shenava, Satish Kumpala, corporator Sudhir Shetty, Dayanand Kattalsar, Devdas Kapikad, Prakash Pandeshwar, Gopal Kuttar, Gopinat Bhat, Santosh Shetty, Arjun Kapikad, Rupesh Shetty, Vineet Kumar, Manohar Suvarna, Prashant Shetty, Pradeep Shetty, Vilok Shetty, Radhika Narayan, Avinash, Shweta Sanjivul and others were present.
Madhuraj compered the programe.
The lead cast will not do justice to the success of the movie. Each role is important. The movie, Chase lays importance on how the multi roles contribute for the overall success of the movie, said the movie director Vilok Shetty.
Pet dog in the role of Max
The pets are widely used in the lead roles in recent times. Likewise, a pet dog named Max is also featured in the move. It was trained by India's lone dog psychologist Amrut Sridar Hirannayya.
The storyline hovers around many roles who meet in a night that too in an unexpected incident. When one explores the clues that link one another in a crime leading to suspense. Meanwhile, the movie is an attempt by the director how such events impact the common man that is shown in a commercial way.