Mangaluru: Congress remembers former PM Rajeev Gandhi & Kar former CM Devaraj Urs
Pics: Spoorthi Ullal

Bellevision Media Network


Mangaluru, 22 Aug 2021: Dakshina Kannada (DK) district Congress committee and DK district Congress backward classes jointly organized the birth anniversary of the former PM the late Rajeev Gandhi and the former Karnataka CM the late Devaraj Urs at Congress Bhavan, Mallikatte, here on Friday, August 20.
DK district Congress president K Harish Kumar presided the programme.
In his presidential address, Harish said, 'The former PM the late Indira Gandhi dreamt of her son Rajeev Gandhi to become a pilot who was forced to enter politics owing to the void arisen due to assassination of his mother Indira. He had never craved for power instead run the country to the best of his abilities. He had strived for women and youth empowerment, mechanization of farms and national development. Likewise, Karnataka former CM Devaraj Urs was the succor of poor and downtrodden,' said Harish.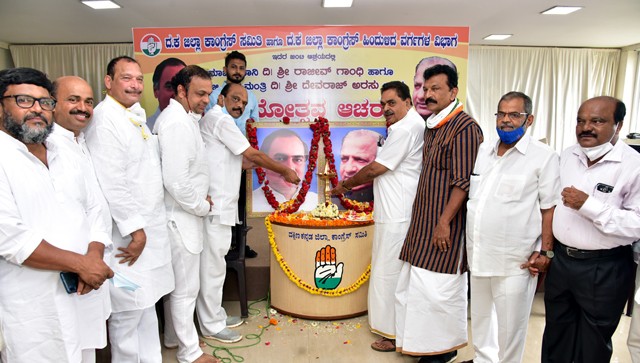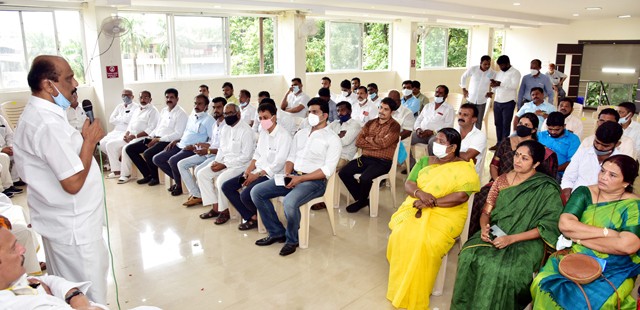 Karnataka former minister B Ramanat Rai said that Rajeev Gandhi gets the credit for social justice of poor, Dalits and weaker section of society. Devaraj Urs effectively implemented the social reforms Act of Land for the Tiller that was launched by Indira Gandhi, said Rai.
'The martyrs who laid down their lives for the nation are labelled as traitors, while Congress has always worked for social justice of poorest of poor. BJP has cheated the poor without giving them opportunities for growth,' added Rai.
AICC secretaries Ivan D'Souza and P V Mohan and former MLA Moideen Bava also spoke on the occasion.
DCC former president Ibrahim Kodijal, Mangaluru former mayor Sasidar Hegde, DCC vice president Sadasiv Ullal, district women wing president Shalet Pinto Shubhodaya Alva, Shahul Hameed, Joachim D'Souza, Savaad Sullia, Prakash Salian, Naveen D'Souza, Ganesh Poojary, Niraj Chandra Pal, Mahabala Marla, Vivek Raj Poojary, T K Sudhir, Appy, Purushottam Chitrapura, C M Mstafa, Prem Ballalbagh, Deepak Poojary, Padmanabha Amin, Shabbir S, Chetan Bengre, T K Shailaja, Farouq Bayabe, Alwyn Prakash Sequeira, Dinesh Kumpala, Samsuddin Bunder, Mallika Pakkala, Yogish Kumar, N P Manuraj, Ramanand Poojary, S K Souhan, Shobha Padil, Bhuvan Karkera, Siddiq Pare, Fayaz Ammemmar, Mohammed Hanif Bajal, Mitun Kumar, Sharif Valal, Mohammed Bappalige, T Honnayya, Ashok, Jitendra Suvarna, Harish Shetty, Geeta Praveen, Mallikarjuna Kodikal, George, Ismail B S, Yashwant Prabhu, Sabitha Misquit, Hyder Yemmekere and others were present.
DK district Congress backward classes unit president Vishwas Kumar Das compered the programme.