Aati Amavasya: It's time for Paleda Kashaya and Metteda Ganji
Bellevision Media Network


Mangaluru, 08 Aug 2021: 'Aati Amavasya', which marks the beginning of the auspicious period for Hindus is being celebrated in Namma Kudla on Sunday, August 8.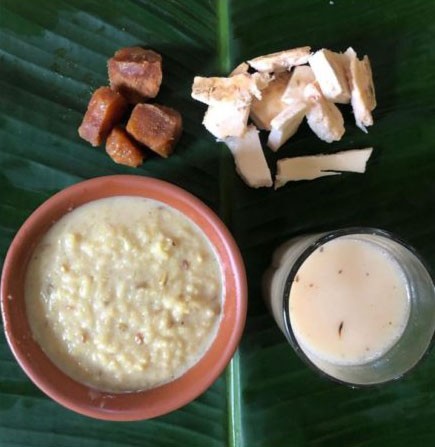 'Aati Amavasya' in Tulunadu or Deevige Karkataka Amavasya or Bhimana Amavasya is a festival celebrated in South India, in most parts of Karnataka, Andhra Pradesh and Tamil Nadu. It is celebrated on the new moon day (amavasya) of the Ashadha (Aati) month of the Hindu calendar.
Early morning on this day, Tuluvas are seen near the medicinal tree 'Pale Mara' (Tulu) or Hale Mara (Kannada) known by botanical name as 'Alstonia Scholaris', peeling off chunks of its bark using a stone (no knife or sickle should be used) and later walk away to their residence and pound it to get the bitter juice "Paleda Kashaya".
Drinking Paleda Kashaya made out of this bark by boiling it with some other ingredients like garlic, turmeric and fenugreek seeds works as a magic potion that provides immunity against diseases that are specific for rainy season, as well as work against evil effects of past sins.
Aati Amavasya happens to be a sacred day for Tuluvas which they eagerly look forward to.
Normally, on this day people throng Kadri Manjunatha Temple, hill shrine of Sri Sadashiva temple located at Narahari Parvata, in Bantwal, Somanatha Temple at Someshwara, Sahasralingeshwara Temple in Uppinangady for theerthasnana (dip in the holy pond).
However, due to the weekend curfew, the temples wore a deserted look without a large number of devotees. Taking a dip in the ponds on this day is considered to be sacred.