Mangaluru: Invitation card of 'Tulu Yaksha Jathre' released
Agencies


Mangaluru, 06 Nov 2020: Dayananda G Kattalsaar, president of Karnataka Tulu Sahitya Academy, released the invitation card of 'Tulu Yaksha Jathre', under the joint auspices of Karnataka Tulu Sahitya Academy and Yakshabolli Abhimani Balaga.
Speaking on the occasion, Kattalsaar said, "From Sunday, November 22 to Sunday, November 29, for a period of eight days, Yakshagana plays by various teams will be presented. In addition to remembering the stalwarts who have led life along with art and died, eminent guests and conveners of the troupes will participate in the programme. Senior Yakshagana artists will share their experience also."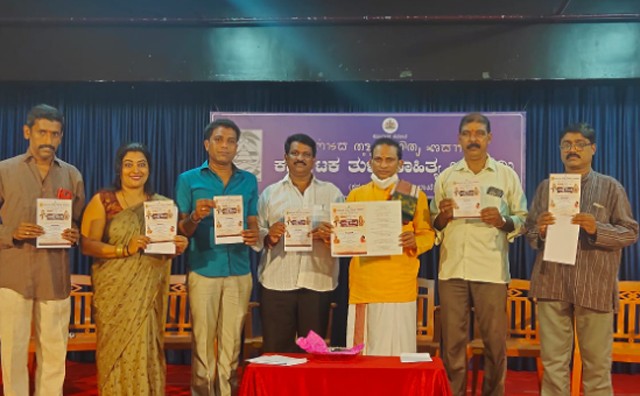 Dayananda Kattalsaar congratulated Yakshabolli Abhimani Balaga, member convener Kadaba Dinesh Rai and the honourable members and personnel of academy who are offering their cooperation.
Renowned compere of Namma Kudla TV channel Dr Priya Harish, former convener of the troupe, writer of Yakshagana plays and dramas G K Srinivasa Salian Bondel, Yakshagana Bhagavatha Dayananda Kodikal, academy members Nagesh Kulal Kulai and Chethak Poojary were present.
Yakshabolli Kadaba Dinesh Rai rendered the vote of thanks. Rangoda Birse Prashant CK, drama and Yakshagana artist and director, allrounder in art compered the programme.