Lockdown helps Spanish woman learn rural living in Udupi district
Agencies


Byndoor, 29 Jul 2020: Lockdown has given rise to many problems and has given some new experiences. A Spanish woman has been staying in a house near her for four months after not being able to return to Spain due to the COVID-19-induced lockdown.
Teresa has been living in the house of Krishna Poojary here and has involved herself in the Poojary family's agricultural activities such as putting manure as fertilizer for crops, milking cows and weaving coconut leaves.
Krishna Poojary and Teresa work for an American company in Mumbai. Due to the lockdown, she had come to his house at Heranjal near Byndoor.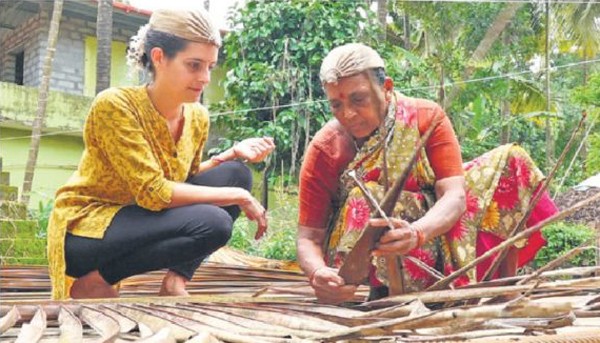 She has learnt to draw rangoli from Poojary's mother Chikamma Poojary and is also learning Kundapra Kannada and Kannada alphabets from children in the house.
Teresa says she relishes the local cuisine – leaf-cup idlis, dosas and sambars.
With a faceful smile Teresa, after being taught by the family, says "Kundapra bhasi chanda gompi" (Kundapra language is too beautiful) with a light Spanish accent.
Poojary says that as the lockdown has not fully eased and international flights are still highly restricted Teresa will be staying for some more time with them.