Pink WhatsApp group to address women's complaints: Compol
Agencies


Mangaluru, 11 Oct: In order to quickly attend complaints raised by women and female students, the city police commissioner Dr P S Harsha is all set to launch a 'Pink' group on WhatsApp.
Dr Harsha announced the novel initiative while speaking at a campaign against drugs and cybercrimes in schools and college, organised by Dakshina Kannada Working Journalists Association, Police Department, Dakshina Kannada District Legal Services Authority and Besant College.
"'My Beat, My Pride', a people-friendly programme is held in the limits of Mangaluru police commissionerate. Similarly, the 'Pink' WhatsApp group will be formed to promote safety and will immediately address complaints raised by women and female students. Students should indulge in activities that promote their well-being and hence stay away from drugs. Cyber-crime cases are increasing these days. We should remain alert and be careful regarding the information we share online. Strangers may obtain information about us and cheat us," said the compol.
"Citizen participation is necessary to prevent crimes. Police will be able to take timely action if they are informed about crimes on time. Emergency telephones, WhatsApp or emails can also be used for the purpose," said the police commissioner.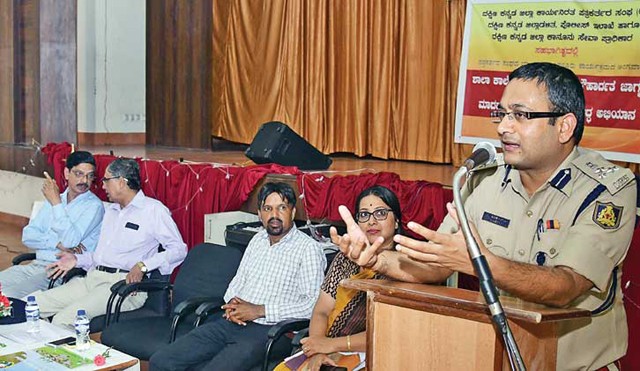 Concerned department to be booked for road accidents
In case of road accidents resulting in death or pain due road repair works, case against the concerned department will be booked under the provisions of the Motor Vehicle Act, warned the compol.
In the recent case where a two-wheeler rider sustained grievous injuries due to an accident resulting from road repair works, a report was submitted to the court with the case being booked against the PWD. Discussion regarding road repair has been held with the commissioner of the MCC and the MD of the Smart City.
It is everyone's duty to rush to the help of a road accident victim. An ambulance must be called immediately. In the same way, information regarding any illegal activity or disturbance must be reported to the police control room calling 100. The identity of the caller will be kept a secret.