Paniyuru Sri Durga Devi School gets compound wall for its playground under Adani
By Pundalika Marathe

Bellevision Media Network


Shirva, 31 Jul: Adani Foundation, a CSR wing of Adani Group, as a part of Corporate Social Responsibility of Udupi Power Corporation Limited, constructed a compound wall for the playground of Sri Durga Devi Higher Primary School located in Paniyuru Village under the limits of Yellur and Belapu Grama Panchayats.
The compound wall which was constructed a total cost of Rs. 10 lakhs was inaugurated jointly by Kishore Alva, President & Executive Director of Adani UPCL, Dr. Devi Prasad Shetty, President of Belapu Grama Panchayat and VasantiMadhwaraj, President of Yellur Grama Panchayat.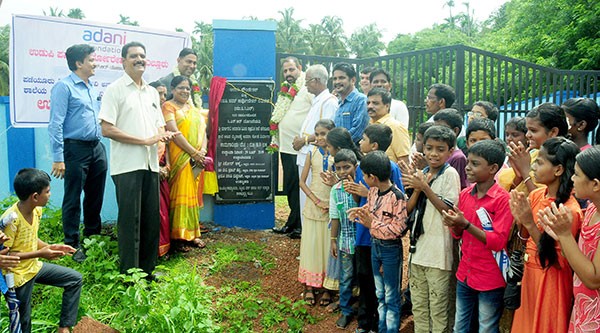 Speaking on the occasion, Dr. Deviprasad Shetty informed that UPCL after becoming the subsidiary of Adani Group has framed various programmes under its CSR for the overall development of the surrounding villages and is serving the society in a better way. He further told that the Group which is taking-up and executing the infrastructure development works in the surrounding villages based on the Action Plan provided by Panchayats is beneficial to the villagers.
Later, Kishore Alva spoke and told that the company's focus on CSR in the surrounding places are on Education, Health, Community Infrastructure Development, Promotion to Rural Sports and Sustainable Livelihood. The Members of School Development Management Committee had represented about the requirement of compound wall for school playground during last year and considering the requirement as beneficial and safety to the school children, the activity of construction of compound wall of 565 square metre and erection of gates were taken-up and completed by Adani Foundation at a cost of Rs.10 lakhs, Alva added.
Vasanti Madhwaj welcomed the initiation of Adani and appreciated the efforts of company in developing the infrastructure facilities in the surrounding villages.
Y. Prafulla Shetty, President of School Development Management Committee, Devaraj Rao Nadimane, Convenor, Srivatsa Rao, Vice President of Belapu CA Bank, Satish Shetty Guddechi, Raheem Kunjur, Members of Yellur Grama Panchayat, K. Nagaraj Rao, Industrialist, Shankar, Head Master of School, Girish Navada, AGM of Adani UPCL, Ravi R. Jere, Sr. Manager of UPCL were present on the occasion.