Udupi dist admn all set to tackle water woes
Udupi, 13 Mar 2014 (DHNS): 'Water everyday if dist receives 4 inches of rainfall in March / April'. The summer having already made its presence felt in the Udupi district, the district administration and Zilla Panchayat is all geared up to confront the problems that accompanies the scorching heat, especially the scarcity of water.
Zilla Panchayat Chief Executive Officer Kanagavalli told that the government has released Rs 42 crore to take up steps to mitigate water scarcity in all villages of the district. No complaint has been received from any village over scarcity of drinking water so far. Water supply through tanker will be the last resort, she said. Last year 59 villages across the district faced acute shortage of drinking water. Majority of the villages are in Kundapur and Karkala taluks.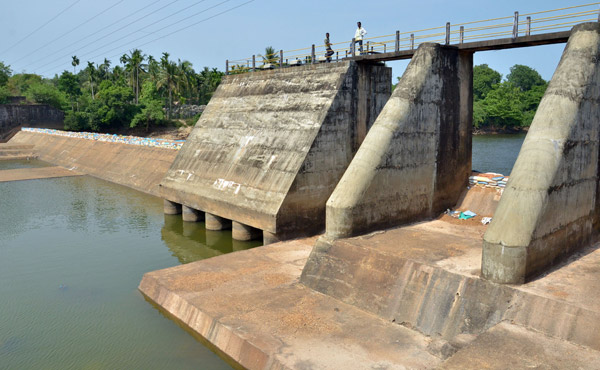 Stating that priority will be given to rejuvenate the existing defunct water bodies, to set right the water supply infrastructures like constructing pipelines wherever necessary and also to set up additional water sources like digging bore-wells and wells to overcome the water scarcity problem, she said the government has directed the ZP and district administration to take up immediate measures to mitigate water problems.

She said emergency task force is already in action in all five assembly constituencies headed by the respective MLAs. Besides 'Jala Seva Niyantrana Room' with toll free number is operating in assistant commissioner's office and also in all the taluk offices, exclusively for people to register their grievances.
"The control room is monitored by taluk executive officer and assistant executive engineer every day. All the Gram Panchayat presidents and PDOs are directed to immediately react for the public grievances. They are also directed to look into the immediate solution in those areas that are confronted with depletion in water-level. They can also provide tanker water to those areas in case of inevitability," she said.
Meanwhile, Udupi CMC has also decided to take up rationing of water. Accordingly, water will be supplied every alternate day for each area.
The CMC is providing water to18 houses in Rajivnagar and two houses in Kolambe through tankers. Following the low water pressure in water distribution, the problems are erupted in these areas. Other areas that are at the suffering end include Duglipadavu, Palekatte, Doddannagudde, Kodavur and Hanumannagar.
CMC Commissioner Srikanth Rao said that the CMC has decided to supply water every alternate day following the low pressure problems. The CMC limits is divided into two sections. There is sufficient water in two reservoirs. Currently the water-level in Baje dam is 4.92 meters and the water level in Shiroor reservoir is 3.8 meters. With the current water-level, it will enable the water supply till May end, he said.
If the district receives four inches of rainfall in the month of March or April, CMC will be able to provide water every day, the Commissioner added.