Udupi BJP rattled by candidate confusion
Bellevision Media Network


Udupi, 07 Mar 2014: Will Udupi BJP field a new face for the ensuing Udupi-Chikmagalur Lok Sabha polls?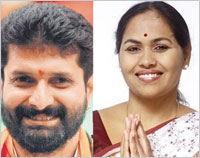 This is becoming a distinct possibility with none of the top leaders expressing even a latent desire to contest in a constituency considered vast spread across two districts of Udupi and Chikmagalur.
Doing the rounds are names of former power minister Shobha Karandlaje, Chikmagalur MLA CT Ravi, along with new faces columnist Pratap Simha and Udupi Yuva Morcha president Vilas Nayak.
But BJP sources in Udupi asserted that former minister Shobha Karandlaje's name has been finalised and sent to Delhi for approval. But Shobha is on the denial mode, when asked which constituency she would prefer Mysore or Udupi-Chikmagalur? ``I have left it to the party. Let them decide where I should or who should contest from Udupi-Chikmagalur,'' she said.
Meanwhile Udupi-Chikmagalur sitting MP K Jayaprakash Hegde is off the blocks as far as campaigning is concerned for the ensuing polls almost a month before the poll schedule was announced. And perhaps for the first time the Udupi BJP is in a state of confusion due to the candidate imbroglio. ``I started campaigning even before names were finalised,'' he said.
Meanwhile CT Ravi was also non-committal. He said: I will not suo moto declare myself as a probable candidate for the seat. If the party decides we will see.
Udupi BJP party workers, though prefer a strong candidate who is known in both districts like Ravi to counter Hegde, they say it does not matter who it is, but they will campaign for the candidate nominated by the party. Udupi BJP President Uday Kumar Shetty said: The delay has cost us as far as campaign is concerned and we are left with just about six weeks to cover the vast constituency.
With BJP still to get off the blocks, Congress candidate Hegde may have just to worry about countering the Modi wave, if any, to get ahead in the contest.