Udupi: Alinjekudru Residents At last Get Access Road to Mattu, Katpady
By Prakash Katapadi

Bellevision Media Network


Udupi, 02 Feb 2013: Kaup MLA Lalaji R Mendon inaugurated newly-built access road from Mattu, Katpady to Alinjekudru that comes at the limits of Rs 10 lac, here on Friday February 1. The access road was constructed with MLA's fund at a cost of Rs 10 lac.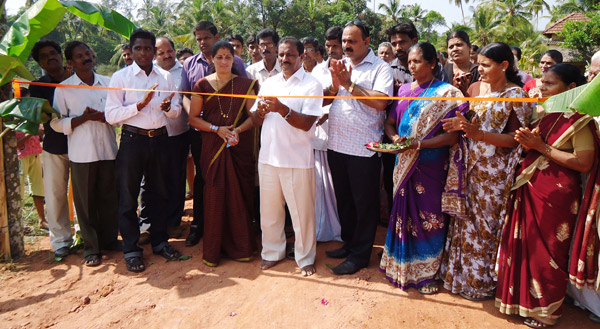 TP member Kavita, Kote gram panchayat members Ganesh Kumar, Yogish Suvarna, Jagannat Poojary New Delhi, Vasu Poojary, Ratnakar Kotian Katpady, Shekar Pangala, contractor Kishore Kumar Gurme were present at the occasion.
Udupi: District Aam Admi Party Pleads State Regulatory Authority to Solve Power-Cut


Udupi, 02 Feb 2013: Yatish Kumar Katpady, district convener of Aam Admi party, presented a memorandum to the chairman of Karnataka Electricity Regulatory Commission, in order to solve the issue of electricity supply at the earliest, at the backdrop of erratic power supply caused by load-shedding across the district without any prior announcement to consumers in newspapers.
The public utility provider has resorted to power-cuts for more than a few hours since a week, which has inconvenienced the students, household families, businesses, small and medium enterprises.