Udupi: Annual feast of Our Lady of Vailankanni on August 15
Udupi, 13 Aug 2012: The annual feast of Our Lady of Vailankanni shrine at Stella Maris Church at Kalmady near Malpe here will be held on August 15.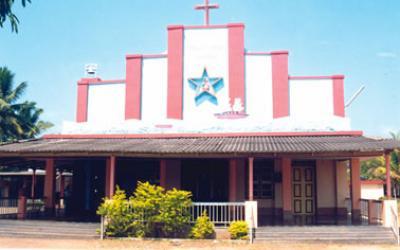 Addressing presspersons here on Saturday, the parish priest Alban D'Souza said Bishop of Mangalore Diocese Reverend Aloysius Paul D' Souza would celebrate the evening festive mass.
Masses would be held at 8 a.m. (Konkani), 10 a.m. (Kannada) and 4 p.m. (Konkani).
Food would be served to all devotees in the evening. Nine days of Novena prayers were being held from 4 p.m. to 6 p.m. from August 6 to 14.
The procession of offerings (Horekanike) would be held at 2 p.m. on August 12.
The procession would begin from Adiudupi Junction here.
The shrine of Our Lady of Vailankanni in the parish of Stella Maris (which means "Star of the Sea") is located on the way to the Malpe beach. Stella Maris was a chapel built due to the efforts of late Reverend Father Charles D' Souza in February 1972. But it became a full-fledged church on January 1, 1991.
The statue of Our Lady of Vailankanni, was installed on August 15, 1988 by the then Bishop of Mangalore Diocese Basil D'Souza.
The statue was initially installed in the portico of the church, a separate shrine was later built outside the church, Fr. D'Souza said.
Vice-president of the parish council Louis Lobo, secretary Priscilla Alva and treasurer Victor D' Mello were present.