Mangalore air crash: 812 foundation complaint verdict on June 12
TNN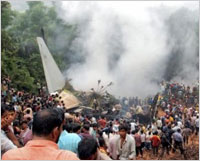 Mangalore, 30 May 2012: The private complaint filed by 812 Foundation, alleging that three government agencies and 12 officials as responsible for the Air India Express 812 crash of May 22, 2010 which claimed 158 lives, was posted for orders on June 12 by the JMFC II court Judge Roopashri here.
Making submissions at the court here on Tuesday, 812 Foundation, president Yeshwanth Shenoy said though at first he thought the persons responsible could be charged under section 304 Part II (culpable homicide not amounting to murder) and 304 A (Causing death by negligence punishable by 10 years imprisonment and fine or both) of Indian Penal Code (IPC), after investigation he had found the charges were grave and made a plea to charge the officials under section 302 (punishment for murder).
In the complaint 812 Foundation has named Air India (AI), Directorate General of Civil Aviation (DGCA), Airports Authority of India (AAI) and 12 officials serving with these agencies. In case the court finds there is a cognizable offence, the private complaint may be changed to a criminal complaint.
Shenoy accused DGCA for failing to verify the Capt Zlatko Gluscia's Airline Transport Pilot License (ATPL) licence before issuing the FATA (Foreign Aircrew Temporary Authorization) licence. Shenoy said AIE 812 pilot did not have the requisite flying hours for 737-800, but had 400 flying hours for 737-400. Shenoy also said the pilot was not under the direct control of AI as he was sourced from Sigmar Aviation, Isle of Man. Shenoy also pointed out the Court of Inquiry (CoI) showed the Instrument Rating Check (IRC) of the pilot was on May 14, 2009 and was valid till May 13, 2010, according to aviation norms. The accident had occurred a week later.
Sheony's said it was clearly established in the Court of Inquiry that the fire started after the aircraft wing hit the ILS structure making AAI responsible putting the non frangible structure at the end of runway.
"If ILS was not mounted on the concrete structure the pilot may have been able to take off or the resultant crash would not have resulted in such loss of lives in the absence of fire,'' he said.