Superfoods that you should stock up in your kitchen
Garlic
23 Sep 2014: While experts say that fruits and vegetables should be a part of your regular diet, experts say that there are certain 'superfoods' that you should eat every other day because of the high nutrient content they contain.
Here are some of them...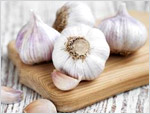 - Garlic contains a host of bio-active compounds that are especially good for cardiovascular health. Not only is it known to lower cholesterol, it is also said to lower platelet aggregation that will minimise your the risk of a stroke and heart attack. Apart from that, garlic can also lower blood pressure.
- Cod fish liver oil is packed with omega-3 fatty acids as well as vitamin A and D3. And a deficiency of vitamin D3 is is said to increase the risk of diabetes and cancer.
- Blueberries are considered a superfood on the sheer basis of their antioxidant content. And experts say that overweight people people who suffer from metabolic syndrome should eat blueberries because it will help them lower blood pressure and cholesterol.
- While many people detest the taste of coconut oil in their food, here's something that will probably make you change your mind. Use coconut oil while preparing dishes because it contains saturated fats, that won't make you gain weight and even boost your metabolism.