Beauty secrets of coconut oil
Cocnut-Oil
19 Jul 2014: The coconut has been easily accessible to us but we never really learnt its multiple beauty benefits. Coconut is a nature's gift which is packed with the "Magical Laurites".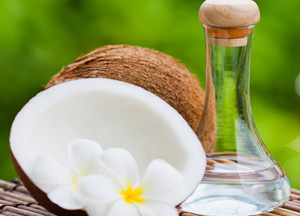 Use it as a Foundation Primer: All you make up addicts will agree that a perfect make up is never complete without a primer. Simply dab some on your face, let it soak in and then apply your tinted moisturizer or foundation. You will notice how much smoother and longer your makeup stays on. You can also dab some coconut oil on your cheekbone to highlight them and you are sure to sparkle!
Lovely locks that you can flaunt: Using coconut oil regularly not only enhances the beauty of your hair, but also keeps them ultra- soft & smooth. It also constantly repairs damage and protects them from the polluted environment. The magical Laurites gives your hair everything it needs. It binds the hair proteins and holds them giving you stronger, shinier and healthier hair. It also helps reduce frizz and repairs split ends faster and works wonders for your hair.
Your skin will love it too: If you love your skin, then you know that moisturizing is the key. Coconut Oil is a natural moisturizer which keeps your skin hydrated and protects from pollution and the changing weather. Use of coconut cleanses and neutralizes the toxins, which not only detoxifies but also builds the skin's natural immune system. Even Gwyneth Paltrow claims to regularly use coconut oil to moisturize her skin after a shower.
Oil Pulling for that clear and luminous skin: Swishing coconut oil around in your mouth for 20 minutes a day will help to detoxify your body, cure headaches, avoid acidity and whiten the teeth. 'Oil pulling is an age-old tradition in India that cleanses your system from within. Hollywood diva, Angelina Jolie has been known to start her day with little more than a spoonful of coconut oil and a handful of cereal to keep that glowing and younger looking skin. Now you know why she still looks so fabulous with every passing year.
Apply for a Silky Smooth Shaving Cream: Who said shaving cream has to lather? Use coconut oil as a base to get a closer shave that leaves your skin smooth and supple instead of leaving your skin dry, patchy and a lot of times with bruises too.
Make a Body Scrub: If you are a DIY (Do It Yourself) experimentalist, then coconut oil is a vanity essential for your kit! Here's what you can do to get that luminous skin - Mix half a cup of coconut oil with granulated sugar and apply the concoction for exfoliation. You will notice the magical glow on your skin immediately and you are all set for a special evening with your boyfriend.
Also doubles up as a Makeup Remover: Even the most resistant waterproof mascara does not stand a chance against coconut oil. Apply it directly to the face as an oil cleanser or let it sit on your skin with a cotton pad. Your makeup is sure to melt away. The 'Magical Laurites' lifts the dirt and bacteria from deep within the skin leaving it feeling fresh. This is a trick you can even share with your BFFs.
Rub some coconut oil for Softening Cuticles: Have you ever wondered why your grandmother still continues to rub few drops of coconut oil on her palms and hands before she goes to bed. If you wash your hands often or your cuticles just need a little extra tender care, apply coconut oil to your fingers twice daily to keep them soft, supple and nourished. You can make out the difference in just a few days.
Dab it as Under-Eye Cream: Don't want to spend and experiment with plethora of under eye creams and serums present in the market? Apply some coconut oil enriched with vitamin E and packed with to cure the under-eye bags and fine lines. It's light enough for the most delicate skin on your face. Coconut oil is packed with antioxidants that helps fade and reduce the appearance of dark spots. Women whose skin is sensitive to creams and serums should definitely use coconut oil.