Republic Day Holiday: Random Discussions
By Philip Mudartha

Bellevision Media Network


Our Guest from Egypt is no defender of freedom of thought and expression: Today, 26 January 2023, we celebrate the 74th Republic Day. Egyptian President Abdel Fattah El-Sisi is the chief guest. The 68 year-old is one of most influential Arab leaders with a reputation as a moderate autocrat. As defense minister during Hosni Mubarak's sunset years in power, Sisi overthrew his democratically elected predecessor, President Mohammed Morsi in July 2013. Morsi was a leading member of Muslim Brotherhood in Egypt. As an islamist militant leader, Morsi alienated the influential minority: Coptic Christian community. Hence, the copts rejoiced when Sisi seized power. Sirsi shed his uniform and won the presidential election as the civilian President in July 2014, after jailing or deporting the Muslim Brotherhood leadership. He has made renewal of friendship with India as a cornerstone of his external policies. India has reciprocated and hosted him twice in the eight years of his rule, which has coincided with the rule of Modi, our own strongman. This time, a military contingent from the Egyptian Army will also participate in the Republic Day parade.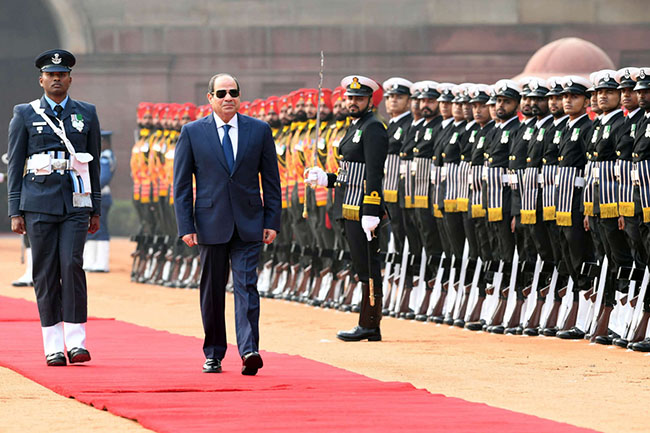 The Egyptian strongman arrived on Tuesday determined to expand ties in areas of defense and security, trade and counter-terror cooperation. After his wide-ranging talks with Modi, Modi said the two sides were unanimous in their view that terrorism is the most serious security threat to humanity and that they agreed that concrete measures are needed to end cross-border terrorism.
I began my association with Egyptian industry in July 2013 as an off-shore 'part-time technical advisor' to a premier steel conglomerate in Egypt. This was an enterprise founded and owned by a billionaire Coptic Christian Family. I terminated my association with that company in April 2015 owing to health issues. During that period, I undertook a few week-long trips to the troubled country. I lived in a 'high security' 4-star hotel situated on the outskirts of Cairo. My longest stay was for a little over four months, during which I attended the Coptic Christmas Midnight Mass at St. Mark's Coptic Cathedral, the seat of Coptic Orthodox Pope. To my surprise and that of most of the worshippers gathered, President Sisi attended the ceremony flanked by the Pope. Sisi has continued his over-reach to the Copts who are targets of radical Islamists. However, Sisi has continued to rule by brutal suppression of dissent and freedom of expression and assault on civil society.
**********
India: The Modi Question
This is a two-part TV series aired on BBC 2 on 2002 Gujarat riots which occurred during PM Modi's time as Chief Minister of the state. The docu-series claims that Prime Minister Narendra Modi was involved in the Gujarat riots, is guilty of genocide and has documents proving this in the British Foreign Office.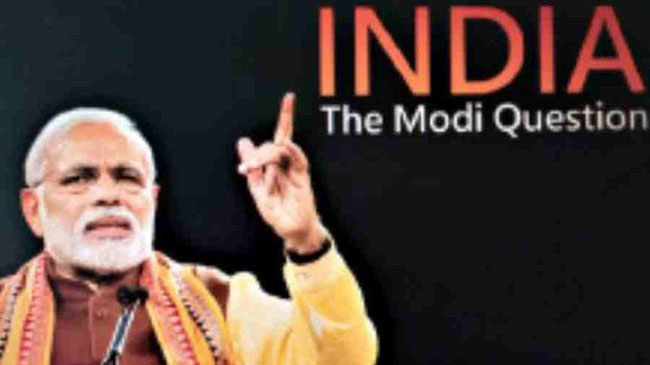 The Indian government was quick to ban the documentary claiming that it is a 'propaganda piece' aimed at 'subverting our national security and sovereignty.' Twitter and You-tube were instructed to take down links to the documentary using emergency powers under our information technology laws. Yet, opposition TMC leaders and a few others have shared the links which were quickly taken down.
Despite the block on the documentary, students across various educational institutions gathered for screenings of the movie. High drama took place at Delhi's Jawaharlal Nehru University (JNU) on Tuesday night after the authorities cut power and internet to stop the students from conducting a screening of the Modi documentary. Some students claimed they were attacked and stones were pelted on them while they were watching the documentary on their mobile phones. According to news agency PTI, some alleged that the attackers belonged to the Akhil Bharatiya Vidyarthi Parishad (ABVP), a charge that they denied.
The BBC said that the documentary was "rigorously researched" and involved a wide range of voices and opinions. "We offered the Indian Government a right to reply to the matters raised in the series — it declined to respond," BBC said.
The second part of the documentary, released in the U.K. on 24 January 2023, "examines the track record of Narendra Modi's government following his re-election in 2019," according to the film's description on the BBC website.
In recent years, India's Muslim minority has been at the receiving end of violence from Hindu nationalists, emboldened by a prime minister who has mostly stayed mum on such attacks since he was first elected in 2014.
The ban has set off a wave of criticism from opposition parties and rights groups that slammed it as an attack against press freedom. "You can ban, you can suppress the press, you can control the institutions … but the truth is the truth. It has a nasty habit of coming out." Rahul Gandhi told reporters at a press conference on Tuesday.
Mahua Moitra, TMC MP on Tuesday tweeted a new link after a previous one was taken down. "Good, bad, or ugly — we decide. Govt doesn't tell us what to watch," Moitra said in her tweet. Human Rights Watch said the ban reflected a broader crackdown on minorities under the Modi government, which the rights group said has frequently invoked draconian laws to muzzle criticism. Critics say press freedom in India has declined in recent years. The Press Freedom Index published by Reporters Without Borders accused Modi's government of silencing criticism on social media, particularly on Twitter.
Lord Rami Ranger, a member of UK Parliament, has criticized the BBC over the controversial series against Modi. The documentary on PM Modi lacks 'common sense', and 'opened old wounds', he said.
The UK and US governments are aware of the strategic importance of India as a regional bulwark against their new rival, the rising China. Human Rights in India are not a priority anymore for western democracies and hence they are ambiguous in their diplomatic stances.
**********
Survival of the Richest:
Published on the opening day of the World Economic Forum (WEF) in 2023, Oxfam India's report, titled Survival of the Richest, the India Supplement is a stark reminder that income inequality is not simply alive, but growing every day.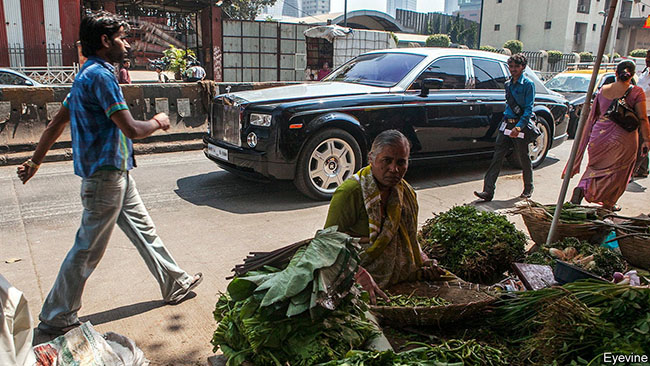 Oxfam India's 2023 report, accurately titled "Survival of the Richest", claims that resources are not scarce in India, or in the rest of the world. Instead, it is the inequitable distribution of resources that creates scarcity in the first place.
The paper is littered with examples of this. Taxing the 10 richest Indian billionaires at 1% can fill vacancies in elementary schools across the country for thirteen years. Taxing all of India's billionaires at 2% would support the malnourished in the country for three years.
There is no dearth of wealth in the country – it is all simply accumulated at the very top. The top 30% of Indians own 90% of the wealth in the country. It is the rest of the country, the other 70%, who suffer from the effects of scarcity. They are the world's largest poor population, dying due to malnutrition, lack of access to healthcare, and housing. This is the only population affected by scarcity.
The general economic theory states that recessions are periods of time where the economy is in a downturn, and the nation's overall wealth contracts. Unemployment rises, consumer spending drops, and individual income drops. Yet, these theories don't apply to the richest in our country. The total number of billionaires increased from 106 to 122 in 2022. The Adani group chairman, Gautam Adani, had his wealth multiply eight times during the pandemic. At a moment when most Indians were struggling to make ends meet, these people profited, over and over again, from a dying economy.
The corporate tax breaks enacted in FY 2020 have stripped the government of one lakh crore rupees in lost revenues between 2020-2021. This money must be recouped in one way or the other. The Modi government chose to increase indirect taxes, such as GST. In addition, it reduced spending on healthcare, education, and other welfare benefits for the poor. Ultimately, greater burden was placed on the lower middle and working class population of the country.
Oxfam reports that the bottom 50% of the population paid six times more in indirect taxes as a percentage of income as compared to the top 10%. This is what taxation in India has come to: a small group of billionaires growing richer and richer off the sacrifice of millions of starving taxpayers.
**********
Midas touch of Gautham Adani:
What Gautham Adani touches turns into gold. Or so, his investors believe. On 30 Dec 2022, he concluded the take over of NDTV, the left-of-center and liberal media house founded three decades ago by Prannoy Roy and his wife Radhika using one of his multiple shell companies based in tax-haven islands such as Mauritius. The stock whose intrinsic value is under Rs 100, saw its 52-weeks high of Rs 573.
Gautham Adani group also acquired two major cement producers in India, ACC and Ambuja Cements. After the takeover, these stocks saw highs of Rs 2, 743 and Rs 598. During 2022, Adani group also entered into real estate development by winning the bid to redevelop Dharavi, Asia's largest slum in Mumbai's heart-land.
Besides NDTV, ACC and Ambuja Cements, there are seven publicly listed Adani Group Companies: Adani Total Gas, Adani Enterprises, Adani Transmission, Adani Green Energy, Adani Ports & Special Economic Zone, Adani Power, and Adani Wilmar. The sky-rocketing valuations of these companies propelled Gautham Adani to be world's third richest billionaire.
Everyone sought out Gautham Adani for exclusive interviews. IndiaToday's Raj Chengappa was the first to bag an audience. Rajat Sharma of India TV and host of his iconic Aap ki Adalat Show, soon followed. Not to be left behind, when Gautham Adani was the cynosure of the international media at WEF 2023 at Davos, Rahul Kanwar too interviewed him.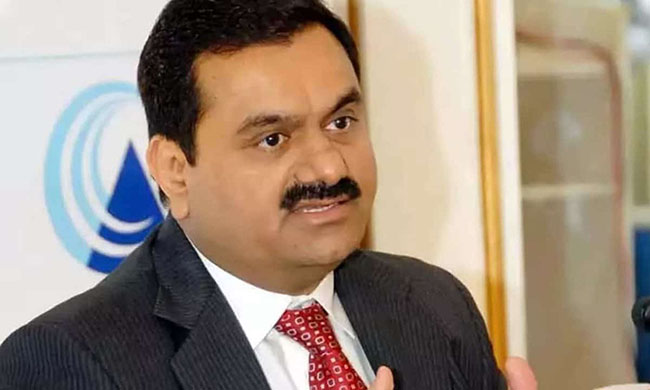 When everything was going so well, a research paper titled Hindenburg Report released on 24 Jan 2023, hit the stock market bulls hard. The US-based stock research firm and a short-seller claimed that Adani group had participated in a clear stock manipulation and accounting fraud scheme over decades. Needless to say that Adani Group rubbished the report as 'malicious' and intended to 'damage the FPO of Adani Enterprises for Rs 20,000 crores which opens for retail subscription on 27 Jan 2023.
Notwithstanding the Adani Group statement, all share prices of all Adani Group tanked between 3% and 10% as markets closed for the Republic Day holiday. Ambuja Cements was the worst performer.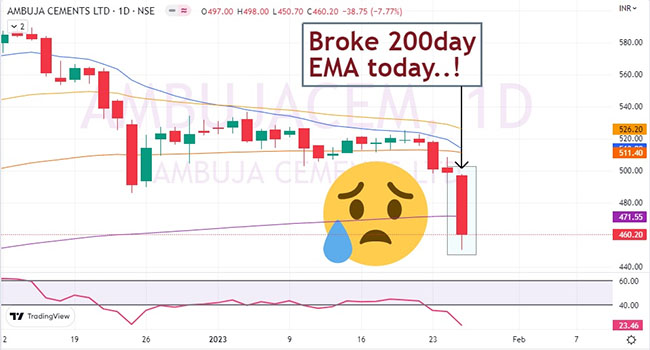 ************