The four shortcomings of Modi Government
By Philip Mudartha

Bellevision Media Network


16 Jan 2022: Congress leader Rahul Gandhi on Saturday, the January 15th attacked the BJP central government with an online Twitter poll. He asked his followers to vote on what they think are its biggest shortcomings.
Rahul Gandhi posed the question "What has been the biggest shortcoming of the BJP government?" and listed below it four options to vote for.
The four options were 'unemployment', 'tax extortion', 'inflation', and 'atmosphere of hatred'.
At the time of writing, at noon on Sunday January 16th, the response is significant: 3, 47, 396 votes are registered. Of them, 35% felt "atmosphere of hatred" is the government's biggest failure followed by 28% saying "unemployment" as its foremost failure. Together, these two shortcomings account for 63% which means two out of three citizens have spelt out the major issues before the nation. Of the remaining voters, 19.8% opted "inflation" and 17.2% "tax extortion".
Let's us elaborate a little more on each of these issues:
Atmosphere of hatred: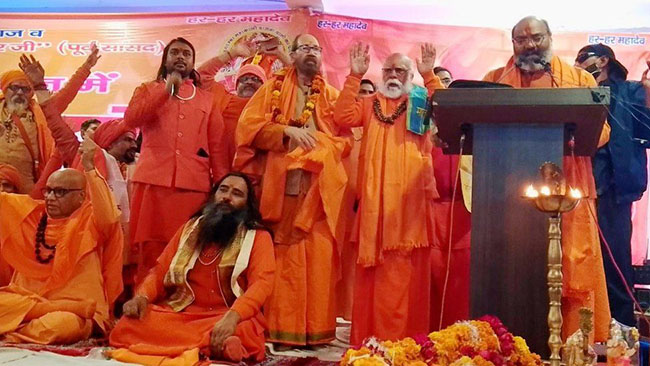 1. Experts from Amnesty International USA and Genocide Watch, leading global human rights watchdogs, have said Indian Prime Minister Narendra Modi's Islamophobic policies and tolerance of open incitement by Hindu extremists for a genocide of Muslims are pushing India towards mass violence against and massacres of Muslims. Because of Modi's failure to condemn and act against anti-Muslim bigotry, hate speeches by leading religious and political figures had proliferated in recent weeks specifically aimed at inciting mass violence against Muslims, the experts said at a Congressional Briefing organized in Washington, D.C., on January 12, Wednesday. Govind Acharya, India Specialist with Amnesty International USA has opined that anti-Muslim hate and bigotry is at peak in India. Dr. Gregory Stanton, President of Genocide Watch stated that "genocide is not an event, but a process. The ten processes of genocide begin with classification by trying to exclude people from citizenship. De-humanization involves calling people terrorist, separatist and criminals. This language is used by the Indian Government against the Muslims. Polarization leads to hatred for all Muslims, and preparation for genocide. The first process is happening now. As the leader of India, PM Modi has an obligation to denounce the hate speeches but he has not spoken against it".
2. Between December 17 and 19, a so-called Dharam Sansad was organized at Haridwar, which was addressed by many Hindu religious leaders and hardliners. Several inflammatory hate speeches were made. The theme of the event was 'Islamic Bharat mein Sanatan ka Bhavishya: Samasya va Samadhan' (The Future of the Dharma in Islamic India: Problem and Solutions). It was a strange topic because who says that we are living in an 'Islamic India'. "This is our state now. There is no more time, the case now is that either you prepare to die now, or get ready to kill, there's no other way. This is why, like in Myanmar, the police, the politicians, the army and every Hindu must pick up weapons and we will have to conduct this cleanliness drive. There is no solution apart from this." This call for ethnic cleansing of Muslims was given by Swami Prabodhanand, who has close links with mainstream BJP politicians. "The decision of this Dharma Sansad would be a word of God and the government will have to listen to it," said Swami Anandswaroop, another hardliner cleric in saffron robes. "If it won't, then we would wage a war that would be more gruesome than the revolt of 1857." This no doubt that is a seditious speech for which he should have been arrested and charged. No police action has been taken till the time of writing.
3. Uttar Pradesh, our most populous state, goes to the polls in Feb-March this year. The state has been the focus of the activities of the RSS since the 1980s. The BJP built its anti-minorities politics over the years by exploiting the Babri Masjid-Ram Mandir controversy. That politics has spread across the country with the assumption of central power by PM Modi.
4. The Hindu daily published from Chennai wrote in its no-nonsense editorial as follows: "A feigned and manufactured sense of fear about the future of Hindus and Hinduism in India has been the hallmark of right-wing politics. The conclave of religious leaders is providing an outlet for such rabid thoughts, and the confidence with which messages of hatred are being bandied about suggests an expectation of official patronage. Those occupying positions of power and high offices in the government, especially the Prime Minister and Union Home Minister, must take a clear stand against this. The political leadership must explicitly denounce the event and affirm that it stands by the constitutional values of secularism, religious tolerance and the preservation of the rule of law. In a country where 'sedition' and 'terrorism' charges are invoked in a heartbeat, the call to a revolt and mass cleansing has not evoked a similar response. It may be easy to dismiss the hate speeches as representing only a fringe, however, given the vehemence and frequency of these articulations in the public domain, it is only a matter of time before the phenomenon spreads among more moderate sections. Hate propaganda must not win".
5. The incidents of violence against Christians have been increasing sharply since the Narendra Modi government came to power in 2014. According to a report by the United Christian Front (UCF) 127, 142, 226, 248, 292, 328, 279 and 486 incidents were reported in 2014, 2015, 2016, 2017, 2018, 2019, 2020 and 2021, respectively. The atmosphere of hatred spread by Hindu majoritarian saffron propagandists by accusing the Christian Charites of fraudulent and allurement means to convert poor Hindus has prompted BJP ruled states to the enactment of 'anti-conversion laws' in the name of freedom of religion. This atmosphere of hatred will only encourage the anti-social elements to attack the peace-loving Christian minority.
Unemployment: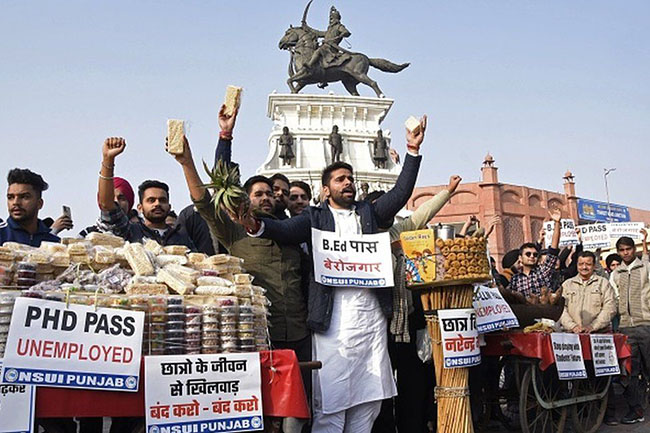 1. India's unemployment rate reached a four-month high of 7.91% in December according to the Centre for Monitoring Indian Economy (CMIE). The unemployment rate was highest rate at 8.3% in 2021 August. The urban unemployment rate rose to 9.30% while rural unemployment stood at 7.28%. The unemployment rate was the highest in Haryana at 34.1%, followed by Rajasthan at 27.1%, Jharkhand at 17.3%, and Bihar at 16%.
2. "This is way higher than anything seen in India, at least over the last three decades, including the big economic crisis of 1991." Kaushik Basu, former chief economist of the World Bank told BBC News.
3. Between 2019-20 and December 2021, the manufacturing sector has lost 9.8 million jobs. The loss of jobs in the unorganized sector is not documented. Several self-employed educated youths have lost their businesses. They have returned to their rural homes to try and engage in agriculture.
4. Unemployment is the foremost worry of urban Indians, followed by financial and political corruption in second place and coronavirus in the third place. This is according to a global survey which is considered very accurate in its findings.
5. India's Labor Force Participation (LPR) does not compare favorably with other emerging countries. According to the World Bank, it stood at 46% whereas LPR in China is 67%. Even Bangladesh has a high LPR of 56% which boasts of high female workforce participation.
6. The condition of employed is not very good. The majority of India's workforce is vulnerable and leads a precarious existence. Earnings are slim. Surveys show 45% of all salaried workers earn less than 9,750 rupees a month. That's less than 375 rupees a day, the minimum wage proposed in 2019 but later not legislated.
7. Expert economists believe that the government needs to control inflation (discussed later), generate employment and support workers. Also, a "politics of polarization and hate" (discussed earlier) during PM Modi's rule is "damaging trust". Trust is one of the most important drivers of economic development. PM Modi has lessons to learn from the Bangladesh story where the Sheik Hasina government has reinstated secularism as its governing principle. She has come down hard on Islamic fundamentalism. Following political stability and social harmony, Bangladesh is reporting an economic miracle. Its per capita GDP now exceeds that of India. Unemployment is low at 5% and inflation is 5.56% y-o-y in 2021.
8. Good politics leads to good economics. This is why "inclusive" politics is very much desired and the atmosphere of hatred must be put down with iron hand.
Inflation: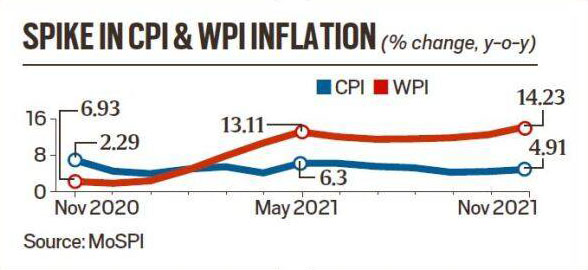 • India's December's Wholesale Price Inflation (WPI) figure was marginally lower at 13.56% from the previous month's high of 14.23%, which was the highest in more than a decade according to government data.
• Consumer price-based inflation (CPI), the main gauge monitored by the monetary policy committee of RBI, rose to a five-month high of 5.59% y-o-y in December from November's 4.91%. The RBI comfort zone is an average of 4% which is why inflation is a cause of worry to citizens.
• Wholesale fuel and power prices in December rose 32.30% y-o-y. Manufactured product prices rose 10.62%, and wholesale prices of food accelerated at a 6.70% y-o-y.
• Another factor that could lead to an inflation spike in India is the sharp rise in global crude oil prices. India increased fuel tax significantly even when global prices were declining following the Covid-19 outbreak. Petrol prices skyrocketed to above Rs 100 a liter in most states.
• Here is an example from my 3-member household's monthly expenses on our meat basket of 12 kilos consisting of 6 kilos of live chicken, 3 kilos of fresh country pork, 2 kilos of fresh lean mutton and 1 kilo of buffalo meat. During Modi's first year in office (2014-2015), the basket cost me Rs 1,890. Seven years later, I spend Rs 3,500 on the same meat basket. For me, the meat basket retail inflation is 9.1% (compounded annually). No bank deposit yields 9% which means inflation is eating into my retirement savings.
• Though the government data shows CPI within the RBI comfort zone and this fact is used to keep borrowing costs low for industry and big businesses, most household budgets are affected negatively. Because, pay-rises have not kept pace with the prices.
Tax Extortion: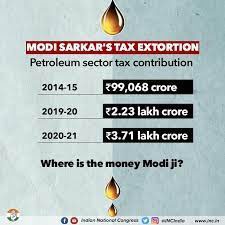 1. Under Modi-led BJP central government, the taxation on petroleum products have gone up by leaps and bounds. A vocal critic of high fuel prices while he was in the opposition prior to 2013, Modi has not walked the talk during his seven years as PM. The above figure shows the taxes collected from petroleum sector in FY 2020-21 are 3.75 times that of FY 2014-15. The middle classes who form his core constituency have been hit hard by the unreasonably high pump prices of petrol, diesel, and cooking gas despite soft international crude oil prices.
2. The gross tax revenue as a percentage of the GDP reached an all-time high of 12. 11 in FY 2007-08 but fell to 10. 25 in FY 2020-21. The corporate tax collections dropped to 2.32% because the corporates friendly government (suit boot ki sarkar, as Rahul Gandhi described it) reduced the corporate tax to 22% from 30%. Why should the common man suffer to please 'hamare do' of 'hum do' Sarkar, opposition Congress party alleged. (Hamare do =Ambani+Adani; Hum do=PM Modi+ HM Amit Shah).
3. The GST burden is borne by every consumer, rich or poor, other than probably the abject poor who do not participate in the economy. The opposition has alleged that the GST implementation was faulty. Rahul Gandhi termed it as 'Gabbar Tax". However, there were not many electoral setbacks to the ruling BJP since GST roll-out in 2018. This suggests that Modi is assured of winning elections banking on his muscular nationalism platform. He does not need good management of economy to win polls, even at even local bodies levels.
What Rahul Gandhi did not include:
• Corruption: The UPA-2 lost the general elections of 2014 on charges of corruption. The "Anna Hazare" Lokpal agitation was the final nail in its coffin. Modi has buried the Lokpal Bill. He has been depending on his tight administrative hold so that scams, if any, are covered without causing any harm to his reputation. For example, the Rafale kickbacks were reported in French media; but, the friendly national media (Godi media, as it is derisively called) did not take up the issue. Rahul Gandhi's "chowkidar chor hei" jibe did not make any dent in Modi's popularity.
• Authoritarianism: Never since the emergency rule by former PM Indira Gandhi, a PM has wielded such unchallenged authority. Modi is authoritarian by instinct. Several former BJP leaders, who are in cold storage, have described him as "arrogant". His language to discredit the year-long farmers' agitation suggests that he does not listen to good counsel. For almost a year, he paid no heed to the reports of deaths of agitating farmers. His act of repealing the three farm laws is telling. It is only after the loss of West Bengal in the state polls that he decided, again unilaterally without the approval of his cabinet, to roll them back!
Disclaimer: This report has been compiled from information available in the public domains. However, the inferences are personal.