Our economic slowdown: the government is in denial
By Philip Mudartha

Bellevision Media Network


10 Nov 2019: After a month or two of living in denial, the Modi government seems to have grudgingly accepted that our national economy has slowed down. Our Finance Minister (FM) Nirmala Sitaraman has held, at the behest of tough taskmaster and No.2 in the government packing order, Home Minister (HM) Amit Shah, several pressers last week, to announce a slew of measures intended to revive public consumption and investment.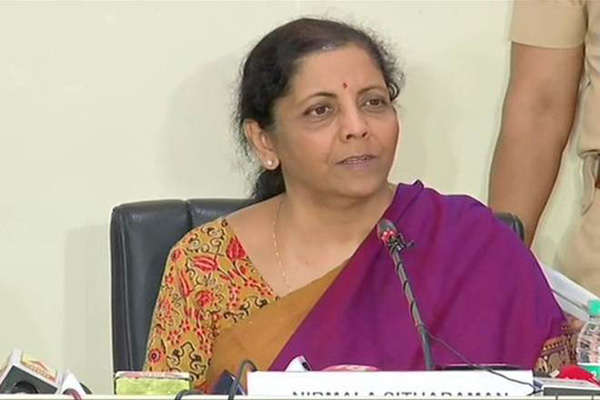 Yet, while addressing a media conference after interacting with tax officials in Chennai, she skirted the questions on falling GDP numbers, job losses and the overall slowdown in the economy. "The government has been in consultation with a lot of sectors. In some sectors, the inventory is piling up. We have heard them and announcements were made on August 23. Last Friday also we made some announcements," she asserted.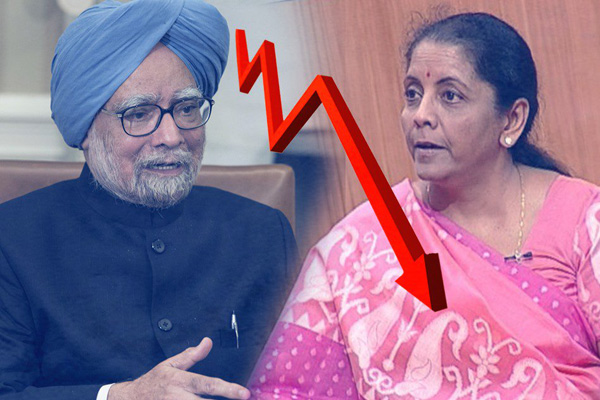 Further she refused to comment on former Prime Minister (PM) Manmohan Singh's video statement on the economic distress. Singh had said that the current slowdown in the Indian economy is a result of man-made disasters caused by the Modi government: "The last quarter's GDP growth rate of 5% signals that we are in the midst of a prolonged slowdown. India has the potential to grow at a much faster rate but all-round mismanagement by the Modi government has resulted in this slow down."
Auto Industry Slowdown is Cause for Concern
Our auto industry is going through one of the worst slowdowns. The Federation of Automobile Dealers Association (FADA) President Kale told that piling inventory at dealerships has been a cause for concern, more so for two-wheeler dealers, who are facing a severe crunch for over a year now.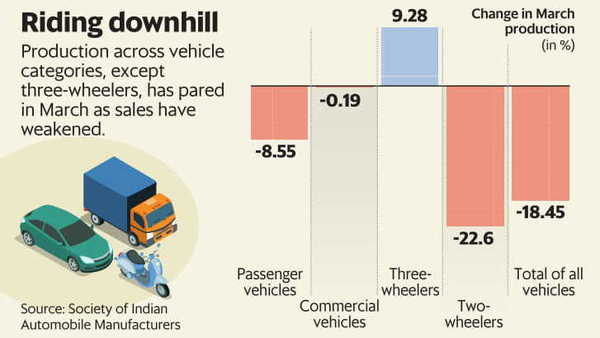 "Despite the festive season, I'm not sure the consumer will take out money at this point in time, but would try and save his money. The biggest example is that 23 per cent was disposable income, today it's 17.5 per cent. So, people are saving money and not getting it out to spend." said a worried passenger car and premium motorcycle dealer in Mumbai.
Hero MotoCorp, India's largest two-wheeler manufacturer, reported decline in sales of over 20 per cent in August 2019. Maruti Suzuki, India's largest passenger car manufacturer reported a sales decline of over 34 per cent in the same month. In September, Maruti Suzuki has announced 'no production days'. All auto majors and ancillary auto parts manufacturers plan to cut production and lay-off workers beginning with contract labor.
India will move over to Bharat Stage VI (BS-VI) regulations on emissions from April 1, 2020. "Now, as we would have expected that the buyer would come around to a higher price due to hike in both Goods & Services Tax (GST) and Insurance Premium, unfortunately, the upcoming regulatory impact stares at our face. So, this may again be anywhere between 10-15 per cent cost of acquisition going up on two-wheelers. So, we don't see this slowdown improving anytime soon."
Liquidity crisis and what it means?
There is a liquidity crisis in that purchases of durable and white goods find financing hard to obtain and when obtained, the Equated Monthly Installment (EMI) is higher. Most auto, entertainment, and household durables' sales to young middleclass consumers are financed through EMIs. This includes buying of homes as well. Hence, real estate sector is also faced with huge unsold inventories.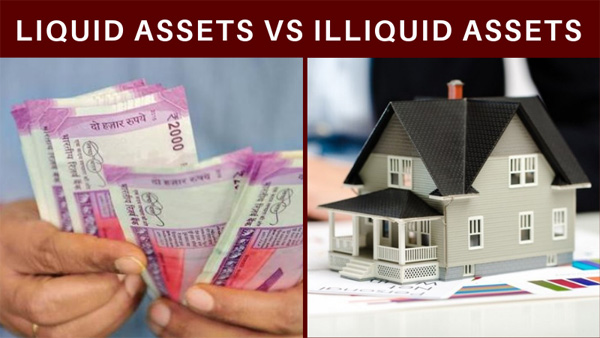 Let me describe liquidity as the degree to which an asset can be bought or sold in the market at a price value. In simpler terms, liquidity can be defined as the ease of converting to cash, often considered the most liquid asset of all. For example if I want to sell my motorbike for Rs 10,000 but do not attract buyers, it is a liquidity crunch situation for me. People tend to hold on to the cash and restrain from acquisition of illiquid assets such as real estate, autos, and household durables.
Another example: I can use real money to buy assets quicker; if I have Rs 5 and want to buy a packet of Parle-G biscuits, I can immediately purchase it at any store using cash. However, if I have an asset, say a pencil worth Rs 5, and want to buy the same biscuit pack, I will have to first sell the pencil (liquidate the asset) and use the cash (real money) to purchase it.
Therefore, a shortage of cash in the market could lead to reduced liquidity, thus reducing the extent to which a market allows assets to be bought and sold. By choosing not to spend, people reduce the cash-flow (of real money) in the market, making transactions difficult and rare. Having liquid assets are important for businesses as it helps them quickly acquire assets and expand their businesses.
Infrastructure Leasing & Financial Services Limited (IL&FS) Collapse
In September 2018, the total outstanding debt of ILFS, the premier non-banking finance company (NBFC), was rupees one lakh crore. This is mostly money borrowed from banks which had to write off loans as Non-Performing Assets (NPAs). After the collapse of IL&FS last year, NBFCs were knocked out of business by the massive defaults.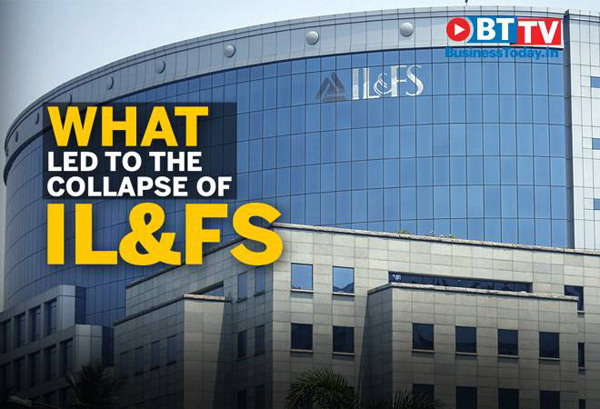 But for small-scale businesses, credit from NBFCs is an integral part of operations. A sharp drop in credit lending forced many businesses to pare down and some to even shut down operations. This inevitably means job losses, not only in unorganized sectors but also in organized sector. The announcement by Parle of its plans to lay off 10,000 workers and reduce costs due to lower sales of its staple Parle-G biscuits is symbolic of the malaise. Consumers are not willing to spend even Rs 5 on fast-moving consumer goods (FMCGs).
Merger of Public Sector Undertaking (PSU) Banks
FM Nirmala Sitaraman announced the merger of ten (10) public sector banks into four (4) larger consolidated PSU entities. Syndicate Bank was merged into Canara Bank, both banks originated in undivided South Canara district and which were nationalized in 1969. After the announced mergers, there will be twelve (12) PSU banks. The government intends to progressively merge more banks till four (4) large PSU banks will be in the business.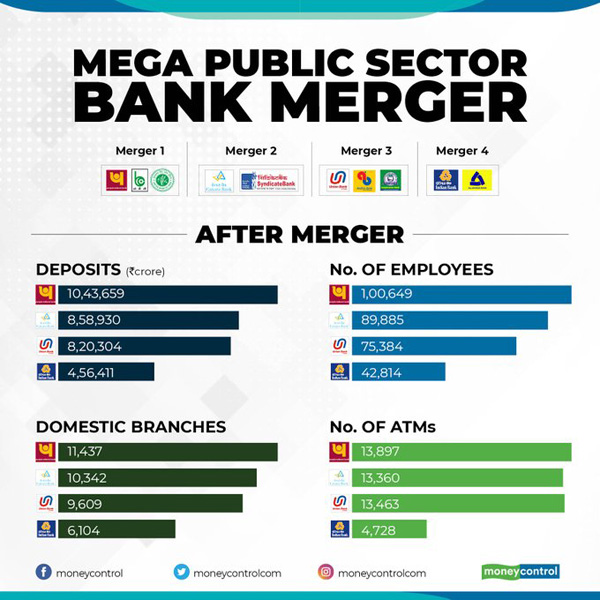 FM also announced upfront capital infusion worth Rs 55,250 crore, out of the proposed Rs 70,000 crore into PSU banks and a slew of other banking reforms. To assay the fears of job losses, she assured the bank employees' unions that nothing will change; however, the unions are not buying the argument.
Consolidation without shedding multiple branches in villages and smaller towns, without integration of IT platforms in merged banks, without letting of go employees unwilling or incapable to adapt to the work culture of the larger bank through Voluntary Retirement Schemes (VRS) and without imposing a freeze on new recruitment will not lead to better operational efficiencies, which is the main objective of the mergers. In my personal view, based on my study of both Canara Bank and Syndicate Bank's Key Performance Indicators (KPI), the mergers move announced on Friday, 30th August 2019, should eventually result in one (1) lakh job losses over the next two years.
Hence, this government initiative will neither resolve the liquidity crunch nor create jobs, which are essential to put more money in the hands of people and spur growth in consumption of goods and services. It is merely a headlines creating distraction. In reality, the senior management of the merged banks will be busy in handling issues arising out of the mergers instead of focusing on their core business of credit growth and recovery of existing bad loans which will lead to further erosion of KPIs.
Reality of job losses and the downslide in new hiring
According to former director of Institute of Banking Personnel Selection (IBPS) who is an authority in banking sector employment, recruitment notifications for fewer openings are expected to come up this year. "Already, over the years, there has been a steady decline in recruitment conducted by IBPS for its member-banks. The number of clerical vacancies came down progressively to 7,275 last year from 19,243 in 2016, while probationary officer posts dropped to 4,336 from 16,722, '' he said.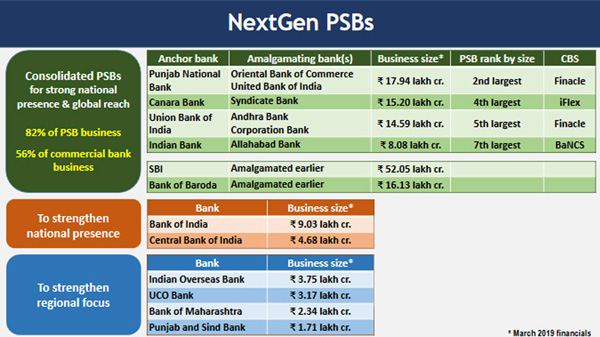 The State Bank of India (SBI) example is worth a mention: the five (5) associates of State Bank, like State bank of Mysore, State Bank of Travancore etc, were merged into SBI in FY17. In FY16 (before the merger), 13,097 had joined SBI against the retirement of 11,264, a net 1,833 new jobs. But in FY18, the fresh addition was only 3,211 even as 18,973 retired; 15,762 jobs were lost. As of March 2019, SBI continues to shed 7,000 positions each year since the consolidation.
Economic slowdown temporary; India will become $5 trillion economy
Vice-President MV Naidu on September 4 termed the economic slowdown as a "temporary effect" due to global factors and stressed that India will achieve its target of becoming a $5 trillion economy by 2024-25. However, he did not detail any roadmap that his government has laid out for itself to accomplish this strategic national goal.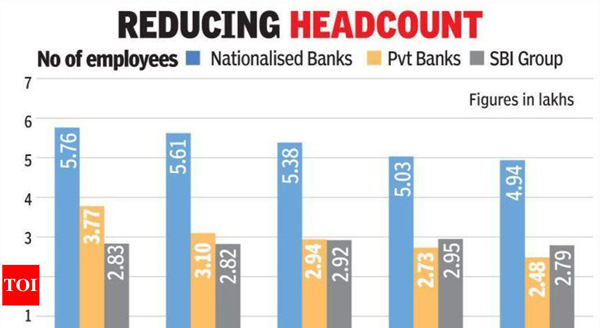 Unlike him, the chief economist at YES BANK opined that for the supply-side changes to yield benefits, people need to have cash in their hands. However, the current spree of job losses combined with record-high unemployment rate (highest in 45 years) has severely affected the supply-demand ratio, which is a key reason behind the economic slowdown.
In a regressive step, FM had levied surcharges on super rich and ultra rich income tax payers in her maiden budget for FY20. These became highly unpopular because the affected upper class was vocal in protest and the economists of the ruling BJP suggested that putting more money in the upper classes will spur private investment as well as private consumption.
Investment and Consumption are engines of economic growth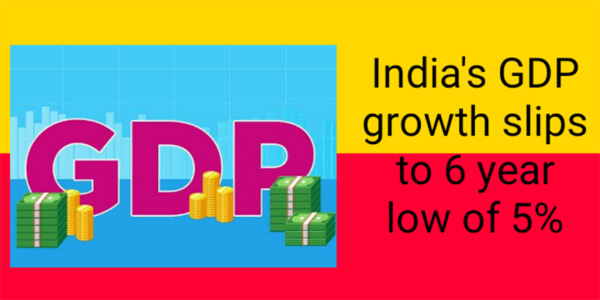 One does not need to be a trained economist to understand that the two engines of economic growth are consumption and investment to sustain the consumption. Every economy, from the capitalist to the communist, has both consumption (of goods & services) and investment to produce those good & services. In a capitalist economy, the private consumption and investment is greater than the public (government) consumption & investment. In the communist economy, the reverse is the case, with the government running the businesses and allocating consumption of goods & services to itself and to the masses using centralized five-year plans. There are no purely capitalist (rightist) or communist (leftist) economies in the world; mostly lying somewhere in the middle (center). In India, the current government run by the right-wing BJP espouses right-of-center economic policies while its predecessor preached left-of-center ones. It is therefore a welcome step when the FM made a course correction in rolling back the additional taxes on the rich that she announced in the budget.
Modi's Win: It Wasn't the Economy, Stupid!
PM Narendra Modi got an impressive mandate in the Lok Sabha (LS) Elections held in April-may 2019 despite his Government's dismal economic record, his unkempt promises, mendacity, an unprecedented rise in bigotry and sustained low-level communal violence during the past five years. Modi prevented any political harm resulting from his dismal performance on the economic front by distracting the voters' attention from their economic woes. He harnessed their support for the greater cause of helping him to protect the nation! He avoided any reference to his 2014 promise of "achche dIn" that never arrived. No new promise of economic nirvana was made.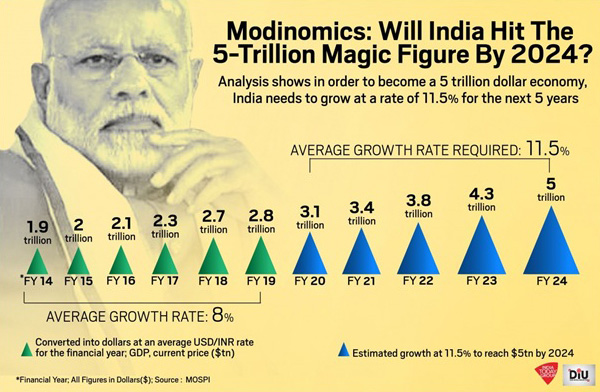 In the election campaign, the Congress miserably failed to publicize the economic achievements of its Manmohan Singh Government. Thus, the voters got convinced by Modi's assertion that nothing was done in India till 2014. The young impatient and aggressive aspirational class truly believed what Modi said. He and his band of supporters kept repeating the lie that under Modi India became the fastest growing economy in the world even when the government's own statistics showed that the GDP growth was slowing down and had hit the lowest by the LS Elections.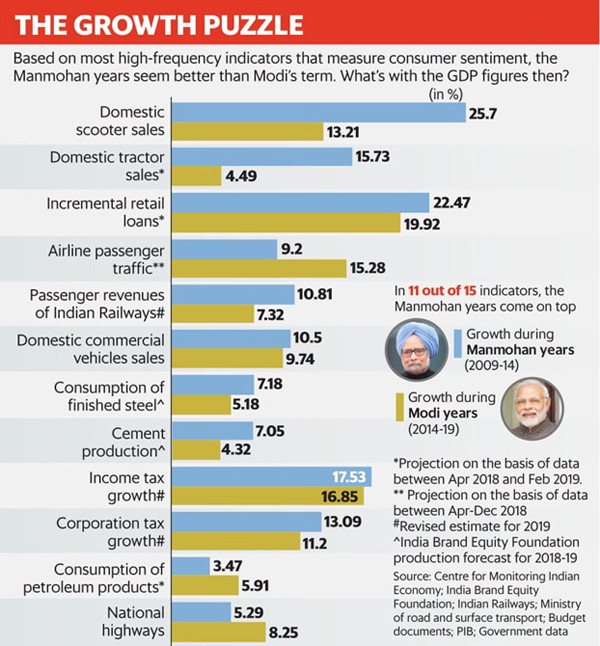 Because Modi and the BJP had discovered the strategy to win elections, the faltering state of the economy did not matter to his voters and hence the Modi governments denial of the economic slowdown. As long as the anti-Pakistan rhetoric and anti-Muslim sentiment is sustained through clever manipulations of the spineless print & visual media and by Hindu majoritarian projects such as abrogation of Article 370, making Triple Talak unlawful, amending Citizenship Act, Uniform Civil Code, and so on, economic management need not be Modi Government's priority.
More on 5% GDP Growth will be dissected in the next chapter. Please stay with me.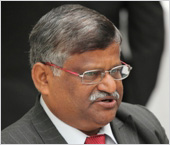 (Philip Mudartha: the views expressed are personal but the facts are widely reported in national media.)