Jasmin D'Souza of Thottam: Karate Champion at National and Inter continent level
By Alphonse Mendonsa

Bellevision Media Network


25 Sep 2016:
"Be like water making its way through cracks. Do not be assertive, but adjust to the object, and you shall find a way around or through it. If nothing within you stays rigid, outward things will disclose themselves.
Empty your mind, be formless. Shapeless, like water. If you put water into a cup, it becomes the cup. You put water into a bottle and it becomes the bottle. You put it in a teapot, it becomes the teapot. Now, water can flow or it can crash. Be water, my friend."

― Bruce Lee
The above quote is very true of Jasmin D'Souza of Thottam girl from a small hamlet in Udupi District a true Karate International Champion.
I was introduced to Jasmin about one and half year ago by her family friend Clerance Fernandes popularly known as Nanu Marol Thottam who is working in Dubai currently and requested me to interview her for Bellevision.com. It was when I was planning to come down to Mangalore and settle down. Though I was not sure whom I was interviewing I promised I would. Anyways, after coming down here immediately I contacted her and got all basic info I needed on her achievements and agreed for an interview at a convenient day and that convenient day finally happened to be on 14th of September this year.
However, by this time I had gathered enough info of Jasmin's capabilities as a Karate Champion by going through her various achievements from the day she joined Karate school when she was in 5thth standard and gradually rose to heights to beat some of the finest karate champions from China, Japan, Indonesia and Malaysia the homes of Karate champions. It was not very easy to reach this high levelcompetition and to beat the best of the best Karate champions to a poor girl from a small village very close sea shore off Thottam in Udupi District.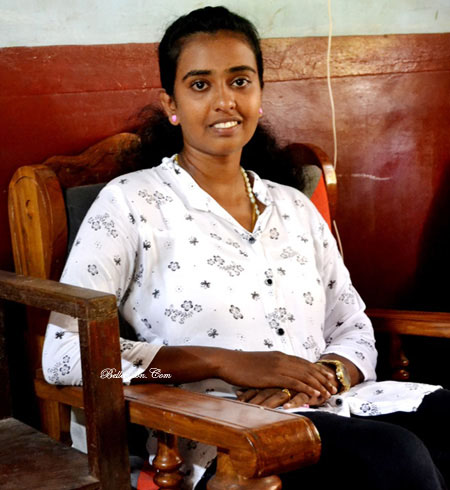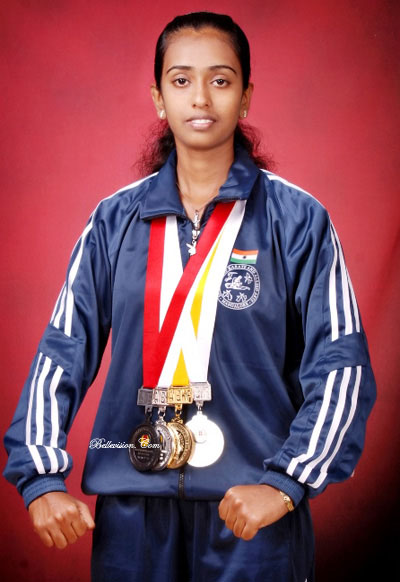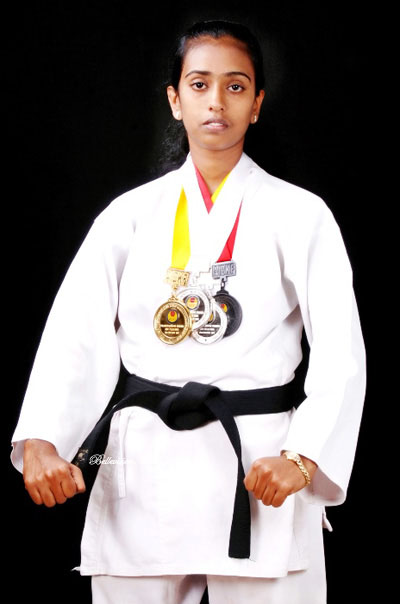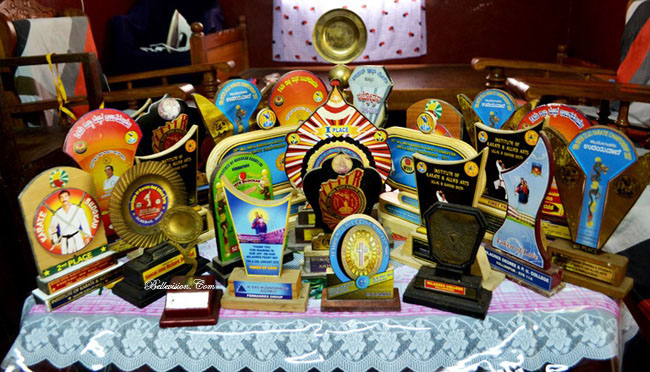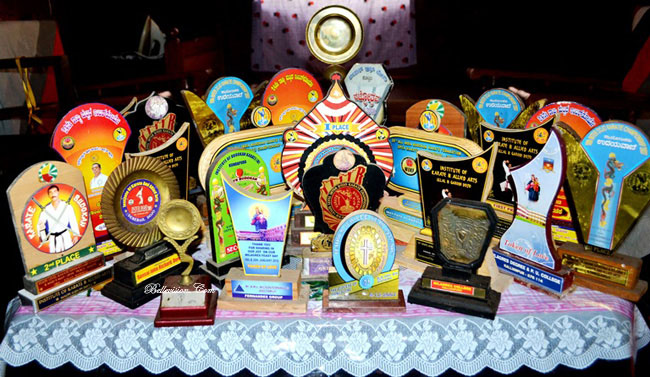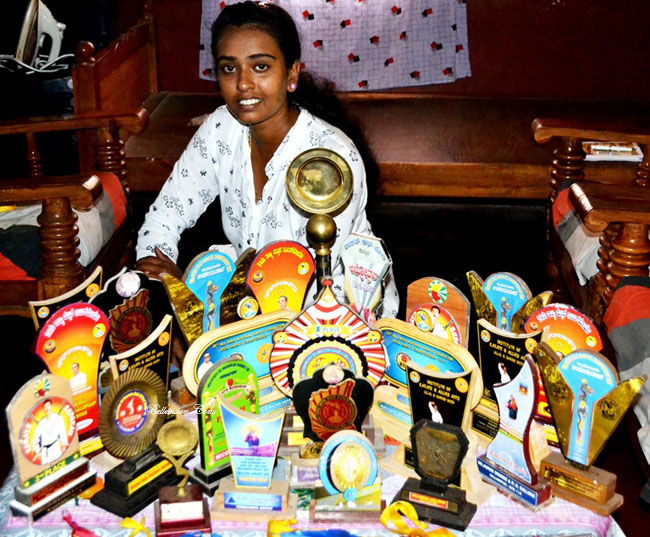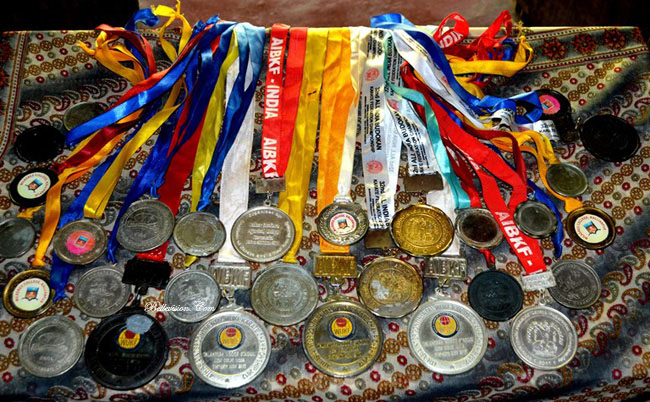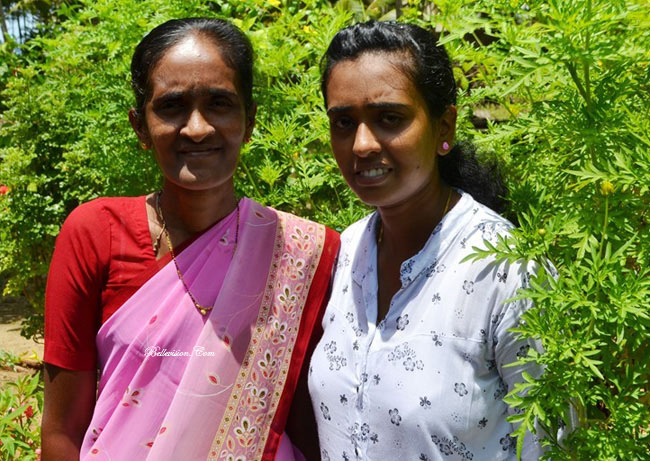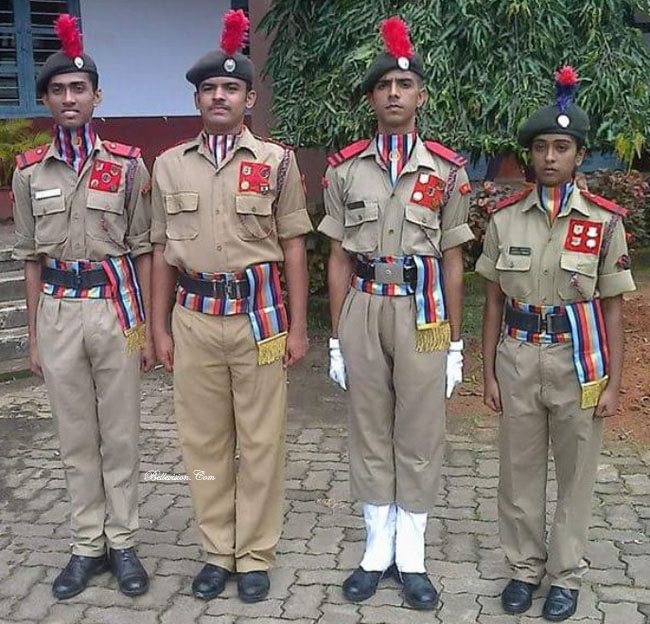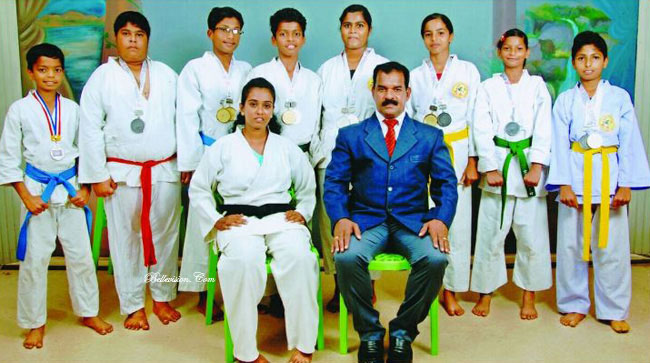 Upon reaching Jasmin's house I was accorded a warm welcomed by her mother (Jacintha D'Souza) and immediately treated with tea and snacks. Her father Anthony D'Souza is a fisherman works at fishing boat and goes for deep fishing and sometimes for a few days doesn't return home as they collect fish at deep sea as far as coast of Kerala. Due to this reason he was not available the day I took Jasmin's interview. Since it was almost 11.00am we went to the beach which is very next to her house say 50 meters to capture some scenes in my camera. It is indeed a wonderful place overlooking St. Mary's Island of Malpe. Jasmin's house is surrounded by loads of coconut trees and other fruit trees, a treat to watch the beauty of nature and enjoy. Immediately after capturing a few photos on the beach we returned to her house a very simple old tiled. She had a younger brother named Anson who was working in Valley View International and passed away 3rd October 2010.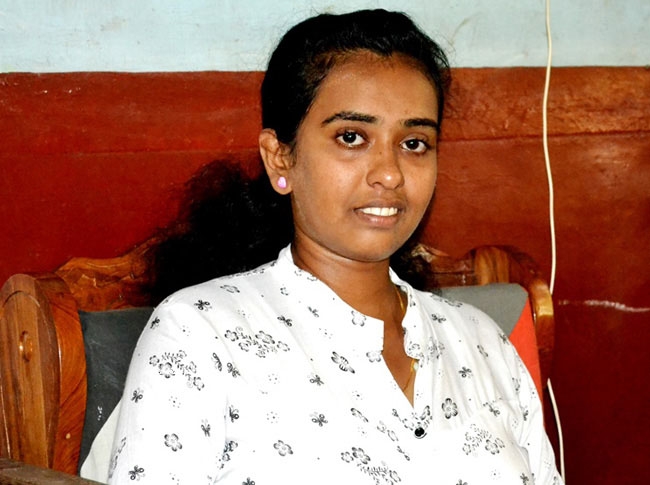 Here below is an abstracts of the interview that I had with Jasmin:
Alphonse: First and most important question to you is: What made you to learn karate? As we know Mangalorean girls hardly learn Karat. Was it accidental or intentional?

Jasmin: No, it wasn't accidental but a kind of request from our neighbour Karate teacher who had just started Karate school near Kemmannu, and he asked my father to if it was okay for me to join. My father agreed and I started to go for early morning classes. I was a bit tough in the beginning to go for karate classes and then come back and hurry to school but gradually I started like the sport.
Alphonse: I have gone through excellent record of your achievements how did you manage at a young age? When actually started your sports career?
Jasmin: It was not very easy to achieve this success but through hard work and determination I could achieve it. Initially, I used to walk and then ride by bicycle to our Karate Institute When I started winning at high school my interest in Karate increased and I spent more time to improve myself and attending more and more competitions I won all most all competitions held at District level and state level. During high school I could attend karate classes only on weekends so all my weekends I spent learning and perfecting Karate. Gradually when I reached the National level I didn't look back. I put myself into more hard work and beat the best in the field. I had to compensate my holidays sometimes and somehow managed my studies as well as my focus was also not to neglect my studies.
Alphonse: As you said above, besides your Karate achievements at State, National and International level, you have also not neglected your studies… tell me more about it.
Jasmin: Yes I had to study as well and score at least average marks. One reason; only when studying and in college or High School, you will get opportunities to compete in other schools and sports events. But as I said earlier, I had to sacrifices my holidays for studies and prepare myself for exams as well which was really hard sometimes. Secondly, I was not a very bright student but you can say average just have managed to get through. But my goal is total personal development rather than only education or sport. But I did score good marks in B.Com and M.Com as well which I completed recently.
Alphonse: You have achieved so much in Karate field, have your received any recognition from our Diocese and state or Government?? Have you been recognized and helped financially??
Jasmin: Unfortunately not much. Well I have not got any so far from Diocese level maybe no one taken initiative towards that. Maybe one reason Karate is not a very popular sport in our community or area where the prominence is given for cricket and other sports.
Hardly anyone recognizes Karate winners or think about them unfortunately or give any importance to that sport. No I also didn't get any support from State level as it requires a lot of backing and influence to be recognized. Unfortunately I don't have any. Finally, in our country only a few sports considered for government recognition such as Cricket, Tennis and Hockey.
Alphonse: Have you received support from your community and encouragement?? Or is it only your family supported you?
Jasmin: I was indeed supported by all, first and foremost by family members, friends and teachers as well. I am grateful to Fr. Fredrick D'Souza (our former parish priest) and also our current parish priest of Thottam Fr. Francis Carnelio who supports me a lot. I conduct karate classes to students at the church hall. Both priests had given me free space to conduct classes. Also many of my relatives also have supported me financially and I am really thankful for them and very grateful for their whole hearted support. My teachers at High School and College too have encouraged and motivated a lot especially my instructors sir Prabaar Kundar and Sir Padmanabh S. Amin of Institute of Karate and Allied Arts.
Alphonse: What are your future plans?? Would you pursue Karate further or work and settle down?
Jasmin: Well, I don't have plans to go into Karate any further as it doesn't feed me like Cricket or other sports. I have to look after my family now as they have sacrificed their whole life for me financially and now it is my time to give them back a little and make them happy. As I said earlier I have completed my M.Com now from Milagres College Kallianpur this year I have to start working now. I have been sending resumes and attending several interviews since then. Luckily, recently I secured a job in an International Bank in Bangalore. So I will join by next week. I thank God for that; finally He has heard my prayers. But I will start karate classes there if there is scope and opportunity and also availability of space.
Alphonse: Congratulations and very nice to hear that and I am sure your parents must be very proud of you. Tell me how difficult it is for a young girl to attend these state and national events?? What are the hurdles you have gone through? Have you faced any gender discrimination?
Jasmin: Yes, my parents are always proud of me and have extended never ending support. No it was not very difficult to attend state and national events as we always traveled in groups. Also we always used to stick together so that we could be safe. When it comes to gender discrimination, yes it is always there can't help it. But my focus was to give my best to Karate and my goal so did not much worry about that.
Alphonse: When was that particular moment you felt you are a true Karate Champion? At which competition?
Jasmin: Yes, my most memorable day was winning 1 Gold, 1 Silver and 2 Bronze medals at the 14th Asia International Karate competition held at New Delhi in 2014. I won beating the finest Karate Champions from Japan, China, Malaysia and Indonesia the best in the Asia. I cried with Joy that day and thanked God for reaching my goal finally.
Alphonse: wow, amazing, to whom you attribute your success? Have been recognized and honoured for this success?
Jasmin: First and foremost I attribute my success to God Almighty for the strength and blessings He has bestowed upon me to reach the top level in Karate. Secondly, yes my parents my dad and mom who were always my pillar of strength. Especially my sweet mom who sacrificed everything to help me win matches, feeding me with nourishing food I needed and praying silently to me. Also my coaches and my teachers and my supporters, everyone has helped a lot and wanted to see my success. I am really really grateful to all of them.
For your second question, Yes, I was honoured in my college Milagres College Kallianpur and in my Parish at St. Aan's Church Thottam Parish. No other honours.
Alphonse: Besides Karate in what other sports or activities of the college you are involved in?
Jasmin: I was a NCC Sergeant at Milagres College Kallianpur and have completed B and C exams in NCC. Besides that I am also a good Throwball player at college as well at my Parish team.
Alphonse: How much support did you get from your parents? Where they not worried when you had to travel all over India to participate in competitions?
Jasmin; My parents were my source of strength and nothing can replace it. Even when I didn't win matches, they were with me, encouraged me to continue and go ahead. Regarding traveling all over India and for state level competitions, they didn't worry much as they knew that I am in safe hands and also a very bold girl. Off-course they were anxious when my returning home got delayed sometimes due to transport problems and when there was lack of communication from my side especially. But when I reached home with trophies at hand they were very happy.
Alphonse: After achieving so much success, why do you think you did not get proper recognition? Is it that you were not represented or recommended from your College/Church/Community? Why was so much lack to support you??
Jasmin: Honestly I don't know and even I was not expecting anything from anyone. I was happy, my parents were happy and my coaches, relative and friends were happy and that is all it mattered to me. One of the reasons may be as Karate is not a very popular sport in our area.
Alphonse: Did you miss out any major competitions? Or was there a chance to compete in international level outside India and you did not get recommendations or support from our National Sports Ministry? Tell me more about this.
Jasmin: Yes I did miss a few competitions owing to my exams sometimes, sometimes due to financial problems and sometimes no proper info as to when the competitions were held which I came to know only after the competitions were held. Also there was lack of information on International competitions. A few occasions I had the invitations for International Championships held in Asian countries but due to my exams and other commitments I could not attend them.
Alphonse: What are your current activities in Karate?? Do you provide coaching classes to the students? What is the strength of students if so?
Jasmin: Yes, currently, I have 16 karate students to whom I have been training. Proud to say that 13 of my students whom I have trained earlier have reached the state level and 6 students have reached National Level under my training
Alphonse: Very nice to know that. Since you are planning to go to Bangalore for a job, what happens to your students here?
Jasmin: My students will be trained by our institute coach Malpe Dojo a karate team. He will provide them training on weekends. I am also planning to take up classes in Bangalore once I settle down if I get enough students and space. Hopefully, I will be able to manage on my weekends or on holidays.
Alphonse: What is your message to Karate Students?? For those who want to learn and for those already participating in the competitions?
Jasmin: In my opinion all girls must learn at least basic karate. As we know today's world is very dangerous esp attacking on girls is increasing day by day. At least if the girls learn the basic Karate they can protect themselves. You will never know when the need arises.
For those who are participating in competitions, hard work is the only way to success. They must practice constantly and determination even when you fail at times not to discourage but try harder and win. That's all I can say.
Alphonse: Message to Community and In particular to girls and Youth.
Jasmin: I'm not in a position to advise to community as they know what's best for their children. But when it comes to karate if their children willingly want to learn, not to discourage them but allow them. It's very essential in today's world that our children especially girls learn karate as tool of self-defense at least. However, my advice would be learn as much as possible and compete in major competitions. For youth only one advise, not to waste time, utilize it as best possible in whatever capacity possible, either in going for higher studies, participate in sports, play constantly whichever sport you like and get fit and healthy. That's all I can say.
Alphonse: Anybody made you aware of the Scholarships, facilities, Awards given by Govt ? If so what are the hindrances for availing those?
Jasmin: No unfortunately, I was not made aware of any scholarships or awards given by Government. I have no idea at all. But at least I will find out for my students who have reached National Level so that they will be benefitted by these awards or scholarships if any.
Thank you dear Jasmin for your valuable time for this interview and nice to meet and know you and your karate achievements. I am sure many parents will be encouraging their children to join and learn Karate after learning your achievements and success. Also I'm amazed to see here number of trophies and medals you have won at all levels from your high School days until your graduation. Wish you all success in your job and future plans in Bangalore.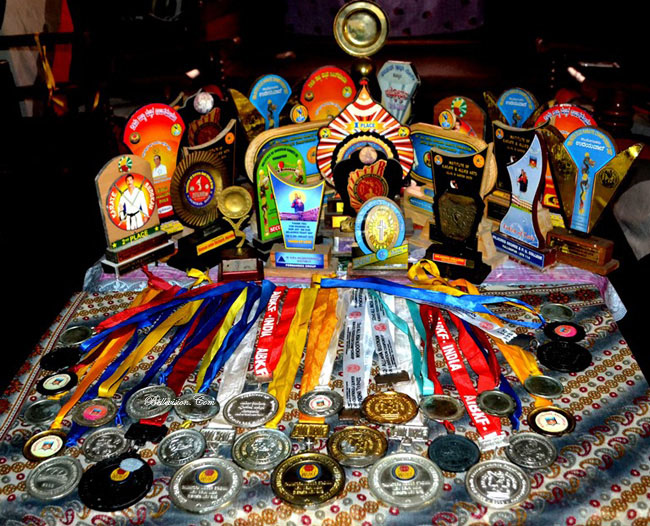 A brief history of Achievements of Jasmin D'Souza in the Karate Sport
• Ist Place in Tian Kumite, Ist Place in Tian Kata and 3rd Place in Individual Kumite at 32nd All India Budokan Karate Federation Championship – 2014 held at Shrinivas Mallya Indoor Stadium Mangalore.
• Ist Place in Tian Kata, 2nd Place in Individual Kumite, 2nd Place in Tian Kumite and 3rd Place in Individual Kata at 4th Asia International Karate Championship – 2014 held at Talkottara Indoor Stadium New Delhi, India.
• 2nd Place in Individual Kata and IInd Place in Tian Kata at 29th All India Budokan Karate Federation Open Karate Championship – 2011 held at Indoor Stadium Ajjerkad, Udupi.
• 2nd Place in Individual Kumite at Karnataka State Level Karate Championship – 2010 held at Yelluru Mogaveera Bhavan Malpe, Udupi.
• Ist Place in Individual Kata, 2nd Place in Individual Kumite, 2nd Place in Tian Kata and 3rd Place in Weapon Kata at 20th State Level Inter Dojo Karate Championship – 2009 held at Shri Ambika Annapoorneshwari Sabha Gruha Sunkadakatte Bajpe, Mangalore.

• 2nd Place in Weapon Kata Karnataka State Level Open Karate Championship – 2008 held at St. Mary's College Auditorium Kundapur, Karnataka.
• Ist Place in Tian Kata, Ist Place in Individual Kata, 2nd Place in Weapon Kata and 2nd Place in Individual Kumite 19th State Level Inter Dojo Karate Championship – 2008 held at Sharada Nikethan Hall Ullal, Mangalore.
• Ist Place in Individual Kata and 3rd Place in Individual Kumite 25th All India Budokan Karate Federation open Karate Championship – 2007 held a Shrinivas Mallya Indoor Stadium Mangalore, Karnataka.
• Ist Place in Weapon Kata, 3rd Prize in Individual Kata and 3rd Place in Individual Kumite at 18th Inter Dojo Karate Championship – 2007 held at Shri Vigneshwara Saba Bhavan Karkala.
• Ist Place in Team Kata and 3rd Prize in Individual Kata at 17th State level Karate Championship – 2006 held at Yelluru Mogaveera Bhavan Malpe.
• Ist Place in Individual Kata & Ist Place in Team Kata at16th Inter Dojo Karate Championship – 2005 held at Derebail Church Hall - Mangalore.
• Ist Place in Individual Kata at 15th Inter Dojo Karate Championship – 2004 held at Milagres Church Hall Kallianpur.