The debate on Revdis Culture Part-2
By Philip Mudartha

Bellevision Media Network


Part-2
Concluding part-1, I mentioned that an exhaustive tabulation of all freebies that Modi government offered and on the back of which his government returned to power in 2019 will be essayed in Part 2.
Here is the list:
1. Provision in union budget for FY2022-23 for food subsidy Rs 2,06,831 crores.
2. Provision in union budget for FY2022-23 for fertilizer subsidy Rs 1,05,222 crores.
3. Provision in union budget for FY2022-23 for fuel subsidy Rs 5,813 crores.
4. All farmers will get Rs 6,000 each year from December 2018 onwards under Pradhan Mantri Kisan Samman Nidhi (PMKSN: Prime Minister's Farmer's Tribute Fund) as minimum income support. The scheme costs Rs 75,000 crores per annum.
5. Rs 4,000 per acre per season plus interest free crop loans up to Rs 1 lakh per farmer were announced by PM Modi during the 2019 Lok Sabha election campaign. The cost of this "freebie" is Rs 2.3 lakh crores.
6. Under PM Kisan Pension Yojana, small and marginal farmers will get a monthly pension of Rs 3,000 which costs Rs 10,775 crores to the taxpayer. The farmer's widow will get 50% of the monthly pension for rest of her life.
7. A mega pension scheme for small traders, shopkeepers and self-employed persons with less than 1.5 crore GST turnover will get a monthly pension of Rs 3,000 when they attain 60 years age. This was announced during the 2019 Lok Sabha election campaign.
8. Under PM Shram Yogi Maan-dhan, a voluntary and contributory pension scheme with assured minimum pension of Rs 3,000 per month after the age 60 was announced. His widow will continue to receive 50% of the monthly pension for the rest of her life.
9. Pradhan Mantri Ujjwala Yojana (PMUY) launched on May 1, 2016 to distribute 50 million LPG connections to women of BPL families, and a host of similar schemes all have significant revenue expenditure. Because these schemes do not have measurable economic returns, they are freebies. (Using Modi's logic). It is believed that women, happy with the PMUY Scheme, voted for Modi during UP assembly elections and the 2019 Lok Sabha polls.
10. Modi's government spent Rs 3.4 lakh crores under the Pradhan Mantri Garib Kalyan Anna Yojana for additional free food-grains distributed to over 80 crores of people in the aftermath of Covid-19 pandemic. I am quite satisfied that GoI implemented the much-desired and laudable scheme of feeding the poor lest they die of starvation; but the scheme is "freebies" nonetheless.
11. There are so many central schemes like provision of piped potable water to every household by 2024, financial inclusion of every citizen through the zero balance Jan Dhan Yojana, the PM Awaas Yojana, the Skill India mission, the Make in India mission, the Swachh Bharat Mission, the Sansad Adarsh Grama Yojana, the Beti Bachao Beti Padhao Yojana, the PM Mudra Yojana, the Ujala Yojana of distributing subsidized LED bulbs, the Atal Pension Yojana for unorganized labor such as maids, gardeners, delivery boys etc., the PM Jeevan Jyoti Bima Yojana, the PM Suraksha Bima Yojana, the Atal Mission for Rejuvenation and Urban Transformation (AMRUT), the Digital Mission India, and the Uday (Electricity related) which have significant revenue expenditure without measurable and tangible economic returns. In my opinion, these are welfare schemes which a responsible government should spend its tax revenues on. But, using Modi's logic, there can be debate that these are "freebies" intended to create vote banks.
You got it right! Modi is a hypocrite
The above list is not exhaustive but is adequate to conclude that the Modi government is the biggest freebie giver for political leverage. PM Modi is hypocritical in calling for ending the revdis culture. His real assumption is that when he hands out something it is welfare, and when others, especially from opposition parties, do so it is a 'freebie'. His intent is to assign to himself the sole rights of doling out freebies, and ensure continuation in power. According to his view, AAP in Delhi NCT and Punjab, DMK in Tamil N?du, TMC in West Bengal, YSRCP in Andhra Pradesh and TRS in Telangana etc., came to power by offering "freebies" like free electricity, free water, free public transport for women, and certain goodies like bi-cycles, laptops, tablets, sewing machines, cooking stoves etc., among other "non-merit goods and services".
Who will determine if a dole is "merit goods or non-merit goods"? Is there a definition of "freebies" which is accepted across political spectrum of our democracy? Aren't the voting citizens the ultimate authority in an elective democracy to take this call? After all, most western democracies determine their crucial national policies through referendums.
It appears that our top judiciary has played into PM Modi's hands. Last month, a bench of the Supreme Court (SC) headed by Chief Justice NV Ramana began hearing a public interest litigation (PIL) case about political parties offering "freebies" as part of their election manifestos. The SC bench called the offering of "freebies" a "serious problem," with potentially damaging consequences for public debt and the exchequer. At the time of writing this piece, hearings are ongoing, with responses solicited from the government of India, the Election Commission (ECI), and other stakeholders. The ECI has wisely recused itself from participating in any court-appointed committee, claiming that it's the people who are the ultimate decision-makers in any democracy.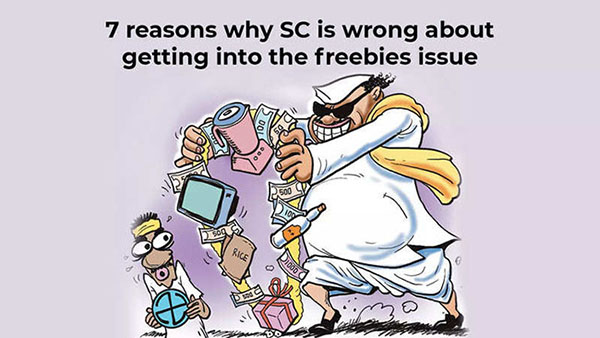 Two recent headlines about the Supreme Court of India merit attention and befuddlement. One, "500 years is not enough to clear backlogs if every case has to be fought till the end".
Two, "SC calls for panel to look into freebies issue". Why not stick to its mandate administer the laws and not indulge in making policies?
A political party's manifesto is a bargain between the party and the voter as long as it excludes "constitutionally prohibited issues" like intimidatory messages, hate speech etc. Promises about economic policies do not fall within any constitutionally prohibited category. A manifesto may contain promises that some might believe are economically unwise or unnecessary, but a judgment of the wisdom of future economic policy must rest with voters at the ballot box and not with the courts or other bodies. To argue that the voter is bought using freebies is to insult the collective wisdom of our voters.
The States have a point of view too: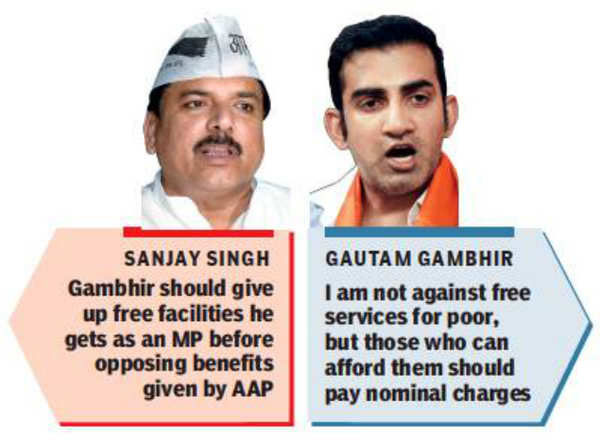 If elected representatives, MPs, MLAs, MLCs both sitting and former, get free lifetime facilities, why the poor cannot enjoy some of those benefits on similar terms and paid for by the governments?
The YSRCP-led state government in Andhra Pradesh has filed a petition to implead itself as a party in the PIL case heard by SC. Schemes like Nadu-Nedu (improvement of school infrastructure), Jaganna Amma Vodi (providing a cash incentive of Rs 15,000 per year to mothers who send their children to schools), Gorumudda (upgraded midday meals scheme) and Vidya Deevena (fee reimbursement scheme) cannot be treated as freebies, but are welfare initiatives in the education and health sectors, the AP Govt's affidavit has argued. The Andhra CM, Y.S. Jagan Mohan Reddy, had recently declared that in the last three years, his government has handed out a sum of Rs 1.62 lakh crores under various welfare schemes.
In the neighboring Telangana State, the ruling TRS party is hoping for a third term, riding on a plethora of welfare schemes. CM K. Chandrashekar Rao wants to make TRS a respondent to the PIL in SC. The DMK in Tamil Nadu and AAP in Delhi have already approached the SC on this issue. All regional parties are on the "same page" and bitterly oppose PM Modi's assault on their welfare policies.
Do voters fall for freebies? If no, why?
During the UP-assembly elections in 2022, the ruling party BJP promised free power to farmers for five years, two-wheelers for meritorious college girls, two additional LPG cylinders (one each for Holi and Diwali, but not for Eid), two crore tablets and smartphones to youth, Rs 1 lakh at the time of wedding of poor girls, and free public transport for women aged over 60, free education up to graduation level to all, and a plethora of other freebies. The SP promised 300 units of free electricity for domestic use, free laptops to all students clearing Class XII boards and the "Samajwadi Pension" scheme. The BJP was returned to power. Why the BJP freebies worked and those of SP didn't?
In Uttarakhand, the BJP promised three LPG cylinders free of charge annually, and financial assistance to pregnant women and farmers and pensions to senior citizens. The party also promised to give Rs 500 per month to women heads of every poor family.
In Punjab, to woo the farmers, BJP promised an annual financial assistance of Rs 10,000 for them. And continuing of all hand-outs currently in place including free electricity to farmers.
In Manipur, BJP promised the free scooter to all meritorious college-going girls. The party also promised Rs 25,000 to girls from economically weaker sections. The party announced two free LPG cylinders per year to the beneficiaries of the PM Ujjwala scheme and monthly pension for senior citizens of Rs 1,000. Another freebie announced by BJP was to provide laptops to all meritorious students who pass class 12.
For Goa, our richest state, BJP promised three free cooking gas cylinders a year to all households and an assurance that where will no increase in state duties for three years on petrol and diesel.
BJP won all states except Punjab. Since its re-organization in 1966, Punjab has been ruled alternately by Congress Party and the Akali Dal- BJP (or Jan Sangh) alliance. AAP wasn't there; BJP claims that AAP's freebies will bankrupt the state. How come Punjab's outstanding debt exceeds 3 lakh crores when AAP takes over? Surely, there is more to inefficient and corrupt governance than simple offer of freebies.
Punjab poses serious challenges to AAP on its "Delhi Development Model" given that the state is saddled with huge outstanding debt, poor tax revenues, higher committed expenditure on salaries, pensions and interest burden, drug addiction of its youth, unemployment especially of the young educated and the "kabootarbaji" of its young to foreign shores in search of a better future. Can its deliver on its promise of good governance, free of corruption, bring an end to all mafias operating in the state and brig in renaissance? Refer to the chart titled "Punjab's rising debt burden".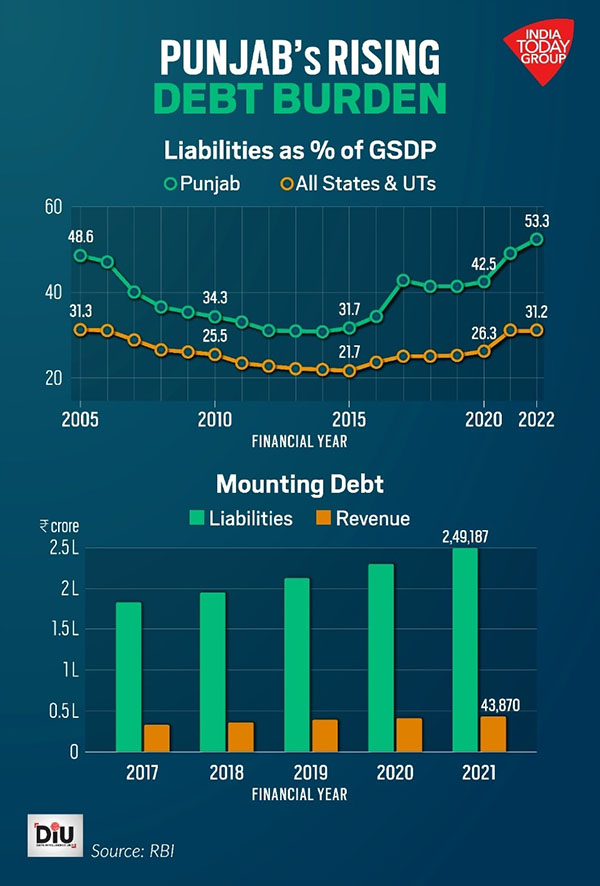 Universal Basic Income (UBI):
The fundamental problem about "welfare policies" is the use of the word freebies, which has no clear definition and is susceptible to infinite manipulation. In previous hearings before the SC, a distinction has been drawn between "impermissible freebies", welfare measures, and developmental measures. These categories do require closer examination.
Rahul Gandhi, senior Congress Party leader and MP from Wayanad, Kerala has been advocating for 'Universal Basic Income' for all citizens. UBI is a proposal that commands the support of many respected economists worldwide. UBI essentially entails the government giving a certain amount of money to all its citizens periodically. Is UBI a freebie or a welfare measure?
There is free universal health service (NHS) in the UK. Then there is Obamacare, for example, in the US. Are these schemes freebies or welfare measures? If a political party promises that health care will be free, is that a freebie? What about free public transport, a policy that has both economic and environmental benefits? Increased mobility and workforce participation of women is a desired national aspiration. Why then is it termed as a freebie?
One party's proposals are welcomed as welfare measures while another's are pejoratively dismissed as freebies. This amounts to interference in the electoral process that mature democracies should avoid. That is why when the hearings continue before the SC, we must hope for wiser counsel to prevail. When it comes to the integrity of the electoral process, there are far more urgent cases awaiting the SC's attention, such as the case involving the legality of electoral bonds, which allow for unlimited, secret corporate funding to political parties, especially the party in power at the center. The SC should not waste its precious time trying to solve a "political" problem.
The "Corporates Freebies":
Even as Modi targets welfare schemes by states ruled by opposition parties, his government has written off crores in outstanding loans for India's rich and given huge corporate tax rebates.
While his anti-poor rhetoric has been sustained under the guise of questioning "freebies", loan write-offs for India's rich, tax holidays for firms located in Special Economic Zones (SEZ), Production Linked Incentives (PLI) in the form of cash incentives for firms in specified sectors and the huge corporate tax rebates are seen as "incentives".
While there has been a great deal of discussion about state governments announcing welfare schemes and subsidies valued at more than Rs 1 lakh crore in this year, no real debate about the Rs 11 lakh crore worth of loan write-offs in the last five financial years. There has not been any debate on the corporate tax cuts which have resulted in revenue loss of nearly 2 lakh crores in the previous two years. Modi owes an explanation to the nation. While he is within his rights to call for a debate on freebies, the nation has a right to question him on the "corporate freebies" extended to his cronies.
Under Modi's watch, the corporates are paying proportionately less taxes compared to personal income taxes paid by ordinary citizens. Refer to the chart titled "some taxes under Modi government).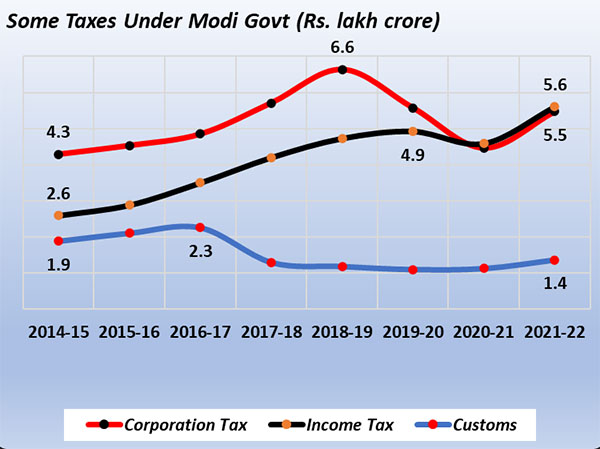 This a long story which deserves a separate analysis.