The debate on revdis culture
By Philip Mudartha

Bellevision Media Network


(Part-1)
Preface:
PM Modi accused the opposition of promoting "revdis culture (freebies) to catch votes". However, his own government doles out thousands of crores of rupees through its various welfare schemes. But his attack is aimed at Aam Aadmi Party (AAP) which has promised "free electricity up to 300 units if voted to power in Gujarat."
AAP was voted to power in Punjab earlier this year, by winning 92 of 117 seats in the assembly. Despite Modi's high voltage campaign, BJP could win only 2 seats with 6.6% of popular vote. Beginning July 1, the AAP government fulfilled its election promise of giving 300 units of electricity free of cost to all consumers.
The central government has begun an offensive against the AAP ministers using central investigative agencies at its command. AAP alleges that Modi and BJP are scared of Kejriwal and AAP. AAP is poised to take its Delhi model of governance to national level. AAP has cast Kejriwal to take on Modi in the 2024 parliamentary election. In view of this, in this part-1 essay, I review Delhi's model of governance since AAP came to power in February 2015.
Introduction:
Delhi is home to the second highest number of billionaires and millionaires of any city in India. Delhi ranks fifth among the Indian states and union territories in human development index. Delhi has the second-highest GDP per capita in India (after Goa). Although a union territory, the political administration of the National Capital Territory (NCT) of Delhi today more closely resembles that of a state of India, with its own legislature, high court and an executive council of ministers headed by a Chief Minister. Delhi NCT is jointly administered by the federal government of India and the state government, and serves as the capital of the nation as well as the NCT of Delhi.
Government and politics:
There are 70 assembly constituencies and seven Lok Sabha constituencies in Delhi NCT. The Indian National Congress (Congress) and the Bharatiya Janata Party (BJP) ruled the state till 2013. But in February 2015 the newly formed AAP led by Arvind Kejriwal secured a landslide victory, winning 67 out of the 70 seats in the Delhi Legislative Assembly. AAP government was returned to power in the 2020 Assembly election, winning 62 seats out of 70.
Population and economy:
Delhi NCT is a large metropolitan area in the country. Delhi is the fifth most populous city in the world and the largest city in India. Its 2022 population estimate is 3,20,65,065. Delhi NCT covers an area totaling around 573 square miles. The city has a population density of 55,960 persons per square mile, which is one of the highest in the world.
The economy of Delhi is the 13th largest among states and union territories of India. The nominal GSDP of the NCT of Delhi for FY2020-21 was estimated at Rs 15.98 lakh crores recording an annual growth of 8.1%. In FY2020-21, the tertiary sector (services) contributed 84%, followed by the secondary (manufacturing, construction and allied) at 14% and primary (agriculture and allied) at 2%.
The Kejriwal Model of Governance:
The AAP government in its maiden budget presented in June 2015 set the three priorities of its administration: education, health and transport. In the past seven years of its rule, the AAP government has continued to focus on transformation of these priority sectors.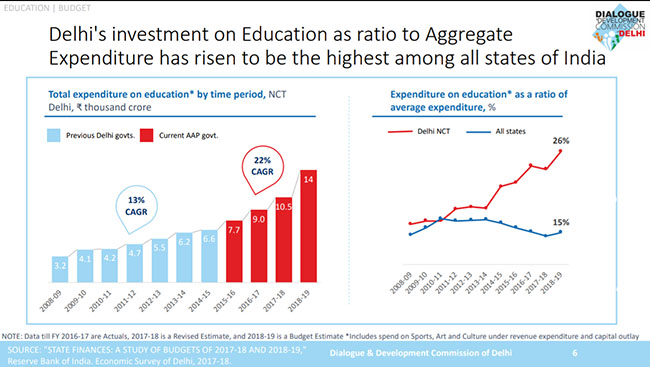 Notable achievements in the education sector are:
• The Student Classroom Ratio (SCR) was 62.1 in 2015 and will be 33.1 by 2022. This is achieved by organizing two shifts in existing schools, adding new classrooms and constructing new schools.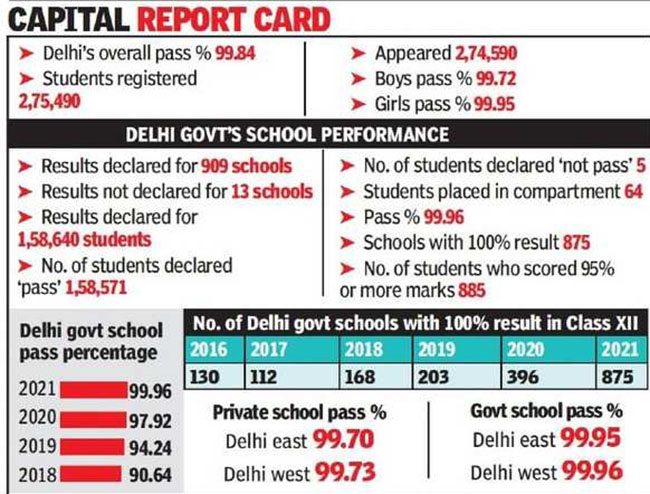 • Improvement of sports infrastructure has been a major focus. Delhi Sports University will be the first government run institution to provide formal higher education in sports.
• 1407 teachers were trained abroad and at IIMs. Significant budget allocation is made for teachers' training.
• One of the structural reforms was to appoint empowered School Management Committees (SMCs) through Parental Involvement. "Estate managers" were hired to manage school infrastructure so that principals can focus exclusively on academics.
• Because of higher pass percentage achieved, (see graphics below) 2.5 lakh children from private schools joined government schools.
Even international media took notice of the transformation in education that the AAP government has brought about. The New York Times in its 16th August edition published a story on its front page along with a photograph of Manish Sisodia highlighting the achievements.
Some other states such as Telangana are following the AAP government's example to reform their schools and primary healthcare delivery.
The healthcare reforms:
The AAP government since taking power in 2015 has consistently spent 15% of its total expenditure to improve healthcare delivery which is three times higher than other states' average. One of its innovative reforms was to set up Mohalla Clinics in its 3-tier approach. With an increased focus on primary healthcare, 520 Mohalla Clinics have been made operational till Dec 2021. By 2024, a total of 1,000 Mohalla Clinics will be operational.
The Lancet and Kofi Annan, former Secretary General of United Nations, have lauded the Aap Aadmi Mohalla Clinic (AAMC) model of healthcare delivery. Lancet is a premier weekly peer-reviewed general medical journal which is among the world's oldest and best-known general medical journals.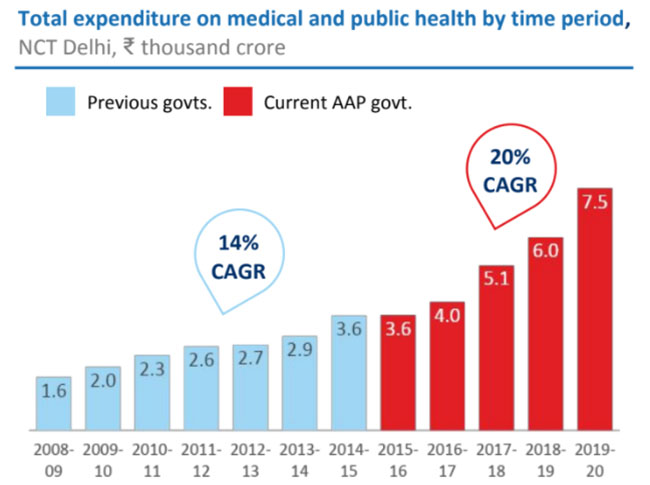 The capacity of beds in government hospitals is being enhanced through remodeling and construction of new hospitals. Current capacity is 13,844 beds and the 2024 target is 15,634.
Further, there has been a 4-fold increase in the ambulance fleet size. CATS ambulance fleet increased from 160 to 639. Consequently, response time reduced from 55 to 10 minutes.
Mobility holds the key to progress:
With an allocation of Rs 9,539 crores, transport ranks as the third priority sector for the AAP government. The government is set to augment the capacity of bus fleets in Delhi with addition of 2,910 buses, mostly EV vehicles. CM Arvind Kejriwal has also launched the Mobility Card in August 2018 which can be used in the Delhi Metro, DTC and Cluster buses.
The Delhi Government Approved Phase 4 of Delhi Metro. Substantial network length has been added to Delhi Metro in the last 4 years. From 193 Km in March 2015 to 344 Km in June 2019, the network length increased by 78%. During this period the total number of stations increased from 143 to 250. Phase 4 of the Delhi Metro comprises 6 lines, with 104 km network and is expected to carry 1.5 million passengers daily.
In August 2021, Delhi became the first state to bring all transport-related services online. 33 of the 35 major RTO services moved online ending the chronic corruption and involvement of touts in the provision of government services like the vehicle's registration, permit issuance/renewals and issue of driving licenses.
Several schemes introduced to make bus travel free and safe for women. Under the Bus Marshals scheme, 9,274 marshals were deployed in DTC buses and 3,300 marshals in Cluster buses to improve the safety of women travelling in Delhi busses.
Establishing water as a Basic Right:
During FY2022-23, AAP government has allocated Rs 600 crores as subsidy to Delhi Jal Board (DJB) for providing free "lifeline" water supply to every household up to 20,000 liters per month. Around 6 lakh consumers have benefited under this scheme since its inception on 2015 March 1st.
Before the AAP government, leakages in the supply were extremely high, which was a result of the nexus with the tanker mafia resulting in declining revenues for the DJB. Half of Delhi's unauthorized colonies did not have access to piped water, exposing them to the whims of water tanker mafia. As of 2022, piped water coverage has reached 93% and it is work in progress.
More than 1600 unauthorized colonies have been connected to Water pipelines, and 706 to sewer pipelines since 2015. This is a 200% increase in sewer lines and 450% increase in water lines. Also, DJB has ensured 24*7 water supply.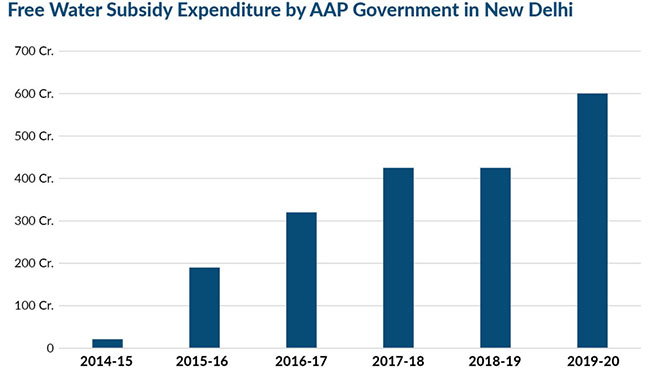 From a Crisis to a Win-win:
Delhi has allocated 5.2% of its total expenditure on energy in FY2021-2022, which is higher than the average expenditure on energy by all states (4.2%). Apart from subsidies for free lifeline 200 units electricity, this included significant investment in enhancing the transmission infrastructure to cater to peak load and reduction in Aggregate Transmission & Commercial (AT&C) losses, and increasing the transformer capacity.
According to AAP sources, power tariffs were unaffordable for the common man when it came to power on promises of power subsidies. There were frequent power cuts due to repeated faults and load shedding. DISCOMs were demanding a bailout by the government due to their poor financial health. There was widespread electricity theft which is a prominent reason for high AT&C losses. According to AAP sources, the AT&T losses were 17% in 2013-14. (However, Kejriwal must credit his predecessor, CM Sheila Dixit of Congress party who privatized the power supply ecosystem in Delhi NCT in 2002 and set in motion one of the best sectoral reforms in the country. AT&T losses prior to her reforms were at a record high of 55%).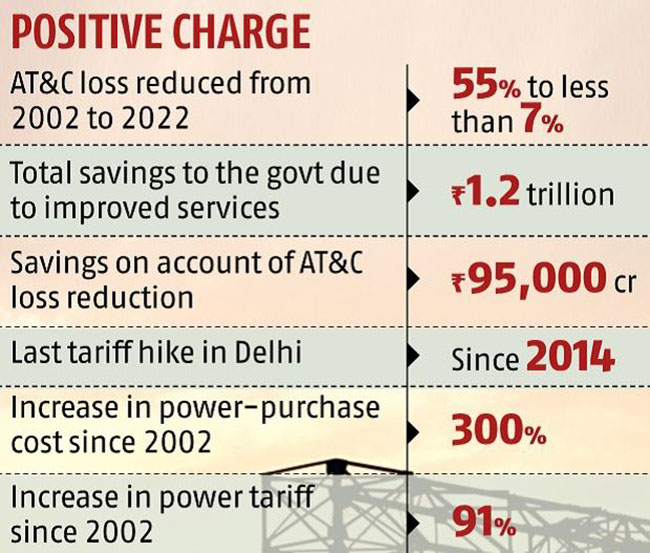 Currently, there is 24x7 electricity with rare instances of load shedding. AAP government's power subsidy scheme has led to reduction in power theft and rise in metered connections. Delhi now has one of the lowest AT&C losses in India at 6.8% (global average 7.5%) which is on par with USA and China.
The twin goals of preventing electricity theft and reducing AT&C losses to 7% have been achieved. The savings due to these are than money spent on subsidies.
The graphic below illustrates the electricity consumption bill for 400 units. Delhi consumers pay least while Mumbai consumers pay more than six times!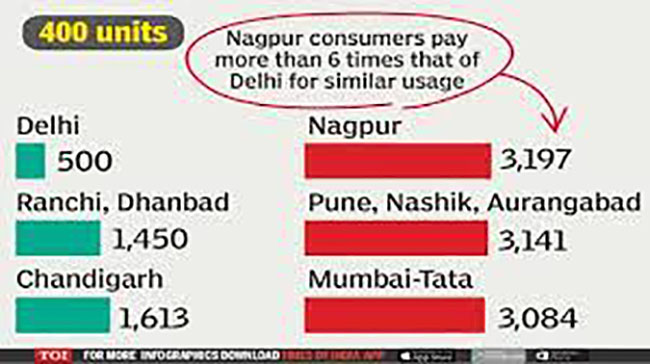 In Navi Mumbai, state discom Mahavitaran supplies electricity to my home where my bill for 400 units is Rs 5647. 98 which is more than eleven times!
The AAP government has allocated Rs 3,250 crores towards subsidy to consumers through DISCOMS in FY2022-23 which is 4.6% of its net expenditure of Rs 71,085 crores.
The Gains from Corruption Free Governance:
Delhi Government has set up the doorstep delivery of 100 government services to its citizens. The Delhi Government has announced that it will onboard 200 additional services to the scheme by March 2023.
Delhi NCT finances:
Delhi Government has doubled its budget from Rs 31,000 Crores in FY2014-15 to Rs 75,800 Crores in FY2022- 23. As per the CAG report released in 2020, Delhi Government maintained a revenue surplus since 2015 despite the grants in aid received by Delhi from the Centre decreasing from Rs 2,825 crores to Rs 2,184 crores. The graphic below shows from where the rupee comes and to where it goes. Note the repayment of outstanding debt and interest payment are 6% and 4% respectively of total expenditure.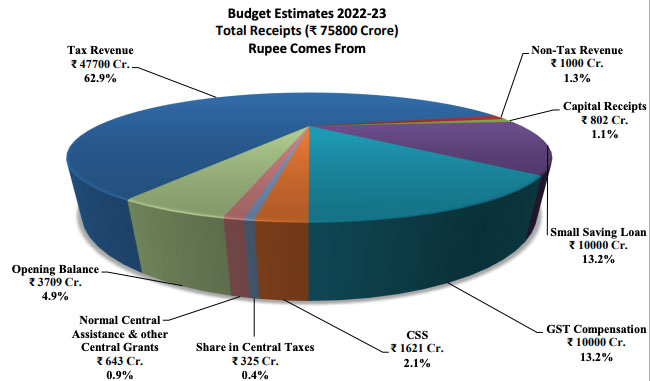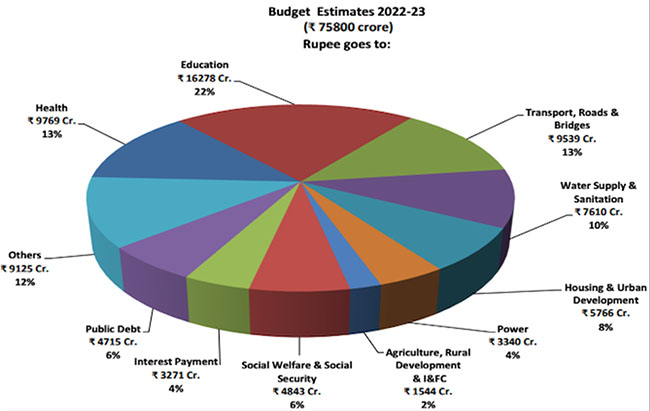 The "revdis" debate:
• The total amount of subsidies of Delhi NCT government during FY2022-23 is Rs 5,565 crores, break-up as detailed below:
• Free and subsidized Electricity: Rs 3,250 Crores.
• Free water supplies: Rs 600 crores.
• Senior Citizen & Very Senior Citizen Pension: Rs 1,425 crores.
• Free travel for women: Rs 290 crores
• The total subsidy bill is 7.8% of total expenditure and 0.52% of estimated GSDP at current prices of Rs 10, 62, 562 Crores for FY2022-23.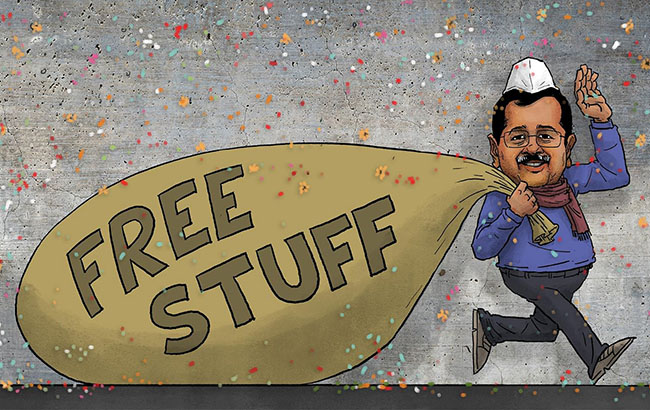 Some of the "revdis" offered by PM Modi are:
The PM-Kisan Scheme, which pays Rs 6,000 per year to all farmer families across the country in three equal installments of Rs 2,000 every four months, was launched by Narendra Modi. The allocation to the scheme in the 2020-21 budget stands at Rs 75,000 crores. This is also freebie!
Over the last few years farm loan waivers have been used by every party including BJP to win power in states. As the Reserve Bank of India report, State Finances: A Study of Budgets of 2019-20, points out: "Since 2014-15, 10 states have announced loan waiver programs of an aggregate amount of Rs 2,31,260 crores which is 1.4% of GDP. The UPA-1 had waived farm loans of Rs 52,500 crores in FY2007-08. Farm loan waivers are also freebies.
The subsidy bill of the union government in FY2022-23 for food alone is Rs 2,06,831 crores. Besides, there is subsidy for fertilizers and petroleum fuels. The estimated subsidy bill forms 9.8% of the union government's budget. These are freebies too!
An exhaustive tabulation of all freebies that Modi government offered and on the back of which his government returned to power in 2019 will be essayed in Part 2.
Let me end with the famous dialogue from Bollywood hit "Deewar": "Doosron ke paap ginne se khud apne paap kam nahi ho jaate." Counting the sins of others does not reduce one's own sins.