State of Indian economy: An Overview
By Philip Mudartha

Bellevision Media Network


07 Jul 2022
Abstract:
An eight-year-old high inflation, soaring energy and commodity prices due to the Russia-Ukraine war are threatening to squeeze the Indian economy. The only silver lining is that the monsoon has arrived. Good rains will not only help the agriculture sector but help cool off the soaring inflation. A good monsoon will also boost rural demand, which in turn will help the economy to recover.
What bothers the common man?
The mainstream media is busy in hosting political debates on divisive socio-cultural agenda of ruling BJP, including the furor over former BJP national spokesperson Nupur Sharma, and has relegated to the back burner the core issues of national interest. What bothers the common man is the runaway inflation. Inflation both retail and wholesale are at record levels.
Retail inflation has hit an eight-year high of 7.79% in April, much higher than the RBI upper tolerance limit of 6%. Experts predict it to hit 8% by August, notwithstanding the RBI intervention. Since April, RBI raised its repo rate by 0.90% in its effort to squeeze liquidity from money markets which is a tool to tame inflation.
Recent data shows that Wholesale Price Index (WPI) based inflation accelerated to 15.88% in May, the highest since 2012. It has now remained in double digits for the 14th consecutive month. Analysts believe elevated primary articles, energy and food prices are likely to keep WPI in double digits in the near term. Eventually WPI would translate into retail inflation. The following data is sourced from the office of the Economic Advisor to the central government:

Inflationary pressures likely to continue on geopolitical tensions:
The war in Ukraine has driven commodities, food and energy prices to unprecedented levels. Benchmark Crude Oil price soared beyond $100/bbl. India imports 85% of its crude oil requirements. India is also a net importer of coal, both non-coking for power generation and coking for metallurgical industries, from countries like Russia, Australia, South Africa and Indonesia. The international coal prices are at their lifetime high at above $400/MT and estimated to touch $505/MT.
Over the last 18 months, wheat prices have risen nearly 110%, corn and vegetable oil prices are up 140%, and soybean prices are up 90%. The continuing war in Ukraine will further drive these prices higher.
The Ukraine-Russia war has hit edible oil supplies, leading to an increase in its prices. The disruption of the sunflower oil supplies from Ukraine triggered a change in export policy from Indonesia, the world's leading palm oil exporter. Indonesia sprang a surprise by announcing an export ban on cooking oil causing turmoil in edible oil supply chain and prices.
The Indian kitchens bore the brunt of the price rise. Besides the fuel and edible oil costs, domestic cooking gas prices shot up too. In the past few months, prices of almost all essential items have gone up, thereby putting pressure on the common man's household budget. The Food & Agriculture Organization (FAO) indices, shown below, show the extent of food crisis experienced today. More pain is yet to come in following months.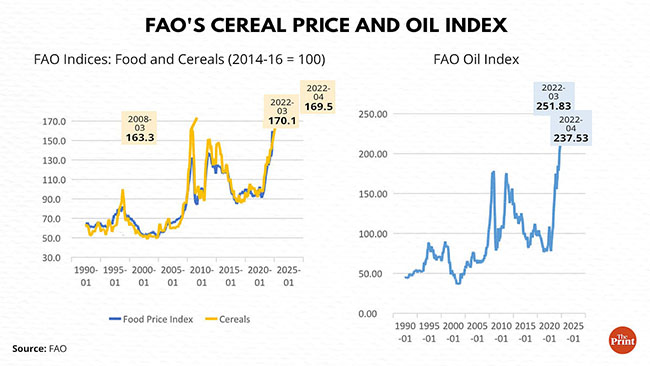 China implemented its zero-tolerance policy when fourth wave of Covid-19 infections hit many cities during March-June 2022. China is the leading manufacturer and supplier of key industrial commodities like metals, specialty chemicals, electrical and electronic machinery and equipment and clothing, textiles, and footwear. After all, China is world's factory. The harsh lockdowns have escalated supply chain disruptions which were already in disarray due to US-China trade War.
Rupee At All-Time Low: Reasons for Rupee Depreciation:
The value of Rupee depends on its demand. If demand increases, its value goes up. If demand declines, its value goes down.
The demand goes up when more and more foreign investors make investments in India. Because, foreign investors buy Rupees to invest in India, demand for Rupee increases, and its value strengthens against the US dollar.
On the other hand, when Indian individuals and companies import goods (like crude oil, gold, edible oils, etc.), they have to make the payment in US dollars. Because, Indian importers sell Rupees and buy US dollars to make payments, demand for the US dollar goes up. The Rupee weakens against the US Dollars.
Since India has been a net importer, the Rupee has depreciated over time. The Rupee closed at all-time low of 79.38 against US dollar. Broad strength in US dollar and unrelenting foreign fund outflows weighed on the Rupee. The Rupee has depreciated by 6.7% against US Dollar so far this year. Experts predict that the Rupee will depreciate to 82/USD within 3 months from now.
It has to be noted that Modi, as CM of Gujarat, had mocked then PM Manmohan Singh for depreciating Rupee. He and his followers considered a strong Rupee as "masculine" and promised to make 1USD=Rs 35! Modi as PM for eight years has presided over a plunging currency which was trading at Rs 58.63/USD on his first day in office.
Neither "masculine image" of the leader nor "nationalistic rhetoric" of ruling dispensation has a bearing on the currency exchange rate. It is plain economics of current account deficit (CAD) which is if a country spends more on imports than it earns by its exports.
India's June trade deficit widened to a record high of $25.63 billion, following a rise in crude oil and coal imports, from $9.61 billion a year earlier. Analysts and economists are expecting the country's current account deficit to widen to around 3.2% of the GDP in fiscal year 2023 compared with 1.2% in 2022.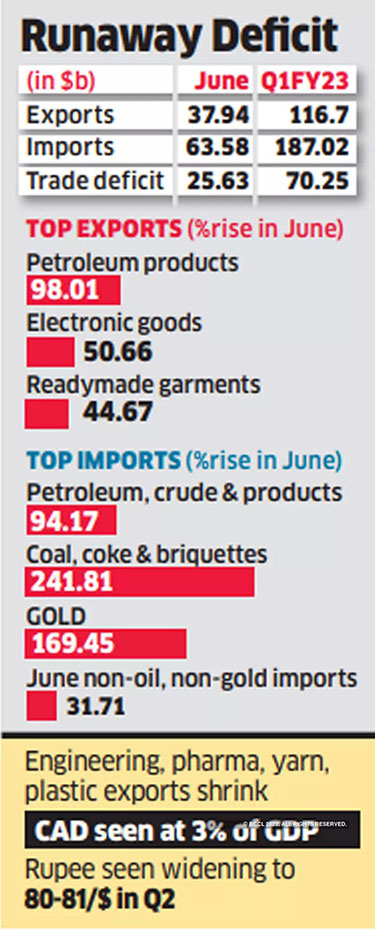 Foreign Institutional Investors (FII) sold stocks on Indian Equity Bourses and repatriated a record Rs 4,24,000 Crore between Oct 2021 and June 2022. The Sensex dropped from its high of 62,245 in Oct to 50,921 this week. The FIIs transferred their investments to Brazil, Indonesia, Thailand and Malaysia.
The Sensex would have dropped further if Domestic Institutional Investors (DII) did not pump in Rs 3,44,000 Crore into the equity stock market during the same period.
The elephant in the room: Inequality and Unemployment:
The rich get richer while the poor get poorer. The disconnect is a result of India's uneven growth, powered and enjoyed by the country's upper strata. Tens of millions of Indians have been pushed into extreme poverty while the number of Indian billionaires has surged.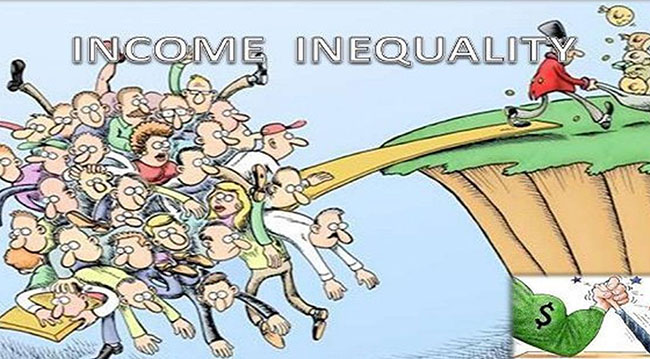 Modi and his fans brag and put out self-congratulatory tweets about India's economy being the fastest growing in the world. Exports are at record highs. Profits of publicly traded companies have doubled. A vibrant middle class, built since liberalization of 1991, is now shelling out so much on electronic gadgets, cars, real estate, foreign travel, vacations abroad and entertainment that economists call it post-pandemic "revenge spending."
But there is another India: The reality for hundreds of millions of Indians is that the growth is not translating into enough jobs for the waves of educated young people who enter the labor force each year. More and more young farmers want to leave the fields for regular paying jobs. Women want to take up paid jobs too, as inflation has soared and households are forced to cut corners to survive.
But there are no jobs. The Labor Force Participation Rate (LFPR) was 52.5% when Modi came into office. The LFPR is the proportion of the total labor force that is currently employed or looking for employment. After eight years of his economic management, it is 40% whereas it is 70% in China and 60% in the USA. According to Aakar Patel, author of "Price of Modi Years" published in 2021, Modi shrunk the Indian workforce by a fifth.
Contrast that with the 6-yr tenure of Atal Bihari Vajpayee which created 60 million jobs and the 10-yr tenure of Manmohan Singh which created 17 million jobs. In the 8 years since 2014, millions of jobs were lost, few jobs were created, the LFPR declined and unemployment increased.
The Center for Monitoring Indian Economy (CMIE) has concluded that "millions have left the labor markets and they even stopped looking for employment, possibly too disappointed with their failure to get a job and under the belief that there were no jobs available." The CMIE, in its report, has said that more than half of the 900 million Indians of legal working age have left the workforce, reducing the total labor force to 430 million. That is a colossal waste of national manpower!
The Gender Inequality:
Women form 49% of our population; but, the female LFPR declined to 9% in May 2022. Only the conservative Arab countries have LFPR less than that of India's. According to International Labor Organization (ILO) estimates our Female Labor Force Participation Rate (FLFPR) dropped to 21% in 2021 from 32% in 2005. It further dropped to only 9% in May 2022. At this rate, we are in the same league as war-torn Yemen.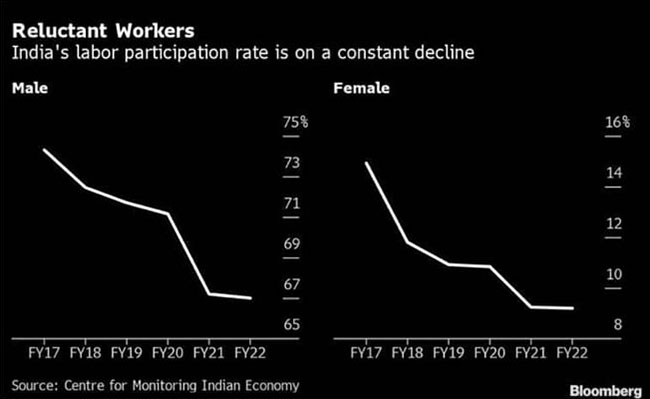 The Modi government passed the Maternity Benefit (Amendment) Act 2017 and increased the duration of paid maternity leave available for women employees to 26 weeks from 12 weeks. Maternity leaves for women are important but would the Micro Small & Medium Enterprises (MSMEs) foot the bill? These small firms were in no position to bear the cost and therefore shied away from hiring women. The Amendment was ironically intended to benefit women, but in reality, the opposite happened.
The NITI Aayog's report 'Strategy for New India @75', released on December 19, 2018, by then Union Finance Minister Arun Jaitley, had pointed to the creation of jobs and emphasized on bringing women into the labor force, with an aim to increase FLFPR to 30% by 2022-23. But compared to the current reality, it seems like another 'jumla'.