Putin's Unjust War on co-religionists in Ukraine
By Philip Mudartha

Bellevision Media Network


21 Apr 2022: In his speech declaring war on Ukraine, Putin said the goal of his "special military operation" was the demilitarization and de-Nazification of Ukraine and ridding it of drug addicts. He also said that it his moral and spiritual duty to protect the Russian speaking "brothers" in Ukraine from the genocide inflicted by the neo-Nazi Ukrainian government in Kyiv.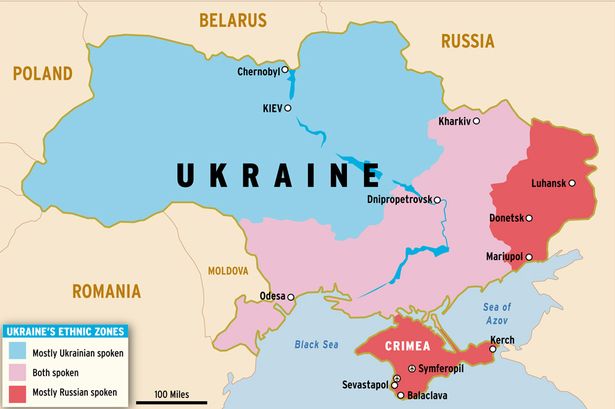 Ukraine is a bi-lingual nation.
What does Demilitarization mean?
For Putin, it means overthrowing the democratically elected President Volodymyr Zelensky and installing a pro-Russian "puppet" in his place. A pro-Russia government will agree to his terms of amending Ukrainian constitution to include neutrality as state policy as well as renounce building biological, chemical and nuclear military capabilities. Such a constitutional amendment will also include the renunciation of its democratic right to seek closer integration with Europe, especially the European Union (EU). Further, it would also give up its ambition of joining NATO, the trans-Atlantic military alliance led by the US.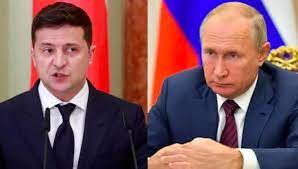 President Volodymyr Zelensky and President Vladimir Putin
What about De-Nazification?
For Putin, it means the reversal of Ukrainian policies, especially the de-communization law passed in 2015 by the pro-west government which was voted to power after the Revolution of Dignity.
Revolution of Dignity followed Euro-maidan or Maidan Uprising. A wave of demonstrations and civil unrest had begun on 21 November 2013 with large protests in Maidan Square (Independence Square) in capital Kyiv. The protesters opposed the widespread government corruption, the political influence of oligarchs, abuse of power, and violation of human rights. The pro-Russia government of President Viktor Yanukovych cracked down on the protesters causing deaths of hundreds of them in the clashes between them and the armed police.
President Viktor Yanukovych and his government had to resign and replaced by an interim national government in February 2014. He fled the country along with his cabinet ministers and many government officials. Fresh elections followed and a pro-west liberal politician, Petro Poroshenko, was elected as President. Putin considered the ouster of his ally Viktor Yanukovych as a coup engineered by CIA. In response, he sent his army into Russian speaking Crimea and annexed it. Further, he engineered separatist rebellions in the Donbas region of Eastern Ukraine, which is also predominantly Russian speaking. Thus, Russia is at war with Ukraine since 2014.
Since 2015, under the de-communization law, Ukraine removed soviet monuments from public places. Streets were re-named after Ukrainian historical figures, including nationalists Stephen Bandera and Roman Shushkevich. Russian propaganda portrays this move as Ukraine reverting to its natural state of being neo-Nazi.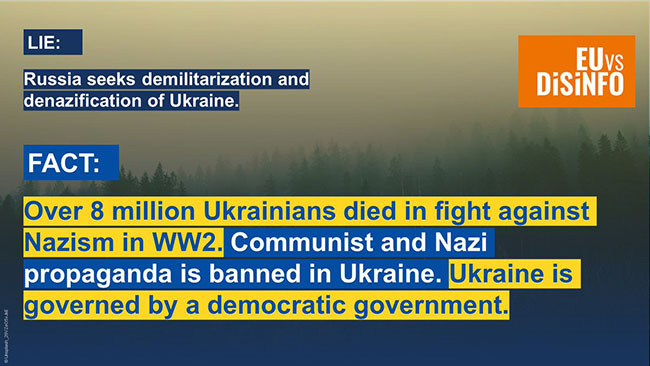 Today, Ukraine is a vibrant multi-party democracy under a western-tyle constitution. In the 2019 presidential elections, 73% of the country voted to elect a Jewish president, Volodymyr Zelensky. Another Jew, Volodymyr Groysman was elected Prime Minister in 2016 and he served for three and a half years. Ukraine must be the only country outside Israel to have both Jewish head of state and head of government. And the Russian propaganda labels Ukrainians as neo-Nazis!
A majority of Ukrainians harbor a deep-seated hatred towards Russia
Ukrainians, especially in the west and central parts of the country, see Russia as their oppressor. They blame Stalin's Soviet Union for Holodomor or Great Famine of the 1930's which killed an estimated four million people by starvation. Ukrainians view Holodomor as Russian genocide against them.
Hence, when Nazi Germany invaded Ukraine SSR during the WWII, most Ukrainians saw them as liberators from Soviet oppression. Some joined the Nazis and fought the Soviet Army. Stepan Bandera, the Ukrainian nationalist who fought for independence of Ukraine, was one of them. Thus, Bandera and his followers came to be associated with Nazis who committed atrocities against Russians, Jews, and Poles, murdering as many as 100,000 people.
What is Putin's real problem with Ukraine?
Since breaking free from the Soviet Iron Curtain, Ukraine has struggled a lot to develop democratic institutions: constitutional democracy based on universal franchise, free elections, due process, the rule of law, freedom of speech and a free press. The vast majority of Ukrainians seek closer ties with Europe, and not Russia. Russia should ask itself: why? Why Ukrainians hate Russia?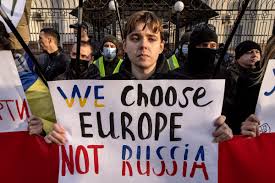 Ukraine's free press environment has been abused by the Kremlin as a destructive tool of their propagandist disinformation. A key theme of Kremlin propaganda is the idea that Ukraine does not exist as an independent state, or that it does not have the right to exist. Viktor Medvedchuk, a prominent Ukrainian oligarch and the opposition party leader in Ukrainian parliament, is a key promoter of this message. He is Vladimir Putin's main ally in Ukraine. Putin and Medvedchuk are related. Medvedchuk's youngest daughter is God-child of Putin.
Viktor Medvedchuk owns by proxy three TV channels: 112 Ukraine, NewsOne, and ZIK. These Ukrainian TV channels have been relentlessly transmitting Putin's propaganda to Ukrainian audiences for some time. It is reported that the money for these channels comes from illegal coal exports from Russian occupied Donbas region. A year ago, President Zelensky approved a decision to block these channels after much patience. This was his administration's direct response to those who abuse freedom of speech and turn it against democracy.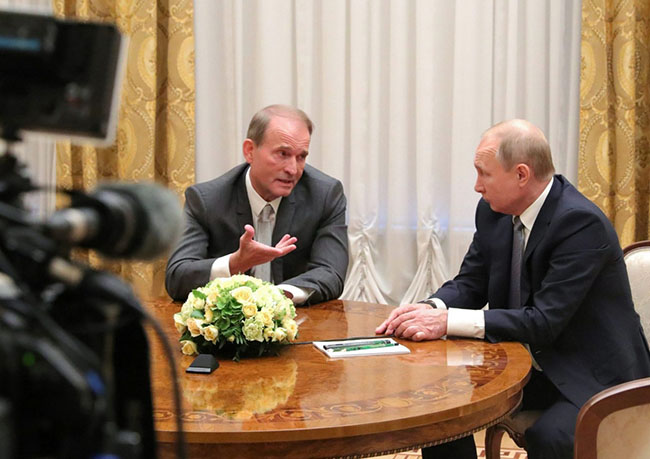 President Putin with Ukrainian Oligarch and media mogul Viktor Medvedchuk
Ukraine's fault is that it is a budding democracy right next to a shriveling, dictatorial ex-empire. Putin could not live with the fact that a democracy next door, a country that did not want to live under his thumb, also wanted to embrace Western values. It also dared to attempt to prosper while the ex-empire under his rule became almost irrelevant with each passing day.
Putin needed an excuse to invade Ukraine. The nonexistent threat of NATO seemed like a good excuse. But it was not enough justification for starting a war and killing "brotherly" people who look like his own population; who profess his own religion; most of who are bilingual; who speak Russian as second language. He had to dehumanize the people he was about to kill. He convinced his populace that by his bombing cities and killing Ukrainians by the thousands, the Russian Army was doing God's work and de-Nazifying the country.
Oh, my Lord, where art thou?
Today, both Russia and Ukraine are overwhelmingly Orthodox Christian nations with about 80% population identifying themselves as Orthodox. In 1991 when officially atheist Soviet Union collapsed, only 39% had said they were Orthodox Christians. 105 million Russians and 35 million Ukrainians together form more than half of the 260 million Orthodox Christians worldwide. In both countries, about half say religious leaders have some influence in political matters.
The Ukrainian Orthodox Church decided in 2019 to split from its Russian counterpart after more than 300 years of being linked. This reflects not only the continuing military conflict between the two countries since 2014, but also the important political role Orthodox Christianity plays in the region. The split between the Orthodox churches in the two countries is part and parcel of a wider history of political tensions between Russia's geopolitical ambitions in the region and Ukraine's resistance to them.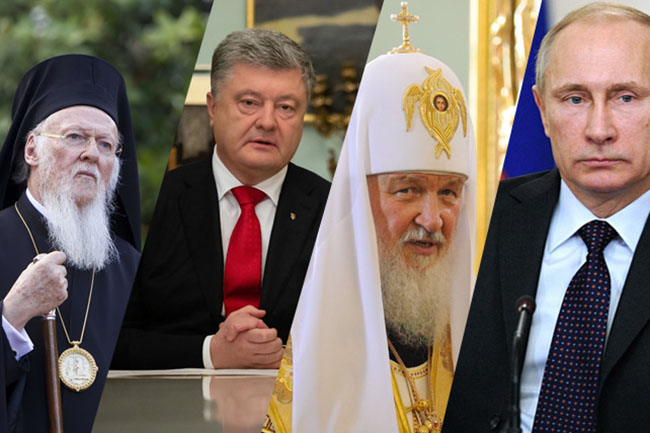 Bartholomew I and Kirill and their politics of religion
Attitudes in Ukraine toward Russia's political and religious leadership are also highly divided between the eastern and western parts of the country. Eastern Ukrainians have more positive attitudes toward Russia than do western Ukrainians. For example, the 2015 survey by Pew Research Center found that 55% Eastern Ukrainians said that Russia has an obligation to protect Orthodox Christians living outside its borders. In western Ukraine, 58% disagreed with this view. The patriarch of Moscow also receives higher support in eastern Ukraine than in western Ukraine. Western Ukrainians look to their own national patriarchs as the highest authority of the Orthodox Church.
Bartholomew I, the Ecumenical Patriarch of Constantinople, is the primus inter pares or "first among equals" in the Orthodox hierarchy. He has condemned Russia's invasion of Ukraine and fighting between the two predominantly Orthodox countries, during a three-day visit to Poland: "Any war is to be condemned, but a war between Orthodox Christians is absolutely unacceptable." Bartholomew has been at odds with the Moscow patriarch, Kirill, over Ukraine. The Moscow Patriarchate has sought to anoint itself the true seat of Orthodoxy ever since Constantinople fell to Islamic invaders in 1453. So, Moscow has been at loggerheads for centuries with the ecumenical patriarch of Constantinople, always the spiritual leader of the Orthodox Christians. But, the testy relations between Kirill and the Bartholomew have burst into the open over the war.
Ukraine has been a particular source of antagonism between the two hierarchs. In 2019, Bartholomew granted independence, called "autocephaly," to church in Ukraine, which had been subordinate to Moscow since 1686. In response, the Russian church severed contacts with Bartholomew. More than half of Ukraine's parishes rejected the decision and stayed under Moscow's jurisdiction.
There are 45 dioceses in Ukraine, comprising of nearly 20,000 parishes, of which 22 have stopped mentioning Patriarch Kirill during prayers. But many bishops have not condemned Putin over the invasion. Some faithful in Ukraine question the silence of the bishops, wondering aloud whether they are fans of Putin, have been bribed or blackmailed to stay quiet, or are hedging their bets lest Moscow prevails in the war.
Patriarch Kirill of Moscow had repeatedly bestowed blessings on the Russian military, giving a historical golden icon of the Virgin Mary to a senior commander, for example, and casting the war as a holy struggle to protect Russia from what he called Western scourges such as gay pride parades. He has been a vocal supporter of Russian President Vladimir Putin, with the church receiving vast financial resources in return. Patriarch Kirill of Moscow has provoked widespread anger with a series of sermons and speeches, including saying that the country is battling the Antichrist, and urged Russians to rally around the government. Kirill has avoided condemning widely documented attacks on civilians, many of whom are his parishioners.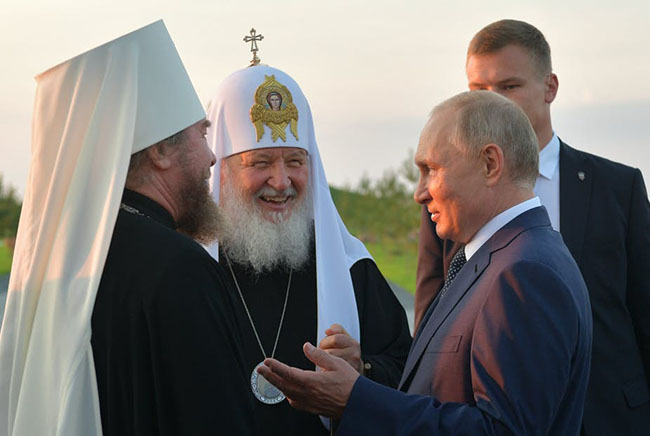 Patriarch Kirill is closest advisor to Putin
With the Eastern Orthodox Easter approaching this Sunday (April 24), the war is dividing national churches, parishes and even families as they reassess relations with Patriarch Kirill and the Russian Orthodox Church. By tradition, Orthodox worshippers pray for their patriarch at all services. "How can you pray for the patriarch who is blessing the soldiers trying to kill your son?" is the refrain of not only Ukrainian Orthodox Christians but also most Orthodox faithful outside Russia.
Thou shall not kill?
"We, as a nation, do not wish death to our neighbors," Metropolitan Epiphanius I of Ukraine, head of Ukrainian Orthodox Church, said. "However, since they came to our land, we're defending our land. Protecting ourselves is not a sin." He claimed that the "signs" were revealed to indicate this, citing "Pride, devotion to evil, ruthlessness and false religiosity." He has been very vocal in his support for Ukrainian resistance to Russia's invasion. There "was Nazi leader Adolf Hitler during World War II," Epiphanius claimed, "This is what Putin has become today." "This spirit of love and truth, which are on our side, testify that with God's help we will achieve victory. Every hour of resistance to aggression brings us closer to this," he implicitly meant that God is on Ukrainian side.
The Metropolitan of Kiev and All Ukraine, Metropolitan Onufry, head of the Moscow Patriarchate in Ukraine, appealed to Putin for an "immediate end to the fratricidal war" and accused him of "a repetition of the sin of Cain, who killed his own brother out of envy."
But for now, the devil quotes the Scriptures: Putin proclaims, "There is no greater love than giving up one's soul for one's friends." That is the only "spiritual space" shared by both Russian and Ukrainian leadership in conducting thus war.
As Pope Francis said in his Easter Sunday (April 17) homily at St. Peter's Square: "rivers of blood and tears are flowing in Ukraine. This is not just a military operation but a war, which sows death, destruction, and misery." And yet, in all this, he did not mention Putin, or Russia, or an invasion. The pope has been criticized for avoiding directly saying that Russia invaded Ukraine and blaming the Russian president for the attack.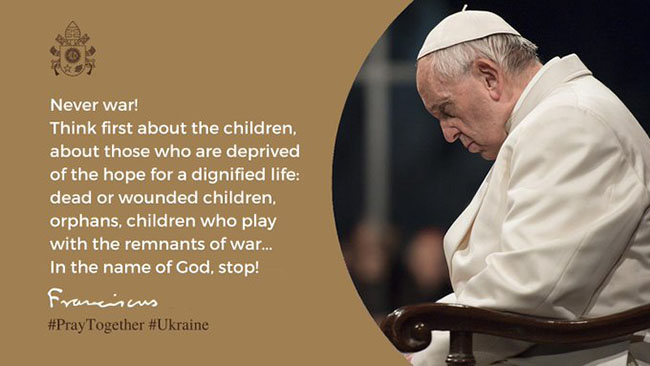 On March 16, Pope Francis spoke via video link with Patriarch Kirill. "As pastors we have the duty to stay close and help all the people who suffer because of the war," Francis said. While he observed that in the past both churches spoke of "holy wars" and "just wars," he went on to insist that "today we can't talk this way."
Could he convert Patriarch Kirill? Would Patriarch Kirill advise Putin accept that his war in Ukraine is not justified under any pretext.
More on the theme in the second part.