The Gen-Z and Crypto mania in India
By Philip Mudartha

Bellevision Media Network


29 Nov 2021: There is no official data but estimates are that there are about 20 million crypto investors in India, with total crypto holdings of around Rs. 40,000 crores.
Bitcoin, the world's biggest cryptocurrency, is trading at around $60,000. Its price has more than doubled since the start of this year because hordes of new local investors have flocked to trade. There are several crypto-exchanges which offer the trading services just like the stock-broking.
Price History of Bitcoin and FOMO
Fig-1 attached below shows the historic price chart of Bitcoin in US Dollars from Oct 2013 to January 2021. The price was flat till mid-2016 but then the dizzy rise began accompanied with high volatility.
The corona pandemic did not spare the Bitcoin as it did not commodities like crude oil, company equity stocks and mutual funds etc.
The price recovery was quick. An international cryptocurrency investor who bought just one Bitcoin in US Dollars on 17th March 2020 and sold it on 5th November 2021 has seen his $4,945 become $68,581 in 19 months which is almost 1400% return on his investment. No other asset class, gold, equity and mutual funds etc. has given such astronomical returns!
There are predictions that Bitcoin will trade at $100,000 by the end of 2021 and could even reach $500,000 by 2030. Such dizzying valuations is causing FOMO, fear of missing out, among Gen-Z across the globe, India not excluded.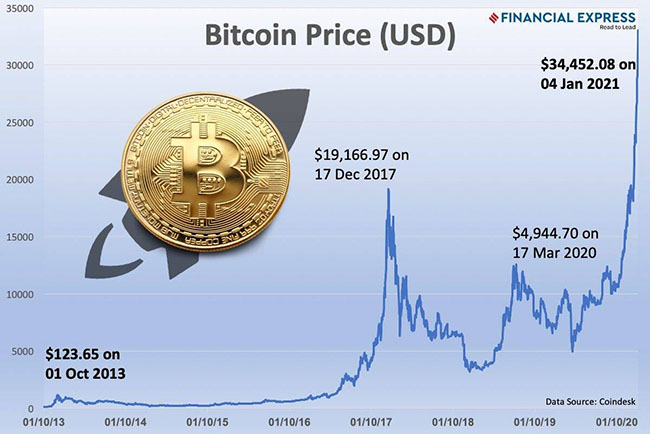 Fig-1: Historic price chart of Bitcoin.
But first, a little bit of history:
In April 2018, the Reserve Bank of India (RBI) had issued a circular banning banks and domestic financial institutions from providing banking services to crypto exchanges. The crypto exchanges immediately filed petitions but some exchanges closed as trade plunged while the arguments for and against the circular were heard in the Supreme Court. The court in March 2020 vacated the ban and instructed the RBI to revoke its circular.
Earlier in 2021, the central government considered criminalizing the possession, issuance, mining, trading, and transference of crypto assets, but a bill was not introduced.
Now, the government intends to introduce Cryptocurrency and Regulation of Official Digital Currency Bill, 2021, during the winter session of the parliament which began on 29th November 2021.
A law to regulate cryptocurrencies:
The details of the proposed bill are yet to be known. But the bill aims to bar most private cryptocurrencies and regulate "some" virtual currencies. The government will allow only certain cryptocurrencies to promote the underlying technology and its uses. Through this bill, the government will lay the framework for the official Central Bank Digital Currency (CBDC) that will be issued by the RBI. The CBDC is likely to be launched by end-December 2021.
Prime Minister Narendra Modi during a virtual keynote address at the Sydney Dialogue said that cryptocurrencies must not fall into the "wrong hands and spoil our youth" and urged all democratic nations to work together to ensure such a thing does not happen. "We are in a time of transformation, that occurs once in a generation, where technology and data are becoming new weapons," he said.
Despite the planned legislation and PM Modi's views on cryptocurrencies, the cryptocurrency investors hope to trade in what has become a booming sector in India.
Now the basics: what is crypto?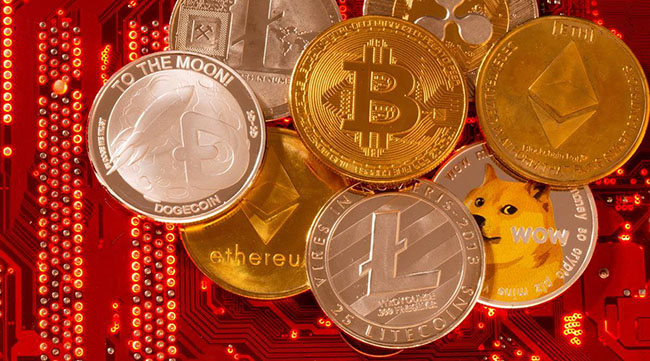 Crypto comes from the Greek kryptós, meaning "hidden."
It is prefixed with many scientific, medical, and other technical terms. So, cryptocurrency means secret money. It is a type of currency which uses digital files as money. Usually, the files are created using the same ways as cryptography, which is the science of hiding information. Digital signatures can be used to keep the transactions safe, and let other people check that the transactions are real.
Understanding Crypto: Money - Past, Present, and Future
We spend most of our time in an endless race to earn money. But many of us don't know what money actually is.
Not too long ago, our ancestors used to barter or swap food, cattle, Agri-tools and certain basic services. For example, a river boatman served the community in exchange for an annual fee determined in kilos of paddy or rice.
But everyone did not have paddy or wanted to cross a river. As the economy became more complex, kingdoms minted metal coins bearing their insignia which authorized them as legal tender. Gold, silver, copper, nickel, bronze, brass and iron were widely used. When the paper was invented, kings and governments invented "paper money" with "printed face value and an authorized signature" making it legal tender within their domain.
With computerization and faster Internet access, many innovative payment systems came into vogue such as debit and credit cards, net-banking, mobile wallets, UPI, etc. The cryptocurrency is the latest innovation. While the paper money is fiat currency unlike gold money which is real and tangible asset, cryptocurrency is also a fiat money but in digital form.
Various types of "money": today and tomorrow
The "barter" money of a bygone era was replaced with yesterday's "real money" of gold and other precious metals and today's "fiat money". Tomorrow, what money looks like is depicted in the graphic below: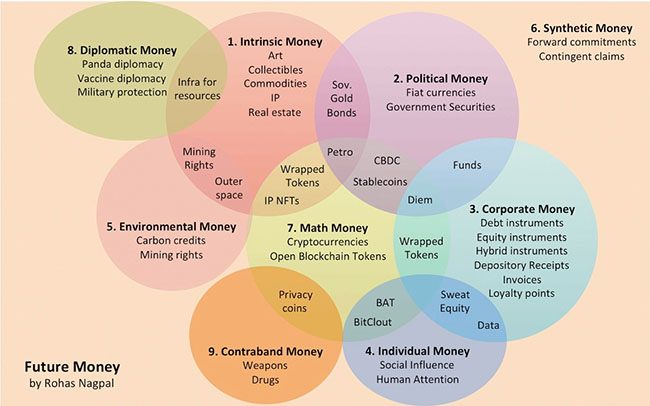 The cryptocurrency revolution started with Satoshi Nakamoto's path-breaking whitepaper - "Bitcoin: A Peer-to-Peer Electronic Cash System" in October 2008. This brought the world Bitcoin, the first truly peer-to-peer electronic currency. Today, there are almost 6,000 actively traded cryptocurrencies!
Certain cryptos are disrupting sectors like e-commerce, education, data storage, gaming, marketing, media, supply chain, video streaming and more.
How big are cryptos in India?
The market has boomed since the Supreme Court ruling of last year, exploding more than 600% over the past 12 months.
Around 20 million investors in the country are estimated to own cryptocurrencies, according to industry body the Blockchain and Crypto Assets Council (BACC).
Indians have been bombarded with advertisements fronted by Bollywood and cricket stars for home-grown crypto exchanges like CoinSwitch Kuber and CoinDCX.
"Bohot hard kuch nahi hai. Sab simple hai. Lag ja re bacche CoinSwitch pe. Kuch toh badle ga." (Nothing is very hard. Everything is simple. Kid, get on CoinSwitch. Something will change). Thus tantalizes Ranveer Singh.
On a video app called Chingari, Salman Khan is promoting $GARI, a crypto token. Ayushmann Khurrana is cooing for CoinDCX with the catchphrase "Safe hai, simple hai". (It's Safe and Simple).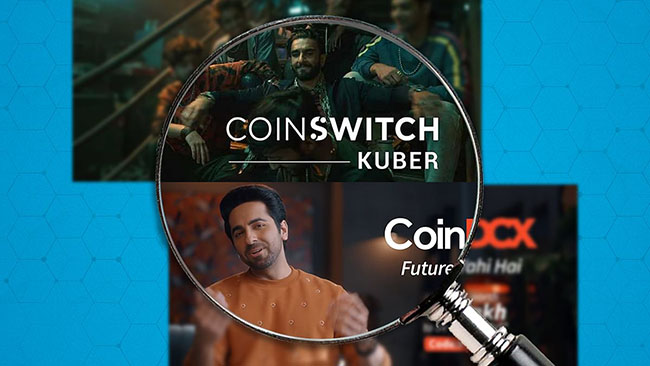 CoinDCX had signed a deal with Amitabh Bachchan to be its brand ambassador but he withdrew upon advice from the RBI. He is the RBI brand ambassador. His customer awareness ads are aired daily on TV channels and OTT platforms.
Bitcoin and other cryptocurrencies can't be purchased through your bank or stock broker yet, which is a future possibility. For now, you'll have to go through a cryptocurrency trading platform to exchange your Indian Rupees for Bitcoin or other digital currencies.
Should You Invest in Cryptocurrency?
But, first question is how to invest in cryptocurrency. About 83% of urban Indians are aware of digital currencies, while 16% actually own them, according to a survey. In this year alone, the Indian cryptocurrency market grew by 641%.
In hundreds of India's small cities and towns, a generation that has hardly had any experience with stocks and bonds is heading straight for Bitcoin, Ethereum, Cardano and Solana.
The average age of the 11 million users of CoinSwitch Kuber, the cryptocurrency trading app developed only 18 months ago, is 25 years. 55% of them are from outside large metropolises like New Delhi or Mumbai.
CoinSwitch, the Bangalore-based startup has become India's largest and most valuable cryptocurrency platform with more than 10 million customers amassed in just 14 months of operations. CoinDCX has become the country's first crypto unicorn.
India has the highest number of crypto owners in the world: 10.07 crore. The US comes in second with 2.74 crore and Russia is third with 1.74 crore and Nigeria is fourth at 1.30 crore.
Cryptocurrencies are not regulated and their prices are very volatile. Theft by hackers has been reported in the past and will continue to be a serious threat. Despite the very high risks, young Indian investors are betting on continued growth even as authorities scrutinize buying and selling of Bitcoin, Ethereum and other coins.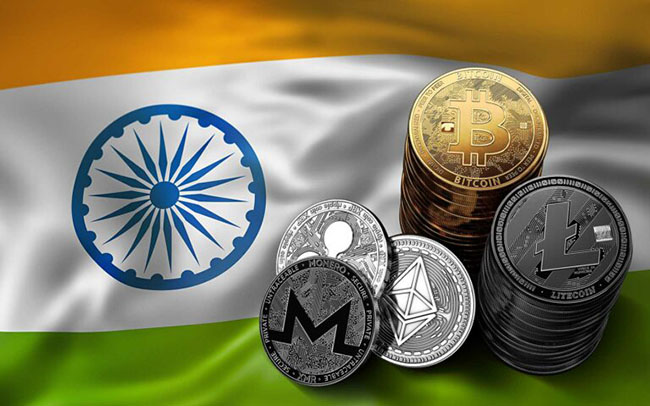 Therefore, the pertinent question to ask is not how to invest but should you invest.
The Indian crypto market crashed earlier this week after the government proposal to ban "private cryptocurrencies" was listed as a parliament agenda.
The current Bitcoin situation is in stark contrast to what it was a few days ago when the token was riding around its all-time high of $68,581 (about 51 lakh Rupees).
Only El Salvador, a tiny and poor south American country, which uses American Dollar as its currency, legalized Bitcoin as a legal tender. China, which was one of the largest cryptocurrency markets in the world, recently declared all cryptocurrency transactions, including Bitcoin, illegal. Cryptocurrency is also banned in Turkey, Morocco, Bangladesh, while being restricted in Russia and Egypt.
Therefore, investing in cryptocurrencies is akin to gambling. Gambling is a 'sin' activity like prostitution, drugs, narcotics, pornography etc. which are banned in India but flourish underground. No one can prohibit you from investing in cryptocurrencies because it is your money and you have the right to make filthy profits or lose it entirely. This is a laissez faire attitude, which in the interest of protecting gullible investors needs to be curbed.
Frequently Asked Questions (FAQs)
1. Is the Bitcoin supply limited? Yes, the founder in 2008 had said that the cap is 21 million. No more can be "mined".
2. What is mining? It is a process of creating Bitcoin. It is also a record-keeping service. Miners keep the block-chain consistent, complete, unalterable by repeatedly grouping newly broadcast transactions into a block, which is then broadcast to the network and verified by recipient nodes.
3. What is block-chain? It is a public ledger that records bitcoin transactions. It is implemented as a chain of blocks, each block containing a hash of the previous block up to the genesis block in the chain.
4. How is ownership established? In the blockchain, bitcoins are registered to bitcoin addresses. The independent verification of the chain of ownership is by storing its own copy of the blockchain. At varying intervals of time averaging to every 10 minutes, a new group of accepted transactions, called a block, is created, added to the blockchain, and quickly published to all nodes, without requiring central oversight. This allows bitcoin software to determine when a particular bitcoin was spent. The blockchain is the only place that bitcoins exist in the form of unspent outputs of transactions.
5. What are transactions? It is a command, consisting of one or more inputs and one or more outputs. When a user sends bitcoins, the user designates each address and the amount of bitcoin being sent to that address in an output. The use of multiple inputs corresponds to the use of multiple coins in a cash transaction. Since transactions can have multiple outputs, users can send bitcoins to multiple recipients in one transaction. As in a cash transaction, the sum of inputs (coins used to pay) can exceed the intended sum of payments. In such a case, an additional output is used, returning the change back to the payer.
6. Without statutory regulation, how can Bitcoin be trusted? Trust is the key in financial transactions which ensures the system stability. Satoshi Nakamoto stated in his white paper that "The root problem with conventional currencies is all the trust that's required to make it work. The central bank must be trusted not to debase the currency, but the history of fiat currencies is full of breaches of that trust". Take the example of our Rupee. Its value has debased to such extent due to inflation, printing money without back-up of tangible assets, forex risks etc.
7. How is Bitcoin money? Money has three functions, a) store of value, b) medium of exchange, and c) unit of account. Bitcoin is fulfilling these functions, as the list of merchants accepting it as 'payment currency' is growing. Even in India, several merchants are accepting bitcoin for payments towards goods and services.
8. What are keys? Keys is the digital signature which the owner has to use to access his cryptocurrency account. If keys are forgotten or lost, the owner losses all those holdings.
9. More questions are expected from lay readers which I will answer in the comments section.