The vaccination milestone and economic recovery
News Analysis by: Philip Mudartha

Bellevision Media Network


24 Oct 2021: On Thursday, Oct 21st, India marked the one billion mark of total COVID-19 vaccination jabs. The most populous nation China had reached this milestone earlier in June 2021 but they had begun several months earlier. India began its vaccination program only in March 2021.
"India scripts history," Prime Minister Narendra Modi said on Twitter, "We are witnessing the triumph of Indian science, enterprise and collective spirit of (1.3 billion) Indians."
With this milestone, 75% of eligible Indians have received at least one dose. For now, people aged above18 years are eligible (the adult population). Among the eligible, only 31% are fully vaccinated with two doses.
The task is to vaccinate the entire adult population of about 94 crores. We have just crossed the halfway mark. Eventually, the entire population of 140 crores will have to be vaccinated.
Vaccines for people under the age of 18 years are just being approved. Then those 45+ years adults who were vaccinated earliest may find their immunity waning and may need a booster dose. The discussion about booster dose is in nascent stage in the medical fraternity.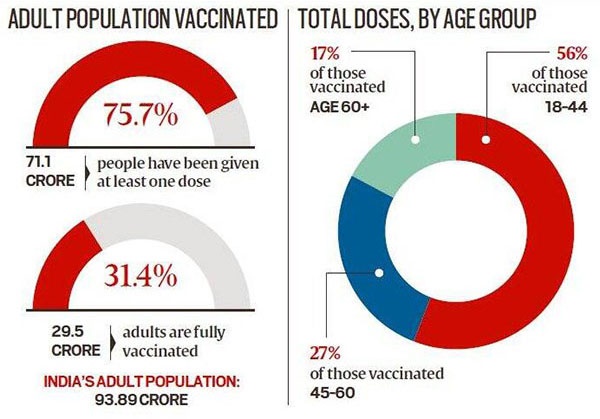 Despite the mountainous task that lies ahead, the hitherto achievement cannot be belittled. At the same time, it is important to remember that vaccination is only one weapon in the fight against COVID-19. COVID appropriate behavior is very important. Wearing of masks and social distancing have to be enforced simultaneously.
Vaccinations have enabled a situation where people can return to their normal lives, subject to appropriate behavior and usual economic activity can resume.
In fact, the Indian economy has shown robust signs of recovery. According to media reports from the commercial capital, Mumbai, India Inc is set to post an 18-20% revenue growth for July-September 2021 (Q2 FY 21-22) over Q2 FY 2020-21.
When India entered into the first lockdown in March 2019, there was wide-spread panic and despair. It resulted in the economy going into a tailspin with most economic activity barring essential services grinding to a halt.
Just when it seemed that the worst was behind us, the second wave followed with greater ferocity. The healthcare system of India, especially in our larger cities including our national capital of Delhi, was overwhelmed. Lack of hospital beds, unavailability of oxygen and paucity of life support ventilators made headlines on prime-time television.
Impressive performance of India Inc
In Q-2 FY 2021-22, ended on 30 September 2021, Reliance Industries Ltd.'s profit jumped 46% from a year earlier. It shows that the oil-to-chemicals and retail businesses have bounced back as the effects of the pandemic ebbed and demand returned.
Consolidated net profit for the July-September period rose to ?15,479 crore from ?10,602 crore a year earlier. Consolidated revenue surged almost 50% year-on-year to ?1,74,104 crore.
The stock became a favorite both with market traders and retail investors. The stock which traded at Rs 1,840 on 21st January 2021 reached a 52-week high of Rs 2,722 on 20th October 2021, just in 9 months span.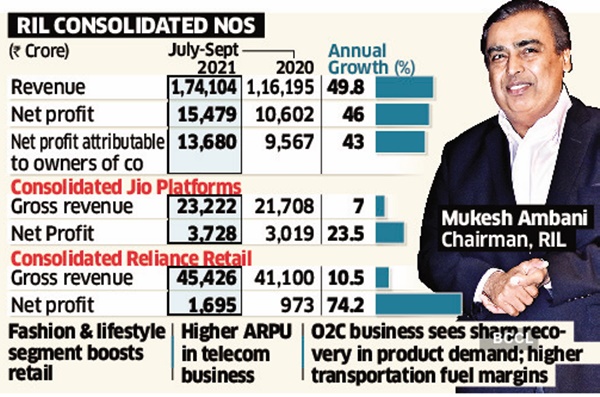 The Banking sector too reported record profits:
The private lender ICICI Bank reported a 30% year-on-year growth in net profit riding on growth in both interest as well as non-interest income. Net profit increased to Rs 5,511 crore in the quarter ended September 2021 up from Rs 4,251 crore a year earlier led by a 25% growth in net interest income (NII).
All 12 public sector banks (PSBs) have reported a profit. Among them, Bank of Maharashtra Q2 net profit rose by two-fold to Rupees 264 crores. Its net interest margin (NIM), a gauge for efficiency, has improved to 3.27% from 2.57%.
State Bank of India is the premier PSB among the twelve, which reported revenue of Rs 75,341.80 crores, up 3.42%. The bank's NIM stood at 3.34%.
Small finance banks came out with impressive performances.
IT service providers beat market expectations: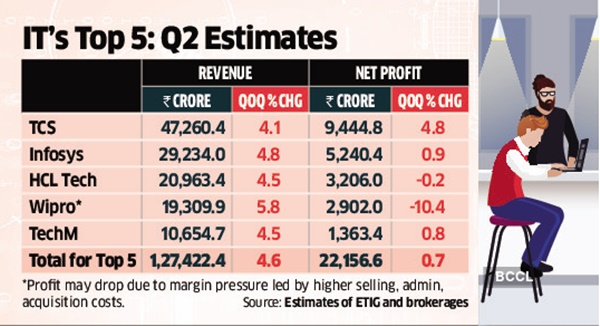 Infosys, the second placed among the top 5 IT service providers, reported a 11.8% increase in net profit to Rs 5,421 crore. Revenue was up 20.5% at Rs 29,602 crore. Both results beat market estimates as shown in the graphics shown above. It announced an interim dividend of Rs 15 per share.
Real Estate is not left far behind:
Realty developer Indiabulls Real Estate has reported consolidated net profit of Rs 5.65 crore for Q2 FY 2021-22 as against net loss of Rs 76.01 crore a year ago. Total income rose 652% on year to Rs 381.25 crore.
Realty developer Arihant Superstructures reported a 180% jump in consolidated net profit at Rs 11.63 crore for Q2 FY 2021-22.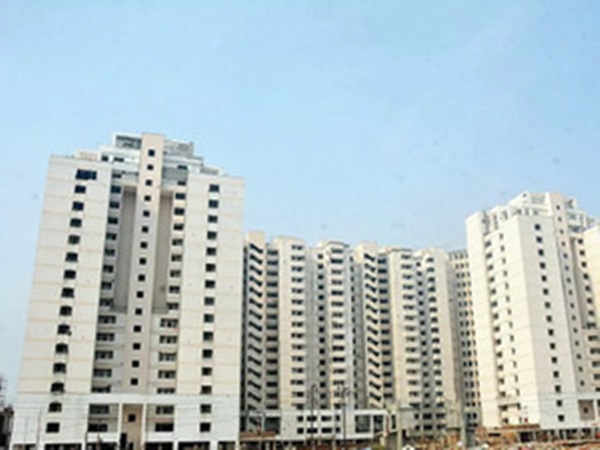 Leasing of office spaces witnessed a sharp uptick in the quarter of July-September 2021 12.5 million square feet (MSF) across top eight cities on better demand, especially from IT sector. This is a 2.5-fold increase over the same period of previous year. This indicates that the Work from Home (WFH) practice is receding. The employees are returning to their offices in greater numbers as economy is coming back to normalcy.
It is business as usual for the commodities industry:
Despite record commodity prices, the sector has not returned to profitability. Steel prices for TMT bars in India are in the range of Rs 67,000 to Rs 85,000. Three-month aluminum on the London Metal Exchange (LME) hit its highest since July 2008 at $3,000 per MT while spot prices in India have risen to Rs 24, 000 per MT.
Leading infrastructure conglomerate Jindal Steel and Power Limited (JSPL) reported the highest ever quarterly steel sales hitting a record 2.13 million MT during Q2 2021-22. Despite record iron ore prices, the company earned the highest ever consolidated net profit of Rs 7,179 crores in current year Q2.
Hospitality and aviation look forward to festive season:
These two sectors of the economy are struggling at around 50% of pre-COVID levels. Travel during the festive season will act as a key demand booster for the industry in the third quarter of the financial year 2021-22, the industry analysts noted.
While the first few months were impacted, the industry witnessed faster-than-expected ramp up in Q2 FY21-22, because of lower restrictions, high vaccination pace and pent-up demand. COVID fatigue is setting in and is resulting in revenge travel.
India's aviation sector is no exception when it comes to navigating pandemic-induced turbulence. While Air India's losses piled up which forced the government to let go of its 100% stake, Jet Airways stopped flying in April 2019.
The industry experts say the aviation sector is nowhere near a recovery. The aviation sector faced the worst-case scenario during the pandemic. Even after strict lockdowns came to an end, and some restrictions on travel eased, the sector hasn't been able to recover.
During FY 2018-19, about 140 million domestic passengers flew to various destinations but only 53 million took to the domestic skies in FY 2029-21. The forecast for FY 2021-22 is around 80 million to 95 million passengers.
The silver linings are a) the government will complete the takeover of Air India (along with Air India Express) by end of the year, b) the Jet Airways might resume its operations if the UAE-based businessman's bid for takeover succeeds and c) if the ultra-low-cost carrier Akasa Air (to be promoted by big bull Rakesh Jhunjhunwala) jumps into the fray.
To put the aviation industry's woes in right context, take a look at the financial performance of Vistara, a joint venture between Tata Sons and Singapore Airlines. It reported 44% fall in revenue at Rupees 2,731 crore. Its FY 2020-21 loss was Rupees 1, 612 crores.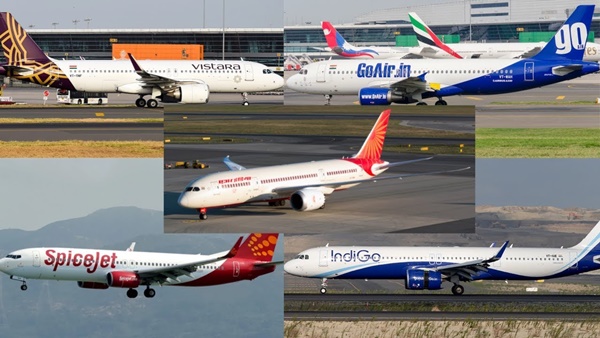 Air Asia India, the other aviation joint venture of Tata Sons with Air Asia Berhad of Malaysia also reported an accumulated loss of over Rupees 2, 100 crores, thus completely eroding its net worth.
National carrier Air India is also piling up losses even as it prepares to re-join the Tata stable by the end of the year. With three loss-making airlines under its wings, watching the strategy of Tata Sons to become profitable in the post-COVID era will be interesting. For now, the industry is awaiting lifting of all restrictions on passenger traffic load per flight.
The rise and rise of BSE Sensex and Nifty Indices:
As you can see from the BSE Sensex chart given above, there had been five shocks since 2008. The sharpest fall was triggered by the unplanned and chaotic lockdown in March 2019. Which lasted till September 2019. There was a correction when the second wave hit us in February 2021 and our healthcare system was in shambles until May 2021. The recovery was sharp thereafter as the vaccination program began in March2021.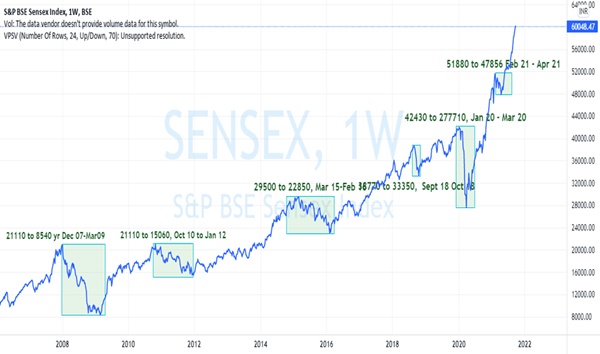 With increased optimism when retail investors returned to the stock market in hordes, the BSE Sensex scaled the all-time high of 62, 245.43 in October 2021.
India Inc raises record Rs 80,000 crores:
So far, 43 companies launched public issues until September 2021. The total fundraising via IPOs stood at Rs 79, 071 crores. In Q2 alone, the food delivery company Zomato went public and raised a record Rs 9,375 crores. IPO pf Paytm for Rs 16,000 crores is expected anytime now.
It is the era of digital, cashless payments in India.
Digital payments have recorded a growth of 30.19%, reflecting adoption and deepening of cashless transactions in the country, RBI data has showed.
Retail inflation to remain below 6% in FY22:
The worry of common man is the rising prices, especially of food articles including fresh vegetables, cereals and pulses, fruits, meat and poultry. However, it is believed that the arrival of the new kharif output in the market, along with a cut in the import duties for edible oils, will help in keeping food inflation under check.
The monsoon has been very generous, and despite floods in some parts of the country, growth in agricultural gross value added (GVA) is projected at 3-3.5%. This will put more money in the hands of farmers and rural households.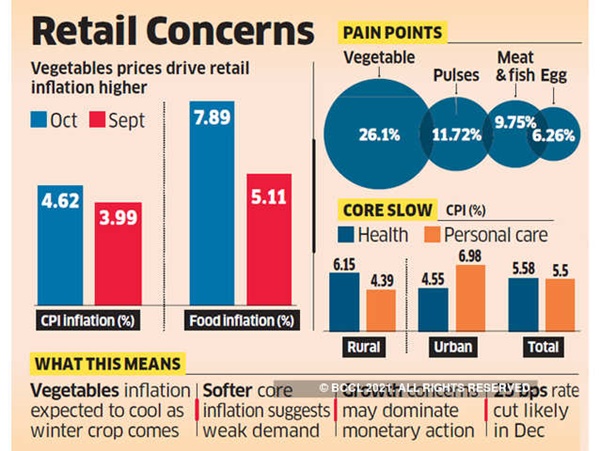 Summery:
• The reaching of 1 million COVID-19 vaccination doses in the country and the accelerated commitment of our health care system bodes well for the national economy.
• Manufacturing and industrial output is near normal. The economic recovery is led by large business houses such as Reliance Industries, PSBs such as State bank of India and private banks such as ICICI Bank.
• The realty, IT and commodity sectors have made handsome gains in the latest quarter for which results are coming in during October 2021.
• The WFH culture which businesses adopted as a stop-gap arrangement will soon end. Businesses are increasingly leasing office spaces in main cities to house the employees.
• The tourism, hospitality and aviation sectors are showing green shoots but are too deep in the red as the COVID-19 restrictions on travel remain. If the feared third wave does not materialize, with increased vaccination rate, it is hoped that these sectors will soon emerge from the red.
• The privatization of Air India with the government disinvesting its entire stake is welcomed by both industry and general public. The expected streamlining is completed with customer-centric approach, the domestic tourism boom is most likely.
• More and more countries are lifting travel restrictions to India. The international passenger traffic is likely to rise sooner than later.
• The stock markets are booming. The BSE Sensex reached an all-time high. Record amounts are raised through the IPO route, especially by food delivery and digital payments businesses. This trend will only continue during 2022.
• The inflation, especially the rise of food and fuel prices, is a worry. But, with the good monsoon, and with supportive RBI policy, the inflation is predicted to be below the target of 6%.