Does Karnataka need a population control policy?
By Philip Mudartha

Bellevision Media Network


19 Jul 2021: National General Secretary of BJP and Chikmagaluru MLA, CT Ravi recently called for a population control policy in Karnataka on the lines of two other states ruled by his party, Assam and Uttar Pradesh. "It is high time Karnataka brought in a new population policy on the lines of Assam and Uttar Pradesh to control its growing population. With the limited natural resources available, it will be difficult to meet the needs of every citizen if there is a population explosion," Ravi tweeted.


CT Ravi, second from the right with Modi and other senior BJP leaders
The Assam CM, a former prominent Congress leader, has said that the proposal is partly to control the population growth of the state's Bengali-speaking Bangladeshi Muslims. After the recent assembly elections, he was rewarded with the CM chair, despite not having RSS background. The enactment of state population control policy is an attempt to prove his Hindutva credentials.
In his interview to The New Indian Express he is candid about his intentions. He said: "Assam has another unique problem. We have been able to manage our annual population growth somewhere around 1.6% but if you go beyond statistics, you will realize that the Muslim population is growing almost at 29%. The last two censuses showed that the growth is 29% whereas the Hindus are growing just at 10%. This means poverty, illiteracy will increase among Muslims. So, we need to bring certain measures whereby the growth of the population can be slowed down".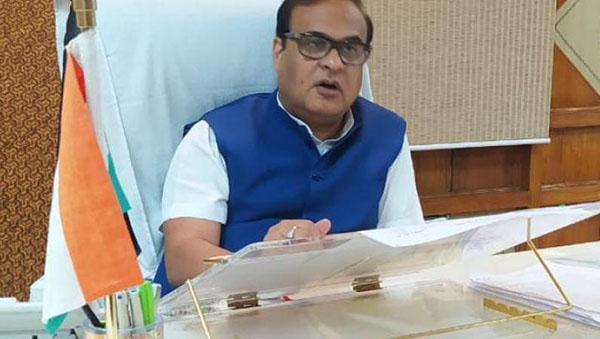 Himanta Biswa Sarma, the Assam CM
The UP assembly elections are due by February 2022. The incumbent CM, Yogi Adityanath, has no serious rival within BJP to challenge him. There is no unity among the opposition parties in the state. Yogi is expected to secure a second term. Therefore, there is no urgency to enact the state population control policy. However, he wants to expand his core Hindutva voter base, because the proposed legislation is perceived as anti-Muslim.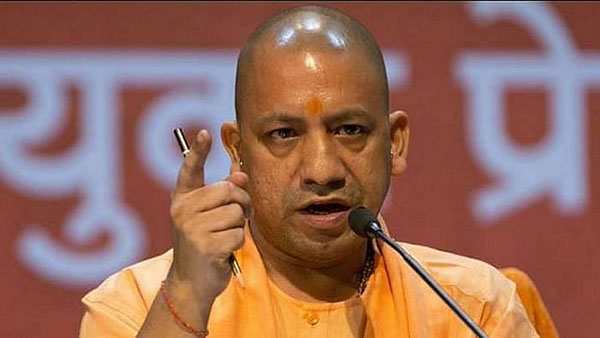 Yogi Adityanath, UP CM
Adityanath tweeted, "Increasing population is the root of major problems including inequality prevailing in the society. Population control is the primary condition for the establishment of an advanced society. Let us, on this 'World Population Day', take a pledge to make ourselves and the society aware of the problems arising from the increasing population."
The draft of the Uttar Pradesh Population (Control, Stabilization and Welfare) Bill, 2021, which is available on the UP government's website, has promotions to incentivize families that choose to limit their children to two. This includes suggesting tax rebates for families with two or less children.
While there are incentives for those with two or lesser kids, there are disincentives for those with more. If you have more than two kids you will be debarred from applying for government jobs, receiving subsidies or contesting local body polls. If you are already a government employee, the implementation of this policy would mean that you will be barred from getting promotions.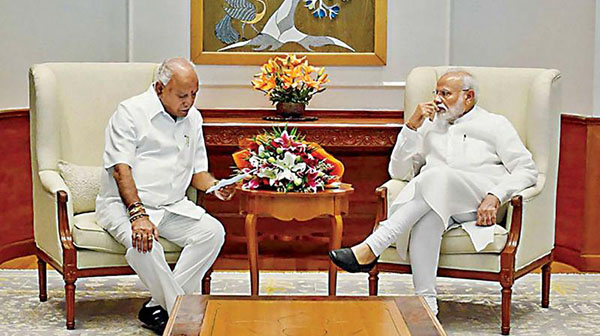 Karnataka CM Yediyurappa with PM Modi
In Karnataka, the 78-year old Yediyurappa is an exception to his party's 75 year age rule that bars leaders from holding office. He is incumbent CM since the collapse of Congress-JDS government in July 2019. Though there are murmurs of dissent against him, he too does not face credible challenge to his leadership. Therefore, for him too there is no urgency to enact such a law. Firebrands like Ravi want to appease their core Hindutva voter base in the saffron parivar. They interpret PM Modi's agenda in very hawkish terms.
In his Independence Day speech in 2019, Prime Minister Narendra Modi had said: We need to worry about the "population explosion" as it was detrimental to "development." He had referred to those with small families as "responsible citizens," thus deeming all others irresponsible.
With his remarks, Modi opened the floodgates. Yogi in UP and Sarma in Assam are only emulating their 'supreme leader'.
What does the official population surveys say?
India does not have a contemporary 'population explosion' problem. Instead, the trend is in the opposite direction. According to the 2018-2019 Economic Survey, Indian women had a total fertility rate (TFR) of 2.2 in 2017, close to the replacement level fertility of 2.1. The replacement rate is the birth rate at which a population exactly replaces itself in one generation. The survey estimated the TFR in 2021 would be 1.8, less than the desired rate.


The change of TFR in India since 1990
According to the Fifth National Family Health Survey (NFHS-5), India's TFR in 2020 was 2.2. However, there was great disparity between north Indian states and south Indian states. This survey estimated Karnataka's TFR in 2020 at 1.7, less than the replacement level fertility of 2.1. Hence, the state's population will dwindle, leading to net inbound migration from other states having surplus populations such as UP, Bihar, Assam and some north Indian states.
According to the Niti Ayog, as of 2016, states like Uttar Pradesh (3.1), Bihar (3.3), Chhattisgarh (2.5) and Madhya Pradesh (2.8) had a TFR higher than the national average while southern states like Andhra Pradesh (1.7), Karnataka (1.8), Kerala (1.8), Telangana (1.7) and Tamil Nadu (1.6) had a TFR lower than the national average. Hence, the 'local' populations in southern states have stabilized. These states are hosting significant numbers of 'migrants' for several years now.
What do experts say?
Demographic experts feel that population control policy measures proposed by Assam and UP are coercive in nature and shift the focus away from the real issues on hand.
The executive director of the Population Foundation of India, Poonam Muttreja, describes the policy proposals as a "disaster". She holds that no state needs such a policy. According to her, if Karnataka implements a 'coercive' policy, then the government will soon have to start offering incentives to people to populate. The alternate policy option for future state governments would be to prefer 'migrants' from north and north-east Indian states.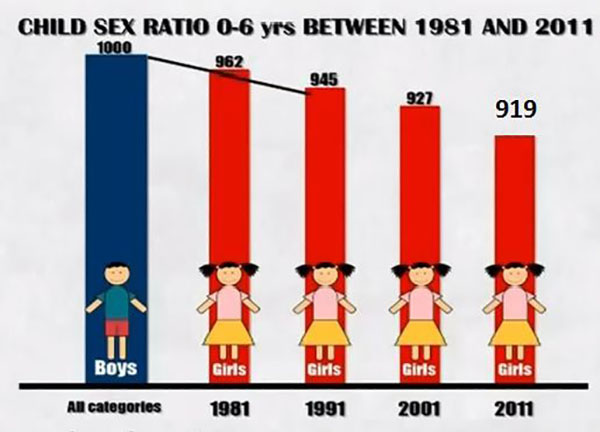 The child sex ratio has declined to 919 girls per 1000 boys
Dr Rathnamala Desai, national president of Family Planning Association of India (FPAI), Professor of Obstetrics & Gynecology and Principal, SDM College of Medical Sciences, Dharwad, says: "The state cannot take away reproductive rights of individuals in a democratic country. Coercion, compulsion and disincentives will not affect the population dynamics". According to her, such a policy would lead to increased illegal practice of sex-selection and unsafe abortions.
The child sex ratio is already skewed at 919 girls to 1000 boys according to 2011 census. The 2021 census data will no doubt show this gap increasing. Any coercive two child policy will further negatively impact on this vital demographic ratio.
A diversionary tactic from real issues:
Sociologist and Anthropologist at Azim Premji University, Professor Amman Madan, says: "The real issue is lack of development. We have more than 150 years of data to show that when development goes up, the rate of having children comes down automatically. The high rate of children is basically for the very poor and, as they go into the middle class, the TFR goes down. In reality, the policy cannot be implemented and will not be productive."
Right now, we have so many other important issues to focus. We need strategies and research to mitigate the pandemic, vaccine production, distribution strategies, ramp up our healthcare delivery systems, etc. The economy has crashed. Fuel prices are record high. Inflation, particularly of edible oils, pulses and other basic food items is beyond the RBI target of 6% max. With so many issues on hand, this talk of population control policy is absolutely unnecessary.
Employment Generation Needed, Not Population Control:
India is a young nation. The 'potential demographic dividend' has to be harnessed for our progress. We need to invest massively in education and health that will educate our workers, impart useful skills and make them healthy. We need to focus on policies and build institutions that will provide stable and well-paying jobs.
The AAP government of NCT- Delhi has invested heavily in education and public health at primary level. Yet, the short-comings of the healthcare system in Delhi were demonstrated during the second wave of the Corona pandemic. This proves that greater investment in public sector managed education and health is needed. Scientific analysis of census data has also shown that there is unmet demand for the access to family planning and birth control facilities. To meet this demand, especially in the rural areas and among the lesser educated, poor and marginalized sections of the population is the responsibility of the governments in both New Delhi and state capitals.
Data is sacrosanct. It is truth and truth has no wings, left or right.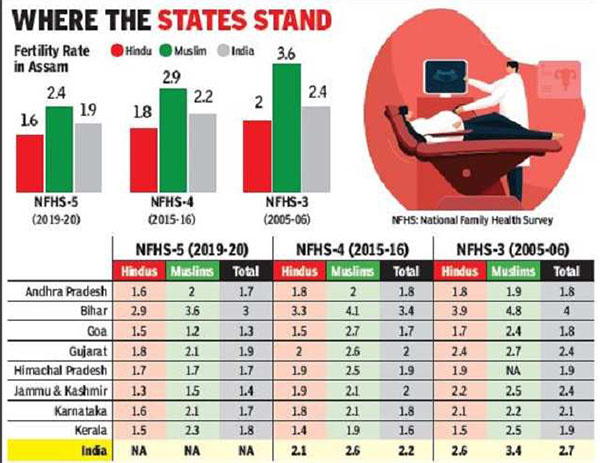 The TFR comparison over 3 surveys both state-wise and religion-wise
Findings:
1. Between NHFS-4 and NHFS-3, the TFR for Hindu women recorded decline of 0.5 (19.2%) whereas TFR for Muslim women declined by 0.8 (23.5%).
2. Even in Assam, the TFR for Hindu women declined by 0.4 (20%) while for Muslim women it declined by 1.2 (33.3%) during 14 years period between survey #3 and #5. This data defeats a) the perception that large scale Banglad3shi Muslims are infiltrating into Assam and b) that the Bengali speaking Muslims are "causing the population explosion".
3. In Karnataka, the TFR for Muslim women has been around 2.1, the desired replacement level fertility since 2005.
The RSS views on population growth and explosion!
Dattatreya Hosabale, the RSS Sarakaryavaha (General Secretary), had advocates that Hindus should start having more children to prevent a demographic imbalance. "Bigger Hindu families would prevent minorities from gaining the upper hand in terms of population in certain parts of the country…elite Hindus should seriously review family planning".
It cannot be argued that his views are 'fringe ideological position'.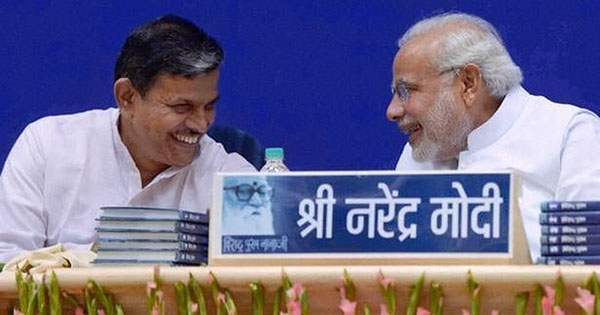 Dattatreya Hosabale, the "Modi loyalist" from Karnataka is RSS deputy chief!
It will not be wrong to suggest that the entire core voter base of Modi and his brand of Hindutva are convinced that the Hindus will be a minority in 'their own' country. They view the minorities, especially the Muslims, as 'unpatriotic' who 'breed like pigs'.
How true in this allegation?
How does the TFR compare in the state of Karnataka? The latest NHFS-5 survey conducted in early 2020 pegs TFR at 1.62 for Hindu women, 2.05 for Muslim women, 1.45 for Christian women and 2.26 for others. The survey data also shows that higher the educational status of women, lower is the TFR.
The overall findings of NHFS-5 are 1) education is a primary factor, 2) girl's age at marriage is a key factor, 3) income level of the household has high bearing and 4) location of residence (rural or urban) has significant influence.
The right take-away from the survey is that Muslims and SC/ST communities should have access to free education up to 12th grade under its 'secular' syllabus.
Hum do, hamare do: should the Udupi district adopt the two child policy?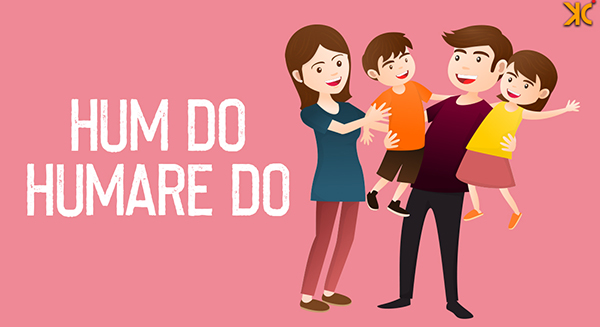 The catchy family planning slogan was coined by former PM late Indira Gandhi
Discussion:
1. As per 2011 census, our Udupi District had population of 1,177,361.
2. The Aadhar registration as on February 2019 is 1,266,957. It is estimated that the district population will be 1, 341,250 in 2021. That will be 163, 889. (13.92% over 10 years, decadal growth) additional head-counts.
3. The actual decadal growth rates were 7.14% and 5.85% during 2001 and 2011 census periods. The reason for the estimated increase to 13.92% is unlikely due to an increase in the TFR of Udupi women. Rather, it suggests that there is significant increase in net inward migration into the district (students and migrant labor).
4. The 0-6 yr aged child population decreased from 114, 561 (10.3%) to 103, 160 (8.76%) during 2001 and 2011 census periods. The primary schools in the district are witnessing a drop in enrolment into Class 1. Further, the anecdotal reports are that the enrolment in Kannada medium primary schools is mainly from migrant households.
5. The districts share in the Karnataka population has declined to 1.93% in 2011 from 2.1% in 2001. If the TFR of Karnataka woman was below 2.1 since 2005, presumably the TFR of Udupi woman has been lower. Because, the women literacy in Udupi district is about 10% higher than the state average.
Epilogue:
Coercive policies and fertility-decline disincentives have failed in India and around the world. Once fertility decline is underway, it's hard to flip it back. Europe's population is graying continuously. They have put in place pro-population-growth measures, such as incentives to have children but these measures are not working.
A decade ago, I toured extensively in rural Spain. Their vineyards were manned by East Europeans. The ratio of native school children to the total enrolment was about 10%, remaining school-children were born outside Spain. It is reported that the TFR of Spanish woman is below 1.25 and therefore the Spaniard population dwindled by 1.13% in 2020. Such de-growth presents both cultural and political problems to communities and governments.
I toured a bit in Australia before the pandemic broke out last year. Australia depends on "guest farm workers" from Europe and Latin America as it faces acute shortage of farm labor. Without them, the agrarian economy would break down. This is also attributed to TFR of Australian women around 1.7, which is where I presume Udupi TFR is. I am sure Udupi district is facing similar shortages for unskilled and manual work on farms and domestic help.
China had a one-child policy for decades and is now scared to see its population ageing. China is angry and frightened as it confronts the consequences of its one-child policy. China recently announced that it will allow couples to have up to three children, after census data showed a steep decline in birth rates.
Since China scrapped its one-child policy in 2016 and replaced it with a two-child limit, there has not been any upsurge in births. The cost of raising children in cities has deterred many Chinese couples. How to convince their women, who do not want kids, to have babies? How to convince single men from marrying and starting a family, instead of 'cohabiting'? These are the problems which the Chinese are seeking answers to.
What China faces today is exactly what Udupi also faces. Karnataka will face is soon. The day of reckoning for India will be probably a decade or two from now!