The Legacy of Sonia Gandhi: a champion of India's poor
By Philip Mudartha

Bellevision Media Network


Introduction:
Sonia Gandhi may have been pushed to the periphery of our current national political discourse but the corona pandemic and its devastating consequences on the lives of poor, if not the poorest of the poor as well as destitute motivated me to write this exclusive feature here, for our favorite website.
Sonia Gandhi does not need an introduction. So too, her transformation from a young grieving widow to the centre-stage of our national politics. However, a briefing on her core beliefs and values will not hurt.
Born in a small village in Italy, she was raised as a Roman Catholic. While it is not known if she remained a practicing Catholic lady upon her marriage to Rajiv Gandhi, she has unwaveringly abided by the Christian values of service to the poor and the marginalized.
In addition, she has blended admirably with our traditional, multi-cultural, multi-religious, multi-ethnic beliefs and value systems of tolerance and peaceful co-existence.
To look for proof, one only needs to understand the politics of UPA when it governed us between May 2004 to May 2014. After all, she crafted the UPA consisting of left-of-center political parties. As its Chairperson, she helped to formulate its pro-poor policies.
After she took over the reins of the Congress Party, the neo-liberals (who advocated free market as the panacea for all our ills) retreated. The left parties led by CPM and CPI broke bread with her. Other regional parties with secular and socialist moorings also endorsed her leadership. She preferred to guide the ruling alliance and her selected PM without joining the government.
Her mother-in-law, husband and the last Congress PM (PV Narasimha Rao) had held both the offices of PM and Party President. But, she separated party and government leadership, as it was the case from Independence till 1980. The PM could devote all his energies on governance without the hassles of political management of party and the coalition.
As UPA Chairperson, she invited eminent social liberals, grass root social scientists and left-leaning intellectuals to join her National Advisory Council (NAC) to render advice with the objective of ensuring social justice through equitable distribution of wealth with the sole purpose of elimination of starvation and poverty alleviation.
She championed a range of social and economic rights such as the rural job scheme and food for all. Not to mention, Right To Education (RTE), Right To Information (RTI) and other fundamental rights.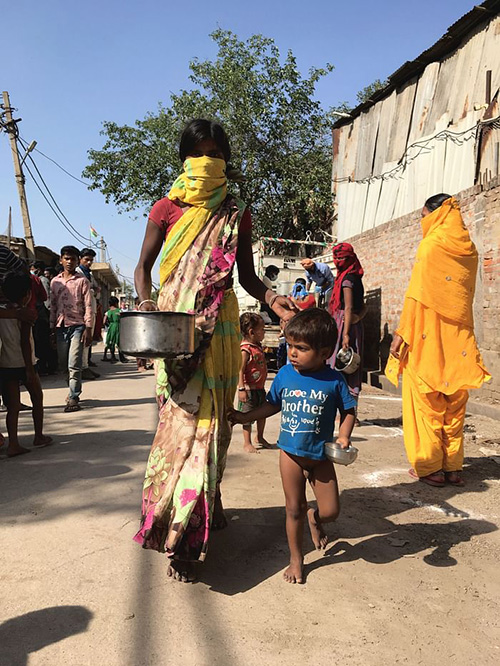 Hunger WILL kill them before Corona. They have a right to eat.
Capitalism with a human face:
Let us take a second look at the picture above, and my apt description. Let us bring to our mind two government pronouncements:
1) On February 28, 1991, Man Mohan Singh as finance minister made a historic address to Parliament, heralding our great leap into neo-liberal reforms. Socialism was jettisoned in favor of Capitalism. The economic liberalization or globalization as the market reforms came to be known transformed it fundamentally by displacing the state from the commanding heights of the economy and replacing it with large global private business.
2) On 23rd February 2021, PM Narendra Modi made a strong case for privatization of Public Sector Units (PSU) that he said burdened the taxpayer, and stressed that the government has "no business to be in business". Further, he told the Lok Sabha, that "wealth creators are also important for the nation".
These pronouncements made thirty years apart, and by leaders of opposing parties demonstrate that the consensus around the fundamentals of this new business-led economic policy has sustained with successive changes of government in the 30 years that have followed.
It is only Sonia Gandhi who tried to temper hard market fundamentalism with some compassion and equity. This is her most valuable and least acknowledged contribution to our public life. Despised for being a foreigner, she was more Indian than most of us, as she stood her ground with courage and conviction as she championed the social and economic rights of those I have pictured above. Her opponents may have labeled her as a Neo-commie or an urban Naxal or worse but she knew it is universal humanism which she was practicing.
UPA's signature programme, Mahatma Gandhi National Rural Employment Guarantee Act, (MGNREGA) assured by law 100 days of work to every rural family that demands employment, within 15 days of their demand and within 5 km of where they live. Instead of a dole, it pledged the dignity of productive work that would build rural infrastructure.
PM Narendra Modi famously scoffed at MGNREGA on the floor of Parliament in 2015: He caricaturing it as a programme of digging ditches. He should have known better, especially because he claims to be a tea-seller of humble roots. Obviously, he had little empathy with the unemployed rural folks and the daily migrant laborers in our cities and towns.
This program alone has held back several millions of the poor eking out a hand-to-mouth existence in their villages instead of joining the millions of migrant laborers. Like Modi, we too pretended that this destitute humanity did not exist until the corona pandemic hit us and Modi ordered the 'strictest national lock-down in the world" with a four-hour notice which forced them to literally starve and walk hundreds of miles to their native villages.

Staving off hunger and distress migration in the countryside, especially of women.
The 2009 Right to Education Act guaranteed a public school:
It took us 62 years to throw up a supreme political leader with her heart in the right place. The 2009 Right to Education Act guaranteed a public school with qualified staff and adequate infrastructure in the neighborhood of every child in the country. Such a school would charge no fee and left no child behind. Sonia expended considerable political capital in having this law enacted. However, the lobby for which education is a growing profitable business has been successful in preventing implementation of the law in letter and true spirit.
Among all state governments, it is only the AAP government in NCT-Delhi which came to power in 2015 that has set 25% of its annual budget for education. Even Congress-ruled states have dragged their feet.
The enrolment in government schools and government-aided private schools has fallen phenomenally in richer neighborhoods, like our own Belle in Udupi district. However, children from poorer households also have a right to education and therefore the state should not be allowed to fail.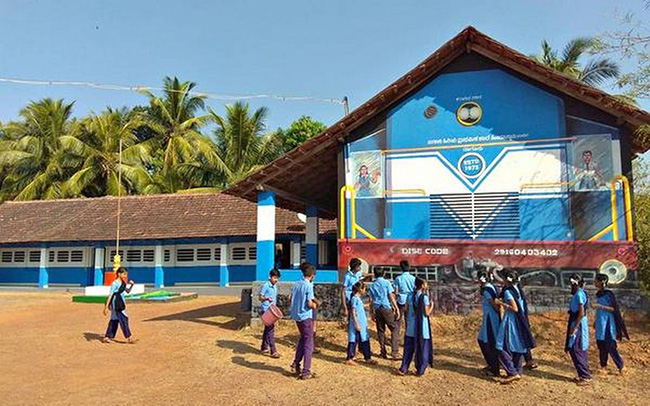 A free government school in Udupi district.
The National Food Security Act guaranteed Right to Eat:
Sonia Gandhi was passionate about enacting a law to guarantee two square meals a day to every citizen who asked for it. When UPA returned to power with greater mandate in 2009 on the basis of the government's pro—poor welfare state policies, she spelt out her priorities: "Food for all." The law was ultimately passed in 2013 which is the largest social security programme backed by law in the world. It guarantees half the calorie requirements of 800 million people every month almost for free, school meals for roughly 120 million children in public elementary schools, pre-school feeding for another 120 million children, and one meal and universal maternity benefits for all pregnant and lactating mothers.
Like the Right to Education law, this law too has been stymied by low budgetary allocations, wavering political commitment and ineffective half-hearted implementation. Yet, it remains a lifeline for millions of our people who still sleep hungry.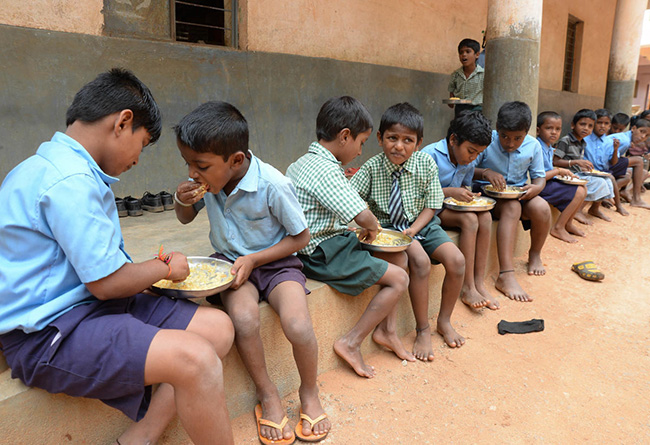 Free mid-day meals in Udupi district public schools
Right to information Act to guarantee accountability:
Her crowning glory is the Right To Information Act. It has proved to be among the most significant official measures to reform governance and deepen democracy in the country since Independence. It empowers citizens to seek answers from the government. This is the best tool in the hands of citizens to evaluate the integrity and fairness of its decisions. This Act has certainly deepened democracy in our young nation.
Elected people's representatives, ministers, government officials of all branches of governance, and even petty public servants in PSUs behave as if they are masters and not public servants. How can a master be answerable to anyone but himself?
This Act was passed in 2005, largely because of Sonia's perseverance and the overt support to her ideas by the left parties. By far, the left parties are the least corrupt and have nothing much to hide from their voters. I can imagine the extent of resistance she must have encountered within her own party, not to mention from then main national opposition and current ruling party, the BJP. Among the priority laws to amend when BJP came to power was the RTI Act, making it opaque and non-transparent.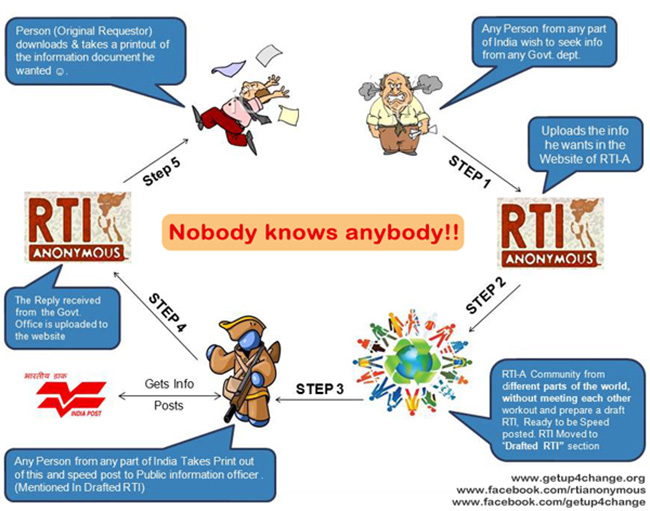 Battle without Arm, Government is under peoples' watch
Besides the above stated laws, she worked tirelessly to enact laws to end manual scavenging, which has been Mahatma Gandhi's dream. The practice of disposing human excreta by hand is a disgrace on our nation. With her support, laws to accord land rights in forest areas to tribal cultivators, to punish child sexual abuse, to ensure a more just deal to people whose lands are forcefully acquired by the state were enacted. She strived to, protected the rights and security of street vendors, and secured some social security for unorganized workers. She is truly a committed social democrat in the best sense of the phrase.
Please research and read for yourselves about the Forest Rights Act, the amended Land Acquisition Act, Domestic Violence Act, Street Vendors Act, Social Security Act, the amended SC/ST Atrocities Act These were all fruits of her vision for an equitable, just and fair India.
Her work-in-progress as UPA demitted office:
Her draft to strengthen the Scheduled Castes and Scheduled Tribes (Prevention of Atrocities) Act with a series of far-reaching amendments was accepted in its totality by UPA-2 but remained a work-in-progress. The bill was passed by Parliament after UPA demitted office.
Harsh Mander, author, columnist, researcher, teacher, and social activist who works with survivors of mass violence and hunger, as well as homeless persons and street children is the Director of the Centre for Equity Studies. He also served as Special Commissioner to the Supreme Court of India in the Right to Food Campaign. As a member of the NAC from 2010-2012, he observed Sonia Gandhi, the NAC chairperson, at close quarters. He observes: She presided over the debates with insight, intelligence, grace, patience, occasional humor and always a robust social democratic perspective.
She had greater success during UPA-1 because she found strong political ally in the Left. During UPA-2, she was more politically isolated for her social democratic convictions, even within her own party.
1. Many of the bills (drafted by NAC) which she forwarded to the Union government were watered down by the cabinet, all of which she accepted with grace.
2. One draft law that was never even introduced in Parliament was of the Communal and Targeted Violence Bill. It sought to punish public officials who failed to prevent and control communal violence, with a new crime of dereliction of duty. Few even in her own party supported it, believing that it was pro-minority and, therefore, politically perilous.
If this law had been passed, it would have helped prevent the rise of hate crimes since 2014. The police and the administration openly side with the attackers and persecute the victims with impunity.
Aruna Roy, political and social activist who co-founded the Workers and Peasants Strength Union (MKSS) is known for her clear and vocal stand on the Right to Dissent. Known for her work for the vulnerable sections of society, she was also a member of the NAC. She observes:
1. Sonia Gandhi's concern for the poor and the marginalized strikes me as the first thing about her. Her concern is not artificial or superficial and this has led her to take many risks in her political career. She has always stood firmly for justice.
2. Her second wonderful quality is that she listens to criticism. She believes in the freedom of expression. This reflects her democratic personality. She is constantly willing to learn and works towards involving more and more people. One thing is worth mentioning: she treats all people equally, does not discriminate. She is an extremely warm personality. Thus, her personality leaves a distinct imprint on one's mind.
"I feel it requires immense strength of purpose and conviction to push social sector issues and the real concerns of the marginalized into the mainstream of India's decision-making platforms, and Sonia Gandhi stood the test" concludes Aruna Roy.
Dr. Jean Drèze, a Belgian-born Indian Citizen, economist, social scientist and activist has worked on several developmental issues facing India like hunger, famine, gender inequality etc. His co-authors include Nobel laureate in economics Amartya Sen, with whom he has written on famine, Nicholas Stern, with whom he has written on policy reform when market prices are distorted, and Nobel laureate in economics Angus Deaton.. He was a member of the NAC for a year each during UPA-1 and UPA-2.
Dr. Drèze was instrumental in the formulation of both the MGNREGA scheme and the path-breaking RTI Act.
1. He left NAC during UPA-1 because he felt it was not radical enough.
2. He lobbied hard within NAC to reform PDS system, (the APL and BPL cards etc.). According to him, "Non-PDS entitlements have been diluted beyond recognition. Entire fields of intervention that are crucial for food security -[such as child development services and old age pensions - have been left out of the final proposals" he pointed out.
The criticism from Dr. Drèze is proof, if any was needed, that Sonia performed a balancing act between the radicals within the NAC and her conservative party colleagues and both within her own party and the assertive neo-liberals propped up by big corporate houses.
All said and done, she was one of her kind; a true champion of the poorest of the poor, destitute and marginalized. Below, I post some images of our country under near-lockdown conditions: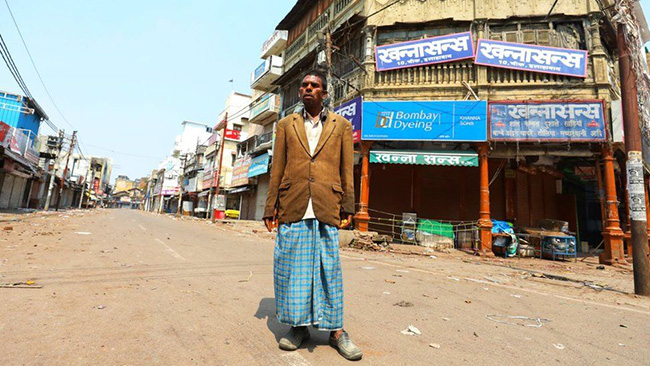 A street in Allahabad, U.P; Contrast this with Central Vista in Delhi which is Essential Activity for Modi Government where a new palatial compound to serve as PM's residence cum office is being built.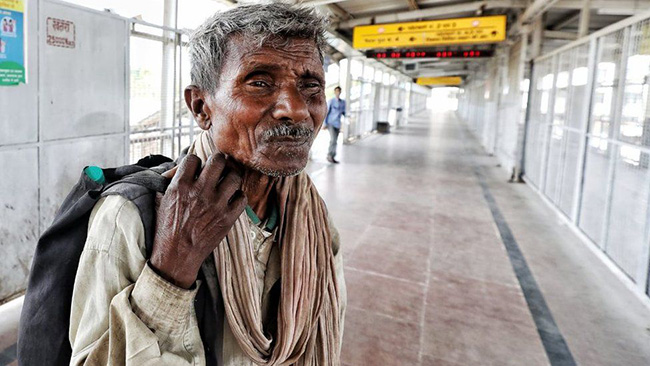 A cobbler at Allahabad Railway Station' Contrast him with the new emerging inspirational class busy on Twitter, Instagram, Facebook, and other social mediums for whom Modi is the messiah.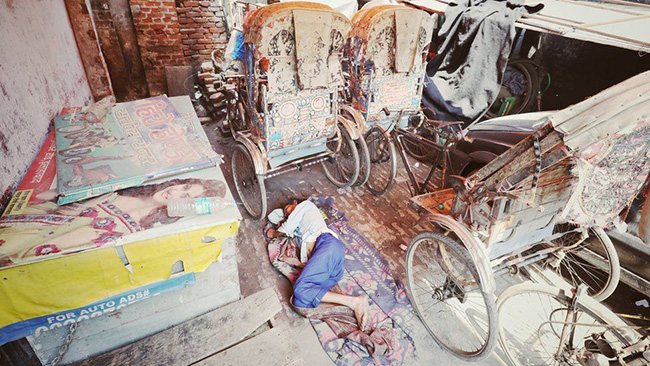 Contrast the above shop cum residence of a migrant in Mumbai with Antilla, the iconic 29-story residence of our richest man, Mukesh Ambani, the darling of neo-liberals.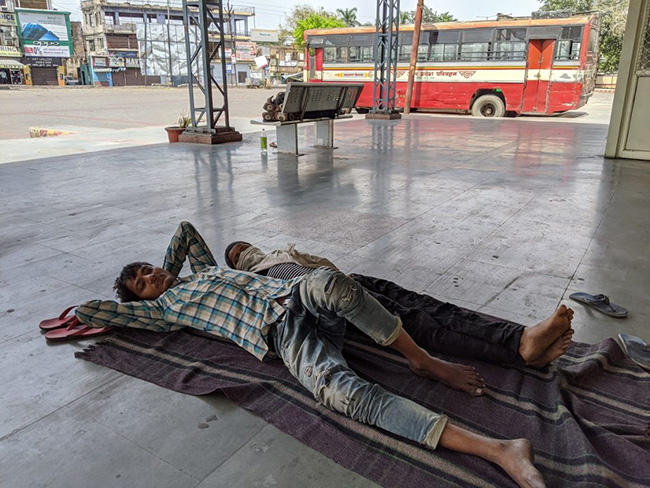 "Modi should have given us at least a day to go back home. He has no idea how poor people have to suffer," said Vishnu, 16 year-old migrant laborer hailing from Varanasi, PM's LS constituency, working in Delhi. "We have nothing to eat and no money".
Closure:
I am left wondering if the poorest of the poor, the powerless citizens fighting the might of the state machinery for fairness and justice who were the beneficiaries of social reforms that she pushed through legislation deserted her when she needed them the most.
Or the establishment backed by the elite powers-be executed a well-funded coup against the champions of the poor and marginalized.
She will continue to find a place in history for trying to kindle hope among hopelessness in our country.