Fuel on Fire: Modi doesn't care!
By Philip Mudartha

Bellevision Media Network


Petroleum Fuel prices in India are hitting fresh highs on a daily basis. PM Modi is blaming "previous" governments for our imported oil dependence but doesn't seem to care for facts available in the public domain. To unmask his false his narrative, here is official data on the cost factors making up the pump price of petrol: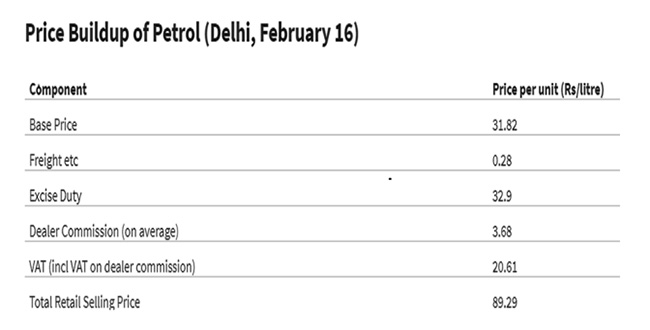 On 16th Feb in Delhi, of Rs 1,000 spent to buy petrol,
1. Rs 368.46 (36.85%) goes to the central government.
2. Rs 230.82 (23.08%) goes to the Delhi NCT government.
3. Rs 41.21 (4.12%) is earned by pump as commission.
4. The Oil Marketing Companies (OMCs like HPCL, BPCL, and Indian Oil etc) receive Rs 356.37 (35.64%). The OMCs buy Indian Crude Oil Basket (ICOB) at spot prices, bear the refining costs and charge the Gross Refining Margins (GRMs).
5. The estimated ICOB cost component is Rs 308.50, (at US$60/bbl and Rs 72.5/US$) and GRM is Rs 26.88. Thus, the cost of imported crude is only 30.85% of the retail petrol price.
6. The OMCs earn Rs 21.00 (2.1%) in marketing and distribution. The Central Public Sector Enterprises (CPSEs) among them paid Rs 19,000 crore in dividends to the central government during the current financial year.
7. Therefore, the high petroleum fuel prices are due to the Acts of Governments, both central and state. And not because crude oil prices are high in international markets. And certainly not because of our dependence on imported crude oil.
It's all because of Modi's policies:
The table below compares the cost factors making up retail selling price of Petrol on 13th May 2014 and on 16th February 2021. The prices on 13th May 2014 are what he inherited from UPA-2 government of former PM Man Mohan Singh.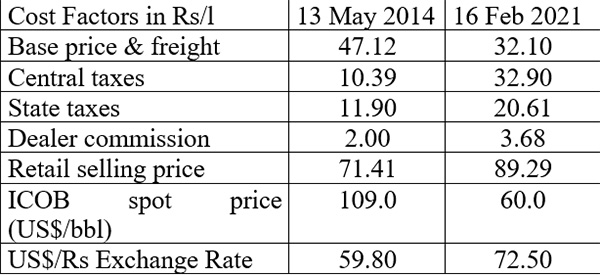 On 13th May 2014 in Delhi, of Rs 1,000 spent to buy petrol,
1. Rs 145.50 (14.55%) went to the central government. Modi, CM of Gujarat during the ten years of UPA government at the center, was the outspoken critic. On 23rd May 2012 he had tweeted: "Massive hike in #petrol prices is failure of Congress-led UPA. This will put a burden of hundreds of crores on Guj."
2. Modi has been a turn-coat PM for almost seven years. His 'massive hike' in central taxes (+253.3%) has put a 'burden of thousands of crores' on the country.
3. The state governments have followed Modi's example. They raised state taxes from Rs 166.64 (16.66%) to Rs 230.82 (23.08%), by a smaller rate (+138.5%).
4. The OMCs received Rs 659.85 owing to higher ICOB price of Rs 6518/bbl (US$109/bbl & Rs 59.8/US$).
5. The crude oil prices have dropped by 82% in US$ terms. However, under Modi's watch, the Indian Rupee has depreciated to Rs 72.50 from Rs 59.80, 21.2% depreciation. Hence, in Rupee terms, the ICOB price decreased from to Rs 4350/bbl. This is 33.3% reduction, which Modi could have passed on to the consumers if he did not raise taxes.
6. If the lower crude oil price was passed on to Indian consumer, the petrol price should be Rs 47.63/l.
7. Therefore, the real cause of fuel on fire is polices of BJP-led Modi government.
Modi to Salman Khan: Their 'Old Tweets':
1. BJP LEADER and Spokesperson Dr. Sambit Patra coined an interesting acronym for GDP. Former FM "Chidambaram insists GDP would grow in future, but that GDP would mean Gas, Diesel & Petrol", he sneered in 2012 attacking UPA government.
2. Union minister Smriti Irani tweeted on Nov 3, 2011: Petrol price hiked yet again. Aam Aadmi ki UPA sarkar now only works for khaas tel companies. Obviously, her hint was the UPA worked for Mukesh Ambani's Reliance Industries which owns facilities of Oil & Gas production, crude oil imports, and refining and distributing petroleum products.
3. BJP's Muslim face Syed Shanawaz Hussein tweeted on June 15, 2013: Another Petrol Price Hike! Congress is being totally insensitive towards the Public.
4. Bollywood celebrity Salman Khan shared a 'toolkit' to make gobar gas: don't worry abt petrol, sending u a pic of gobar all u hv to do vit it is make gas. N v hv gobargas.
5. Big B. Amitabh Bachchan concocted a poor joke by his tweet T-753 of 24 May 2012 : Petrol up Rs 7.5 : Pump attendant - 'Kitne ka daloon ?' ! Mumbaikar - '2-4 rupye ka car ke upar spray kar de bhai, jalana hai !!' Funny indeed, coming from a man who owns dozens of petrol guzzling cars - very expensive luxury foreign brands - many customised for his fancies.
6. Desi Actor & Model Akshay Kumar, an Canadian by his choice, feigned helplessness in his tweet of May 16, 2011: Couldn't even get to my house at nite for all of Mumbai was queuing up for #petrol before the prices rocketed again. In his tweet on 27 Feb 2012, he called out: Guys, I think it's time to clean up your bicycles and hit the road! As per sources, expecting another petrol price hike.
7. The hypocrites who are either blind Modi Bhakta or are shit scared of him (IT raids, NIA drug investigaions etc) are silent now when petrol prices are nearing Rs 100 in Mumbai and have crossed Rs 100 in some states.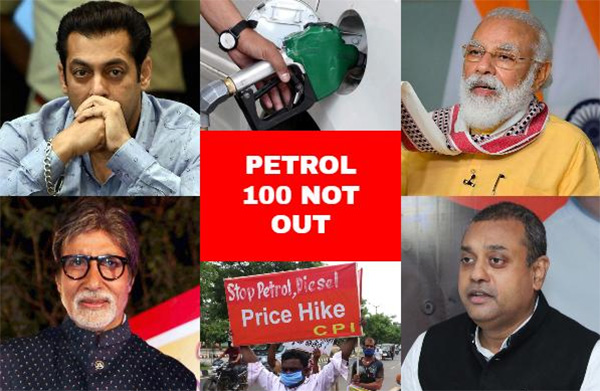 Are higher taxes good or bad?
1. The cynical answer is that they are good for politicians while they are in government and bad while in opposition.
2. In similar vein, celebrities, right-wing pro-Modi opinion-makers heap praise on Modi for his 'long-term vision' of freeing India of dependence on imported crude oil by inflicting 'pain' on middle class citizens who 'silently suffer' spell-bound they are by Modi's magic charisma. Their KING can do no wrong!
3. The poor, common man, the 'Aam Aadmi' will have to suffer the double whammy of "high" fuel prices (mainly cooking gas) and low household incomes (due to job losses, shuttered small businesses and pitifully low interest the banks give on their savings. They have to wait till May 2024, anyway, when the next election is due for Modi to seek their blessings.
4. Keeping sarcasm aside and approach the question with rational thoughts, actually there are two schools of thought.
5. First school of thought: considers higher tax on petroleum products is good for the environment and does not really affect the poorest but hurt the middle class. This thought guides policy on petroleum fuels pricing in developed countries like Australia, Scandinavian countries like Norway, Sweden and Finland, others like Greece and Brazil. The calculated national average regular grade petrol price on 16th Feb 2021 in Australia is Rs 54.50/l (price AUD 0.95/l & exchange rate Rs 57.33 /AUD). More on this later, Note 1.
6. Second school of thought: points to the inflationary consequences of high petroleum fuel prices which impact agriculture, manufacturing and travel & freight costs. Thus, high fuel prices are indirect tax burden on the poorest also, and not only on the middle class. This thought guides policy in market-friendly economies like that of USA. The calculated national average regular grade petrol (for comparison with most popular Indian grade) is Rs 47.40/l (price USD 0.65/l * Exchange rate Rs 72.50/USD). More on this later. Note 2.
The usual 'feku' Modi and his blame games:
Even as 'Teflon Modi' doesn't really care about the 'protests' by opposition parties mainly the Congress, the 'liberal left-wing opinion-makers and the social media rants by anti-Modi citizens, the petrol price rise has dented his image as a 'populist' leader. His reaction is typical of him: offense is the best defense! He directly has taken on his critics using the much used and efficacious method of blaming previous governments.
"Can we be so import dependent? I don't want to criticize anyone but I want to say (that) had we focused on this subject earlier, our middle-class would not have been burdened," he said at a function to inaugurate Oil & Gas projects in poll-bound Tamil Nadu.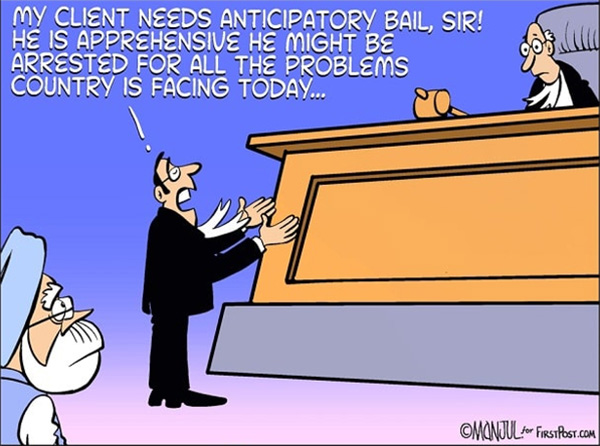 He has shifted the towards using renewable sources of energy, which will by 2030 form 40% of energy generated in the country, according to his numbers. This is another story, for a later occasion.
Taking his lead, BJP politicians and core supporters of Modi, mainly Hindus, -on account of his aggressive Hindutva agenda- praised Modi for his 'vision' to free our country from the price hegemony of crude oil producing & exporting Muslim countries.
Note 1, the higher taxes are Good:
1. All retail fuel prices in Australia include GST at the rate of 10%.
Australian Government levies Excise on fuel and petroleum products indexed twice a year to the Consumer Price Index (CPI) since 1 July 2015.
For unleaded petrol (regular, premium grade and E-10) and diesel the retail price includes Australian Government fuel excise which is at AUD 0.427/l in Feb 2021. Without this levy, the base price would be AUD 0.523/l which is Rs 30 approx and comparable to the current Indian base price of Rs 32.
The Australians are paying about 40% in excise and 10% in GST, making it a total of 50%.
2. The EU total tax average is about 60%; while some EU nations, especially Scandinavians, charge more than 70%.
The Norwegians, for example, own and operate North Sea Crude Oil & Gas assets but follow high fuel tax policy. The retail price of Norway has one of the highest fuel taxations worldwide, while the base price is among the lowest.
The overall objective of Norway's petroleum policy has always been to provide a framework for the profitable production of Oil & Gas in the long term. It has also been considered important to ensure that as large as possible a share of the value creation accrues to the state, so that it can benefit society as a whole. This is partly obtained by the tax system.
Because of the extraordinary returns on production of petroleum resources, the oil companies pay ordinary company tax of 22% plus special tax rate of 56%, making the total of 78%. The Norwegian government earned NOK 23 billion in 2020 in taxes on petroleum activities.
The unleaded Octane-95 petrol refined from the world's best Norwegian Brent crude oil was retailed at Norwegian Kroner (NOK) 16.53 on 16th Feb 2021. This is Rs 141.00/l (1NOK=Rs 8.53). This price is among the highest in the world because Norway subscribes to first school of thought (which is high fuel taxes are good) in order to promote carbon-neutral and environment friendly national lifestyles while preserving Oil & Gas Assets for future generations.
3, India' situation is not that of Norway but similar to that of Australia because both are dependent on imported crude oil, importing 80-85% of annual requirement. Yet, India taxes at 64% Vs Australian taxes of 50%. It has to be pointed out that Australia is a socialist country with welfare schemes for all its citizens unlike India. Australia builds and maintains its world-class transport infrastructure with the revenues from petroleum fuel taxes whereas India lives on with its creaking third world infrastructure. Unless India maintains a ledger to show us that every Rupee collected in fuel taxes goes only to create new and upgrade existing infrastructure networks, the high taxes are not good at all. The government must issue annual audited accounts of the infrastructure spends and fuel tax collections to its citizens just like companies do!
Note 2, the high taxes are Bad:
1. The USA can be described to hold the view that high taxes are not desired. Hence, the federal government limits it excise tax to USD 0.0486/l which corresponds to less than 6.5% of national average retail price. Retail prices vary from state to state because every state levies its own excise tax. California, the most liberal state governed by Democrats levies highest at US$ 0.16/l. Alaska, the oil rich state governed by Republicans has the lowest at US$ 0.038/l. Hence retail prices range from lowest US$ 0.556 to highest US$ 0.948/l in Hawaii. The highest combined tax rate amounts to only 24% in California.
2. Venezuela is the world's cheapest country to buy petrol with a Fatherhood ration Card. Even if you buy in black market, it still is the cheapest. There is plenty of crude oil in Venezuela but very little drinking water though fresh water from rivers and lakes is plentiful. Under Bolivarianism, its brand of economics pejoratively called Chavizmo has turned the country into one of the poorest despite rich in very rich natural resources, not only Oil & Gas. This is not an example for anyone to follow!
3. The world's richest country, tiny Qatar sticking out like a thumb from Saudi Arabian Peninsula (where I lived and worked for 35 years) retails regular Octane-91 petrol at QR 1.30/l (Rs 26 at Rs 20/ QR exchange rate on 16th Feb 2021). At this price, with no taxes, there is no subsidy too, fully recovering its base costs if Crude Oil is priced below US$65/bbl (as is the case since 2014 and true even today)
Production figures and Costs are not transparent for state-owned Qatar Petroleum and its subsidiaries, estimates range from a low of US$5 to US$15. The Fiscal Break-Even Price is opaque too, with estimates around US$35. Fiscal Break-Even is the price required for the Government of Qatar to reach balanced revenue and expenditure with no deficit/surplus.
Qatar is not a role model for India. Qatar does not subscribe to clean environment globally accepted protocols. It is a total welfare state for its citizens only to make up for lack of political freedom with freebies from state largesse. Our own commitment to Clean Environment is more words than real action on the ground, so the higher taxes than world's average tax rates are not meant for bettering the environment.
The China example: The Gupta perspective
Political Analyst Shekhar Gupta, who does not want to earn Modi's wrath, reasons out by showing the example of China that also has higher prices.
The first reason is that China and India import most of their hydrocarbons. "So it is important for them to keep prices on the higher side, so the consumption doesn't go up too much because if it does, their import bill will go up."
Secondly, the Modi government has figured that an easy way for earning more for the exchequer is to keep raising taxes on fuel. The UPA government had collected total fuel excise of Rs 99,000 crore per year in FY2013-14. Modi succeeded in collecting Rs 2, 40,000 crore per year within two years of his rule.
"So, as the price went down, the excise increased; petrol price did not come down. And later, when crude prices started going up, the price at which petrol pumps get the fuel from the refinery also went up. The Modi government did not reduce the excise."
In FY2019-2020, the Modi government collected a total of Rs 3, 39,000 crore in petroleum excise duties, 333% what the UPA government collected six years ago.
"When, under the UPA, fuel prices went up a little bit, people will be out on the streets. TV channels were going berserk. Today, there is none of that."
He buys into Modi's narrative that his government is robbing the rich to distribute it to the poor. Modi has cleverly positioned himself as our modern Robinhood who robbed Peter to pay to Paul.