Who will blink first: Modi or Protesting Farmers?
By Philip Mudartha

Introduction:
This is a sequel to my exclusive feature titled Are the agriculture reforms pro-farmer or anti-farmer? , published on this website on 22nd September 2020. In that article, I dealt briefly with the farmers' concerns regarding the three farm laws which the Modi -government said were the need of the 21st century.
Since then, farmers mostly led by Punjab based kisan unions that are dominated by Sikhs, naturally, have laid a siege to Delhi. They have camped at several key border approaches to the national Capital. Men, women and children are camping in make-shift tents braving the extreme freezing temperatures of North Indian winter and demanding that these 'black' laws be repealed. Nothing more, nothing less; no compromises like amendments etc. Several rounds of talks have been held between government led by the Minister of Agriculture and prominent farmer Leaders.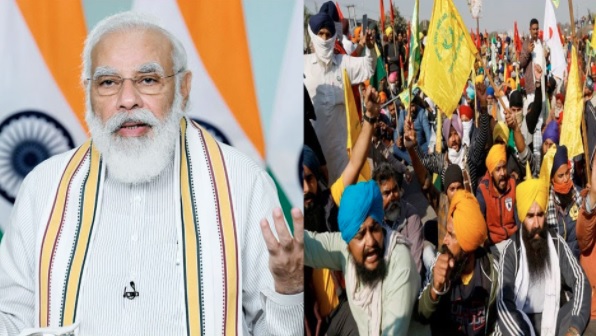 The Concessions given by government:
One of the key concessions given by the government is continuation of free electricity supplies until into an indefinite future. Experts have opined that the resultant abuse has led to pumps running round the clock and wasting a crucial national resource. Further, it has led to the depletion of ground water table. Many smaller peasants have been left with no drinking water as their bore wells have run dry.
The other important climb-down by the government is the scrapping of rules regarding criminalization of stubble burning. Stubble is the crop residue at the plant roots that is left when harvesting. Both expert and popular concern related to stubble burning is the air pollution that it causes. Cities, not only in Punjab and Haryana, but the National Capital also is choking. Greater Delhi residents have been complaining of rise in upper respiratory ailment cases. The PM 2.5 and PM 10, both solid particulates in the air, as monitored at several residential neighborhoods in the National Capital territory and surrounding suburbs like Noida, and Gurugram have been consistently above the un-safe and severe levels for human breathing. The government seems to have caved in for the political pressure of farmers of the region and sacrificed the long term interests of the residents, choosing to sacrifice public health over political expediency.
Much ado about Minimum Support Price:
The MSP regime has been the mainstay of the rice, wheat and sugarcane growers since the early days of green revolution. In fact, the assured government procurement of paddy and wheat by public institutions like Food Corporation of India gave the fillip to the green revolution that took our once hungry nation to the present day of food surpluses. Credit must be given where it is due: the farmers of Punjab, Haryana and Western UP not only toiled in their fields but also adopted modern agricultural technologies, improved seeds while managing soil fertility which gave bumper crops with productivity rising to global levels. The nation is and must be grateful but then comes a time when the nation should move on. The protocols and incentives in place for over six decades – two generations of us- have to end.
Because, the public costs associated with such largesse have to be borne by the taxpayers. The farmers, including the affluent agri-business owners among the farmers, are not taxed; agricultural income is exempt from income tax. Thus, farm subsidies under the MSP regime are a drain on national financial resources and are preventing farm innovation. The farmers have become lazy, complacent and lost their entrepreneurial spirit. The government wants to dismantle both the MSP and the other state institution, namely APMC. The farmers, their commission agents, the APMC officials and workers as well as the state governments who earn tax revenues from the APMC mandis are aware of the central government's unholy intention. They are afraid that as soon as the abolition of the monopoly of AMPCs happens, the flood-gates will be opened for big and fat corporate entities to enter into farming on big acreages. Their advantages like economies of scale, access to superior farming technologies, ability to market locally, nationally and globally, entry into digitalized commodity markets for spot and option trades on commodity exchanges etc, will deal a death-blow to marginal, small and medium scale farmers. The right-wing neo-liberals advocate free market for farm produce and exposure to market economics will 'free the farmer to produce what he wants and market it where he wants'. For farmers such freedom, that an uncontrolled and unregulated market offers, is a recipe for disaster, penury, and eventual extinction. They are quick to point out the fate of MTNL after the telecom reforms that allowed Reliance Jio to capture and dominate the sector based on favorable licensing terms. They simply do not want this gift of freedom by the government.
Why Punjabi farmers are afraid and angry?
Let us face it. Punjab is no longer nation's 'rich grain bowl' of yesterday. Even if every conceivable inch of this fertile land is cultivated with paddy and wheat, and the surpluses are collected at farm gate by their arathiya from the local APMC markets at guaranteed MSPs, its gross state domestic product has declined.
To research for this article, I googled for recent data on 1) the List of Indian states and union territories by GDP and 2) the List of Indian states and union territories by GDP per capita. And where do you think Punjab ranks in both the lists? Judging by fat Punjabi weddings and the 'balle balle' bollywood songs, we expect it to top the lists, right? Wrong! In the former list, (according to 2019-20 estimates) Punjab ranks at 15 from the top. Maharashtra tops the list with Rupees 28.78 lakh crore. Even, our own Karnataka is on rank 4. Punjab contributes only Rupees 5.75 lakh crore. Punjab has lost its old glory and that is because Punjab has remained mostly agrarian with very few other economic activities like manufacturing and services.
The second list is more important than the first; because it tells us where a resident of a state is ranked by wealth in comparison to his peers. No surprises here too: Punjab ranks at 16 with a per capita state GDP of Rupees 1,66,830. Of course, the national average is Rupees 1,34,432, a wee bit lower. But, that is because of BIMARU states (Bihar, MP, Rajasthan and UP being the poorest). The richest state, Goa, is about three times richer. Haryana, which was carved out of undivided Punjab, has left Punjab behind and leapfrogged to rank 5 having diversified into industries and promoting IT and ITEs services.
The Punjab's frustration and anger is rooted in its steep decline, now visible in farmers' protests, writes Shekhar Gupta, in his Print article dated 4th December 2020. The byline says: reading the 'Writings on the Wall', Shekhar Gupta has foreseen Punjab's angry revolt from its descent into complacent, lazy, decadent trance of perpetual balle-balle.
He elaborates: Punjab isn't a state in a virtuous boom. It has lapsed, instead, into a self-destructive chill. It is a tired, once-wealthy state, living off its past riches, reputation and residual hormones. Today, it boasts among the largest percentage of drug addicts in the country. The Congress party's Ludhiana candidate, Ravneet Singh Bittu, has a point when he tells you that only two businesses open early in the morning in Punjab — liquor and drugs. Scrawny, hollow-eyed customers are already lined up.
I haven't toured Punjab but came face to face with a mini Punjab in Melbourne, Australia. Last year for two months, I lived in a suburb named Williams Landing. Every day I took local metro trains to the city centre and other suburbs on sightseeing trips. And, I did not see that many Punjabis on my Mumbai suburban trains as in Melbourne. Over sixty days, I mingled with over three hundred Punjabi men, young and old, Punjabi girls and women, mostly young and who spoke poor English. I wondered how they got into Australia with its strict IELTS, the Basic English language proficiency tests mandated by Australian Immigration. No problem, I was told: every pind (village) in Punjab has immigration agents who specialize in processing visas to the anglophile developed countries like the US (called Amreeka), Canada (spelt as Kanada), Great Britain (mostly England), and New Zealand.
(Not to mention that imperial colonies like Kenya, Uganda, South Africa, Tanzania etc. have a sizeable Punjabi Sikh Diaspora, not highly educated, not in tech jobs but in the good old trades like running a garage, manning an auto spares stores, driving a taxi etc. If you have gone to London and not taken a taxi driven by a Punjabi PhD to visit Southall, a London Mini Punjab Suburb, you have not seen London).
According to Shekhar Gupta, young Punjabis today do not want to study, do not want to compete or ride the wave of reform and growth in India. They want to escape and run low-level services overseas or fill up European jails as illegal migrants. (In a remote village in desert country Mauritania, during one of my trips to that country, I was requested to be a translator between a group of captive fugitive Sardars and their jailors; they were captured transgressing the country in their trek to Europe via Spain.) This brawn drain of sorts is modern Punjab's answer to brain drain. The most flourishing business in Punjab, besides narcotics, is illegal immigration, kabootarbaazi, as if all young Punjabis are pigeons wanting to fly the coop.
On my daily Melbourne Metro trips in the company of Punjabi youth, I learnt a lot more about Punjab than the host country, Australia. All politicians are corrupt, arrogant, highhanded, drug peddlers and liquor merchants; so says a young Punjabi who shares a 3 bedroom villa, situated in a remote Melbourne suburb, with five Punjabis. He earns 1,000 Australian Dollars a week as a kitchen help in a desi Dhaba (at minimum wage rates). His share of rent is AD 75 a week and self-cooked two meals cost about AD 60 a week. (One meal is free in the Dhaba). He enrolled as a graduate student in a Melbourne deemed university and deposited AD 5,000 as first semester tuition fees. The agent who arranged the visa and the one way air ticket charged another Rs 2.5 lakh. Rs 4.5 lakh to 'buy' into his Australian dream! (For which he sold his share of ancestral farm land).
Having arrived in Melbourne, he promptly dropped out from college after the first semester, (like the young do back home) and signed up for part-time courses in order to reside legally. You can bump into such 'kabootars' everywhere in Melbourne and Sydney, (and practically all Aussie Cities). One runs into them in metro stations, desi restaurants, public libraries, malls and desi grocery stores. They do all sorts of low level service jobs especially as security personnel. They have escaped from Punjab because they do not see a future as a marginal and small farmer, even with the existing APMC and MSP regime! And what to expect from the 'freedom' to produce and trade that the Modi government gifted. Other than kabootarbaazi, hara-kiri (suicide) is the viable option. Better fight and go down than giving up without a fight.
The January 26 Siege of the Red Fort:
A group of very angry Panjabi mob staged a violent tractor rally across Delhi breaching the police barricades along the 'permitted routes' and reached the Red Fort. They hosted the Lal Nishan, the Sikh flag atop the iconic symbol of the power of Indian State. Prime Ministers address the nation on Independence Day from the ramparts of red Fort. Symbolically, the siege was a direct assault on the central government's authority.
The violence may have been organized by anti-farmer goonda elements, drawn from the crazed drug and alcohol addicts among its ranks, and probably goaded on by government-linked farmer union leaders and pop culture stars. The government probably wanted the farmer protests to end in a fiasco, like the Anti-CAA sit-ins in Delhi last year fizzled out. Sensible citizens do not support violent action by any aggrieved sections of the population. Thankfully, the Red Fort siege and the associated violence did not destroy the farmers' movement. Instead, the protests have spread to Western UP and Haryana and farmers are out on the streets in greater numbers. Distant states like Maharashtra and Karnataka are holding rallies. Opposition parties have doubled down in their support to the demand of farmers to repeal the laws.
The Supreme Court as arbiter:
Meanwhile, the Supreme Court which held hearings in the Public Interest Litigations criticized the central government but refused to annul the laws. The honorable and learned judges donned the judicial activist hat after criticizing the rigid stance of the central government to rule that the laws may be suspended for some time. It constituted an committee to study and recommend the course of actions to be taken to resolve the dispute in a report to be submitted to it within two months. It nominated the members to this SC panel, whom the farmer unions promptly rejected accusing them of harboring pro-laws stances (on the basis of their published viewpoints). The central government was quick to take the opportunity offered by the SC and offered to hold the laws in abeyance (not framing the rules under the laws) until a compromise solution is found. This is a much needed face saver for Modi government. However, the farmers are adamant on their stand that the three laws should be repealed in their entirety. It is my way or the highway, as they say.
Now, who will blink first? The Modi led government or the distressed farmers? Time will tell if this is Modi's Waterloo moment.