A desperate US President's war on his people
By Philip Mudartha

Bellevision Media Network


12 Jan 2021: It is Tuesday morning, January 11th in US Capital, Washington D.C, as I pen these lines. The members of the House of Representatives have taken their seats in the legislative chamber within the Capitol. Their business for the day is to debate and pass a resolution calling upon Vice-President, Mike Pence, to invoke 25th Amendment and remove forthwith the lame duck sitting President Donald Trump, who is otherwise set to leave Oval Office on 20th January.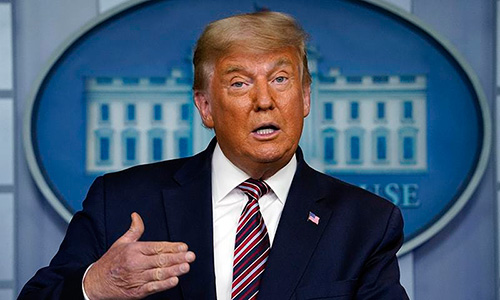 America's Great Shame:
An insurrectionist mob forced their way into that chamber last Wednesday aiming to disrupt the joint session of the members of Congress. At that hour, the scheduled proceedings were in progress in order to complete the constitutional formality of certifying the Electoral Votes submitted by each of the fifty states and approve the decision of the American people that Senator Joe Biden is their President-Elect, who should be the 46th President effective from 21st January 2021 for the next four years. Sitting Vice-President, Mike Pence, was in the chair whose constitutional duty was to declare the verdict.
The insurrectionists were called to the capital and provoked to lay siege and denigrate the temple of American democracy. "You must take back the country. You cannot do that with weakness. You must be strong" were the President's war-mongering call to violent action. Apart from causing disruption to prevent the legislators from declaring Biden as the President Elect, their aim was to bring bodily harm to House Speaker Nancy Pelosi, the consistent opponent of the President. Added to the list was Senate Majority Leader, Mitch Mc-Connell, one of the President's closest supporters who turned hostile when Trump called for violence and chaos, and directed legislators of his party to do what is constitutional and legal.
The insurrectionists were no less than domestic terrorists, shamefully guided by none other than the leader of world's oldest and freest democracy. That is America's great shame. What could be worse than putting the lives of his own loyal Vice-President and his family members at risk and not doing anything to stop the madness that he himself has incited. That a President can stoop so low in his mad vindictiveness, caught he is in his own fake and delusional stories that "he had actually won the election. by "a lot". What a shame it is for him to spread lies after lies, steadily and continuously through his Twitter handle, where he has more than 75 million followers. What a shame it is that even after courts after courts in the battleground states had thrown out his law-suits against their election results and even after failing to convince the Federal Supreme Court of his argument of massive election fraud and rigging in favor of his opponent. What a shame it is to declare that he would not accept any election result unless it is a win for him! What can be more dangerous for the country and the world at large, to have such an arrogant, delusional and mad man with a "nuclear button" who has no moral moorings and cannot lose!
In the process, he turned America into a banana republic. Only tin-pot dictators of erstwhile rogue nations like Libya, Iraq, etc and a few crazy dictators in Africa would have behaved like he did. In the 240 plus years of American history, which has seen a civil war over slavery, has seen civil unrest in the wake of opposition to Vietnam War, has seen civil disobedience during the civil rights movement and has suffered presidential assassinations, no sitting President has turned against his own law-makers (elected by free and fair elections by the American people) only to not accept the democratic verdict against him and try to trespass in the august office of great responsibility against the nation's will!
Eight days to the end of his madness but enough is enough:
There are warnings by FBI, the nation's premier domestic intelligence agency which also investigates serious crimes and ensures safety and security of American people that more and worse violence is planned by the core base of Trump, especially his followers among white supremacists, conspiracy theorists and racists. "They were talking about 4,000 armed 'patriots' to surround the Capitol and prevent any Democrat from going in," CNN reports. "They have published rules of engagement, meaning when you shoot and when you don't. So this is an organized group that has a plan. They are committed to doing what they're doing because in their minds, they are patriots and they're talking about 1776 (th War of American Independence)". For these blind followers of a maniac leader who has not condemned the siege and violence of last Wednesday, they are fighting to 'liberate the country from communists' in order to "Make America Great Again" (MAGA). The very lives of both Biden and his vice-President Elect Kamala Harris are threatened by these violent armed insurrectionists. The American people and the entire world cannot rest assured that a mad man like Trump will not pose danger to world peace. After all, he has his thumb on the biggest nuclear arsenal in the world. Therefore, he must be removed forth-with as expeditiously as possible. The American democratic establishment has following options:
1. Invoke 25th Amendment and depose the President. For this, the Vice-President and a majority of his Cabinet Secretaries must agree and vote to remove him from Oval Office. He would then be put on Air-force One and flown his private residence, wherever that is. Vice-President will assume the presidency as Acting President till the eve of 20th January, when Biden inaugural is scheduled on the steps of Capitol. In the remaining days, the Acting President and his cabinet colleagues will 'expedite the transition process so that a seamless and peaceful transfer of power takes place, in the same manner that then President Barak Obama had handed over to Trump on 20th January 2017.
2. If the Vice-President and the Cabinet (appointed by Trump) does not gather the courage and invoke the 25th Amendment, even after the House of Representatives has so resolved, then the only alternative is to begin the impeachment proceedings. The House is in session but the Senate is in recess. The House Speaker Nancy Pelosi will not consider any other compromise to impeachment but her plans might be torpedoed by Senate Majority Leader Mitch Mc Connell. He may not agree to call the Senate from its recess till 19th January, which is the penultimate day of Trump presidency. Mitch is angry with Trump for his role in the capitol siege and his behavior before, during and after the violence. If he is as vindictive as his boss in the White House, he could play along with the Democrats and impeach Trump in a matter of one or two days.
3. If Trump is impeached, even after Biden's inauguration, then he cannot seek any electoral office during his lifetime, effectively barring him from seeking a fresh term in 2024. Many presidential aspirants within the Republican party might want Trump out their war and want to take back control of the party which Trump captured in 2015 coming from nowhere with his ultra-nationalist, anti-immigrant and protectionist rhetoric.
4. Only it is reported that Biden is not keen on the impeachment before or after his inaugural, as it will jeopardize his stated mission of 'uniting the country, healing its divisions and restore the democratic institutions to their former glory. But, with both the House and Senate under control of the democrats, Nancy Pelosi and the new Senate Majority Leader may over-rule the New President.
5. There has been reports that Trump had tried to engineer a military coup in is favor, but the Pentagon officials and top military brass paid no heed to his calls. It is unlikely that the military will intervene in the civilian disputes and hasten the exit of Trump. The Pentagon leadership will be tested if President Trump orders a war (something he did not do in his four years), including a nuclear strike which they may have to find ways not to obey the order.
(Opinions expressed are personal)