The 2020 National Education Policy
By Philip Mudartha

Bellevision Media Network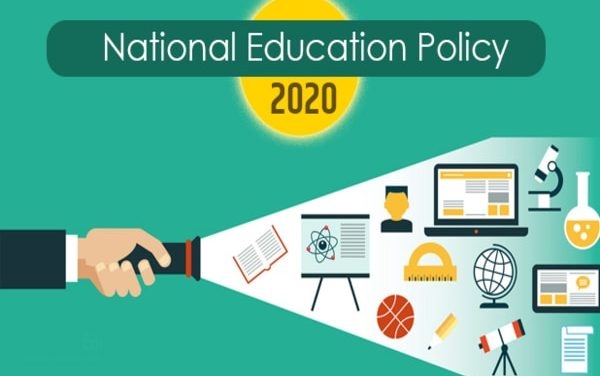 New Education Policy 2020:
On Wednesday, 29th July 2020, the Indian Union Cabinet cleared a new National Education Policy (NEP) which proposed sweeping changes in school and higher education. Independent India followed the colonial education policy till 1968, when the parliament passed the first education policy drafted by the 17-member Education Commission, headed by then University Grant Commission (UGC) Chairperson D S Kothari. This was under the Indira Gandhi regime. Since then, India had three education policies. The second came in 1986, during the Rajiv Gandhi administration, later of 1986 revised in 1992 when P V Narasimha Rao was Prime Minister. The third is the latest announced under the Prime Ministership of Narendra Modi.
Why NEP? A NEP is a comprehensive framework:
It guides the education development in a country. Government of India (GoI) Ministry of Human Resource Development (MHRD) on its website claims its lofty goal of "Educate, Encourage, Enlighten" as the purpose of NEP. It further explains: "more than three decades have passed since previous Policy. During this period, significant changes have taken place in our country, society, economy, and the world at large. It is in this context that the education sector needs to gear itself towards the demands of the 21st Century and the needs of the people and the country. Quality, innovation, and research will be the pillars on which India will become a knowledge superpower. Clearly, a new Education Policy is needed".
The School Education:
The 1986 policy pushed for a 10+2 structure for age groups 6 to 18 years. The playschool/nursery/ kindergarten were not part of formal schools. The new NEP outlines "5+3+3+4" design corresponding to the age groups 3-8 years (foundational stage), 8-11 years (preparatory), 11-14 years (middle), and 14-18 years (secondary). Thus, what is now referred as LKG and SKG (nursery or pre-school education for children of ages 4 to 5) comes under the ambit of formal schooling. The mid-day meal programme will be extended to pre-school children. The students until Class 5 should be taught in their mother tongue or regional language, "wherever possible".
In school education, the policy focuses on overhauling the curriculum, a reduction in the syllabus and "easier" Board exams. The modified syllabus will teach core essentials with emphasis on "experiential learning and critical thinking".
It is pertinent to note that the "new secondary school graduate" will at least of the age of 18 years, same as current higher/senior secondary certificate (HSC/SSC) or Pre-University Course (PUC).
Science, arts, commerce gets blurred:
Under NEP 1986 as revised in 1992, HSC/SSC/PUC teaching branches out into three separate streams after SSLC (Class X). These streams are science, commerce, and arts (humanities). This specialization is thus intended to prepare teenagers better for future studies or work by letting them pick the area that interests them. (or their parents?)
Under the 2020 NEP, these streams will form one river. Their contents are to be mixed into a single curriculum. It declares: "There will be no rigid separations between arts and sciences. And yet the students are to enjoy "increased flexibility and choice of subjects," meaning that they would now choose not between curricula, but between set subjects within one curriculum. It likely that such choice is permitted from 9th grade. This sounds like the case in the Karnataka State Education System till 1970 where general science, social studies and mathematics were mandatory with Physics, Chemistry, Elective Math, Biology (PCMB) in science stream, History, Political Science, Economics, Arts ( HPEA) in humanities stream and Economics, Accounting, Commerce, Business Practice (EACB) in commerce stream were electives. With the three-language formula (state language, national language and English) followed under state government policies, such a NEP will entail a total of 3+3+4 =10 "courses" (currently 6) thus increasing the curriculum load in 9th and 10th. The syllabus will have to be pruned in my opinion.
Four-year multidisciplinary undergraduate programme:
The "collegiate" aka "bachelor's degree courses", (referred as "undergraduate diploma/degree" in the first world) is currently of 3 years for most streams, and 4 years for professional degree courses. The vocational courses vary from 3 years to 4 years. Besides, there are integrated graduate aka post-graduate degrees of 5 to 6 years duration. These are currently administered by UGC and All India Council for Technical Education (AICTE). The new NEP dismantle UGC, AICTE, and National Council for Teacher Education (NCTE). It institutes The Higher Education Commission of India (HECI) for administering the new multi-disciplinary undergraduate programme of 4 years duration with multiple exit options.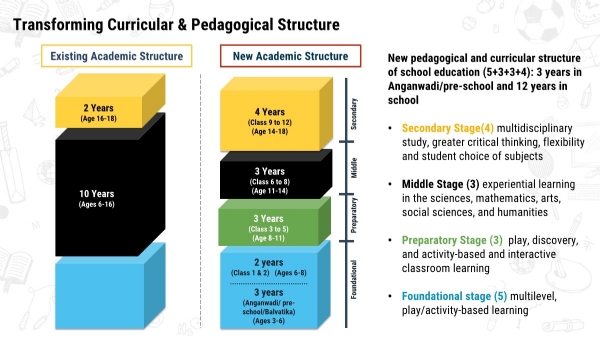 A freshman (first year) can exit with a certificate, a sophomore (second year) can exit with a diploma and a junior (third year) can exit with a Bachelor's Degree, while the senior (fourth and final year) will major in his specialised subject and participate in some research work. These norms will not apply for medical and legal education. The 5- year M-Phil is discontinued.
Education is a subject in concurrent list under Indian constitution:
The NEP can provide a broad direction only. It is not mandatory for states to follow. Both the Centre and the state governments can make laws on it. If the proposed reforms are to be implemented, both centre and state education departments will have to collaborate and cooperate. This will not happen immediately. Therefore, the Narendra Modi government at the centre has set the target of 2040 to complete implementation of the entire policy.
Opening of Indian higher education to foreign universities:
The NEP proposes sweeping changes intending to permit foreign universities to set up their Indian campuses. While this is laudable, we will have to wait for the Higher Education Regulatory Commission to frame the rules of setting up either independent campuses or in partnerships with Indian deemed universities and/or public/private schools. (Comment: In the Middle East, several American and Australian institutions of higher learning have set up their own campuses with transferable credits to their campuses in US/Australia. A student has the choice to complete the 4-years in the Gulf campus or move to their motherland campuses).
National Research Foundation:
Research and innovation (R&I) is central to growing and sustaining a large and vibrant society and economy. Unfortunately, levels of R&I investments in India have not grown. It is 0.64% of GDP today. To compare, the levels are in United States (2.8%), China (2.1%), Israel (4.3%), and South Korea (4.2%). The number of researchers per lakh of population is shockingly low at only 15 in India, compared to 111 in China, 423 in the United States, and 825 in Israel.
The NEP aims to remove the impediments to and thereby significantly expand R&I in the country through a new National Research Foundation (NRF). The NRF will catalyse and expand R&I in the country. The NRF will fund competitive peer - reviewed grant proposals of all types, across all disciplines. The NRF will seed, grow, and facilitate research at academic institutions; create beneficial linkages between researchers, government and industry and recognise outstanding research.
Teachers form the very heart of the education process:
The NEP lays down that all teachers will have academic and professional support within a motivating environment and culture. Eminent local persons may be hired to teach at schools or school complexes as "specialised instructors", for the purpose of promoting local knowledge and skills, e.g. local art, music, agriculture, business, sports, carpentry, and other vocational crafts. This is practical only if autonomy on teacher hiring and assigning is permitted to school complex level administrations. (To give an example: St. Lawrence Educational Institutions in Moodu Belle is a unique school complex with Kannada and English medium instruction till Class X and English medium instruction in PUC. The multi-disciplinary teaching faculty may be integrated for all schools under the complex and deployed to maximise the learning outcomes. The current teacher: student ratio should no longer be the norm).
The high respect for teachers and the high status of the teaching profession must be revived and restored for the very best to be inspired to enter the profession. Teachers must feel a part of, and be invested in, the schools and communities in which they serve. Teachers must be given constant opportunities for self-improvement and to learn the latest innovations and advances in their profession. Teachers must be able to teach with full dedication and at full capacity without the add-on responsibility for non-teaching activities. The continuous professional development of teachers will be an important responsibility of the school complex. A comprehensive teacher development plan will be drawn up for the purpose, including multiple modes of development.
Teacher Education:
All teacher education will happen in multidisciplinary institutions as an integral part of the higher education system. The four-year integrated B.Ed. will, by 2030, become the minimal degree qualification for schoolteachers. Beyond the teaching of cutting-edge pedagogy, the curriculum will include grounding in sociology, history, science, philosophy, psychology, early childhood education, foundational literacy and numeracy, knowledge of India and its values, ethos, art, traditions, and more. Good teachers are prepared and developed by good teacher educators. The faculty of teacher education must be experts in diverse fields, both theoretical and practical.
Professional Education:
Professional education in India, in Agriculture, Law, Healthcare, and Technical education is offered separate from general higher education. Henceforth, the Professional education must also be separated from professional practice. Professional education will be an integral part of the overall higher education system. Preparation of professionals must involve an education in the ethic and importance of public purpose, an education in the discipline, and an education for practice. The professional education must not happen in the isolation of specialty.
The Way Forward:
A new apex body, the Rashtriya Shiksha Aayog (RSA) or National Education Commission, will be constituted. It will be headed by the Prime Minister. To bring the focus back on education and learning, the MHRD will be designated as the Ministry of Education (MoE). The Union Minister for Education (UME) will be the Vice Chairperson of the RSA. The RSA will be responsible for developing, articulating, implementing, evaluating and revising the vision of education in the country. States may set up apex State level bodies called the Rajya Shiksha Aayog or the State Education Commission.
Positive directions of the NEP: 1)
The Rashtriya Shiksha Aayog (RSA) and Ministry of Education (MoE) action plan (RSA-MOE.4) is to review the Right to Education (RTE) Act comprehensively to enable the Policy within 2020. Availability of free and compulsory quality pre-primary education will be included as an integral part of the RTE Act. Availability of free and compulsory quality education for Grades 9-12 will also be made an integral part of the RTE Act. This means the school education from 3 years to 18 years age will be funded by the governments. (Comment: It is hoped that adequate funds will be made available through Union & State Budgets every year to implement this policy effectively. This is not the case now, and that is why government/public schools/aided schools struggle to attract students).
Positive directions of the NEP: 2)
The Rashtriya Shiksha Aayog (RSA) and Ministry of Education (MoE) action plan (RSA-MOE.5) is to set up Indian Institutes of Liberal Arts (IILAs) or Multidisciplinary Education and Research Universities (MERUs) as models of the liberal education approach, with specific focus on integration of vocational and professional education into mainstream higher education by 2025. (Comment: Currently an Engineer/Chemist/Scientist/Architect etc have specialized knowledge or information of one stream and has limited appreciation of liberal arts like literature, humanities, national and global history, international relations, constitution of India, structures of national governance etc. While it is necessary to spell out the breadth and depth of these subjects without causing a syllabus overload, this holistic approach to education is the right step and is laudable).
Positive directions of the NEP: 3)
The Rashtriya Shiksha Aayog (RSA) and Ministry of Education (MoE) action plan (RSA-MOE.8) will establish the National Research Foundation (NRF) with the intent to strengthen research capacities and catalyse vibrant research primarily focusing on the higher education system by 2020. (Comment: Currently, school managements are constrained by regulations on teacher hiring and limits on teacher salaries. This leaves out best minds from industry and professions from taking up teaching positions after their superannuation or voluntary retirement. Indians are retiring healthy at 60 years and with years of experience in technology, management and leadership roles, whose expertise should find avenue in teaching varied curricula at schools. A professional teacher alone should not be the sole focus to build the teaching cadre).
Positive directions of the NEP: 4)
The Rashtriya Shiksha Aayog (RSA) and Ministry of Education (MoE) action plan (RSA-MOE.9) will set up an autonomous National Educational Technology Forum (NETF) to facilitate review of initiatives related to the use of technology in education along with sharing of best practices by 2020. (Comment: Once again teaching talent should be sourced from industry and professions. A qualified doctor, lawyer, engineer, software professional can be on "part-time" payroll of schools or a volunteer to expedite use of technology and its tools).
Positive directions of the NEP: 5)
Per State Governments and State Departments of Education action plan (SG-SDOE.2), teacher recruitment and deployment will be carried out based on detailed planning and assessment of requirements at the school and school complex levels to ensure that each school within the complex has the desired number of teachers across subjects. Due focus will be on teacher professional development, service conditions, and performance management. While resources may be shared across schools in a complex, it will be ensured that each individual school has adequate resources to deliver on the requirements of the Policy by 2022. (Comment: It is imperative that schools are given autonomy in determining the hire specifications for its teaching staff).
Positive directions of the NEP: 6)
The MoE and the National Testing Agency (NTA) action plan (MOE-NTA.1): The autonomous NTA will administer aptitude tests and tests in various subjects, which can be taken on multiple occasions during the year, from 2023. This is like the JEE, All India Entrance Exams, NEET etc or the ELT, TOEFL, SAT, GRE etc.
Conclusions:
The proof of pudding is in the eating. The 2020 NEP with exhaustive action plans spelt out with Specific, Measurable, Achievable, Relevant and Time-bound (SMART) objectives across the new hierarchies of administering the School & Higher Education in India for coming two decades is a sincere effort at overhauling the system to meet the new challenges of our society and economy. There is a chapter on Artificial Intelligence (AI) but does not address fully the educational challenges arising out rapid growth of disruptive technologies. These lacunae, it is hoped, will be addressed in revisions.
(concluded)