AAP government slashes VAT in its second budget
By Philip Mudartha

Bellevision Media Network


Udupi, 30 Mar 2016: The Arvind Kejriwal-led Aam Aadmi Party (AAP) government on Monday presented a "zero-tax" Budget which slashed the value added tax (VAT) on a wide range of goods to bring down prices of consumer products such as green vehicles, watches, readymade garments, shoes, schoolbags, and common-use items such as namkeen, farsan, sweets etc.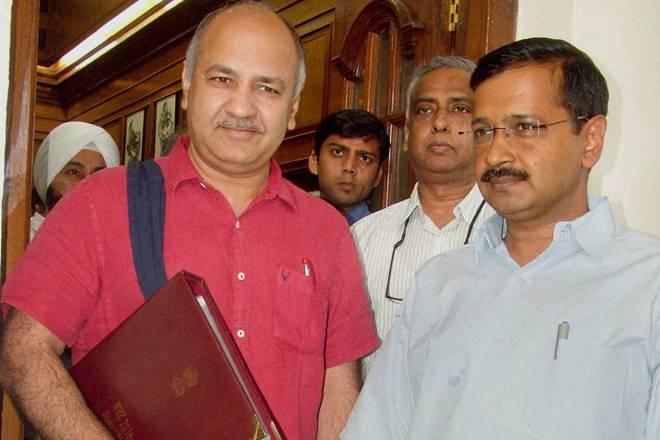 BJP, Congress pooh-pooh AAP government's Delhi budget

"The speech of the Finance Minister is old wine in a new bottle. The budget speech cleverly hides the failure of the government to achieve it 17-point poll promises made to citizens of Delhi" was the reaction of leader of opposition in the legislature. BJP has 3 members in the 70 member house while AAP has 67.
"Delhi FM is building a case for failure of non-spending of funds - Education, health budget doubled but spent much less". That was the reaction of Congress Party through a tweet by the Delhi Pradesh Congress President, Ajay Maken. Congress party does not have a member in the house.
The story of an alternate approach to progress

In my exclusive article titled "Ek Saal, Kejriwal: the honest politics marches on" published by this website on 14th February 2016 in order to mark the occasion of AAP government completing its first year in office, I detailed the 2015-16 budget and its priorities.
Public services of Education, transport and health were given top priorities which continue to be the focus of the government in its second year.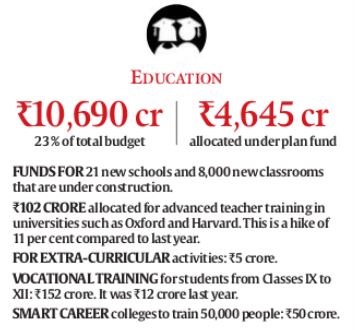 Budget Highlights

• Proposed Expenditure: Rs 46,600 crore (previous year budget estimates Rs 41,129 crore, revised estimates Rs37, 965 crore).

• Total financial support to the local bodies: Rs 6,919 crore (previous year Rs 5,908 crore in BE and Rs 5,999 crore in RE).

• The total receipts are made up of: Tax Revenue Rs 36,525 crore (78.38%), state non-tax revenues and capital receipts Rs 4,863 crore (10.44%), small savings loan Rs 3,174 crore (6.81%), and central funds Rs 2,308 crore (4.37%, state's share in central taxes Rs 325 crore and balance in normal central sponsored schemes and assistance).

• The tax revenue of Rs 36,525 crore consists of Rs 24,500 crore from VAT (67%), Rs 5,200 crore from state Excise (14%), Stamps & Registration Fees Rs 4,000 crore (11%), Motor Vehicle Taxes Rs 1.950 crore (5%) and Other Taxes Rs 875 crore (3%, luxury, entertainment, lottery, betting etc.).
Non-Plan and Plan Outlays
• Non-Plan Expenditure: Rs 26,000 crore (56%).
• Plan Expenditure: Rs 20,600 crore (44%)
The government, like any household, has routine and recurring expenses like payment of salaries of government employees, payments to contractors for their services etc. which are budgeted as non-plan outlays.
The Rs 26,000 crore includes Rs 6,919 crore transferred to local bodies which include the three municipal corporations in the city and several village panchayats in the adjoining NCT areas. These local bodies also raise resources through their own tax regimes. They provide for expenditures including payment of wages to their employees and contractors including the garbage handlers, sewerage and sanitation workers, etc.
Minimum government and maximum governance is an oft-repeated cliché. The general notion is that the size of the government shrinks if the non-plan expenditure as a proportion of the total budget decreases and more money is available to invest in new assets. However, in social services like education, transport and health, the non-plan expenditure is a necessity in order to pay better salaries to our teachers, bus drivers and transport managers, doctors, nurses and paramedical staff, fire officers and general administration employees.
Better salaries are key components in attracting and retaining higher skilled personnel in our schools, hospitals and government offices. A satisfied employee is less inclined to seek bribes, thus reducing low level corruption to which a common man is exposed regularly in his interaction with government.
Hence, a rise in non-plan expenditure in itself is not a sign of bad governance if an honest government is in charge of the system. Eventually, the system will generate surpluses which will find their way to create newer physical assets like schools, colleges, clinics, hospitals, buses, bus depots, government offices, etc.
The Budget Estimates (BE) Vs. Revised Estimates (RE)
In the current year, the government did not spend as per BE. Against non-plan outlay of Rs 22,129 crore, it spent Rs 21,565 crore including the Rs 551 crore given to North East Municipal Corporation to settle the dues of sanitation workers who went on strike during January-February 2016.
Against the plan outlay of Rs 19,000 crore, the RE is Rs 16,400 crore. The government either could not implement planned projects within the year or less money was actually needed to complete a project than budget approval sought by each department. Recall here that each Mohalla clinic was completed at 20 lakhs against the budget of Rs 5 crore earmarked based on actual costs during earlier governments.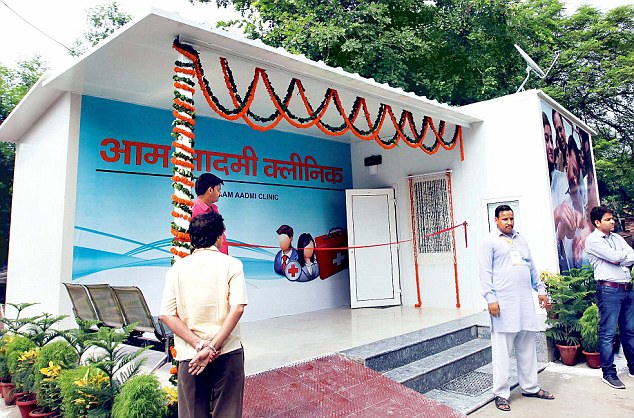 When both BJP and Congress cite failure of the state government to spend the money as per BE during the year, they would have done us a service if they would tell the public of specific failures. Once a specific failure is identified, the public can identify the contributing causes and participate with the government in reforming the system of governance. Both BJP and Congress, used to their traditional politics of throwing money at projects and earning kickbacks from contracts, will interpret the non-spending as failure whereas in reality it could be efficiency of an honest government.
Thus, the government came up with RE of Rs 37,965 crore against the BE of Rs 41,129 crore. Its tax revenues were buoyant during the year, thus the RE closed the books with an Opening Balance of Rs 1,654 crore for 2016-17. Under previous governments, there was always a deficit carried forward.
The government explained that the plan outlay RE of Rs 16,400 crore was 17.3% higher than the actual plan expenditure of Rs 13,980 crore during 2014-15 when the administration was by the L-G under President's Rule which means the state was controlled by the BJP government at the centre.
The common man expects that the government spends the public money prudently out of the entire BE within the year towards effective delivery of public goods and services. But, if it makes savings, he can understand and appreciate as long as the savings are not due to cancellations or delays in planned development projects.
Delhi Economy

The Gross State Domestic Product (GSDP) of Delhi at current prices is estimated at Rs 558, 745 crore in 2015-16. From Rs 494, 460 crore in 2014-15, the GSDP grew 13%. Adjusting to inflation, at constant prices, the growth rate is 8.34% which is higher than the national average of 7.60%.
The per capita income of Delhi at current prices is estimated at Rs 2, 80,142 in 2015-16. It is 11% increase from Rs 2, 52,011 in 2014-15. The estimated national per capita income is Rs 92,931; thus, Delhiites are thrice as rich as the countrymen.
The rate of inflation in Delhi was 4.9% during 2015. The figures were 7.8% for Chennai, 7.4% for Mumbai and national average 5.7%.
Innovative Initiatives in Delivery of Public Services

• The appointment of Estate Manager in every government school: Principals, Headmasters/Headmistresses must focus on delivery of quality educational services. They should be free from the additional burden of taking care of the premises. The Estate Manager shall be responsible for the upkeep and maintenance of the school building and premises.

• Foreign Training for Principals and Teachers: Improving competencies of teaching staff is essential through high quality training. Some of the best universities in the world like Harvard, Cambridge and Oxford impart such training during the summer recess. A provision of Rs 111.4 crore is earmarked towards it for the year.

• Vocational training in government schools from Class 9 onwards: The outlay is Rs 152 crore so that all schools shall initiate vocational training as well the State Apprenticeship Programs.

• Government has finalized contours of sector wide, comprehensive Health Information Management System (HIMS) including a health card for every citizen with a unique identifier. The government has conceptualized a three tier health management system. The Mohalla Clinic, of which a laudatory news report was recently published in Washington Post forms the first tier followed by Poly Clinics for specialist consultations & treatment at second tier and finally state government hospitals with the best treatment for all at third tier.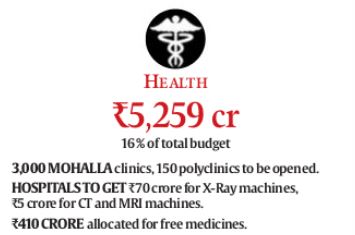 • Introduction of Electronic Ticketing Machines and Common Mobility Payment Card for un-hindered access to the commuters to travel in DTC buses, metro rail and cluster buses. In our big cities, a big chunk of time is wasted in queuing up to buy journey tickets for public transport with each bus route and rail network issuing its own type of tickets.

• To promote public transport, cycling and making streets friendly for pedestrians and physically challenged people, 11 roads will be redesigned in 2016-17. Some of my readers are familiar with cycling/roller-skate lanes in European towns alongside broad pedestrian lanes including those for pushing wheelchairs and carts. The roads are usually narrower so that vehicle speeds are kept at optimal low, overtaking does not happen, and parking along the street is not an option.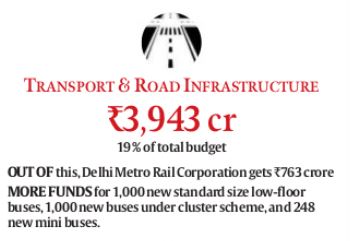 • A new scheme "Comprehensive Maintenance of Roads" will initiate the following measures: mechanized sweeping of roads; routine washing and cleaning of street furniture and signs; collection of debris/litter through mechanical sweepers and use of disposable bio-degradable bags; periodical washing of kerb stones and subways; civil, electrical and horticulture work. This scheme should reduce dust pollution as measured PM2.5 at the online Air Quality Monitoring Stations. Delhi ranks among the worst polluted cities in the world and should do a lot more to improve the environment.
• Mohalla Rakshak Dal of Civil Defence Volunteers is proposed to be set up in all assembly constituencies for providing women safety with an outlay of Rs 200 crore. Delhi has an abysmally low female to male ratio because its migrant population lives mostly on bachelor basis. This is not to suggest that the poor bachelors commit the crimes against women, or the well-off family men behave better. The vulnerability of women is elevated due to the overall demographic profile and it is a factor in rising crimes in public spaces against women. Installation of CCTVs, posting of marshals in buses and guards on metros are deterrents but more initiatives like these are needed.
• Making Delhi 'slum free' is a dream for any government of the people, by the people and for the people. This cannot happen unless the Juggles and Jopadies (JJ bastis) are re-developed and rehabilitated. The government has earmarked Rs 200 crore towards this including for providing a clean and hygienic environment in JJ bastis and with a view to make Delhi 'open defecation' free. Additionally, Rs 490 crore has been earmarked to improve unauthorised colonies where lower middle class have been living for generations.
The relatively well-off population of Delhi generally disapproves of the government's 'throwing' their tax-money at JJ bastis. They term it as vote bank politics. Several BJP leaders publicly hint that the bastis are populated by illegal immigrants from Bangladesh. They used to accuse Congress Party of appeasing them.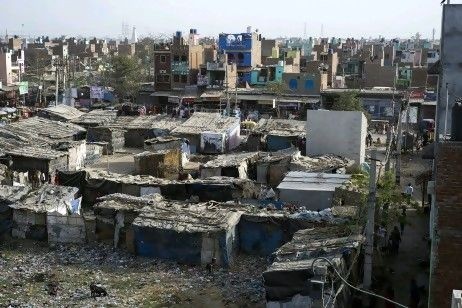 But the fact is that these JJ bastis house thousands of our own countrymen and women from impoverished rural backgrounds who have migrated to Delhi in search of poorly paid service jobs such as part-time domestic servants. In addition, they manufacture most consumer products such as sweets, bakery products, namkeen, farsan, pickle, papads, chutneys and sauces which the well-off middle class gorges upon while watching their favourite soap dramas and live sports telecasts. The bastis shelter a million viruses and pests which the cheap domestic help brings along into their homes.
An urban society cannot lead inseparable lives. They are interdependent. The quality of life of the affluent living in posh gated communities is affected by the eyesores of the both the JJ bastis doting the skyline and the unauthorized colonies living on stolen water and electricity and disposing the sewerage into the River Yamuna.
Delhi has immense under-exploited tourism potential
The city is historic with its origin from 1450 B.C. Many historic capital cities were built on its soil, traces of ten of which survive even today. It has been the centre of an empire for a millennium. It is the important city in the Indian subcontinent. Comparisons can be made with other great cities of the world, like Cairo, Athens, and so on. In spite of this rich and diverse cultural heritage, travellers use Delhi as a gateway for travelling to Jaipur, Agra and beyond. Delhi has the highest number of tourist arrivals, both foreign and domestic. But, they do not spend more than a night in the city.
The budget laments on this sorry situation. The AAP government would like to make tourism industry a money-spinner for the citizens and its treasury. However, it has only begun to pay attention to Delhi Tourism development. A skywalk between Qutb Minar and its closest Metro is planned. It may help; so also, the raising of luxury tax exemption limit on hotel room tariff to Rs 1,500 per night.
The government probably pins its hope on its investments in Arts, Culture, Festivals, and liberalization of permit regime for hosting events to bear fruit. It is investing Rs 54 crore for promotion of Art, Culture and Language. Its investment of Rs 1068 crore for Women Safety, Security and Empowerment should not only reassure the Delhiites but also the tourists, especially unaccompanied foreign women, to consider exploring the Delhi tourist places.
Additionally, when mobility and comfort levels in public transport and the public hygiene is improved to match the standards of advanced countries, the tourist might choose to spend extra days shopping, site-seeing, dining and wining. If the government treasury can get its share from taxes on tourism related services to several thousand crore rupees, it will be self-sufficient and can dispense with Rs 325 crore. The central government treats Delhi as UT and allots the paltry sum as the state's share of central taxes. Despite the Delhi Finance Commission and the 14th Finance Commission recommendations, the central government run by BJP has refused to devolve the fair and legitimate share of Delhi state, only to spite the fledgling new political entity it is mortally afraid of. This is not to say that a Congress-led central government would have viewed the AAP government's demand favourably.
Conclusion
As the budget speech notes, the most important principle which is the motive force behind the AAP government's taxation policy is to encourage voluntary compliance and forge a strong partnership with the trade and the public.
It is a myth that only the rich pay taxes. The poor and the disadvantaged as consumers of goods and services also pay tax. Therefore, even as the government needs greater resources to meet its goals, the AAP government has demonstrated its commitment to a tax structure which is just, fair and equitable. It has reduced the VAT rates from 12.5% to 5% on several products, which the traders deposit in its treasury. The traders collect the sum from the consumers whether an official bill is issued or the sale happens without a receipt. Hence, the public who demand a corruption-free government must do its bit too and insist on receipts showing the VAT component clearly.
During the year 2015-16, when the economy grew by 13%, the VAT collection grew by 17%. The excise tax collection grew by 31%. These are indicators of improved transparency and reduction in general corruption in tax collection system. It is hoped the AAP government tastes further success in their mission.