When the sun shines, make hay? No, make power and more
By Philip Mudartha

Bellevision Media Network


Bellevision reader Pradeep Suverna of Udupi commented on my article on LED lighting systems as: Dear Philip Sir, what about the Solar Energy. This is gaining a lot of importance and in Karnataka we have abundant sunshine, can it be used for small households and commercial purposes. Please make a write up on solar energy as it is emerging technology and it is good for the environment. I hope this article will serve the purposes of readers like him and all the others. I begin with the background of solar power industry in India.
Indian Government Initiatives to promote Alternative Renewable Energy

PM Manmohan Singh launched the National Solar Mission (JNNSM), a major initiative of the Ministry of New and Renewable Energy (MNRE) of Government of India, on 11th January 2010. In coordination with the State Nodal Agencies (SNAs), promotion of ecologically sustainable growth is its mandate. Its brand 'Solar India' is aimed at establishing India as a global leader in solar energy. The PM set a target of 20 GW "ON GRID" solar power generation capacities by 2022.
PM Narendra Modi instructed to revise the target to 100 GW when he took office. The installed capacity is expected to cross 9 GW by 31st March 2016. An additional 12 GW capacity is in tendering stage and is likely to be commissioned by end of 2017.
Challenges and Opportunities

The 100 GW target comprises 40 GW target for grid-connected rooftop solar power. The successful penetration of rooftop solar power, therefore, requires substantial support from important stakeholder groups such as Channel Partners, New Entrepreneurs, Distribution Utilities, Regulatory Commissions and Financial Institutions. However, there is a huge shortfall of trained engineers, managers, and technicians for implementing grid-connected rooftop solar PV systems.

During the year, the MNRE in association with The Energy & Resources Institute (TERI) scheduled a series of training programmes on "Grid-connected Rooftop Solar PV Systems" at national level. The last of the three day workshop for new entrepreneurs begins in Bangalore on 19th February 2016 and is priced at Rs 5,725 per participant. Such workshops by government bodies and other skilling programs by training institutes in the private sector will be on offer in smaller cities as solar power emerges as a real alternative in our energy portfolio. There are plenty of opportunities for our young science students to seek a career in new and renewable energy technologies, manufacture of equipment and components, operations & maintenance of generation, transmission & distribution systems and grid control.
Other students can build a career in exploring financing and business models to increase the penetration of solar power on pan-India level and emerge as small entrepreneurs providing distribution outlets of allied products and services. Our panchayat leaders and people's representatives in the local bodies (TP, ZP and Municipal Corporations) can participate in the national mission of achieving energy security, independent of imported fossil fuels.
What is solar power? How do we make electricity?

We have been using solar radiation for generations, mainly as day-light during the day; provide heat to ourselves and living organisms and sunshine for drying our laundry, various food items and agro-products on household scale. Just imagine the amount of electricity we saved due to sunshine!
But, solar power is about the generation of electricity from solar radiation using equipment and technologies. The concept goes back to the discovery of photovoltaic effect in 19th century. However, the practical use was limited to solar cells installed on satellites and space-crafts since a few decades. Various appliances that operate on solar thermal power have gained wider popular acceptance for a while, like solar water and space heaters and solar stoves. However, the emergence of solar power as self-owned domestic electric power utility by households/establishments on OFF GRID mode is fairly recent. Since 2011, as promoted by the national mission mentioned earlier, both OFF GRID and ON GRID commercial scale generation capacities have been planned, financed, installed, and commissioned. The Capex and Opex costs of power generated has now fallen so that it is at par or even below the respective figures for electricity generation by other non-renewables such as coal, natural gas and nuclear reactor feed.
At the heart of the solar power is a semi-conductor material like silicon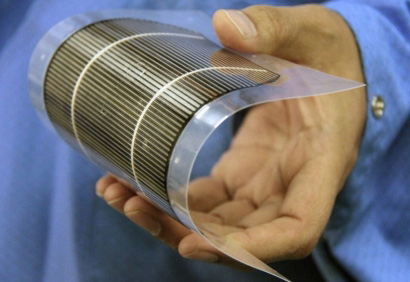 The picture above shows an assembled panel of solar cells using wafer thin silicon mounted on a light support frame which is manufactured in a high-tech plant in the Silicon Valley, California in USA. These are manufactured by slicing silicon ingots; the processes are secretive and patented. The plant equipment is proprietary and no sold off the shelf. The process technologies for the manufacture of silicon ingot are widely known. With the hyperbolic growth of computer and mobile phone industry, the Chinese factories in recent years mass produce the silicon ingots and other semi-conductor materials at relatively low costs.
However, the process technologies to slice silicon ingots into wafer-thin cells of 200 micron or finer thickness have not been fully proven yet. The commercially established processes produce wafers of relatively high thickness, resulting in a) higher raw material losses, b) higher manufacturing cost and c) lower photo-voltaic efficiency and d) highly brittle, non-durable, easily broken and difficult to handle PV panels.
The historical price movements shown in the graphic below is indicative of the future of solar power.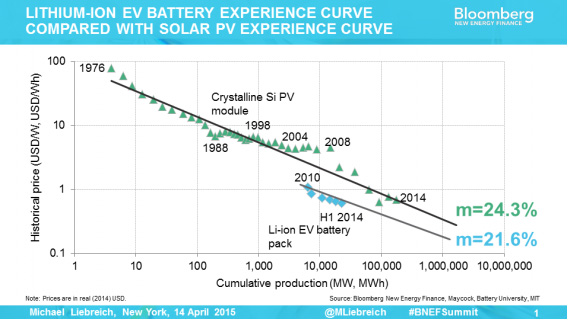 For the moment, focus on the Crystalline Silicon PV Module. It is obvious that solar PV cell installations were prohibitively expensive until 2008. There is a time and space for everything. The time for solar PV panels has arrived: it is now! The Capex of a new Solar PV based Power Plant is now comparable to that of a conventional thermal power plant. By early 2015, price of solar cells dropped to USD 0.30/W while cost of the solar PV panel was USD 0.71/W. The only catch is the cost of land required, which is in short supply. Hence, the focus is on roof-top installations on residences and commercial establishments.
The Capex for the 1200 MW thermal power plant of UPCL at Padubdiri was Rs 5,800 crore. Last year, Adani Power bought UPCL for Rs 6,000 crore, which is USD 0.70/W.
What happens when sun sets?

While a conventional thermal power plant operates round the clock, the solar power plant generates power only when the sun shines on the PV panels. When it is night, or when the sun is behind clouds, we will have to fall back on stored power or draw power from the grid. This means, an owner-user must invest in storage and feedback systems along with the solar PV installations. If an automated ON GRID installation is the choice, sophisticated control and circuit protection systems are required. I will not dwell on this aspect in this article.
Fortunately, India is a tropical country with plenty of sunshine, through-out the year. Our scientists both at TERI, JNNSM, and other research institutes, in association with foreign experts, have periodically mapped and updated India Solar Radiation resource. According to reliable estimates, 5,000 GWh per year is the potential on our land area. So, a 100 GW target is modest in comparison to the resource potential. It is only the investment capital, technical shortcomings of our engineering talent, our national policy gaps and allocation of waste-lands which are the bottlenecks.
Unfortunately, despite being a sub-continent, our per capita land mass is limited and low. Unlike USA, Saudi Arabia and even China, the uses for land are several, with land scarce for allocation to solar power plant installations. They require considerable land depending on the region of the country. For example, plot of land required in Udupi is twice as much as in a location in Rajasthan for a similar capacity installation. It would make sense for GoI to encourage large solar parks in Rajasthan, Gujarat, Madhya Pradesh, and plains of Karnataka with massive generating capacities.
Those investing in self-owned solar PV panel installations in coastal districts should be prudent and design them using 1,500 kWh per square meter as the criterion. See the graphic below, which depicts the solar resource map published by MNRE in collaboration with US Energy Administration in 2011.
It was reported recently that MLC Ivan D' Souza got a 10 KW ON GRID installation commissioned on the roof-top of his residence in Mangalore town. The Uzwaad fortnightly of Udupi Catholic diocese in its recent issue published estimates of plot size and capital required for installations ranging from 1 KW to 20 KW. A 5 KW installation should be adequate, with investment of about 5 lakhs.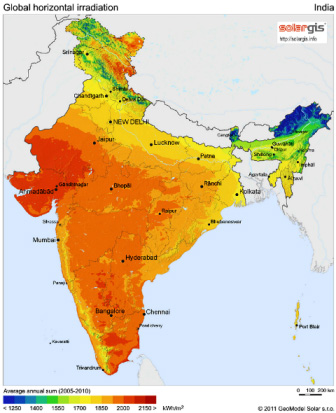 In line with National Electricity Policy, Karnataka Electricity Regulation Commission (KERC) has recently issued notification to all ESCOMs in the state to increase purchase of solar power generated by captive users from 0.25% (of total purchase by each) in current year to 2.5% over next four years.
Five years ago, a hue and cry was raised against UPCL, the coal-based thermal power plant located near Padubdiri. The protesters claimed environmental pollution and loss of local livelihoods. At that time between February and April 2011, Bellevision website published a series of my articles on all aspects of power generation at UPCL, including the estimated cost of power generation and the reasonable power purchase price. Those calculations were based on imported high grade low sulphur low ash thermal grade coal price at the factory of Rs 6,000 per MT.
International prices for coal have plummeted along with the price of crude oil and natural gas. The prices for these fossil fuels are expected to remain subdued, not only because revolutionary developments in shale gas drilling and production technologies in USA but also because of the sharp reduction in cost of generation of solar power.
The long road ahead for Solar Power in India

Any discussion on solar power will have to be based on experiences in the USA, especially in its sunny states like California. I present below a funny graphic depicting the power demand in California: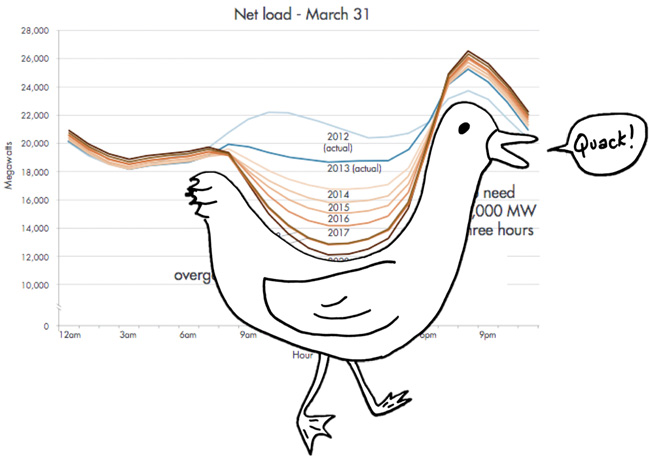 The policy planners in California are foreseeing an imminent jump of solar power generation, which is mostly between 9:00 a.m. till 5:00 p.m. In 2012, without solar power, the demand graph appeared like a two-hoofed camel, with air conditioners kicking in the offices during working hours, and then as people rushed home and turned on all their domestic appliances between 7:00 p.m. and 11:00 p.m.
As solar power capacities were commissioned beginning 2013, the demand on the grid dropped during the day-time but remained at high level during peak evening hours. The curve now looks like a duck. By 2020, there will be over generation during the day. A very sophisticated management of grid control will be required with sharp ramp down of power plants at around 9:00 a.m. and a sharp ramp up around 6:00 p.m. Any process operator knows how difficult it is (I retired having managed natural gas powered production facilities, so I know the issues at first-hand). This means, the state will require freezing any new coal-based or nuclear power plants projects, but revamp existing natural gas based plants into smaller modules which can be turned on and off within minutes.
Solar PV power installations have a life cycle of 100 years or more. Once installed, they only need periodic cleaning of panels to maintain the conversion efficiency. Hence, our national policy planners need not reinvent the wheel but learn from the California so that by 2022 when Indian power grid will have 100 GW solar power capacities connected to the grid, whether our scenario is of a camel curve or a duck curve. Depending on that, our national power policies including pricing policies will have to be modified. Possibly like in USA, the price for residential use may have to be double than that charged to industrial users, which should be a motivating factor for OFF GRID solar power ownership.
For a self-owner of say 5 KW installation, if he plans to sell power to the grid during the day and earn profit, such scenario is unlikely to prevail over the break-even period (estimated 10 years minimum). Therefore, investment in storage must be considered. If you go back to the solar PV cost curve, there is another cost curve of Lithium ion EV battery pack, which is an emerging technology in electric power storage. Tesla has announced a major plant to manufacture them in the USA, for use in its electric cars. However, that is a beginning, like the mobile phones story ten years ago. Like the spread of smartphones today, these Li-ion battery packs would become common place by 2022, in time when the solar power capacity of 100 GW becomes a reality in India.
The future is certainly exciting.