Ek Saal, Kejriwal: the honest politics marches on
By Philip Mudartha

Bellevision Media Network


14 Feb 2016: On 14th February 2015, Arvind Kejriwal-led Aam Aadmi Party (AAP) stormed the Assembly election to win 67 seats and to form the government in Delhi-NCT state. On Sunday, the AAP government completes one year in office. Its anniversary celebrations include public Q&A session with the cabinet taking questions from the people, aptly labelled "phone pe charcha".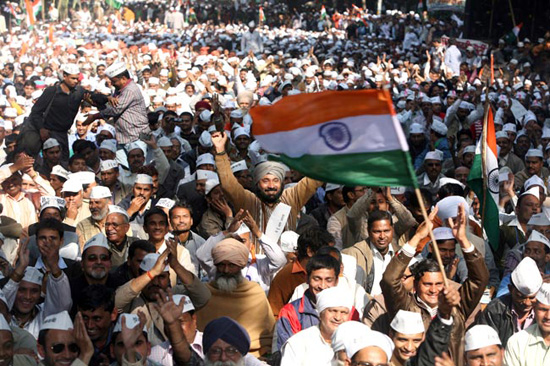 AAP is India's hottest and successful political start-up with honesty as its hallmark

Three years before PM Narendra Modi began his "Start-up India" rhetoric, AAP spun out of the Anna Hazare-led anti-corruption movement which was then sweeping Delhi. Its birth coincided with the political weakening of the Indian National Congress Party. It was also at a time when the political star of Bharatiya Janata Party was rising and it seemed likely to BJP would win general elections due in 2014 and form the next federal government in New Delhi.

However, Kejriwal and his supporters in the India against Corruption (IAC) saw that the idea of alternative politics had started taking root, especially among the urban, educated and young citizens. Formally inaugurated on 26h November 2012, the party managed to become a household name, a brand by itself with broom as its electoral symbol and as its name. Aam Aadmi Party struck instant emotional chord with ordinary people: the illiterate, poor and powerless.
The privileged classes snorted at it. The mainstream media controlled by corporate houses, ignored him when it became obvious that the fight was not only against Congress but corruption of all: the venal politicians and crony capitalists. The right-wing groups especially aligned with both BJP and its mentor RSS saw an imminent threat. They drew parallels of Kejriwal with Beppe Grillo, the Italian comedian who inspired the Five Star Movement (5S) which was shaking the foundations of Italian politics at the time.
Like 5S in Italy during the 2013 national elections, AAP secured 29.5% of the vote in Delhi assembly elections also held in December 2013. It won 28 of 70 seats, insufficient to form a government but allowed itself to be trapped to form a short-lived minority government with external support from Congress, a party it opposed primarily for its chronic corruption.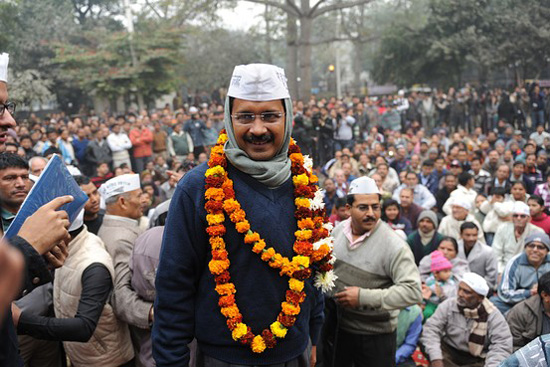 Political pundits said that like Beppe Grillo in his country's politics, Kejriwal is a disruptive force; he would not rise above Dharna politics and would never learn to govern. Intellectually inclined commentators called him a Luddite, after the 19th century destroyer of machines who was opposed to industrial revolution. More acidic critics called him either a Sancho Panza chasing windmills (of Don Quixote novel) or Mohammed Bin Tughluq ordering crazy governance ideas. In any case, Kejriwal evoked extreme emotions: passionate hero worship by his supporters and equally strong hatred of his detractors. There was nothing average and ordinary about him. As a result, he soon became the only crowd puller for AAP and its unchallenged supreme leader.
Like Narendra Modi for BJP. Both were men of charisma in each other's parties. But, unlike Modi, who captured control of an established party, Kejriwal founded a brand new party from scratch and succeeded against all odds to keep his control over it.
Establishment of a new political party, emergence as the ruling party in Delhi-NCT and recognised party in Punjab and making a bid to become national party were for sure the most incredible stories of Indian politics in its history.
Then there was Paanch Saal Fir se Kejriwal: What a return!

Kejriwal and AAP love February 14; not because, it is Valentine's Day. It is the day when the first AAP government resigned in 2014 after being in office for only 49 days. Both BJP and Congress conspired together to disallow the tabling of Delhi Jan Lok Pal Bill-2014, a key promise of AAP which was also the demand of Ana Hazare anti-corruption movement. (It has to be remembered that the BJP supported the Jan Lok Pal in 2013 when IAC was primarily fighting Congress. In reality, IAC was a brainchild of a think-tank associated with Sangh Parivar, which is a story for another day). It is also the day when AAP government swore in for the second time with a record mandate. BJP, the ruling party at the centre, managed to win only 3 seats, despite it winning all Lok Sabha seats only nine months ago; while, Congress drew a blank. A historic record of 54.3% of the electorate had entrusted the responsibility of heralding clean, honest and corruption free politics to Kejriwal and AAP.
The heralding of a new concept of development

The development model espoused by the AAP government is unique in the country since it places the needs of the people at the core instead of the GDP growth rate. Naturally, education, healthcare and provision of public services are its priorities.

The commitment is visible in the budgetary provisions:

Let's look at the sector-wise allocations in the maiden budget for FY 2015-16 presented by Deputy Chief Minister Manish Sisodia which embodied the AAP development model. The total expenditure: Rs 41,129 crore.

• The Plan Budget: Rs 19,000 crore (46%)
• The Non-Plan Budget: Rs 22,129 crore (54%)
Education (General Education, Technical Education, Art & Culture, Sports & Youth Services) received top-most priority as the government rightly viewed this as an investment in the future of its people. It received the largest allocation of Rs 4,570 of the Plan Outlay (24%), a whopping 106% increase over previous year's expenditure. No state has doubled the allocation on education in a single year. The AAP government can take full credit for identifying education as the transformational sector.
Public Transport, Safety & Security, Pollution Challenges

The AAP government identified improvement in access to the public transport as its second priority. Transport took the 2nd largest share of Plan Outlay with Rs 3,695 crore (19.45%). Giving public transportation the highest priority, the government planned to introduce 1,380 semi-low floor and 500 mini buses under DTC, and 1,000 buses under the Cluster Scheme to be deployed by end of 2016.
It also announced the proposal to assign over 10,000 buses to the private sector under the PPP Cluster Scheme. In addition, 304 mini buses will be introduced this year on 64 Metro feeder routes in order to improve last mile connectivity.
An additional 5,500 new Auto permits were to be issued, but the licensing has been suspended because the Deputy CM was informed of bureaucratic mal-practice which could turn into a corruption scandal. The government has offered Rs 15,000 subsidy on e-Rickshaw purchases in order to promote their wider use.
Safety and security, especially of women commuters, has been a public concern in Delhi, which has over the years graduated from being the eve-teasing capital to the rape capital of the country. The introduction of GPS tracking on all autos and taxis, CCTVs in all DTC and Cluster buses as well as stationing of a Marshal in charge of security in each bus are provisioned in order to make people feel more secure. The phone pe charcha on the anniversary day will bring out the performance record in this vital sector.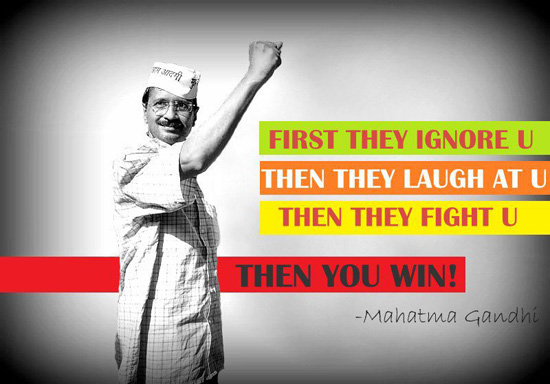 Meanwhile, the city earned a new fame, of being the most polluted capital in the world with particulate matter (PM) emissions of both size 10 micron (PM10) and more hazardous 2.5 micron (PM2.5) skyrocketing above most severe levels of 400 or more. The Delhi High Court and the Supreme Court admitted PILs and sought reports from both the Central and State Governments of remedial actions planned or taken by each of them.
The AAP government sprang into action ahead of suitable permanent solution could be designed. As a short term measure, the odd-even scheme of allowing private cars on roads on alternate days only for a fortnight in January 2016 was implemented. The period was because the city usually experiences severe winter smog then. The scheme attracted political fire from opposition and barbs from car owning class, but received wide approval from public at large not because the scheme significantly impacted reduction in PM2.5 but decongested the roads, cutting travel times by half and making driving a pleasure.
Medical and Public Healthcare Services

Beginning 1st February 2016, the AAP government began free issue of medicines at its hospitals, provided they are prescribed by its resident doctors. It said that the project cost savings made in the construction of three flyovers were used to fund the scheme. It said the savings were possible due to elimination of corruption in PWD sector and because the projects were completed ahead of schedule.
Free supply of medicines is a historic performance unheard of in any other state. It is an example of the government's commitment to improving healthcare infrastructure and services, which was a major poll promise of AAP. The government had allocated Plan Outlay of Rs 3,138 crore (16.5%) to Medical and Public Healthcare Services which makes it the 3rd highest priority.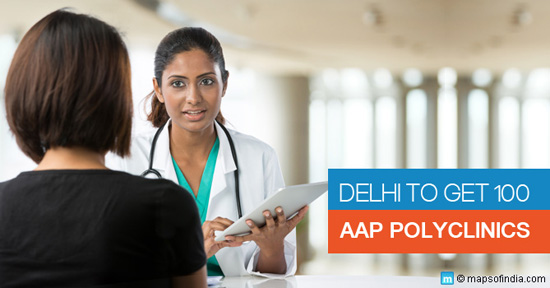 Health infrastructure will be greatly enhanced when the three new hospitals with a total bed capacity of 1800 will be completed. Eleven existing hospitals are being upgraded with plan to add 4000 new beds by end of 2016.
In an attempt to take medical services to the common man, the government has begun setting up 1000 'Mohalla Clinics' during the year. The government has announced that each Mohalla Clinic cost only Rs 20 lakhs, against Rs. 4 crore estimated by officials because corruption in state government machinery has been curbed entirely. These clinics are supported by five centralized diagnostic labs located in different zones in Delhi, where certain essential tests have been offered free to the poor.
The supply of free water and subsidized electricity

The first AAP government had fulfilled these twin poll promises during its 49-day stint. It had also ordered a CAG audit of DISCOMS, which are private sector companies owned by powerful industry tycoons with close political connections to both Congress and BJP. During President's rule, the LG as representative of central government had rescinded the orders. However, within days of returning to office, the AAP government cut the tariff by half and capped the subsidy to those domestic users consuming less than 400 units per month. 80% of Delhi households benefitted. The additional subsidy burden on the state treasury was estimated to be in the range of Rs 150-250 crore, with the total subsidy being Rs 1600 crore maximum. This is a number we can watch for in the next budget due in a fortnight. (In Navi Mumbai, the bill for 400 units is Rs 3,492 while in Delhi, thanks to AAP the bill is Rs 1300 or so. A saving of Rs 2,200 a month is a sure hit with the public, due to which AAP will retain its popularity come what the opposition says).
The government also made water free up to 20, 000 liters of water per household to whom piped and metered connections are available. Water supply is a municipal function in most cities and towns, but the Delhi Jal Board (DJB) is in-charge which Kejriwal accused of massive corruption prior to his government came into office. Since coming to power, the rates for consumers using more than 20,000 have been hiked steeply, motivating residents to control consumption. The government has claimed that DJB has made profits while it was a loss-making entity earlier. These claims will also have to be verified through the budget numbers.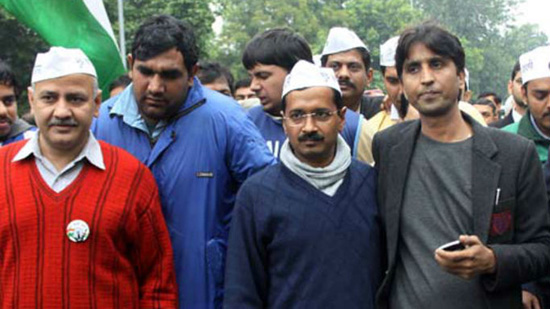 Besides, the MLAs and ministers are regularly supervising the laying of drinking water supply pipes in colonies and slums so that the entire state is covered with piped water supply before their term ends. They have been using the MLALAD funds in most cases to expedite the laying of sewerage drains and the construction of public toilets as well. Generally, this is an activity that the municipal corporators should be spearheading. But, in Delhi, the municipalities are controlled by BJP and the next elections are due in 2017. The AAP is well placed to win the municipal elections, which is why the existing corporators are nervous. They have managed to raise a stink by inciting the MCD sanitation workers to go on strike to protest at the non-payment of salaries for months.
Their strike has left garbage piling up. Moreover, the strikers and their political backers have been littering garbage on roads and highways. The AAP government is faced with the stink raised by the garbage crisis as it prepares to celebrate its first anniversary in office.
The AAP has always managed to turn challenges as opportunities. Let us see, in this case.